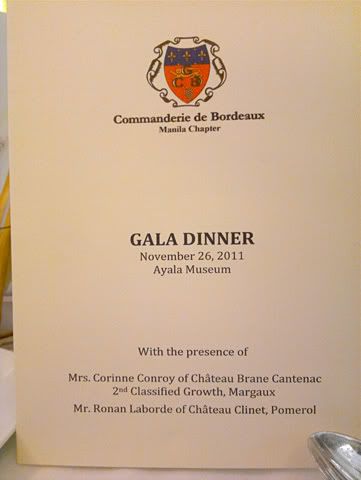 Last night, the 26th November 2011, was
La Commanderie de Bordeaux Manila's 3rd Gala (Induction) Dinner
. Venue was the Ayala Museum, dinner by Gaita Forés, the wines from Châteaux Brane Cantenac (Margaux) & Clinet (Pomerol); to be inducted into the Commanderie were 9 new members: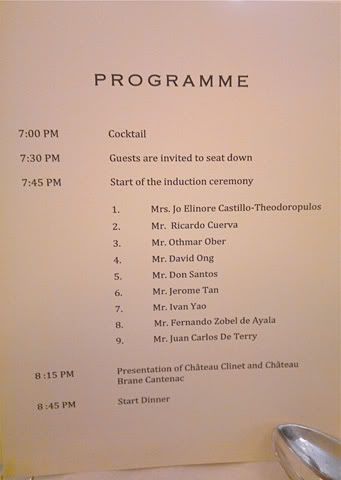 Catha & I arrived around half an hour after cocktails began. Becoming quite the rage in Metro Manila (and with good reason as it presents a remarkable QPR in my opinion), the bubbly poured was
Champagne Ayala Brut Majeur NV
.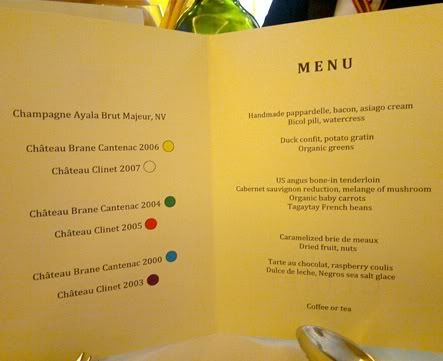 Le Menu et Carte du Vin.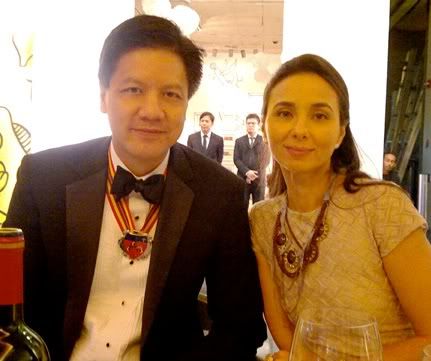 Gerry & Tina de Jesus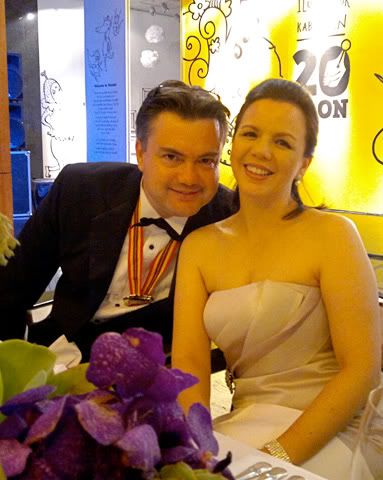 Edouard Miailhe w/ Catha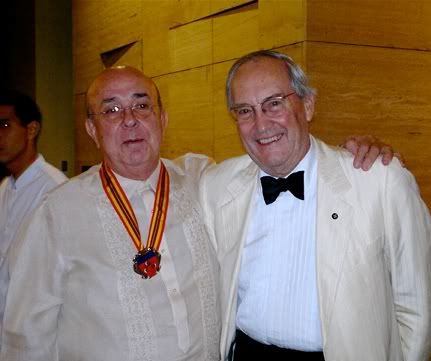 Juan Carlos de Terry & William-Alain Miailhe de Burgh
Don & Dorothy Santos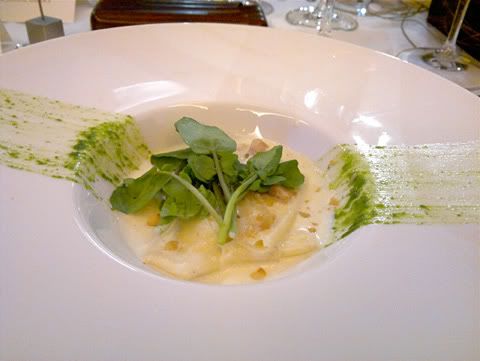 1st Course:
Handmade Pappardelle, Bacon, Asiago Cream, Bicol Pili & Watercress
2nd Course: Duck Confit, Potato Gratin, Organic Greens.
This was served with 2006 Château Brane Cantenac and 2007 Château Clinet.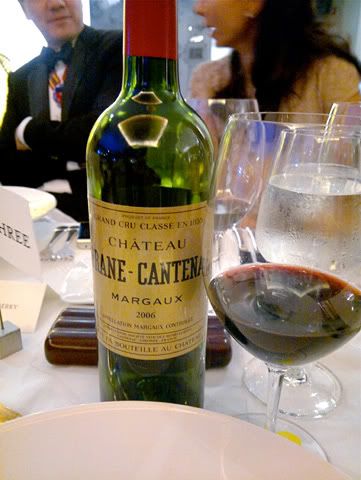 2006 Château Brane Cantenac
- From the Margaux appellation, a 2nd Growth under the 1855 Classification, the estate's history can be traced to over 300 years, and came to the family Lurton in 1925 through a purchase by François Lurton together with his father-in-law, Léonce Recapet. Currently, Henri Lurton (François' grandson) owns and controls Brane Cantenac. I vaguely recall being introduced to him by Edouard Miailhe at the dinner of Frédéric de Luze the night before the official start of Vinexpo 2007.
Initially somewhat tight and reticent on the nose, one can perceive the firm tannic structure, neat/classic lines, focus and good acid balance in this. Notable typicity. The cabernet sauvignon dominance is apparent and I do appreciate its typical old-school style (no ham-handed over-extraction, excessive use of new oak or over-indulgent over-ripeness that, lamentably, many Bdx producers resort to in order to garner higher Parker points). Refined, masculine, very clean. Probably 5-6 more years before this starts to come into its own. JC thought this was quite a well-made wine.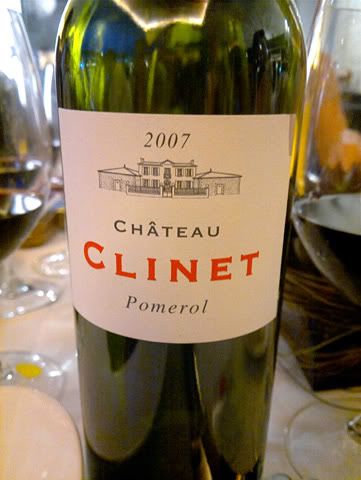 2007 Château Clinet
- Actually, one of the better (if not the best) 2007 Bdx I've had thus far. 2007 was a very challenging vintage - I know as it was consistently/unusually cold and rainy while I was in Bordeaux for 10 days in June 2007. The nose was not much interesting (probably needed more aeration) but it was quite nice on the palate. Good concentration and over-all showing for the vintage. Surprisingly open at this very early point (like their 2006 when I tasted it in 2007), given my experience with Clinet's older vintages. My hand-written notes state: "Tobacco and greenish plum nose, but in the mouth, nice and round - mocha, (dark) plum, (pipe) tobacco, bit of cinnamon. Good length."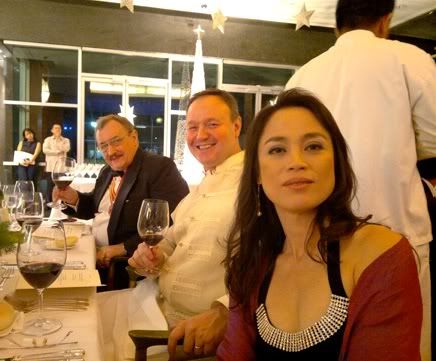 Robert Burroughes w/ Cyrille & Anna Soenen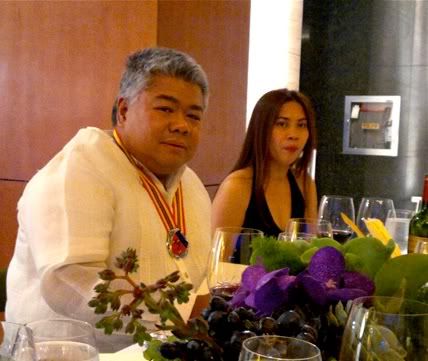 Jay Labrador w/ Jen Burroughes
The Spouses Ong
The 3rd course was
US Angus Bone-In Tenderloin w/ a Cabernet Reduction, Melange of Mushrooms, Organic Baby Carrots & Tagaytay French Beans
- served with
2004 Château Brane Cantenac
&
2005 Château Clinet
, all of which I forgot to photograph. The 2004 Brane Cantenac, again, showed admirable typicity in its hallmark elegant, decidedly masculine style. Given its structure, I would say this will start entering into maturity in around 3-5 more years and last for many more. This is a wine for those who remember, can appreciate and prefer the classic Bordeaux of yore as I do.
The 2005 Clinet, for me, was, among the youngsters, the most open, easily accessible, "crowd-pleaser"; I'd say it was the most immediately enjoyable wine of the night. My notes state: "Very good balance (for such a roasted-hot vintage), very nice, precise weight, rich but controlled, (underlying) milk chocolate notes" (also observed by Jojo Madrid). When exactly did Clinet start producing wines in the early-drinking style? This was certainly not the case before.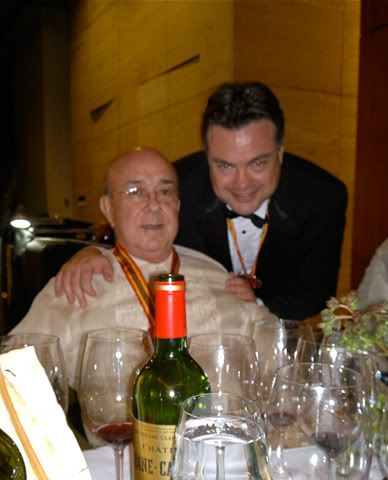 Edouard Miailhe & JC de Terry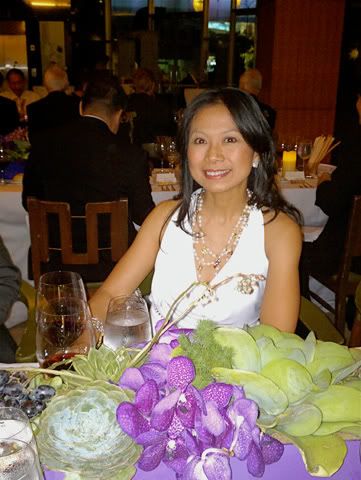 Sheila Ramos (husband Ivan was camera shy)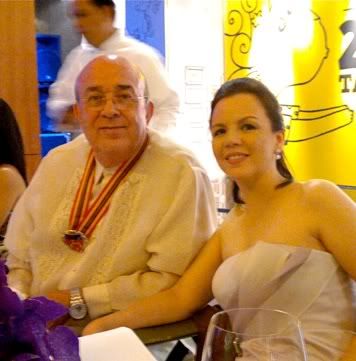 JC de Terry w/ Catha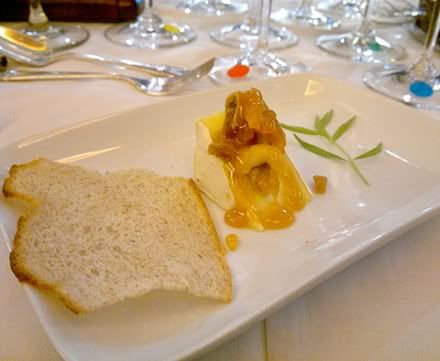 The 4th (cheese) course was a plate of
Caramelized Brie de Meaux w/ Dried Fruit & Nuts
, which was paired with
2000 Château Brane Cantenac
and
2003 Château Clinet
. The 2000 Brane Cantenac was my personal favorite of the night, also favored by several other participants I spoke with (including, as I hazily recall, Tito Yuchengco, Sunny Garcia and David Ong) - but, then, that is no great surprise as it is 11 years from an exceptionally good vintage. The 2003 Clinet, I suppose, was fair enough a specimen for the vintage - a vintage I have generally never been fond of as regards wines not only from Bordeaux, but from Burgundy, Alsace, Rioja and Napa as well. I recalled Anne Gros telling me that, in her experience, given 2003's weather, it was very difficult to make a balanced wine that year.
The 5th (dessert) course was
Tarte au Chocolat, Raspberry Coulis, Dulce de Leche, Negros Sea Salt Glace
. The tarte itself reminded me of the German Cherry-Chocolate Cake that Tina de Jesus makes so well. Delicious. I rarely finish my dessert, but, this time, I did - and quickly.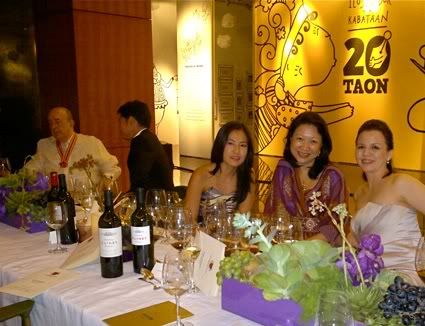 We, JC de Terry, Don & Dorothy Santos, Christine Miki & Catha,
the few and persistent, were the last to leave (as usual).
Jojo Madrid & yours truly - Until the next!