I've mentioned a few times before the spouses Bardinet:
Sebastien Bardinet
's family owns and runs
Château Laroque
and he and
Anabelle Cruse-Bardinet
own
Château Corbin
, (Anabelle, an oenologist from the University of Bordeaux, is the winemaker) both estates located on opposite ends of St-Emilion. The spouses were in town for a couple of days last week, making a stop here to visit before proceeding to Vinexpo Asia-Pacific 2010. It was great to see them here in Manila, having last seen them in Bordeaux in late March.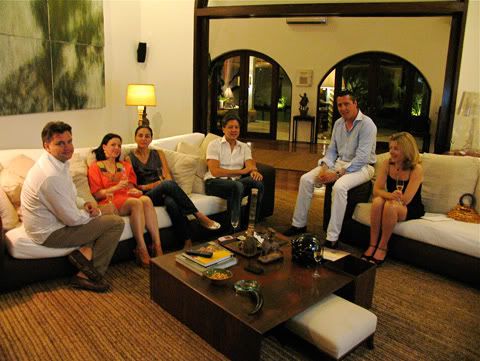 The Vigneron, Catha, Mrs. Doc, Doc, Sebastien & Anabelle
The Vigneron held a dinner for them at the former's Philippine residence: Mrs. Vigneron made the fresh mushroom soup, my cook made the rellenong alimango (the live crabs courtesy of the spouses Doc) & main course's sidings and I made the roast racks of lamb. We were 10 in all: the hosts, the guests of honor, the spouses Doc, Miguel & Barbara and Catha & I.
Miguel, Barbara and Mrs. Vigneron (who was busy making her soup) joined in a little later. The evening started off with some chilled bottles of bubbly by Moët & Chandon and some Austrian ham and Spanish sausages from Barbara.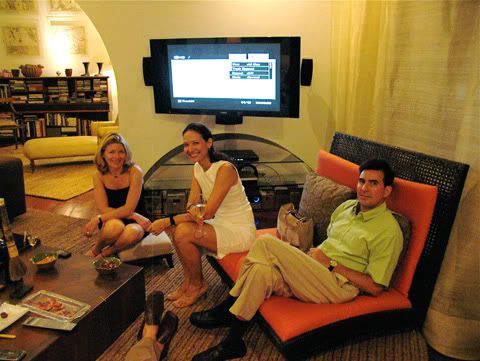 Anabelle, Barbara & Miguel
We eventually moved to the dining room by around 8:30 pm and began our meal.
The 1st course was
Rellenong Alimango
(stuffed crab)...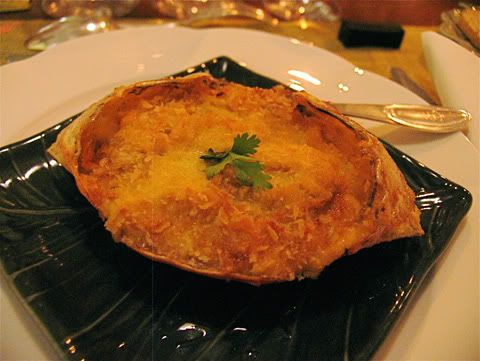 ...followed by Mrs. Vigneron's
Fresh Mushroom Soup
.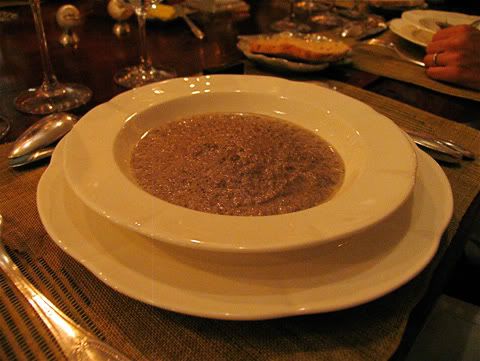 Starting with the soup course and onto the main course, we enjoyed the following reds: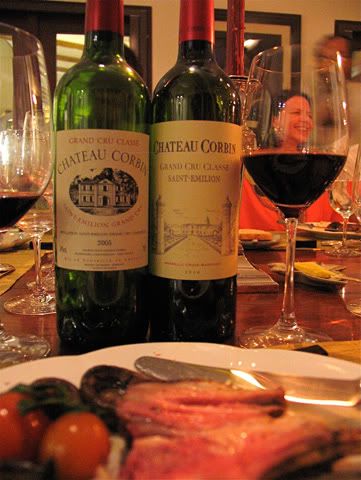 2005 Château Corbin
- Deep plum, black cherry, sweetish raspberry, some crème de cassis and violets, cedar, moderately creamy oak, hints of pipe tobacco. A little past halfway between medium and full body. Still quite young - perhaps a little closed at this point, or, perhaps, travel shock as they arrived a day before with Sebastien & Anabelle; but I definitely see a good future for this wine. Good, sturdy structure in this. I'd guess this will be in stride within, say, 3-5 years and will easily hold for several years more. I understand this vintage was totally sold out within one hour from being put on the market.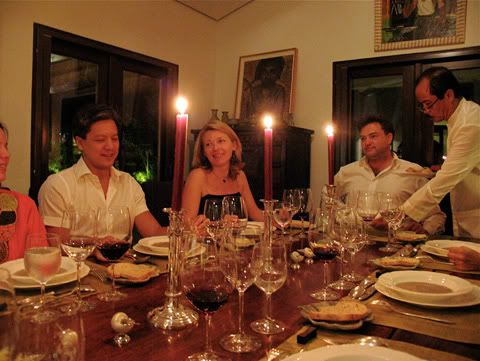 2006 Château Corbin
- When I first tasted through Bordeaux's vintage 2006 at Vinexpo (Bdx) in June 2007, I noted that the right bank seemed to generally show better than the left at an early stage. This wine bolsters that first perception (recently re-confirmed at Vinexpo Asia-Pacific 2010). Most charming and very easy to like, the 2006 Corbin has a friendly, open, attractive and a bit of a seductive character. Svelte, medium-body with nice, yielding feminine curves. Precise balance in its attractively rounded, black cherry, raspberry, dark plum, cedar, violets with whispers of mint and underlying pipe tobacco and loam. Cool and supple on the palate, it is something I could drink all night. I recall Mrs. Doc telling me she liked this too.
NB
: I pulled Arnie to try this at the St-Emilion tasting at Vinexpo HK yesterday (as I introduced him to Anabelle and Sebastien) and Arnie, never one to mince words with his vinous assessments, told me he liked it as well.
Doc then opened an aged Château Figeac: an old favorite of his (I recall the first time he and Mrs. Doc had dinner at our home after they moved back to Manila from NYC, I opened a Figeac with the main course), mine (I also recall the first time I attended an IWFS dinner and met the Vigneron, he also opened a Figeac), and, as it turns out, Sebastien as well (he heavily recommends the 2001 Figeac at this point).
1990 Château Figeac
- Doc's bottle. The last time I had the '90 was also from him,
during his 2008 birthday dinner
. My notes then were as follows:
A château I've always liked which produces an unusual blend for a St-Emilion in that it includes a material amount of cabernet sauvignon in the usual local merlot (dominant) and cabernet franc mix. I remember the first time the Doc came over for dinner at the house several years ago, I served, among others, a bottle of '97 Figeac (it was good enough at the time, believe me, but long slipped into bad decline). The first time I met the Vigneron, he opened an '89 Figeac. Ok, ok, enough with the reminiscing, on to the wine.

Sweetishly ripe (but nowhere near jammy) cherry, raspberry and sweet cedar over blackcurrant, cassis and plum (slight nuance of torrefaction mid-mouth), mild undertone of mocha. There is a touch of "refined earthiness" (for lack of a better term) to this. Classy, properly reserved yet expressive and broad enough. Definitely the most luxuriously textured and deeply flavored Figeac I've had. Maybe the 2000 version will grow up to be like this as it was also from a very ripe year.

Tangentially-related tips for those who care: though 2006 Bordeaux is nowhere as hyped as 2005, try to get your hands on some of the Figeac, Canon la Gaffeliere, Clinet and La Conseillant, from 2006. The right bank did pretty darn well that year, generally better, in my opinion, than the left bank.
This bottle was much more open than the last one, the vintage shining through with its almost indulgently ripe, rounded black cherry, dark-red raspberry, cassis, some black olives, bit of red spice and touches of underlying well-worn leather, coffee grounds and vanilla. A sturdy cabernet sauvignon backbone is apparent and, to me, keeps this now-softly fruited wine in focus and provides good structure. Very nice.
I recalled a nice
2000 Château Laroque
as well that I picked out of my father's wine cav a little over a year ago, so I pulled up
my blog notes thereon
on my phone and showed it to Sebastien. He was quite proud of his 2000, and deservedly so.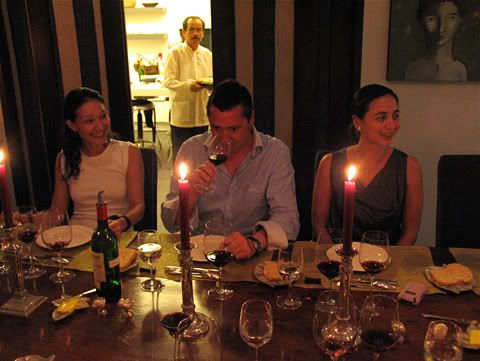 Sebastien sniffs deeply the '90 Figeac.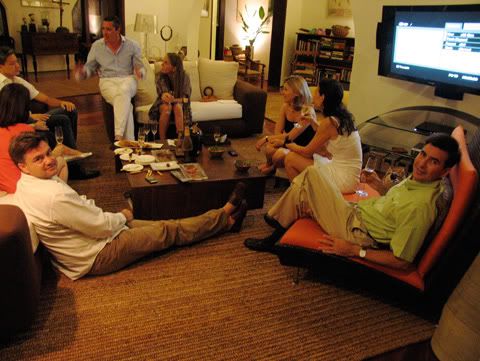 We all moved back to the living room after dinner and spent more time enjoying each other's company and more wines. Catha and I had to take our leave earlier than usual, though, as we had a morning flight the next day for HK to attend Vinexpo Asia-Pacific 2010. Naturally, we met the spouses Vigneron and Bardinet there, but that is another story.