As mentioned in my previous post, my wife and I were in HK over this past week - not with the Alabang group this time as the trip was rather unexpected - unexpected because I won roundtrip tickets for two to HK (via Cathay Pacific) during Henry Hagedorn's birthday golf tournament/dinner (thanks again, Henry).
Historically, we go to HK during early-mid February (for the cool weather) or sometime in the middle of the year (for the sales); I believe this is the first time I was in HK during their "winter" season (I use quotes because it's not really that cold). The weather appeals to me, so I'll make it a point to start going in early January.
Anyway, my wife and I arrived on a Sunday around noonish - my sis-in-law and bilas, Mich and Ron, picked us up at the airport in their new car and were finished checking and settling in by a little past 1pm. Longtime friends Danny & Cecilia, together with little Vanessa (she's such a smart, cute little girl), took us all to a huge dim sum (and others) lunch at
Victoria City Seafood Resaurant
- the Gateway branch since we were staying in TST.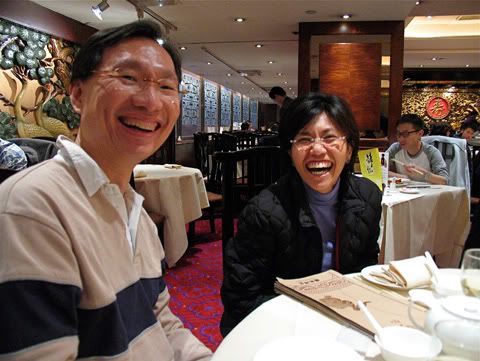 Danny & Cecilia (during the dinner they hosted for us at Yung Kee)
As usual, the
xiao long bao
was excellent (3 orders at least) and I really liked the crispy fried pigeon as well (unfortunately, I left my camera in the hotel). Danny ordered a ton of stuff, all of which could not fit in our table. Incredible. I knew he and Cecilia were taking us all out again for dinner that evening at another old favorite,
Yung Kee
, so, at first, I tried not to stuff myself - but, later, I figured "what the hell" and proceeded to pig out. After all, I had come prepared with a stash of Alka Seltzer.
So, on to dinner. Because we finished our huge lunch barely 4½ hours before, I begged Danny to go easy on the ordering. Hey, I'm no slouch at pigging out, but, for health reasons, I try to exercise
some
semblance of restraint (albeit grudgingly). Danny, ever considerate and the complete gentleman, understood and accommodated my request...in a manner of speaking.
Yung Kee's famous
Thousand-Year-Old Eggs with Pickled Ginger
on the side - Creamier and cleaner tasting than anywhere else. I never get tired of it. Simply the best I've had. Period.
With some Fresh Sliced Jellyfish, how can one go wrong?
Roast Suckling Pig
- Be still my heart. I eat this dish often, but in controlled amounts. The dish itself is hard to resist, especially when it is particularly crisp and not-usually-as-fatty/oily as Yung Kee's rendition.
Yung Kee's Signature Roast Goose
- What can I say? This is one of the dishes that made Yung Kee a dining landmark in HK, and I'm sure it had something to do with earning the restaurant its Michelin star a few years back. Juicy, tender, always a treat. You simply must.
Even Manny Pacquiao would be hard-pressed to deliver a one-two combination this good.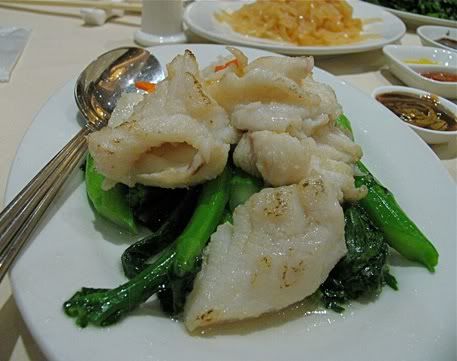 Danny did make concessions, though, make no mistake. We also had some nice,
Sautéed Fried Garoupa on Chinese Broccoli
...
...and some seasonal, healthy, guilt-supressing
Dao Miu
. Naturally, we had to have a few desserts as well - which we shared since we were already so stuffed.
Clockwise from left: Mango Pudding, a Black Herbal Jelly, and Sweet Red Bean Soup.
Whew! Thanks to Danny & Cecilia, we certainly hit the ground running on that first day. Two great meals with close, longtime friends and relatives. What more can one ask for? Many thanks again, guys, for the lunch and dinner, and, of course, sharing with us your precious company.