Wednesday night was particularly chilly in HK. Good thing Ron chose his favorite Chinese Hot Pot restaurant near his new apartment:
Hot Pot House
(what else?) at #2543 1/F Diamond Court, 10-12 Hillwood Rd., TST, Tel. 526 100 3366 (call for reservations way ahead as it gets jam-packed most every night). Hot Pot is a typical dinner here during winter season.
I prepared to eat a lot for this, having a full breakfast at the hotel but skipping lunch. I had a light(ish) snack of wanton noodle soup and dim sum though at the Canton Deli of Harbor Plaza Mall - but just enough to stave off too much hunger.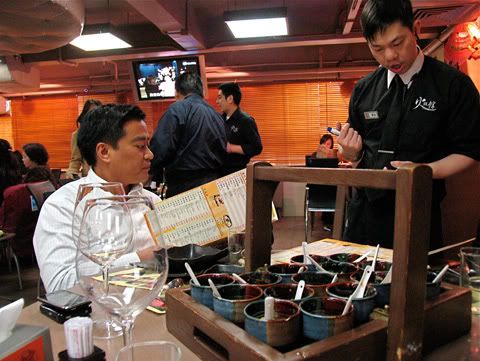 Mich & Ron know this restaurant well, obviously, and the waitstaff as well, so they did all the ordering. First off, a set of various condiments were placed on the table (photo above) so that we may create our own dipping sauce(s).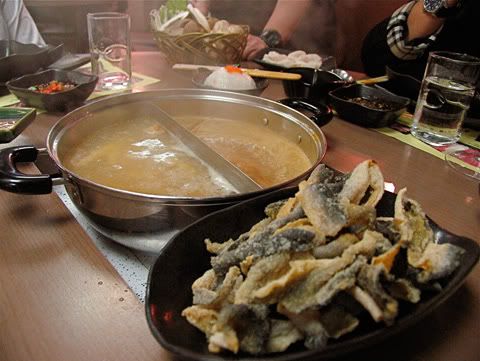 Two kinds of cooking broth were set before us: the "special broth" (on the left half of the communal pot, flavored by many chicken feet) and the other one tasted a little like saté. Crisped fish skins are in the foreground, for dipping in either broth for 3-4 seconds at most. Behind are a bowl of a special fish batter and a basket of assorted mushrooms (enoki, large buttons, shiitake and trumpet as I recall).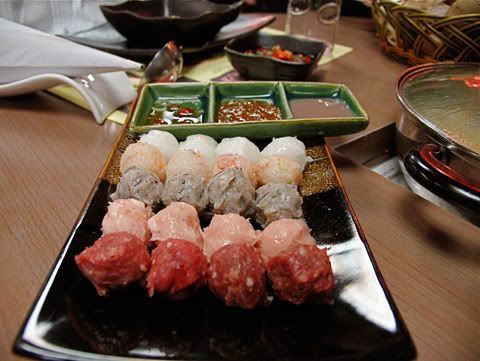 Assorted balls of beef, pork, shrimp, squid, etc....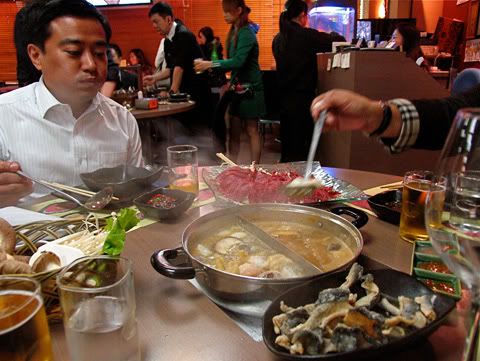 It does tend to get a bit steamy in there.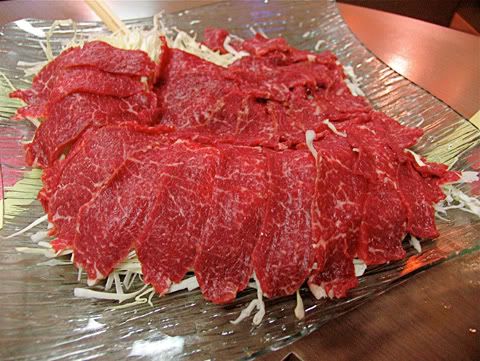 Thin slices of very tender local beef which Ron and I "cooked" in the pot for only 3-4 seconds each. Our wives cooked theirs longer.
The special fish batter was expertly mixed at table by a member of the staff (very efficient I must say and they speak English quite well too so ordering is no problem for the
gwai-lo
), then sliced into strips (using chopsticks) and dropped lightly in the broths where they formed soft, lightly chewy fish curls.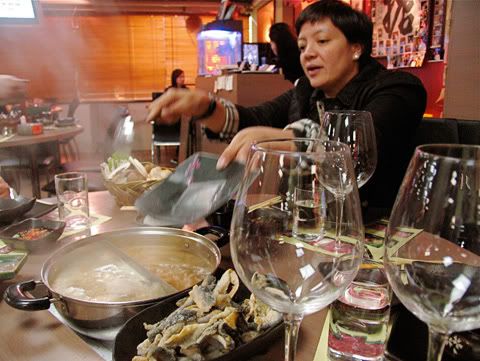 There were also some slices of fresh fish that Mich portioned off between the two broths. Come to think of it, it was the very first time I ever saw my sis-in-law come remotely close to cooking anything - and I've known her for decades.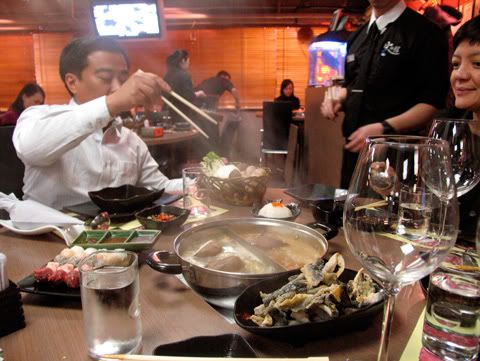 Ron, though, is an old and practised hand in the kitchen.
A paste of fish batter was then forcefully extruded into the now very hot broths which quickly formed savory noodles.
Throughout this entire time, Ron was pouring, and we were slugging down, large bottles of Tsing Tao and, in addition, a bottle of...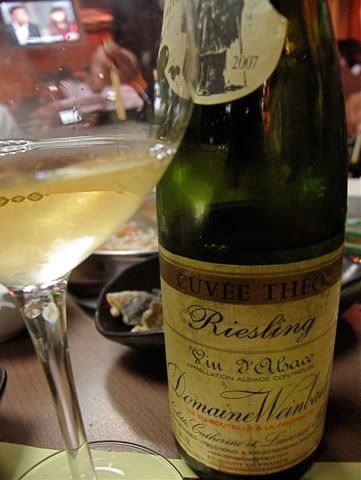 2007 Domaine Weinbach Cuvée Théo Riesling
- Ron's bottle. I'm quite familiar with the Fallers' wines and know that the fruit of this cuvée comes from the enclosed vineyards surrounding the Kaysersberg manor (i.e., the Clos des Capucins). Lush, vibrantly ripe pear, lemon, citrus, hints of white peach and faint lime with a tingling minerality. Notably hefty for a non-grand cru climat, softly curvaceous, buxom and very stylish. It bears the feminine allure of most all the Weinbach wines I've had.
This was a wonderful winter meal. I look forward to coming back to this restaurant next January. We wound up a bit sloshed and wound our way back slowly, walking perhaps a bit unsteadily and laughing a bit too loudly in the chilly winter air. Loved it. Thanks Ron & Mich. See you soon.