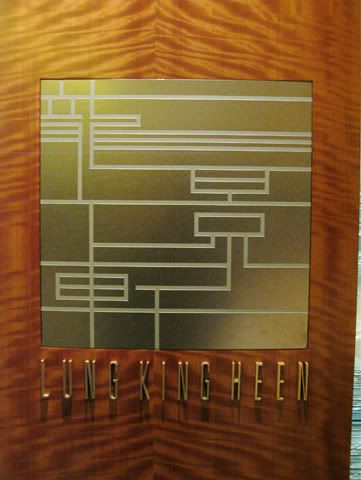 My wife and I were in Hong Kong for 5 days this week. Whenever there, I make it a point to enjoy Cantonese cuisine.
Lung King Heen
at the Four Seasons, as the first, and, to my knowledge, only (so far) Chinese cuisine restaurant to have garnered 3 Michelin stars, I simply had to try it out. Around a week ahead of time, my bilas, Ron, made our reservations for Tuesday, the 12th January 2010. We were only 4 for dinner with Mich & Ron, as Danny & Cecilia weren't available that night.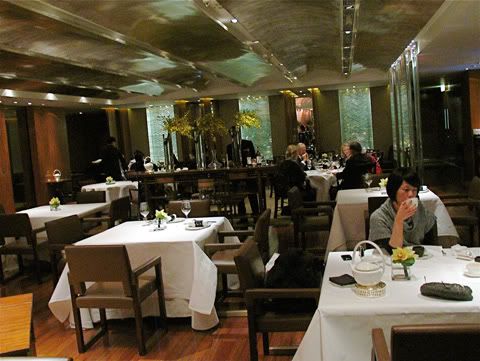 The restaurant's interiors are a study in understated elegance.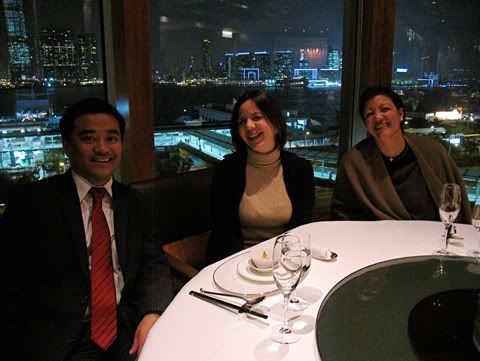 Ron arranged for a corner table with a view of the skyline.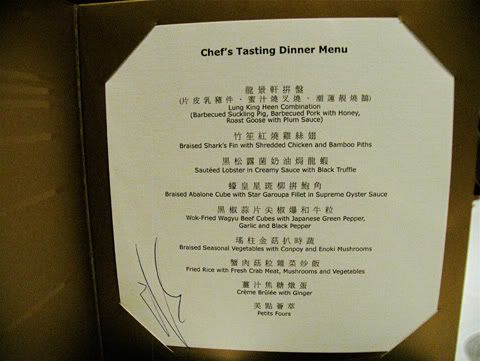 All of us had the 9-course
Chef's Tasting Dinner Menu
, our copy of which was signed by Executive Chef Chan Yan Tak. Since the dishes were predominantly seafood, I chose just one thing off the wine list that would serve as a pairing for most all the dishes and as an apéritif as well, namely, a...
Philipponnat Champagne Brut Royale Réserve (Magnum)
- I had the pleasure of meeting Charles Philipponnat at
a Commandrie du Bontemps dinner in Hong Kong in May 2008
. We were seated beside each other at the table of Château Lagrange and had an interesting discussion on the wine pairings - especially for the main course.
I am also quite familiar with his champagnes and knew that the subject bottling is predominantly pinot noir - thus, I figured it would have the creamy roundness, heft, depth and brightness, to pair with the dishes such as the sharks' fin, lobster and abalone, as well as the finesse for the vegetable dishes and the liveliness to be a good apéritif.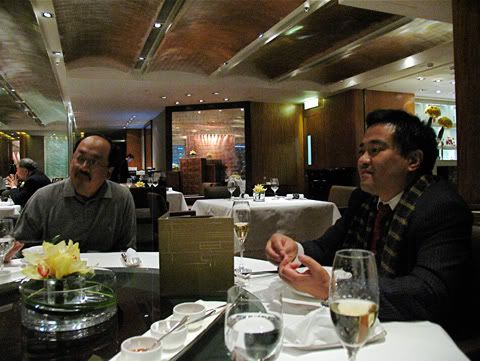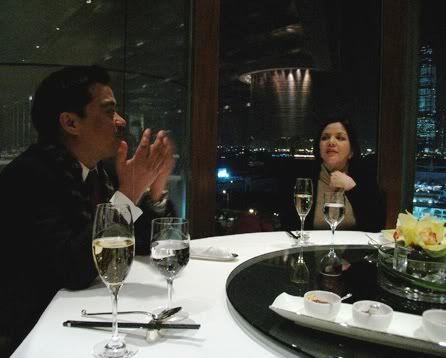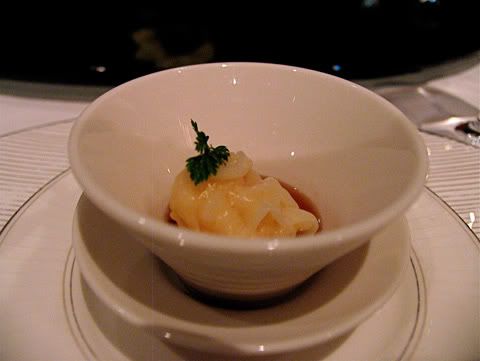 Amuse Bouche
- I'm not sure what it was, but it tasted like an exceptionally clean hargaw with a very light, graceful soy/mirin or shaoising sauce.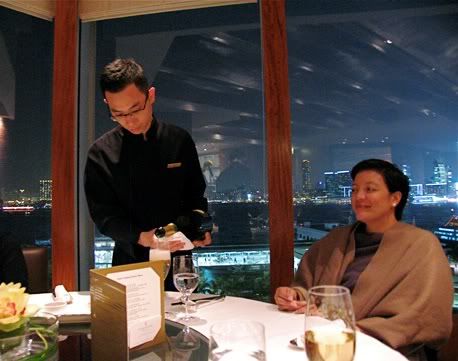 Mich just passed her Hong Kong driving exam that same afternoon, so definitely, some nice bubbly was well in order.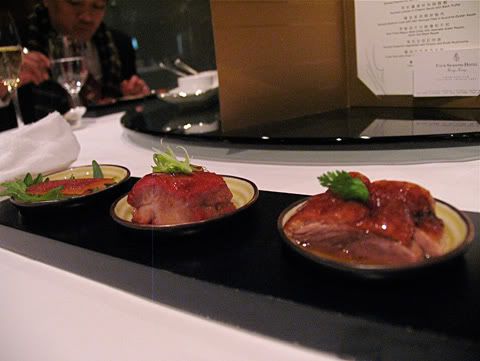 Lung King Heen Combination (Barbecued Suckling Pig, Barbecued Pork with Honey and Roast Goose with Plum Sauce)
Braised Shark's Fin with Shredded Chicken and Bamboo Piths
. The champagne went exceptionally well with this somewhat earthy-toned seafood dish in that the former gave a nice bright contrast and cut, yet had the roundness to execute the same in a subtle manner. Note that the sharks' fin used is the "retazo" type, not the "whole fin" type. I used to lke the retazo type well enough before - that is, until a few years ago when Oscar Ong introduced me to the whole fin type which is really an altogether transcendent dish. Still and all, this one was pretty darn good.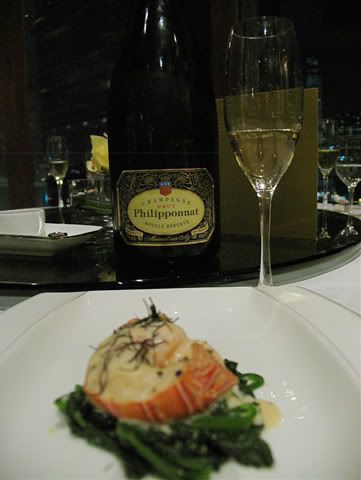 Sautéed Lobster in Creamy Sauce with Black Truffle
. Lobster in a creamy sauce is always a no-brainer pairing for a good, creamy/slightly biscuity champagne, so the pairing was unsurprisingly natural.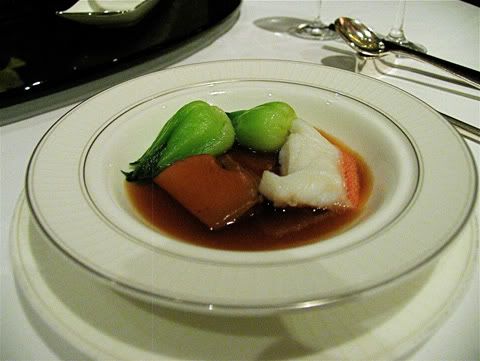 Braised Abalone Cube with Star Garoupa Fillet in Supreme Oyster Sauce
. The garoupa was good, but nothing special and the bok choy - well, it's just bok choy. The abalone was notably more tender and delicate in flavor than many other good Cantonese restaurants I frequent.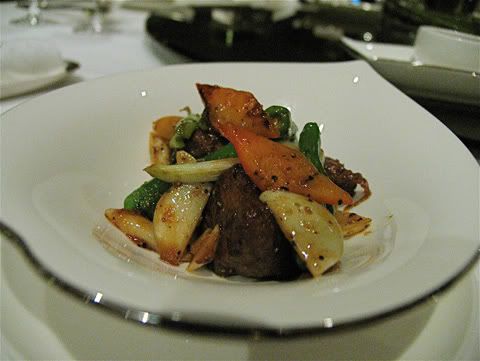 Wok-Fried Wagyu Beef Cubes with Japanese Green Pepper, Garlic and Black Pepper
. The quality of the beef was absolutely impeccable: creamy, and impossibly tender and juicy (I likened it to a beef marshmallow) with no trace of any gristle or sinew. The peppers were sweetly fresh and accented by very gentle heat. Excellent dish. Like kobe beef, this beef taken in large amounts would be overwhelming and tiring to the palate - so the 3 sizeable chunks on the plate were fine (well, my wife gave me one of hers as well since she was already getting full).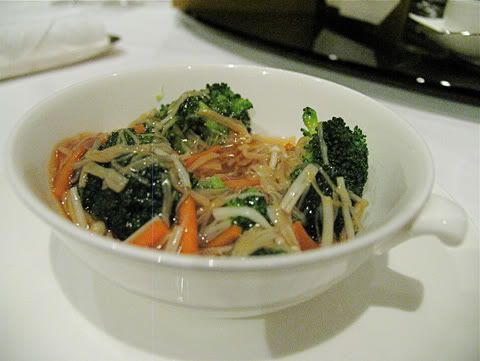 Braised Seasonal Vegetables with Conpoy and Enoki Mushrooms
. Good dish, nice, but nothing very extraordinary. Execution, though, was sterling - and I guess that was the whole point.
Fried Rice with Fresh Crab Meat, Mushrooms and Vegetables
. Same goes with this one. I found it a little funny that a 3 Michelin starred restaurant's tasting menu would include a "filler dish" such as this.
The dessert of
Crème Brûlée with Ginger
was good but very ordinary to me. I ate half and ignored the rest, even forgetting to take a photo of it. The next course was much, much more interesting.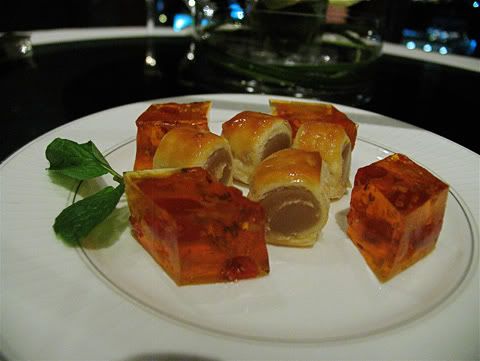 Petits Fours
. The little pastries in the middle are like what we know as "hopia". I don't really eat hopia, but this was the best damn hopia I have ever eaten. What grabbed my attention, though, was the
Osmanthus Jello Squares
(specifically
Osmanthus fragrans Lour. var. thunbergii Mak
) . This was a thrilling dessert - like an ethereal floral-apricot-membrillo jello shot. Loved it.
A double espresso rounded off the evening nicely. In all, a great dinner. The service is absolutely brilliant - undoubtedly 3-star level- efficient yet unobtrusive, friendly but not familiar. They also have an impressive wine cellar with wines (save for the top-end Bordeaux and Burgundy names that wealthy label-drinkers prize and drive up the price of) surprisingly reasonably priced/marked-up, considering restaurants of this level.