I've always loved "Typhoon Shelter Crab" in HK (fried and buried under a heap of toasted chili, garlic and shallots), but the restaurants I frequent there no longer have it on their menus - too "old" and not trendy enough, I guess. I mentioned this to my bilas, Ron, so, on Monday evening, the 11th January 2010, he hosted dinner at
Under Bridge Spicy Crab
just off Lockhart Road in Causeway Bay for Danny & Cecilia and my wife and I. The restaurant specializes in Typhoon Shelter Crab and is very popular, I understand, not only with office people but with Cantonese pop stars and off-duty Chinese chefs as well.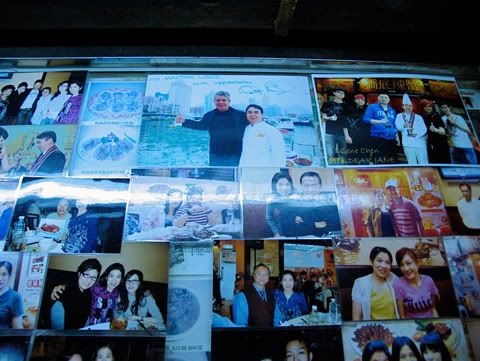 Apparently, Anthony Bourdain likes the food there too as he has a poster there with owner-chef, Master Wong, with a handwritten dedication to the latter (at top, center).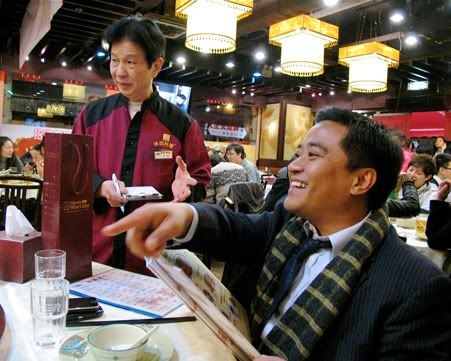 Ron came straight from the office and was 2 beers up by the time we arrived. Obviously, he's been here several times before as he already had an old buddy waiter there who waived corkage for us. He did all the ordering.
Giant Razor Clams under Strips of Vegetables, Bamboo Shoots and Sotanghon Noodles
. This was superb - the clams fresh, big, fat and succulent, the vegetables and vermicelli adding entertaining flavors and textures.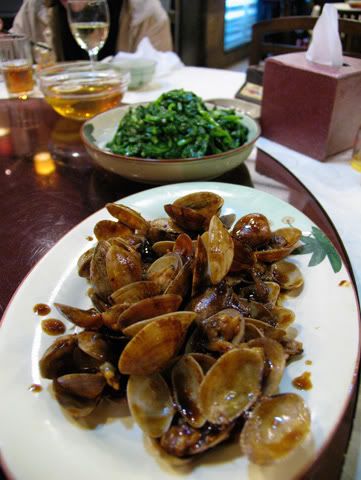 Clams with a Slightly Spicy Dark Sauce and a bit of Taosi.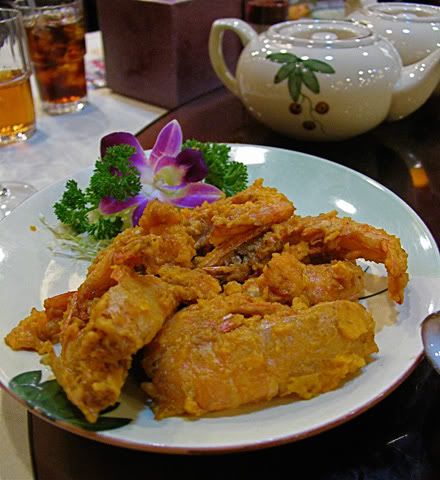 Large Prawns Encrusted with Preserved Egg Yolk
. This dish isn't new to me, I've had it several times in other restaurants both in Manila and HK, but this was
by far
the best rendition I've had: no-nonsense, big, fat, juicy prawns with that heavenly coating. Fantastic. My sis-in-law and wife had already grabbed a couple before I could take the above photo.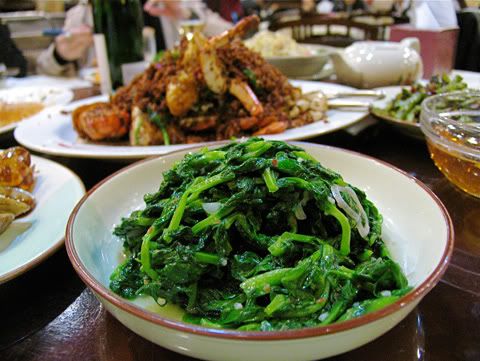 More seasonal Dao Miu.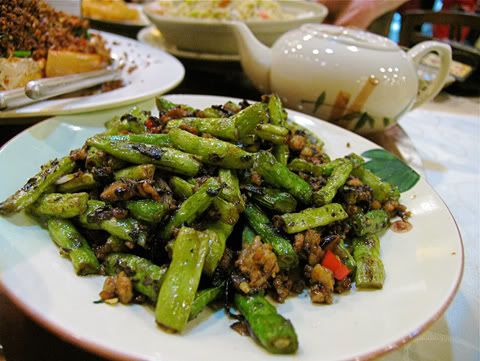 A new one for me:
Chinese Green Beans with Preserved Olives
. Really, really good - slightly nutty with intriguing, subtle olive undertones. We also had an unusually fluffy and clean (i.e., not oily)
Oyster Cake
- not served (or sullied) with the ubiquitous red chili sauce - and it didn't need any. This was probably the best oyster cake I've had so far. Unfortunately, I dove into it so fast I forgot to take a photo of it.
Of course, Ron got us two sets of
Typhoon Shelter Crab
: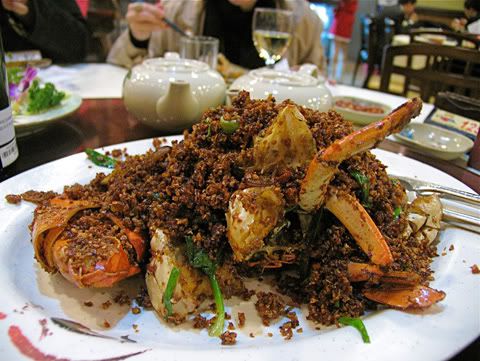 "
Very Spicy
" for him, Cecilia (she's Singaporean, so loves super hot dishes) and I (hey, I'm half Bicolano after all); and....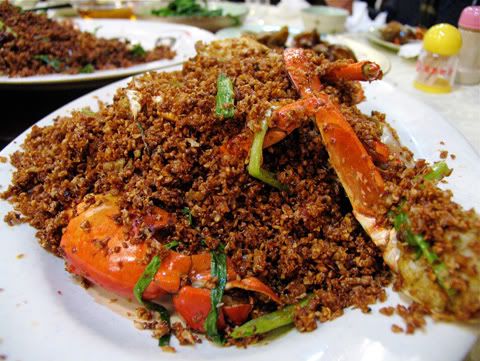 "Not Spicy" (which was slightly spicy anyway) for Mich, Catha and Danny.
The
Very Spicy
lived up to its name and then some. We loved it, especially Cecilia. I could endure the burn well enough with the aid of their
House Specialty Rice
(I don't know the real name of the dish and forgot to take a photo of it - but it was well and justifiably recommended by Ron's buddy) and pours of...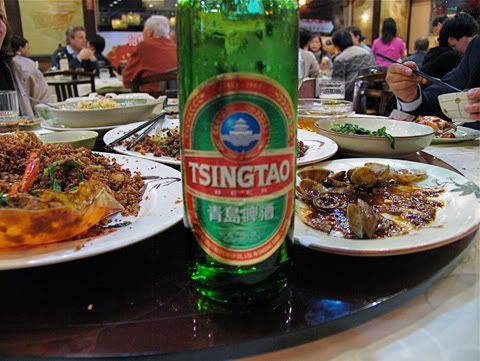 ~ and ~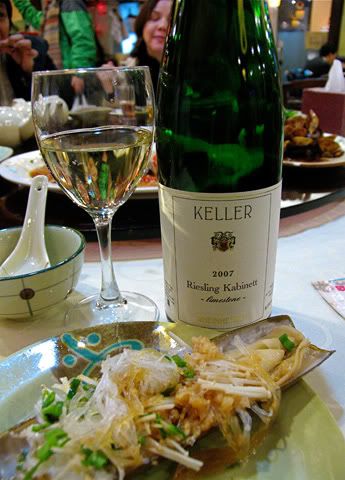 2007 Weingut Keller Riesling Kabinett "Limestone"
- My bottle, purchased from Watson's Wine Cellar in Harbor City. From an exceptional vintage and a famous producer of the Flörsheim-Dalsheim in the German Rheinhessen region. I don't know much else about this producer or region, but J-Lab assured me via text that the producer is well-respected. I chose a kabinett level riesling for the spicy crabs and other fresh seafoods and J concurred.
Moderate minerality marked this kabinett's green apple and pear with minor slightly honeyed citrus flavors. Just a tad sweeter than other kabinetts I've tried, it certainly helped ease the Very Spicy crab's burn. I also noted that the Tsing Tao beer in HK seems slightly fuller and is notably sweeter than those we get in Manila (shipping and storage issues?). In any event, it also helped douse the fire of the crabs.
The wine is not as focused or pure and doesn't have the thrilling minerality of the Mosel wines I'm familiar with (e.g., Dr. Loosen, Dönnhoff or Haag), it's fruit seemed riper as well than other 2007s I've had. That said, however, the ripeness and sweeter/chubbier-than-kabinett flavors were very friendly and approachable making for a good marriage with the spicy crabs.
Dessert was fresh fruits, the watermelon a welcome sweetish aftermath, washing away the remnants of the chilis' heat. Outside, Ron recognized and chatted up Master Wong who graciously posed for some shots with us. What a fun evening it was.