Wednesday late afternoon, 6th January 2009, was at the Stockbroker's new wine keep - a new venture of his and some friends providing secure, discreet and proper wine storage facilities for discriminating collectors. His personal locker was crammed with no less than 4000 premium bottles. We were 4 that day - the Stockbroker, Bernie, Keiichi and myself - for a few drinks before our respective dinners.
The Stockbroker & Bernie checking out some aged Burgundies.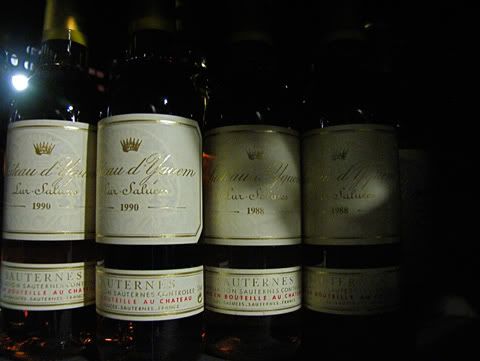 Some large formats from Napa, Piedmonte, etc.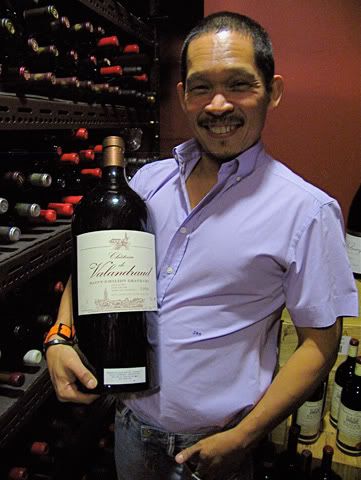 A 6-liter 1998 Château de Valandraud waiting for his 50th birthday.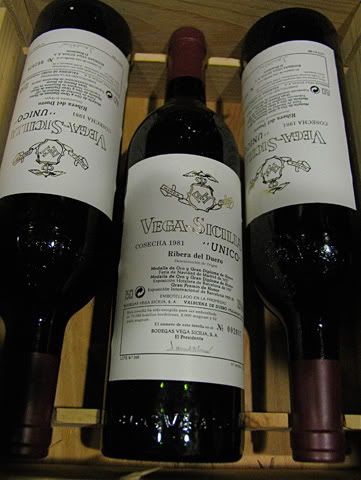 ¡Ole! 1981 Vega Sicilia Único
While waiting for Keiichi, we started off with a bottle of...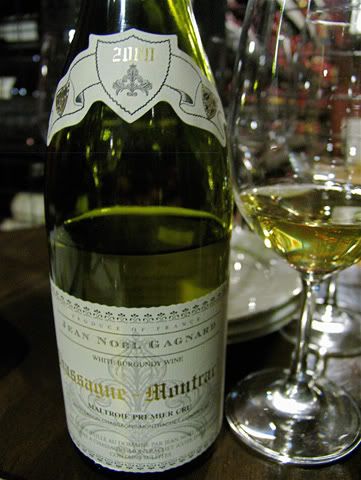 2000 Domaine Jean Noël Gagnard Chassagne-Montrachet Maltroie Premier Cru
- The Stockbroker's bottle. I mistakenly told him I had tried the '00s of Gagnard's Morgeots - after re-checking my old notes, I found out it was actually some bottles of the '97 Domaine J-N Gagnard Chassagne-Montrachet Morgeot that I purchased a few years ago when I was visiting my sis in Indiana (from Kahn's Fine Wine in Indianapolis). I must have mixed it up with the batch of '00 Domaine Blain-Gagnard Chassagne-Montrachet Morgeot I got a while back (
nb
: Blain-Gagnard was formed by Jean Noël Gagnard's direct niece, Claudine Gagnard, upon her marriage to Jean Marc Blain, a member of Burgundy's Delagrange family).
I don't really have much experience with the Maltroie climat, I've had a few and know the vineyards are situated just east of center of Chassagne-Montrachet. In any event, the subject wine, after a few minutes airing in glass, showed dense, rich, open, biscuity and floral scents over baked apple, pear, baking spice and beurre noisette - there was a hint of, for lack of a better term, "model airplane glue" as well (a scent that always reminds me of the 2001 Guigal Ex-Voto Blanc, for some reaon).
More focused, compact and well-structured on the palate, it, initially, had a generous and flambuoyant middle laced with moderate toasty, leesy, vanilla notes with citrus notes emerging past mid-mouth. Within around 30-45 minutes, the citrus/lemon/slight lime seemed to take over the middle, which had become leaner and more sharply focused - its white minerality coming to the fore. Nice enough as a primer for the reds, and a good foil for the triple-creamy and gamey chèvre.
In the meantime, Keiichi had arrived and the reds had started pouring.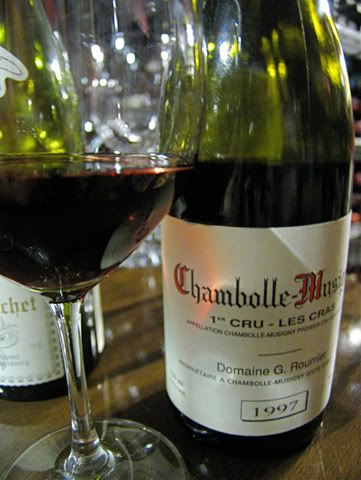 1997 Domaine Georges Roumier Chambolle-Musigny 1er Cru Les Cras
- I was discussing with Bernie how I've found '97 red Burgundies generally more approachable earlier than '96s (no big news, I know) when we started trying this - citing, as an example, the
'97 Jean Jacques Confuron Clos Vougeot
. The subject wine, though, to me showed the most youthfully of the '97 red Burgs I've had in recent memory. Pine needles, violets, sappy fruit - fresh strawberry over raspberry over cherry with dark spices surfacing after around 20-30 minutes. Good focus, the Burgundy decay is showing signs of developing, but it's not really "there" yet. Medium-bodied, light-footed, very correct and proper. Nice.
There seemed to be a slight gaminess at the finish, but that was most probably the effects of the chèvre. I believe this is still quite young and will almost certainly gain in depth and complexity within, say, 5-7 more years - and with the ideal temperature/conditions of this keep, this wine should have no problem ageing gracefully.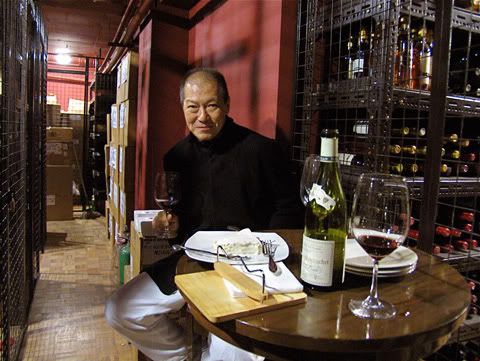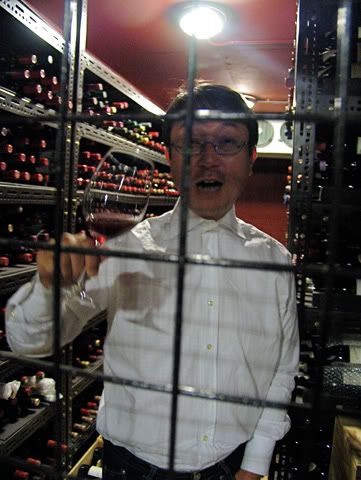 "Leave me here and just come back for me tomorrow!"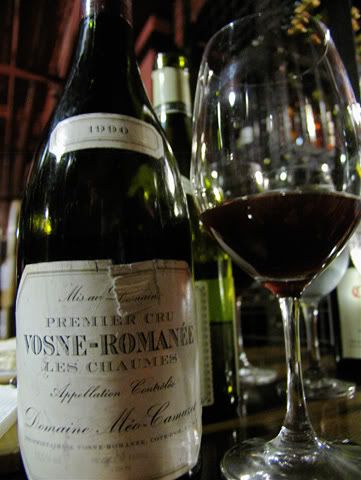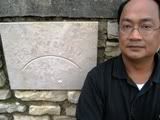 1990 Domain Méo-Camuzet Vosne-Romanée Les Chaumes - Bernie's bottle. I actually strolled by these vineyards a few times where my wife snapped a photo of me beside the vineyard sign (one of the more highly-regarded climats in this area). Virtually right off the bat, the bouquet displayed damp earthy, mushroomy notes intertwined with old, decayed violets and slight compost (in a good way) over slightly dark Chinese spiced, ripe, molten black cherry, kirsch, raspberry, damson, vague suggestions of underlying chocolate and hoisin.
Soft and comparatively lush on the palate, this was evidently/inherently heftier and riper than the previous wine (not surprising as Chambolle-Musigny wines are known more for lighter, feminine grace , with Bonnes Mares, which borders Morey St-Denis, being a generally recognized exception), deep, complex and beautifully layered. Though this is quite mature, I think this has many more years in it. Memorable wine.
With afternoon wines like these, who would really need dinner?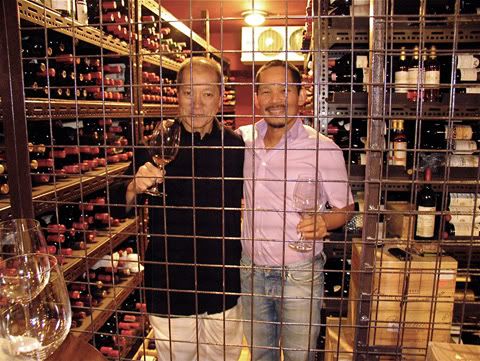 Thanks for sharing your bottles, my friends. Much appreciated.