Since we were gone for a while, we promised to take the kids out for dinner Saturday night, 16th January 2010, and our youngest chose
Caffé Caruso
. I assume it's named after Enrico Caruso, but, of all the years I've been eating there, I've never heard any of Caruso's music played and have never seen a picture or poster of him there. In any event, it wound up with just my wife, I and our youngest for dinner, as our 2 older sons were busy with schoolwork (or so they claimed).
I forgot to bring my camera (so I just used my phone's camera) and a bottle of wine. I had my usual apéritif of Campari Soda and my wife a Green Apple Martini as we browsed through the menu, but wound up ordering the usual dishes, and I ordered a bottle of Italian white off the wine list.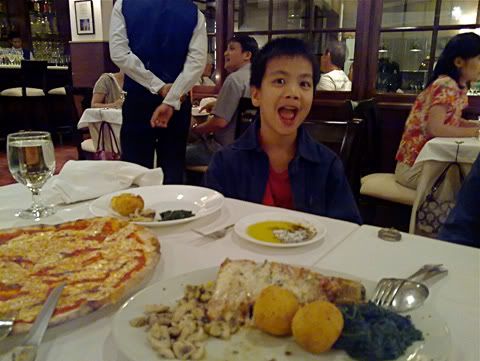 Pizza Napoletana
and a platter of
Antipasti Misti
. My wife and I also split an
Arugula Salad
which I forgot to take a photo of.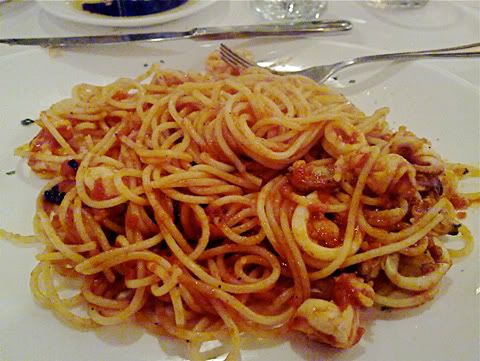 Wanting to eat relatively light, I treated my pasta course as my main course:
Spaghetti allo Scoglio
. This didn't used to be on the menu a few years ago, but the ever-present and accommodating proprietor-manager, Dario Gardini, would have it made for me back then.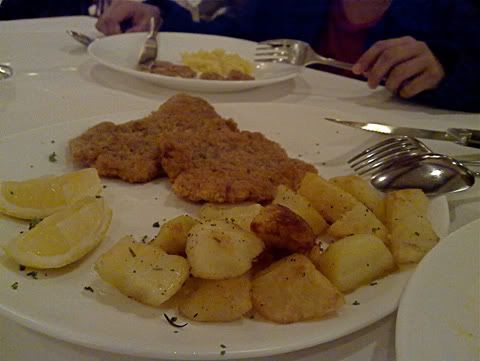 My wife and youngest shared an order of the
Veal Como
(i.e., a simple breaded veal dish common in Lombardy)
with Roasted Potatoes
and a platter of
Risotto allo Zafferano
(a Milanese preparation of creamy saffron risotto).
With all these, my wife and I shared a bottle of...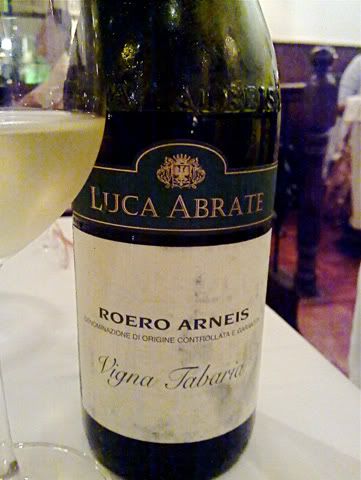 2008 Luca Abrate Roero Arneis Vigna Tabaria
- It was a very pleasant surprise to see a Roero Arneis on a local wine list. I've liked this arneis (a.k.a., nebbiolo blanco) based white wine from hilly Roero vineyards in Piedmont ever since I first tried it almost a year ago, during
one of the Stockbroker's Barolo lunches in Pepato
- a 2005 Bruno Giacosa Roero Arneis it was.
The subject wine was younger, somewhat less complex, but very fresh and very good. A single vineyard bottling (Vigna Tabaria), this was crisp, precise, quite dry and very clean in its vibrant white peach, citrus, hint of lime, flavors and underlying bitterish-almond, cold-stone, cold steel and limestone nuances. Broad mid-palate, a shade under medium-bodied, citrus, lime and slight calamansi (i.e., a small local citrus fruit) trail in the moderately long finish. Acidity is adequate and the balance is good enough.
I liked it a lot and so did my wife. Its slight almond-bitterness ran well with the arugula salad, and its dry, minerally/steely fruit cleansed and refreshed the palate between bites of the pizza Napolitana and my spaghetti allo scoglio. My wife found it merely acceptable with the veal and risotto though.
At P1900/bottle at the restaurant, its a very good deal for me as I favor this type of wine. I'd imagine, though, it takes a somewhat mature palate to appreciate this as it is no
tutti-frutti
kind of wine.
Dessert was, again as usual,
Panna Cotta
, followed by double espressos and a shot of
Sambuca
as a digestif (the latter 2 items compliments of Dario). Surprisingly, the little one skipped dessert. He must have been too full and promptly fell asleep in the car as the 3 tenors serenaded us on the way home. I like evenings like this.