Four of the Alabang group have their birthdays in May (Booze, Willy, Yvonne & I). The past few years, we've been holding joint celebrations at Choi Garden in Greenhills. This year, however, knowing that I've been getting dizzy during long car rides,
Booze and Margarita
kindly transferred venue to their place a few blocks away from me and cooked dinner for everyone. Because of the level of dining at his and Margarita's, everyone readily agreed.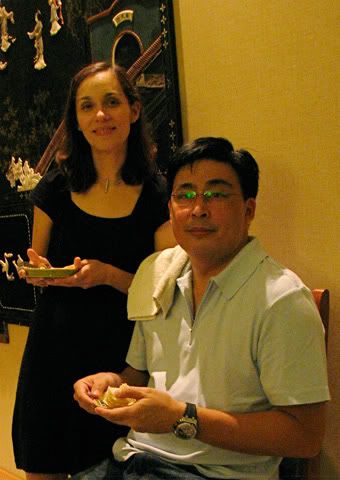 The celebrants divide the cost of dinner proper, but everyone contributes other dishes. We were only 11 in all because Maxie, Maricel and Johnson's better half, Candy, couldn't make it.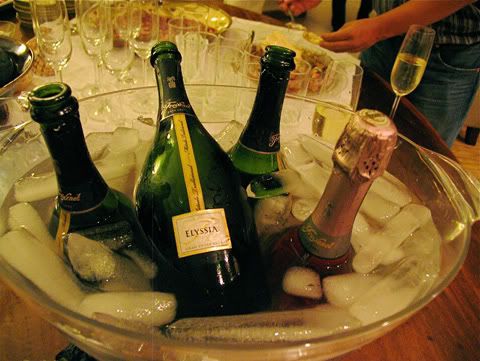 We enjoyed all the delectable appetizers with well-chilled flutes of
Freixnet Elyssia
cavas I ordered from Aaron's
ADP Industries
, the Philippine representative of the giant Grupo Freixenet, among others. These brightly dry, refreshing Spanish bubblies from northeastern Spain are paired wonderfully in varying degrees with all the appetizers, most notably with the
pulpo
and Spanish hams. Their freshness, purity and cool, crispness are perfect for the summer. I've written about these cavas before and my past notes are always consistent:
Freixenet Elyssia Gran Cuvée Brut
- From Aaron of course. I've written about this old-reliable, bright, refreshing and appetite-whetting cava. From Manila until Freixenet's own winery in Sant Sadurni d'Anoi in the outskirts of Barcelona, this cava is a consistent pleasure as an apéritif and to accompany various pica-picas. My notes from
tasting the same cava in the Freixenet winery
:

A cava I am very familiar with as I've had this several times from Aaron's family company ADP Industries that represents, among others, the Spanish giant, Freixenet (in fact, I had it again just last night at La Tienda). My recent notes are as follows:

"By the giant Freixenet firm, this is a méthode champenoise sparkling wine which tastes and feels much more like a champagne blend than the usual cavas I encounter in that it is comparatively heftier, creamier, rounder on the palate and not "grassy", sharply minerally or acidic. The dominant, dry fresh apple, crisp pear and second-tier lemon/orange flavors have a very subtle white chocolate undertone mid-mouth and the merest hint of almond bitterness towards the back (but not in the finish)...


Freixenet Elyssia Pinot Noir Brut
- Per Aaron, this is a méthode champenoise bubbly made out of 85% pinot noir and 15% trepache. Light-footed but definitive fresh strawberries with cherry and mildly spiced black currant nuances underneath. Straightforward with light mousse, it is a fun bubbly and very easy to drink. With its openness and approachability, at a full retail price of P1200/bottle, this would be great for beach trips, big gatherings, wedding toasts or casual home enjoyment.
I noted that the Freixenet Elyssia Rosado recently received the highest marks for all cavas in the 2010 Repsol Guide of
La Real Academia Española de Gastronomía
(The Royal Spanish Academy of Gastronomy). The cavas were quickly drained and very well-received, inquiries were made where they could be purchased.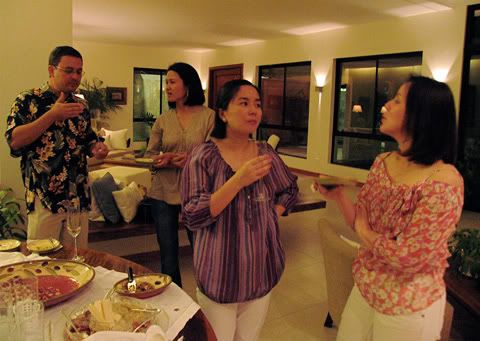 Kenny, Sylvia, Lisa & Catha
The Pica-Picas: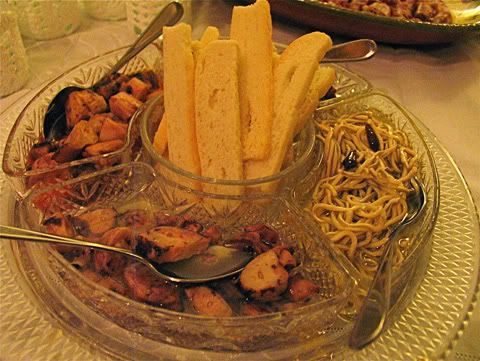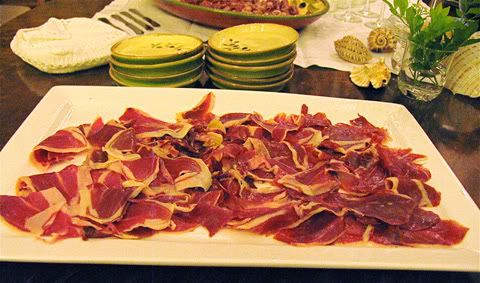 ...and heart-stoppingly good Jamón Ibérico from Toñico and Yvonne...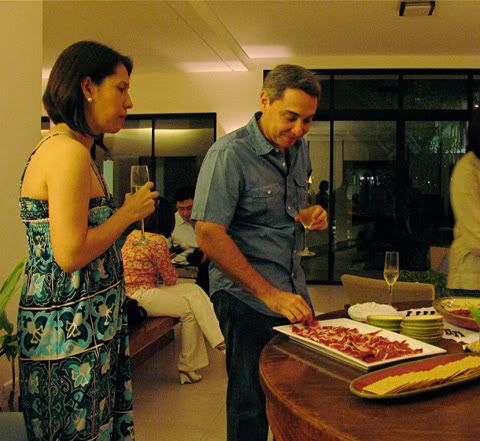 ...who carefully "tested" the
jamón Ibérico
"just to make sure it was safe".
Jamón Serrano
roll-ups and
Baked Brie with Mushrooms
from Booze & Margarita (unfortunately, the two platters of the latter were attacked before I could photograph them.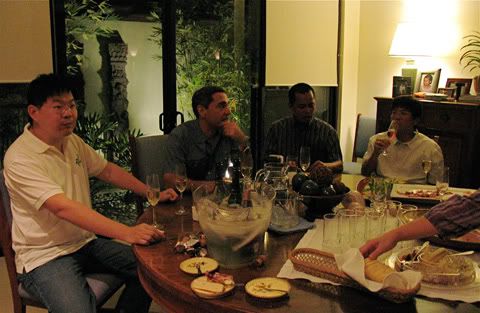 Johnson, Toñico, Tonji & Willy
We were eventually called to the dining room for dinner proper...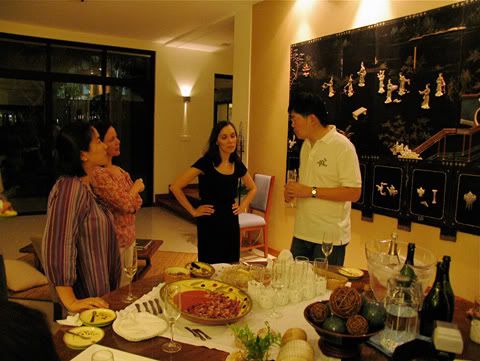 ...but Tonji, Johnson and I hung back for a bit longer to scarf down even more of the pica-picas and cava. We laggards joined the others in around 15 minutes though.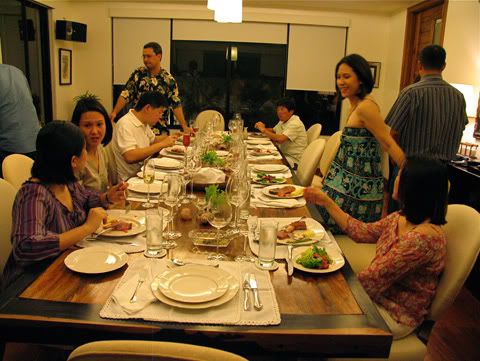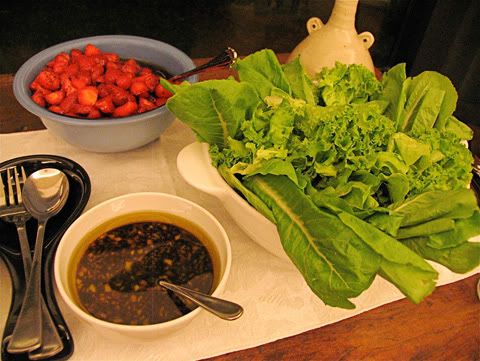 A light, cooling, summery
Strawberry Salad
by Catha.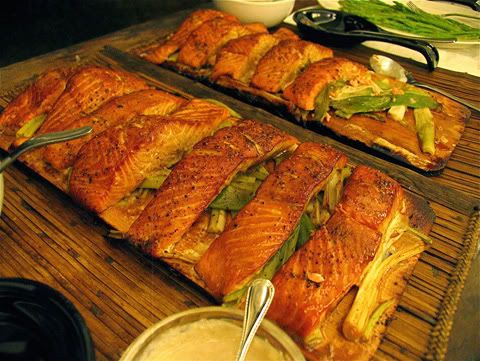 Cedar-Planked Salmon atop Roasted Leeks, and,...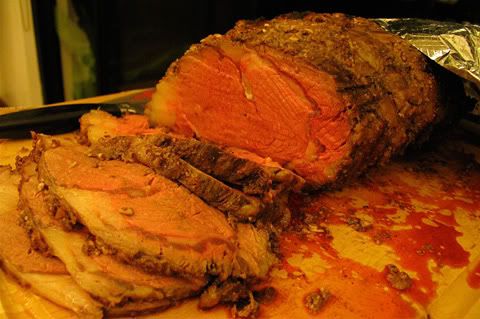 Roasted Certified Angus Rib-Eye by Booze.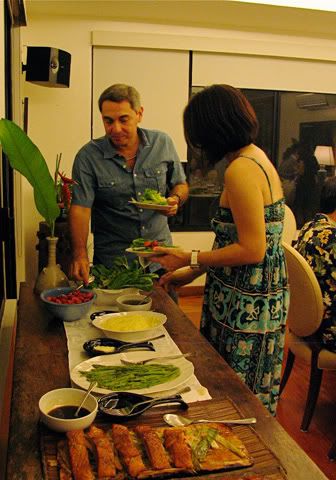 The Climents start with salad. Also shown are Margarita's excellent sidings of
Young Asparagus
and light-footed yet creamy
Mashed Potatoes
.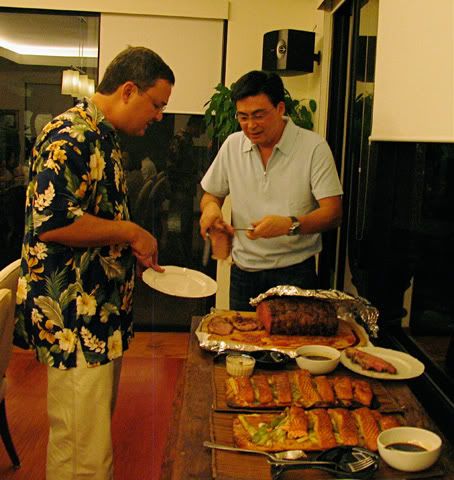 Booze loads Ken up with a slab of tender and juicy beefy goodness.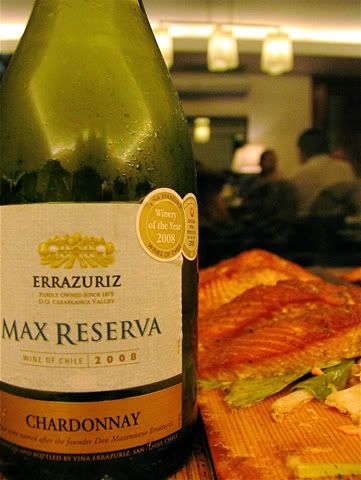 2008 Errázuriz Max Reserva Chardonnay
- Tonji's bottles, from D.O. Casablanca Valley, Chile. The aromas were leesy/creamy vanilla/oak-touched, very ripe, lightly-baked apple, pear, hints of Mexican mango and sweetlish lemon custard. In the mouth, Tonji noted that it was similar in style to the bigger, hefty, low-acid, buttery, oaky California chardonnays. I agreed it was indeed cut from the same cloth, but not over-the-top. It did go well enough with the cedar-planked salmon though.
2005 Beringer Private Reserve Cabernet Sauvignon
- Booze's bottles, dyed-in-the-wool Napa-head that he is. I was surprised how drinkable this youngster already is. Full-bodied, quite concentrated and extracted, moderately dense with smooth, velveteen tannins. Crème de cassis, very ripe black currant, bit of dark cherry, a notable dose of dark minerality, hints of chocolate, fig and toffee, slight undertones of truffle, newish leather and a hint of iodine. Very approachable now, good with the roast beef, and will surely gain more complexity and harmony in, say, 5-6 more years from now.
I must admit I really over-indulged with the pica-picas, roast beef and mashed potatoes. I was quite stuffed when the cheese, fruit and desserts were served, but simply couldn't resist Margarita's home/self-made goodies.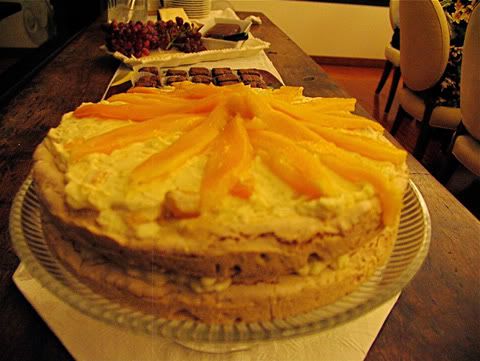 Margarita's Mango Torte...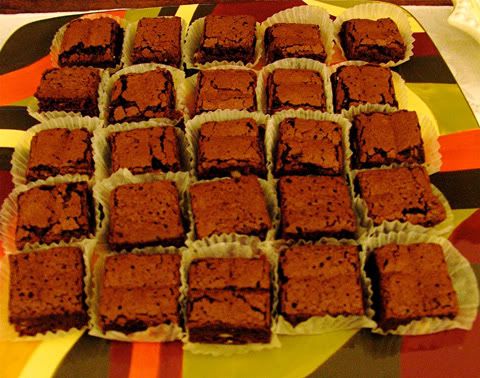 ...and patented Chocolate Brownies.
After around 8 brownies and a couple of slim slices of mango torte, I stepped outside for a quick smoke. I didn't have any of or photograph Catha's
affogato
since it had espresso and Kahlua in it and I am now trying to avoid caffeine at night.
What a meal. We all get over-stuffed at Booze & Margarita's dinners, and last night was no different. Thanks for everything, guys, and, of course, happy birthdays to Booze, Willy and Yvonne!!! I wish us all many more to come!!!