Catha and I stayed at the Marco Polo Gateway Hotel again (5 days/4 nights) to be near my sis-in-law's place (a nice, new and modern condominium complex along Wylie Road, Ho Man Tin, near TST) where my children had been staying since the 14th May. Well, that and because I always enjoy riding the Star Ferry which also happens to be the most convenient way to get to the Hong Kong Exhibition Center (Wanchai) which is the regular venue for Vinexpo Asia-Pacific.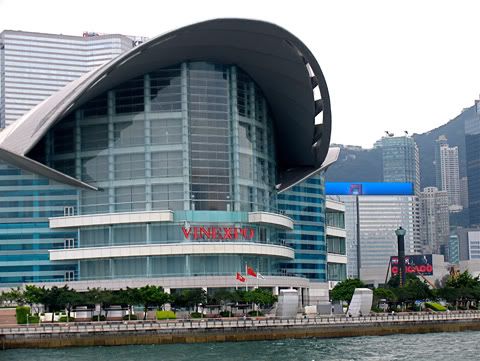 One just walks through the mall to the TST station, hops onto the ferry to Wanchai, gets off, goes onto the overpass and crosses over to the Exhibition Center.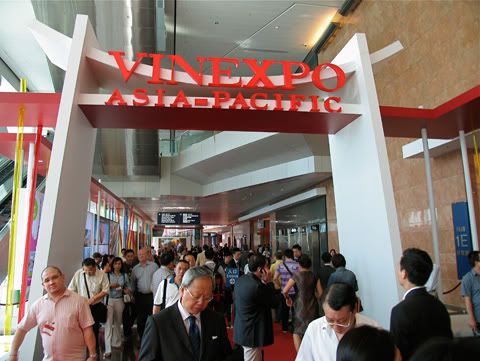 Bottom-left are Eric Kahn and James du Vivier of Futuretrade walking through the crowd.
Since the UGC tasting (the main reason I attend any Vinexpo) was still much later at around 2pm, I wandered around the Spanish wine area, and, at the ICEX booth bumped into good friend and always busy
Sandra Chan
who is the Market Analyst and Chief Trade Officer of the Spanish Consulate's Trade Commission in Hong Kong.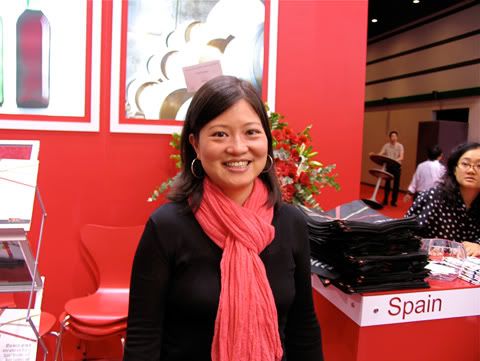 Sandra, who is fluent in Spanish having grown up in Panama, was the Asian Journalists' Mission's most able guide and "den mother" in Barcelona, Rioja and Bilbao. We enjoyed that trip so much to a great extent because of her. Though swamped with work, she took the time to chat briefly with me, introduced me to
Dennis Ho
(Publishing Manager, The Corporate Grocer & Caterer) and made quick plans for lunch together with
Carmel Yip
(Editor, The Corporate Grocer & Caterer; Carmel, like myself, was also part of the Asian Mission to Spain) within the next few days.
As I went on my way, I couldn't help stopping by the booth of
Bodegas Herederos del Marqués de Riscal
, an old reliable producer of always comforting tintos Riojanos.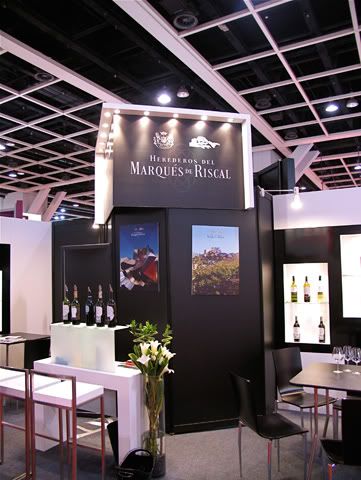 There I was received by
José Luis Muguiro
, one of the Marqués de Riscal heirs, member of the board and
Director General Comercial de Vinos
.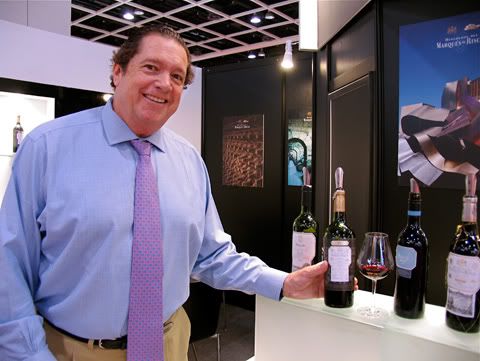 When I introduced myself and told him I was part of the recent Asian journalists' mission that visited the Riscal "City of Wine", he replied that he knew all about it, knew Javier Ybañez entertained us there, and, to my surprise, said he had read my blog post about the visit/tasting and thanked me for it. I know I sent it to Javier, but didn't think it would reach one of the owners. Good to know that the owners of so large and famous and operation are so hands-on as to read
and remember
just one of surely thousands of blogposts about Riscal.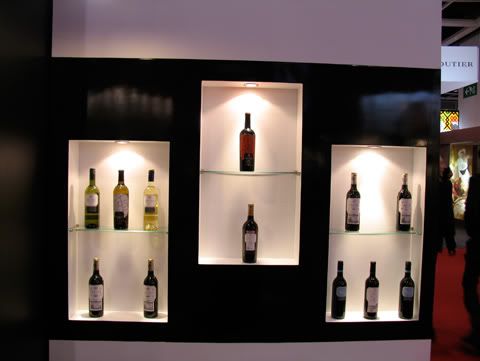 It was also a very pleasant surprise to discover and meet Riscal's Export Department Officer and fellow Filipino,
Eloísa Suazo
, who told me she had just visited JC de Terry in Manila recently. As José Luis had to entertain some buyers, Eloísa graciously poured for me until I told her I could handle it myself so she could join the meeting.
2008 Marqués de Riscal Finca Montico Rueda Verdejo
- I tried this wine, among many others,
when I visited Riscal on the 25th March 2010
, but welcomed the opportunity to re-try it at a more relaxed pace. My previous notes were as follows:
...Fruit from a low-yielding, highly vine-stressed single vineyard in Rueda's Montico district; gentle whole cluster pressing, no crushing or de-stemming; 4 months on lees with once-a-week stirring. The wine is bigger, more alcoholic and viscous, heftier, with a touch of creamy leesiness to the peach, pear and unsweetened marzipan notes. The floral and fruit aromas are more intense as well. Still, the freshness is there though and high acidity props the heavier fruit up keeping things very interesting. More of an eating wine than one for apéritifs given its girth. Could pair with richer seafood dishes like lobster thermidor or parmesan baked chicken.
This time, I felt the freshness of fruit and acidity was quite refreshing and, aside from going well with richer seafood dishes or baked chicken parmesan, it could also do quite well as an apéritif.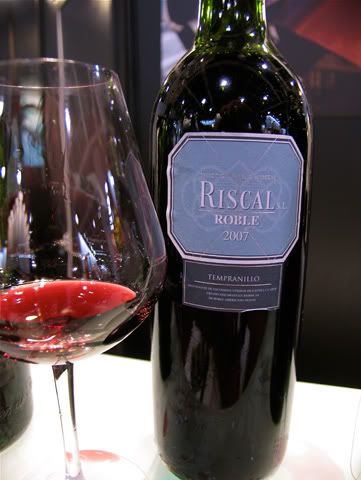 2007 Marqués de Riscal Roble
- This is the first time I got to try this particular bottling of Riscal (a young wine under crianza level: e.g., jovenes and robles). Nice freshness in this 100% tempranillo from Castilla y León (NB: this is different from the 1860 roble bottling which has a similar blue label), if I am not mistaken, this sees barely 6 months in oak ageing. Fresh and vibrant dark red berries, some cherry, rasberry, a bit of underlying blackberry and very slight toasty-oak. I actually liked this quite a bit - it is straightforward, honest, simple, but quite friendly and readily pleasing. Nice. I'm not sure if this bottling is available locally, but it might be at Terry's.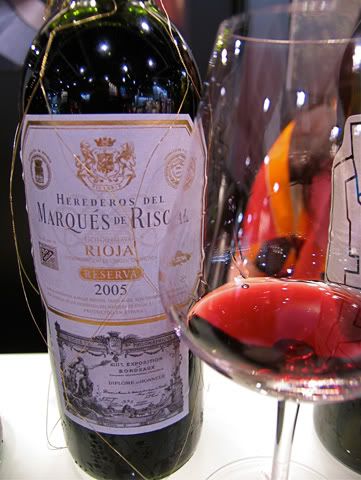 2005 Marqués de Riscal Rioja Reserva
- Another one I got to try when I visited the winery in late March this year. My notes at the time were:
This couldn't have been released too long ago. Though not quite 5 years from vintage and still quite young, balsamic and underlying leather notes already peek through the correctly ripe fruit and oak/baking spice. Admirable balance and finesse here. I love how consistent and distinctive the wines of Riscal are.
Consistent with my above notes, I only add now that the wine is nicely smooth and warmly comforting. Good stuff and very reasonably priced as well. Have it with lamb, beef or grilled/roasted/sous vide/barbecued pork belly dishes.
It was already noon by the time, so I said goodbye to and thanked José Luis and Eloísa and hurried off to my lunch appointment with old college friend and compadre,
Danny Sy
, an international banker based in HK for many years now. Danny always takes us to lunch and/or dinner when we're in HK; unfortunately, his better half, Cecilia, was in Singapore on business while we were there. This lunch was just Danny and I, he treated me to lunch at
Bo Innovation
.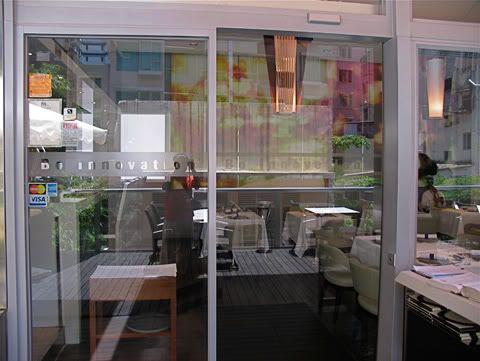 Danny was already there checking out the menu when I arrived.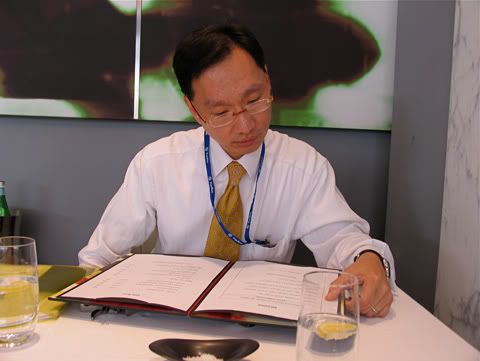 Since I planned more tasting that afternoon and had the
Commanderie du Bontemps
Dinner to attend as well, I prudently declined Dan's offer of ordering a bottle with lunch (he couldn't drink either since he had to go back to the office) and asked him to be the one to do the ordering, requesting only that it be relatively light. Ever the consummate gentleman, Danny naturally obliged.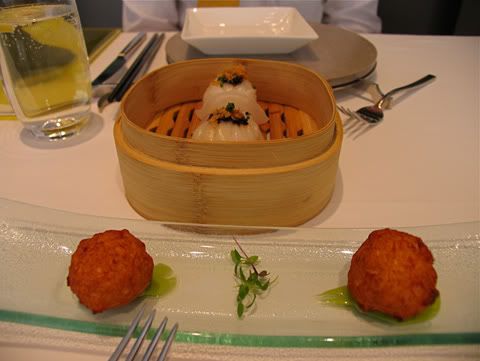 Foreground: Deep Fried Scallop Balls with Kaffir Lime Sauce; at the back,
Har Gau Black Truffle XO
.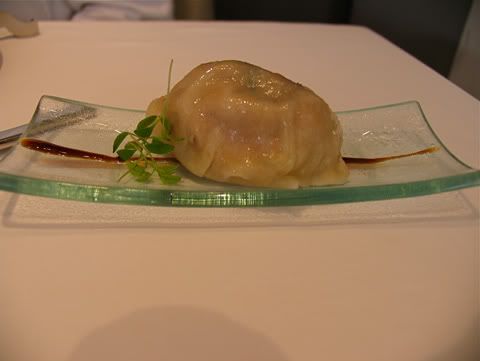 Foie Gras Potsticker
(top view)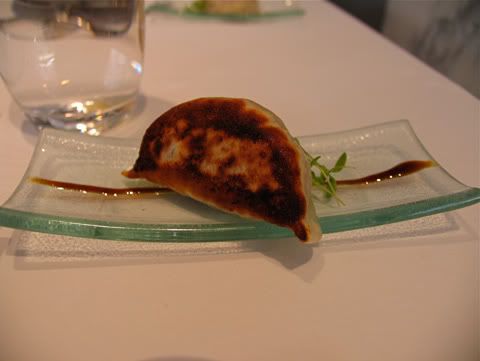 Bottom "potsticker" view
French Quail "Beggar Style", Chinese Lentils & Wolfberry Chutney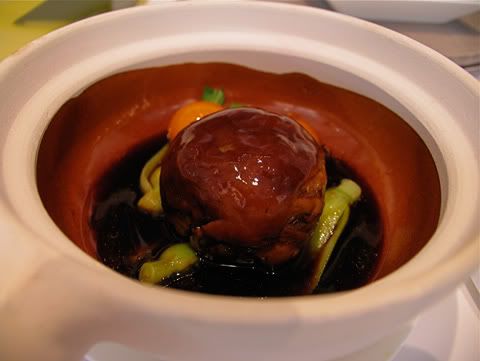 Slow Cooked Suckling Pig with Chinese Vinegar & Egg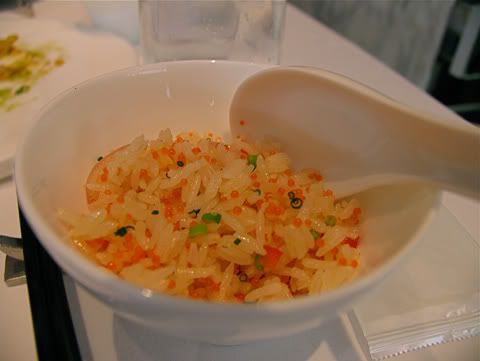 Fried Rice with Tobiko & Scallions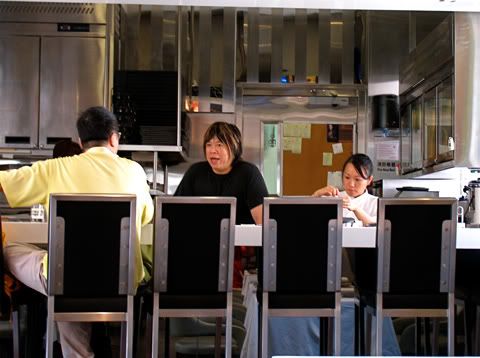 Chef-Owner Alvin Leung, Jr. takes a break from the kitchen.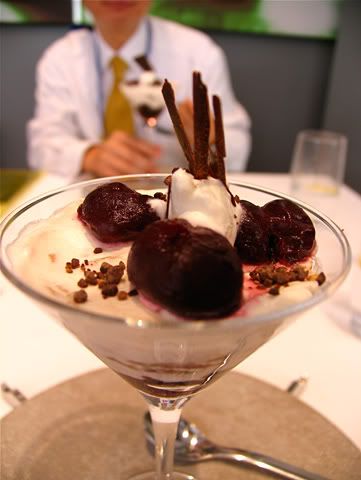 Dessert du Jour was a nice Black Cherry Parfait
We spent the lunch hours enjoying our food - particularly noteworthy for me were the foie gras potstickers, both main courses and the fried rice - an catching up with each other, chatting about our families, friends back in Manila, etc. Though it is always fun when Dan takes out my whole family, it was really good to be able to have time with just us. Thanks yet again, Danny - as always, it was great catching up.

When I returned to Vinexpo to attend the UGC tasting (I was late as usual), there was a very long line to get in. I've never experienced this before in Vinexpo, whether in Bordeaux or HK. Not having the patience to wait, I just spent around 45 minutes chatting and having a smoke with Bodjie and Jayjay. I ditched the tasting thereafter and returned to the hotel, anyway, I had tasted both the 2006 & 2007 vintages more than once before so no big deal.