3rd April 2010; continued
.
After my tasting and tour at Bodegas La Rioja Alta in Haro (Rioja Alta), Catha and I stayed a few more days in La Rioja, basing ourselves back in Logroño. I booked us this time at the
Sercotel Portales
(Portales 85 26001 Logroño), a small, attractive, modern-chicly furnished, reasonably-priced 3 star hotel right at the entrance of the
Casco Antiguo
("old town"). There's free WIFI in the entire premises.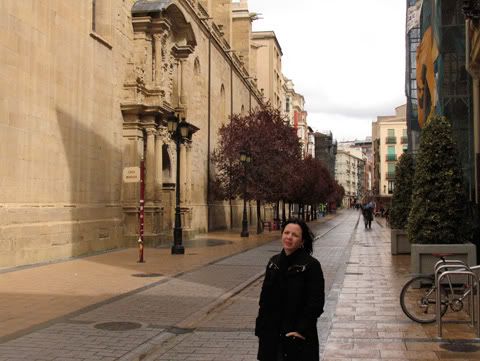 Very conveniently located, the hotel has its own underground parking levels which you use a small (and I do mean small) car elevator to get into.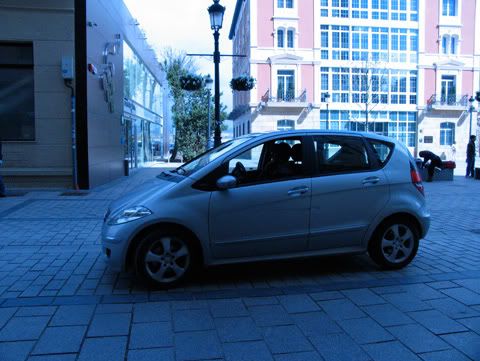 Fortunately, my little MB A180 rental easily fit inside.
We just wandered around the old town, I showed Catha around as I'd spent a few days there earlier in the trip with the journalists' mission while she stayed on with Tita Rose Vecin in Barcelona.
We just had a light lunch of pintxos in a simple café, took a siesta in the hotel and arranged our luggage until our 9pm dinner reservation at
El Rincon del Vino Logroño Restaurante
(there is another branch in Ezcaray).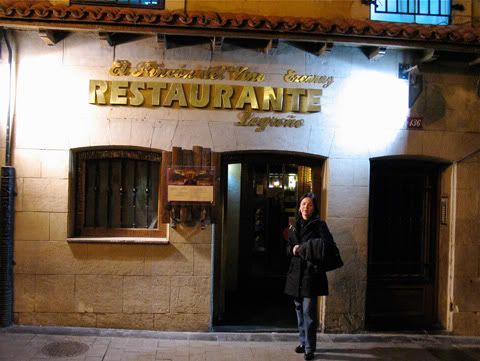 Sergio Soto Mendi is
Jefe de la Cocina
here, while his brother, Armando, heads the branch in Ezcaray (around 60 kms away). The
seasonal menu
at the time featured mainly traditional, hearty, earthy, warming Riojan dishes - exactly what I was in the mood for.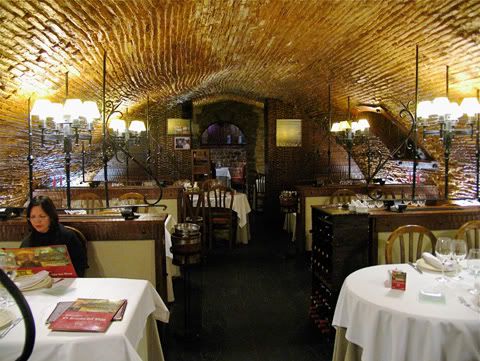 Typically in Spain, the restaurant was empty aside from us at 9pm. By 9:30, however, the place was packed and people were being turned away way into the night. We ordered our dishes, bottle of wine and the meal began.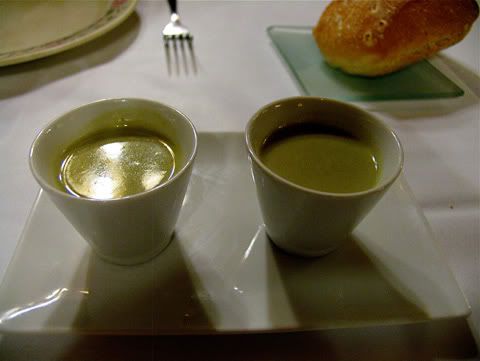 These came with the meals, we didn't order them. Some sort of moderately dense soup that involved a green legume - surely meant to warm us up as the weather was still quite cold, windy with occasional rains. Warm us it did, if not much else.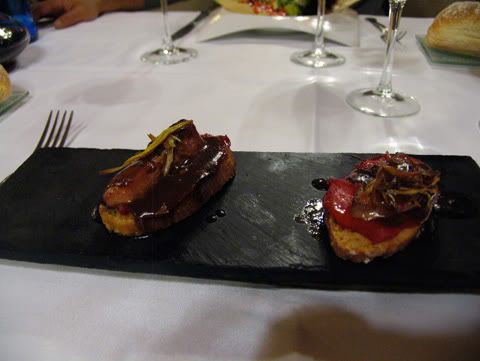 Tosta de Foie Micuit con Piquillos al Caramelo
(Warm Foie Gras on Toast with Caramelized Piquillo Peppers) for Catha. She said the caramelized Piquillo peppers put a different spin to this ubiquitous dish.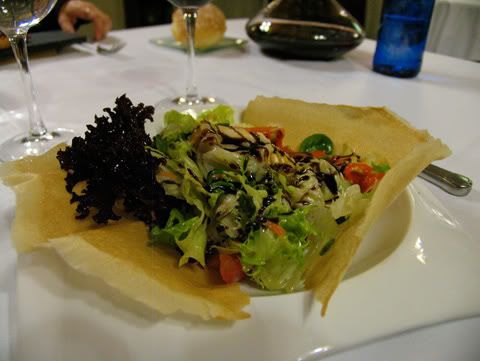 A not quite so guilt-suppressing
Ensalada Templado de Queso de Cabra con Vinagreta de PX sobre Pasta Bric
(Salad with Goat's Cheese with Pedro Ximénez Vinaigrette on a Paper-Thin Pastry) for me, in preparation for my cardiac main course.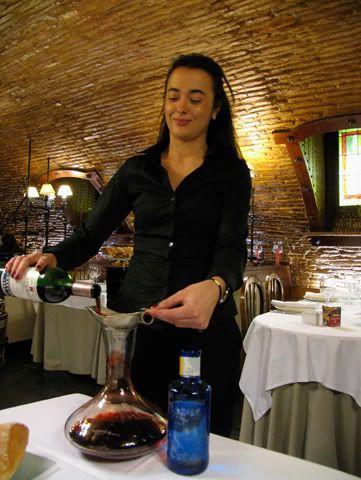 Our pretty, young thing of a waitress also decanted our bottle of wine. She was very friendly, efficient and charming. I was a bit apprehensive for someone so young to be so briskly handling and decanting my mature bottle of wine, but she opened and decanted perfectly and with neither effort nor hesitation.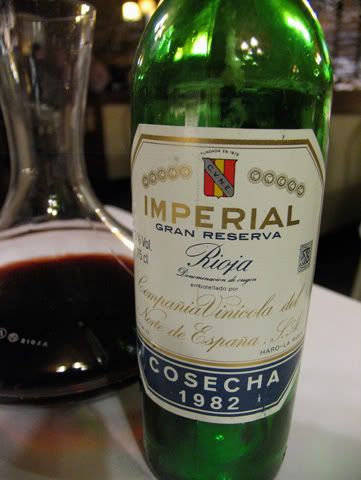 1982 CVNE Imperial Gran Reserva
- Oh so deeply, darkly, lushly and spicily fruited, there was no fatigue in this. Full-bodied with velvet tannins. It displayed a rich bouquet and flavors of sweetly bottle-aged cherry, raspberry and dark plum compote, dried fig, kirsch, slight dark minerality, licorice, worn leather, pipe tobacco, cedar, pressed violets, merest whispers of vanilla, cinnamon and sweetish chocolate. So beautifully layered, and what a graceful crescendo. It just kept gaining more weight, depth and complexity throughout the evening. Catha and I loved it alone and with our main courses.
Restaurants in Rioja price fine, aged tintos very, very low considering the quality one gets. This beautiful bottle of wine was a mere 40€ off the wine list. It was
an absolute steal
.
~ The Main Courses ~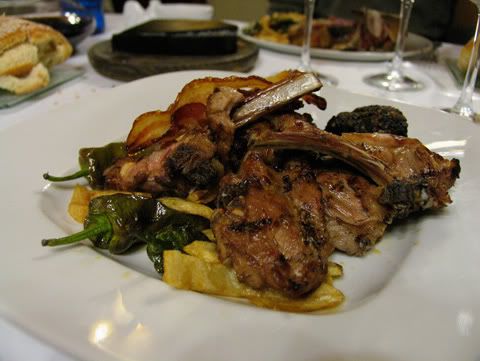 Chuletillas de Corderito de Leche a la Brasa
(Milk-fed Baby Lamb Ribs Roasted over Embers) for Catha.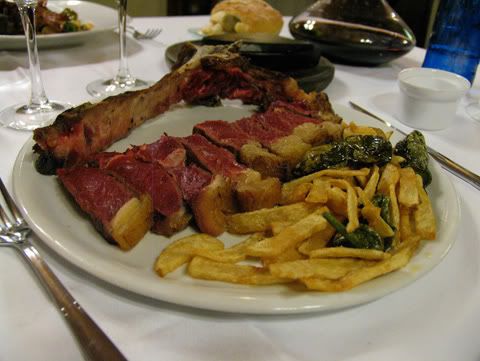 Chuletón de Buey "En Plancha de la Abuela"
(Bone-in Ox Sirloin Steak "on the Grandmother's Iron") for me. Forget the sad-looking fries, the steak was fantastic and rare just how I like it. As regards the
plancha de la abuela
, what is referred to is the old, small, flat, super-heated iron set on the table upon which one is to toast the steak's fat to heart-stopping perfection...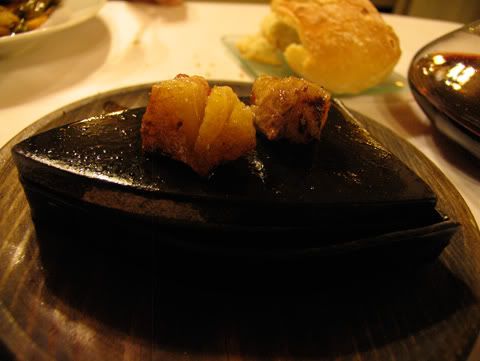 ...the
plancha
replaced with a newly-heated one as the first one starts to cool down. I didn't have to ask for the new one; as the substitution was efficiently made halfway through my steak.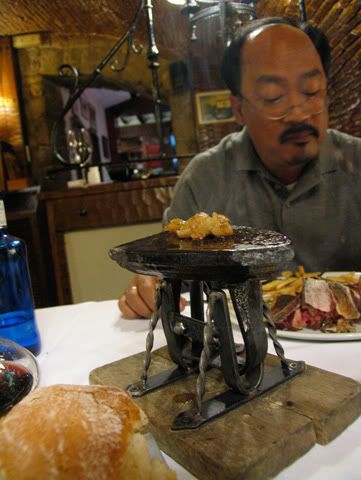 Somehow, I managed to finish all my meat (and the fat) plus one of Catha's lamb ribs as well. Needless to state, we drained the bottle as well, and only knowing I had a very big lunch the next day kept me from ordering another.
Pretty much stuffed to the gills by the time, we decided to share a single dessert of the house award-winning specialty
Ravioli de Pasta Crujiente de Flan de Huevo y Pasas en Caliente, con Helado de Pera y Jugos de Frutas del Bosque
(Ravioli of Crisp,Thin Pastry of Egg Custard and Warmed Raisins with Pear ice cream and Forest Fruits' Juices).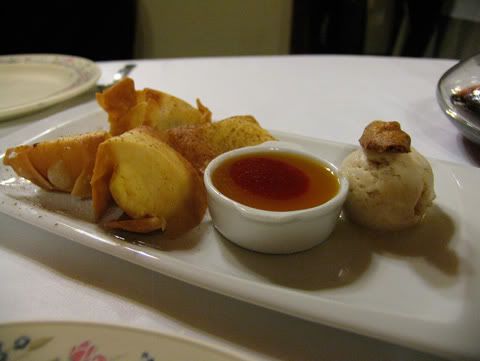 It was a very memorable meal with an excellent wine - just my wife and I. Couldn't ask for more than that.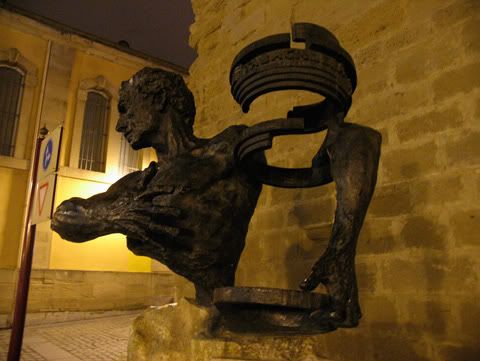 Next:
lunch at 1 Michelin star
Restaurante Echaurren
in Ezcaray.