I had originally planned to stay in San Sebastian for a few days in April 2010. However, by the time my schedules were finalized, it turned out I'd be back in Basque country by the
semana santa
(Holy Week) holidays. San Sebastian being a world-famous tourist spot, the hotels I had wanted to book at couldn't accommodate my dates and/or had jacked up their rates to unreasonable levels (as far as my wallet was concerned, anyway). The hotels that could take my dates did not look nice enough even in their own websites.
Thus, I decided, instead, to base Catha and I in the tiny and incredibly charming seaside village of
Getaria
(province of Guipúzcoa), just around 12-15 kms. west of San Sebastian.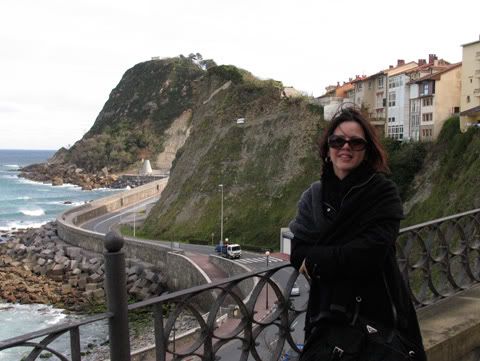 It was quite cold and windy here in early April.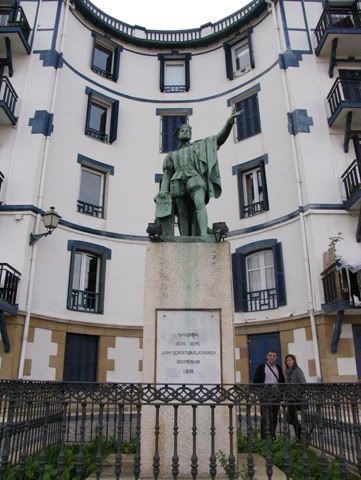 This statue faces the port, overlooking the sea. It is of
Juan Sebastian Elkano (Elcano)
, a local born in 1486 who eventually became a naval commander of the rather ill-fated Magellan Expedition (Magellan was killed in battle in the island of Mactan, Philippines in April 1521, and the expedition started unraveling thereafter with other misfortunes).
Elkano eventually took charge of one of the ships (the Victoria), completed his mission (the Maluccas Islands of Indonesia) and his was the only ship of the original 5 that returned successfully to Spain in September 1522 (the San Antonio's crew mutinied and returned to Spain much earlier). In 1572, the Elcano heirs were awarded the hereditary title of "Marqués de Bulgas" by King Philip II of Spain. Hence, Elcano is Getaria's town hero, the main street being named after him.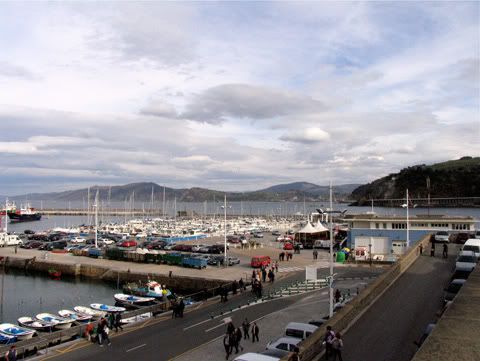 I booked us at the
Hotel Saiaz Getaria
, a converted, antique
carbonería
(coal merchant's house) located on old, narrow Roke Duena Street.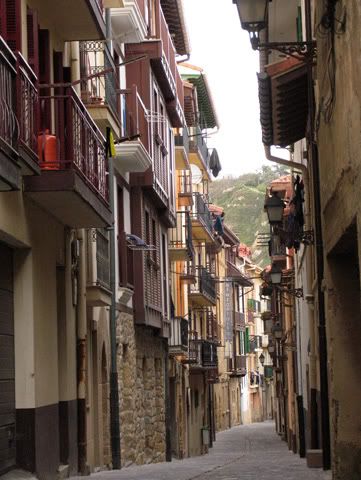 Kalea Roke Duena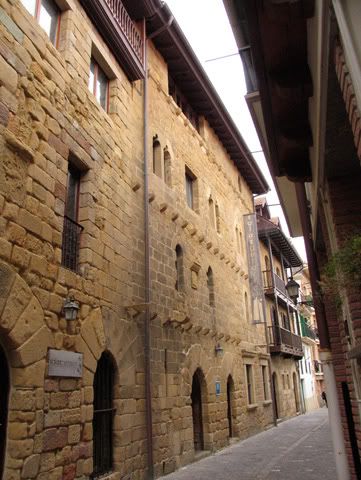 Hotel Saiaz Getaria
Situated in the medieval side of town, all the streets are narrow, lined with shops, tapas bars, small restaurants alongside the locals' private homes. Most charming, really. The hotel itself is newly renovated and, despite its medieval look and long history...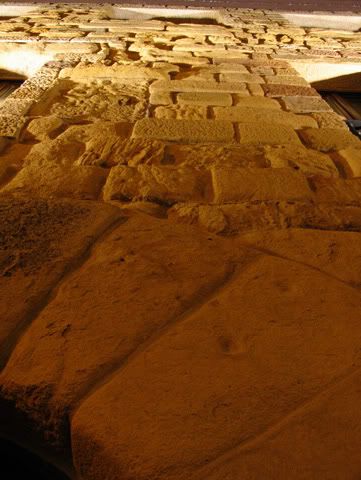 The hotel's facade still bears bullet marks from Napoleon's siege of Getaria.
...the amenities are modern, the entirety very clean, the bathrooms surprisingly nice and there is free WIFI in the entire property. Look for Miguel if you are there, he is most friendly, helpful, enthusiastic and, being a local, full of knowledge about the town and surrounding areas.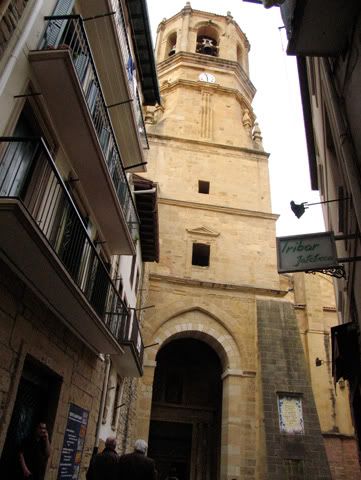 The gothic, sandstone
Yglesia de San Salvador
stands in the heart of Getaria. This is where Elcano was baptized and also wherein he is entombed. Though there is mention of this church as far back as in 14th century records, most of the building seems to have been constructed between the 16th and 17th centuries, with major repairs in the 19th century due to heavy damage sustained during the Carlist Wars.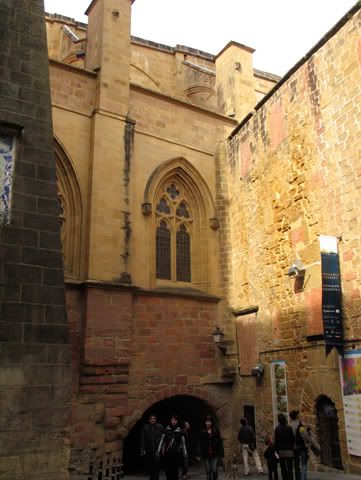 The church was declared a National Monument of Historic & Artistic Nature in 1931.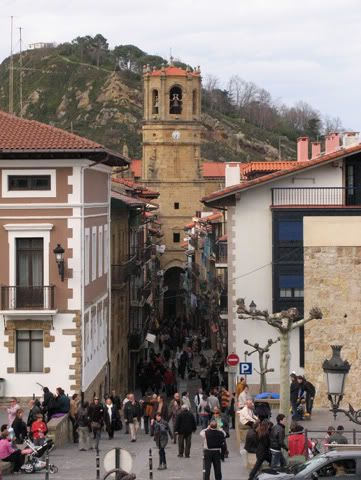 The old town, people already making their ways to the many tapas bars.
Views of the mountains...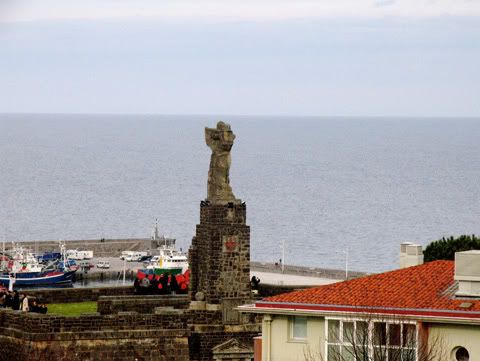 ...and of the sea.
Prior research and an enlightening chat with Miguel at the hotel revealed that there are only really 2 places to have the best food in town (seafood of course): Restaurante Elcano and
Restaurante Asador Kaia-Kaipe
, respectively owned by two competing cousins. Having come across marginally more good reviews of Kaia-Kaipe, I opted to have dinner there on the 2nd April 2010.
Having had a big pintxos lunch - as well as a few tumblers of txakoli - at the St. Ignatius of Loyola compound in nearby Azpeitia (more on that next post), I had made 10pm dinner reservations.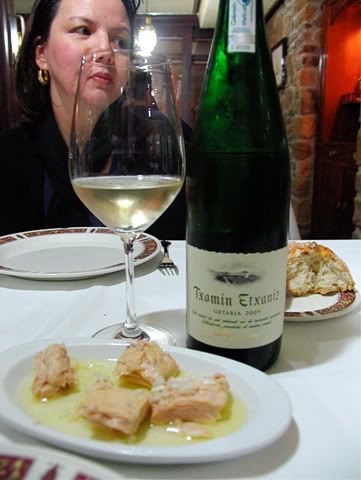 We started off with a shared
amuse bouche
of
Marinated Tuna with Sweet White Onions
(most ordinary) and began making headway into a bottle of
2009 Txomin Etxaniz Txakoli
. I've had the
2008 vintage before, courtesy of Miguel, with a pintxos and tapas lunch at La Tienda on the 24th June 2009
. Then, as now, the wine is
very
dry, light, fresh and minerally with tartish green apple and lime/citrus flavors, very healthy acidity and a slight appetite-enhancing bitterness towards the back. It did seem to have marginally more of a middle and was just a touch fruitier than the 2008 version.
I noted that when one orders txakoli in Getaria without specifying a producer, one will always get Txomin Etxaniz txakoli - and no wonder, the producer is the most successful producer of Getaria. Though a huge producer, for whatever it is worth, Jancis Robinson considers Txomin Etxaniz the best of the area.
With the incredibly fresh seafood, it was a natural and no-brainer match.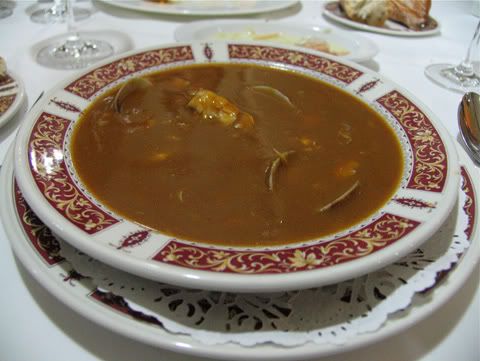 My
Sopa de Mariscos
was thick, dense, very warming (which is why I ordered it) and forgettable. I've had much, much better in many other places - even back in Manila. Utterly bereft of merit save for the warmth it provided.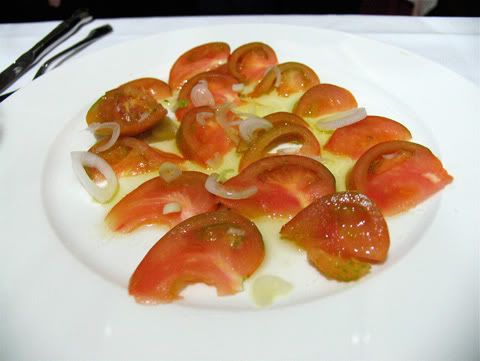 My wife had a simple
Ensalada de Tomate
. Such a simple dish, I actually laughed at her for ordering it - that is - until I had a bite. It was heavenly. The tomatoes were so naturally ripe and sweetly fresh, as were the white onion bits. The olive oil was of excellent quality as well - pure on the palate, a whisper of fruitiness and a light touch of pepper. Simply wonderful. I ordered another for myself - causing her to laugh at me in the end.
I had also requested for orders of
boquerónes
and
angulas
, but the waiter informed me that the chef refuses to serve any seafood, even if listed on the menu, unless such seafood is in peak season and
absolutely
fresh (obviously they weren't in season at the time). Ok, I appreciated that. From his recommendations, my wife and I decided on a
Besugo a la Parilla
.
The fish, grilled and served whole, was quickly and expertly portioned off between us before I could snap a photo of it.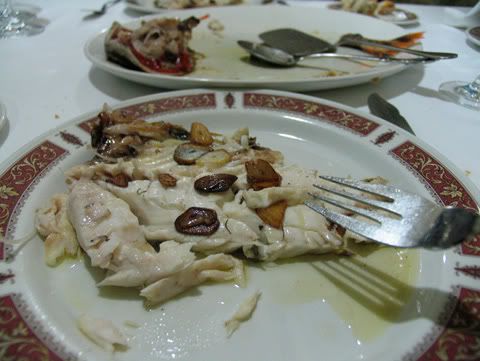 Though grilled (
a la parilla
) instead of baked (
al horno
) as Javi Lecumberri does so well in La Tienda, the ingredients/flavors are obviously similar: savory flavors of cooked vinegar, toasted garlic and just a hint of olive oil. The rest is all up to the fish.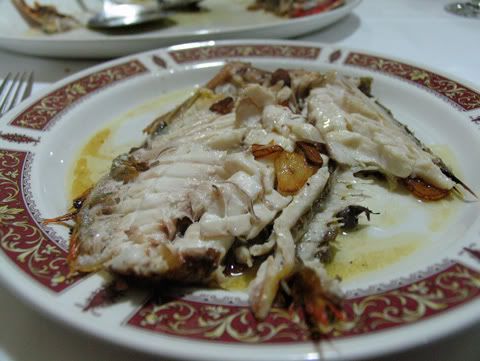 So very fresh, moist, yet with just the right firmness, the dish was mind-bogglingly good. Words fail. So simple, but absolutely beautiful. There was a slight smokiness as well from the grill which also crisped parts of the skin. It was the best besugo we've ever had in our lives.
I'll be back in Getaria if only to eat this again.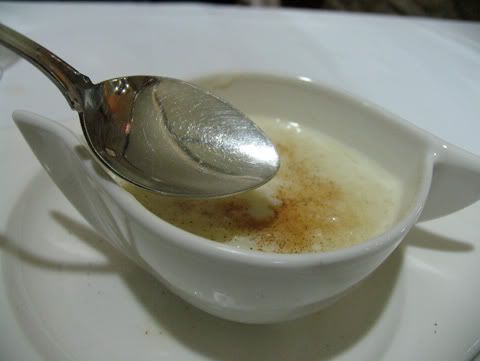 Catha passed on dessert as she was too full. I was too but couldn't resist having the
Arroz con Leche
- a peasant dish that I can never quite resist, and, when done well, is always comforting.
A double espresso later, we walked back to the hotel, taking our time and savoring the chilly night air.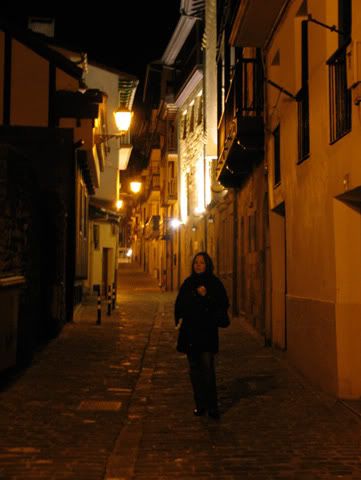 Wandering around at midnight is absolutely safe in Getaria.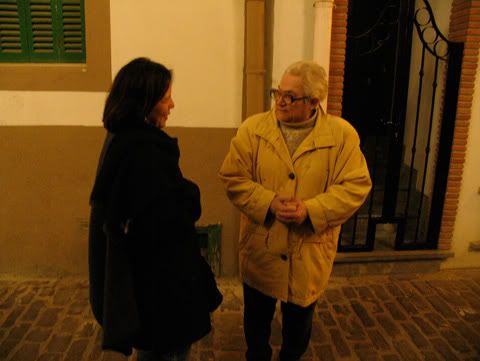 We even had a lengthy midnight chat with Madam Jesusa who lives in a little, antique stone house diagonally across the street from the hotel and owns a naughty little dog named Che Guevarra (who we'd often see wandering about the streets during the day). She doesn't speak English, but we managed a very nice conversation about the history of Getaria and the morning she saw Philippine President Gloria Macapagal-Arroyo around the old church not too long ago.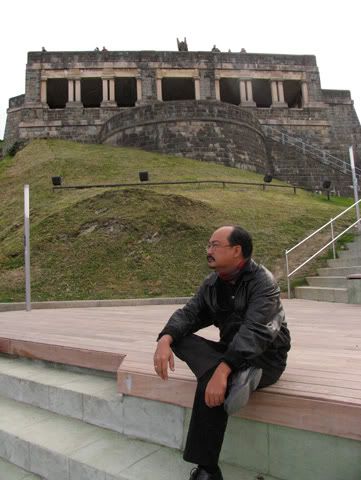 ¡Adios, Getaria! I'll be back someday.