It was a rainy Thursday dinner with the
G9
, a monthly dining group of friends, some members of which overlap with those of Los Golfos (the latter being my regular weekend golf group). Unlike Los Golfos, though, G9 members are predominantly Ateneans. Thursday was my turn to host, so I had earlier made reservations at
Café Ysabel
's understatedly elegant Wine Room where Aaron had hosted his
olive oil and wine tasting lunch
a week before. Chef Patrón Gene Gonzalez, busy as he always is, was kind enough to make our menu. Since the guys speak Spanish amongst themselves, all the wines I chose were from Spain, all available at
Barcino
.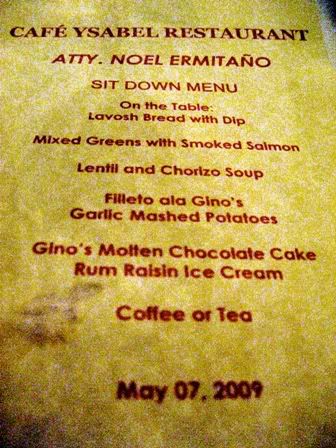 I spilled a bit of wine on my menu, hence the smudge on the lower left - you really can't take me anywhere.
Café Ysabel's addictively delicious, patented
Lavosh Bread and sweetly-spiced olive oil/balsamic Dip
were served for the enjoyment of the early arrivals...
L-R: Señores Bob Paradies, Sal Lacson, Mari Cacho, Mackie Cui and Oscar Rodriguez
...for whom I poured welcome glasses of...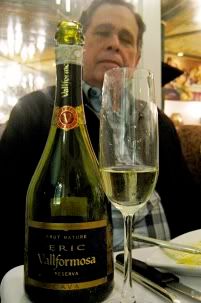 Masia Eric de Vallformosa Reserva Brut Nature
- a sparkling wine from the Cava D.O., the grapes of which (55% parellada, 45% chardonnay) come from vineyards of Mas Baltà in the Alt Penedès
comarca
(Catalunya). What immediately struck me in this cava was its very fine, yet persistent mousse. I rarely see such a delicate stream of small bubbles in the cavas I've had. Even the mouthfeel was vaguely champagne-esque, almost still from the attack but expanding and frothing upon reaching mid-mouth and beyond.
Light, clean, well delineated, crisp, steely green apple dominates with well-blended, demure citrus notes. Towards the back, there is a bit of leesiness and the faintest hint of yeasty bread. Admirable focus and purity in fruit. Very clean and refreshing (no woodiness or oakiness there), if simple and straightforward.
Everyone was enjoying the Lavosh Bread and Dip so much, including myself. Some asked our waiter what went into the vaguely fruity, sweetly-spicy dip aside from the obvious olive oil and balsamico, but he replied that it was a secret. Fair enough, we just continued dipping the excellent lavosh in it. I had to eventually remind the others that we had a lot of food coming - after all, man does not live on bread alone.
When Jimmy Alba and Mon Infante finally arrived (ironically, amongst us, they live closest to Café Ysabel), we then were served a
Salad of Mixed Greens and Smoked Salmon
....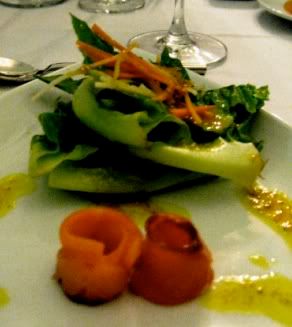 ...the lightly honeyed dressing of which Bob immediately noted to have a touch of curry spice in it. I actually didn't notice that until I tasted it. A breath of curry spice indeed, which added an interesting twist and a touch of complexity to the simple greens and smoked salmon. Mon and Oscar apparently enjoy this a lot since they requested for extra servings of the greens. Oscar experimented with some of his extra greens by using the lavosh's dip as a dressing, and pronounced it delicious.
Thereafter, we had a warmly familiar and comforting
Lentil and Chorizo Soup
.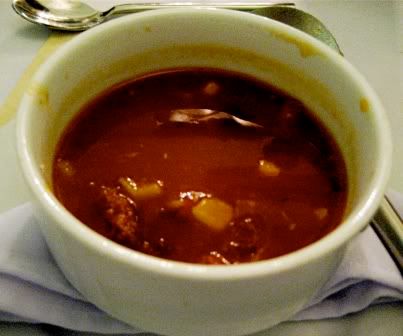 Full of earthy and spicy flavors, this hearty soup was perfect for such a rainy night. I happen to love both lentejas and chorizo, and, so, particularly enjoyed this.
This was followed by the evening's main course,
Filleto a la Gino's with Garlic Mashed Potatoes
. I really enjoyed the particularly creamy garlic mashed potatoes situated atop small pieces of chopped vegetables, and, apparently, so did Oscar and Mon who requested extra portions of this as well.
With this juicy, melt-in-your mouth tender meat course, I served a new and reliable favorite of mine.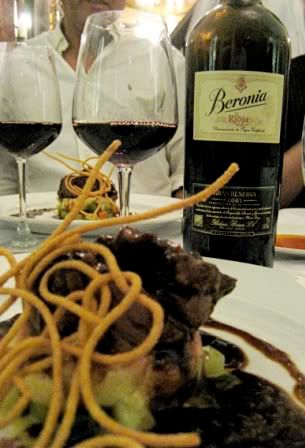 2001 Bodegas Beronia Rioja Gran Reserva
- Bodegas Beronia is located in Ollauri, Rioja Alta, named after the Berones people who occupied the general area since the 3rd century B.C. Employing "modern" techniques (i.e., oak ageing is shorter than the traditional method and French oak is used together with American oak), their wines are more suave, lighter on their feet and less ponderously woody than "old school" Riojas, as accurately noted by Mackie. The grapes used in this were tempranillo (87%), mazuelo (8%) graciano and (5%). As Spanish wine
aficinados
already know, 2001 was an exceptionally good Rioja vintage.
I can't seem to get tired of drinking this wine, though I've had it several times before - it never fails to please. Those who follow my blog will preobably recall that I first got to try this wine courtesy of Johnny Revilla during our
Kokotxas Night
this past February. My tasting notes then were as follows:
Youthful, but in stride and very enjoyable now. The nicely rounded dark fruit is subtly laced with tobacco, cedar and spice box. The topnotes are typical strawberry and red berry. A few shades over medium-bodied, the wood is judicious and in good harmony. Wonderful, a definite buy for me.
What I can add now is that there is an apparent, but gentle, mildly toasted/spicy oak/vanilla note to the wine as well as the slightest hints of cinammon and toffee (most likely also due to the wood-ageing).
Last, but certainly not the least, was our dessert of sinfully rich
Gino's Molten Chocolate Cake with Rum Raisin Ice Cream
, which I paired with...
2007 Celler Piñol Vi Dolç (Tinto)
- Another Catalàn wine, this time from the
comarca
Terra Alta, made up mainly of late harvested, over-matured grenache grapes from old vines. I've written about Piñol's 2005 Vi Dolç before - first having tasted this at
Gene's 50th birthday dinner
, paired with decadent chocolate treats. This 2007 version was very similar.
Jimmy noted that the wine's heady, opulently raisined and chocolate aromas included a pervasive sort of brown sugar scent that I identified as molasses - with which he and Bob agreed. These aromas were sweetly and viscously mirrored on the palate like a
pasito
with a kilometric, piercing, raisin and chocolate finish (this wine always reminds me of raisinets).
This is an unapologetically hedonistic dessert wine - virtually without any acidic lift and cloyingly sweet - but it doesn't try to pass itself off as anything else. It is what it is, and I enjoy it that way - few wines, to my mind, aside from Banyuls and Rasteau's
vin du naturel
, can really pair well with rich chocolate desserts, but this can.
Stuffed to the gills, we lingered on over cups of coffee and tea, as well as a few more stories and jokes. Most enjoyable evening. Many thanks to Gene and his crew for such an enjoyable meal - it didn't escape me that the pianist, likely after overhearing the guys speaking in Spanish, started playing old Spanish songs without need of being asked. Nice touch to the evening.
...y, a mis amigos,
¡Salud y pesetas!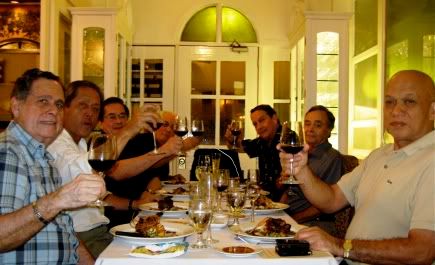 L-R: Mari Cacho, Mackie Cui, Oscar Rodriguez, Jimmy Alba, Mon Infante, Bob Paradies and Sal Lacson