Friday lunch (8 May 2009) was with Lawrie Martin, Robert Burroughes and James du Vivier at
Alliance Française
. It was a casual BYOB lunch, the highlight of which was supposed to be Lawrie's 1999 Château Palmer. I was looking forward to re-trying this ever since my own '99 Palmer's dismal showing (due, admittedly, in all likelihood to my stupid over-decanting) a little over 2 years ago during the Grand Crew's
Blind Bordeaux Challenge IV
.
Unfortunately, Bernie Sim and Oscar Ong suddenly became unavailable for the lunch, so Lawrie reset the featured bottle's opening for a subsequent lunch. We pushed through, however, and had some good, if less rarefied lunch wines.
With some nice, hot bread and
Pork Rillettes
....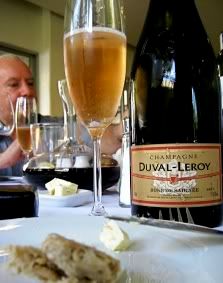 Champagne Duval-Leroy Rosé de Saignée NV
- My bottle, I figured, it being summer (albeit in the midst of an untimely tropical depression), a cool bit of rosé bubbly to start would be in order. I first tasted this courtesy of Bernd at an
Over-the-Hill Japanese Lunch
last 10 March 2009.
My notes then were as follows:
This was quite a visually attractive rosé bubbly, with exuberant frothiness in the mouth and a discreet strawberry and raspberry dominance over red beet, currant, with ever-so-slight nuances of rhubarb and caraway seed (especially towards the back). Very pleasant, pleasingly straightforward. Definitely a nice start for lunch.
I was able to get a good deal more of this bubbly this time since we were only 3 sharing the bottle, and add now that there was a nice, fresh cantaloupe note to it beginning just before mid mouth and through to the finish. Lawrie first noticed that melony note and I identified it as cantaloupe - to which he concurred. Very nice, and great as a luncheon apéritif, as well as with the pork rillettes.
After our
Salad Niçoise
course, James poured me some red with our identical main courses of
Steak & Frites
.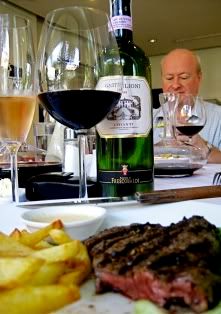 2004 Marchesi de Frescobaldi Castiglioni Chianti
- James' bottle, one that is distributed by his company,
Forth & Tay
(Tel: [632] 914 4597). He had actually instructed his staff to pack him a Frescobaldi Castelgiocondo Brunello di Montalcino
*
(which Forth & Tay also distributes) for lunch, but they sent him the wrong bottle.
In any event, this basic Chianti is, as I understand, made up of 90% sangiovese and 10% merlot from Frescobaldi's vineyards (vines averaging 23 years) located in Montespertoli (within the Chianti Colli Fiorentini region) of Tuscany.
A few notches over medium bodied, this is a masculine, firm and rather straightforward red that displays hefty and dry black cherry, raspberry liqueur, bit of plum and underlying black coffee and a hint of tobacco. The easily noticeable tannins add a rustic feel to it.
Very nice with a simple meal of Steak & Frites, and, at its full retail price of approximately P900, a
very good value
for a solid, basic Chianti.
*

A bottle of 1997 Castelgiocondo Brunello di Montalcino was what hooked me on Brunello di Montalcinos.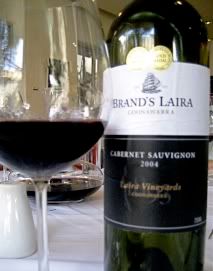 2004 Brand's Laira Coonawarra Cabernet Sauvignon
- Lawrie's bottle. I must confess that I rarely drink Australian wines and know next to nothing about their makers, regions and vintages except that they make a lot of big, ripe and alcoholic red shiraz, some pretty decent chardonnays and sauvignon blancs, and pretty good (if simple) botrytised semillons.
Hugely extracted and very concentrated, well ripened black currant/blackberry -
very
straightforwardly fruit-driven, touch of anise, cedar - and a goodly dose of (but not overly loud) oak/vanilla. There is a quite apparent heat in this big boy's 14.5% abv.
I've had but a handful of experience with Australian cabernet sauvignon/cabernet sauvignon blends, and this is probably one of the better ones I've tried. It should easily please fans of Aussie reds.
Slices of Lawrie's favorite
Tarte au Citron
and a round of double espressos brought an end to a very pleasant, rainy Friday lunch.
L-R: Robert, Lawrie and James.