Sometime last week,
Miguel
invited over to his place Saturday night (9 May 2009) for some tapas that he had brought home from a recent trip to Spain and Italy, and, some wine, of course. Unfortunately, I had already promised my youngest son dinner at old favorite
Je Suis Gourmand
so my wife and I just caught up with them afterwards, at around 10pm.
I also invited a niece along, and, since it would only be 3 of us drinking over dinner (plus I'd also be drinking at Miguel's after), I brought only one bottle of wine to go with the foie gras terrine, escargots, mushrooms and oeuf cocotte, and, roasted bone marrow appetizers my youngest likes so much (he usually fills up on these appetizers and bread and just picks at our main courses if ever).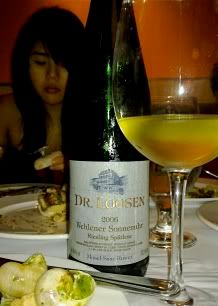 2006 Dr. Loosen Wehlener Sonnenuhr Riesling Spätlese
- It was a warm summer day at the golf course, and, expecting to drink a few reds later on, I brought a light, low alcohol (8% abv), off-dry riesling from Mosel-Saar-Ruwer that I had just half a glass of at
Sunshine & Rob Pengson's final Gourmandise dinner
(no surprise that it paired superbly with the foie gras course).
Light, sharply focused, pure, well defined sweet peach, fresh apricot, bit of lemon tart - all precisely lifted by bright acidity and typically pronounced minerality. Lovely wine, perfect for summer, and simply excellent with Marc's signature terrine of foie gras.
My wife and niece loved this wine - I had only probably one full glass, and they finished the rest between them. Available at Wine Depot for slightly over P2000 per bottle.
After my main course of cassoulet with duck leg confit and dessert of specially ordered chestnut soufflé, we dropped the kids home and headed off to Miguel's, where we had an array of sausages, some air-dried ham, pâtés, cheese, etc. with assorted wines. You must forgive the poor quality of my photos as I forgot to bring a camera and just used the one on my phone.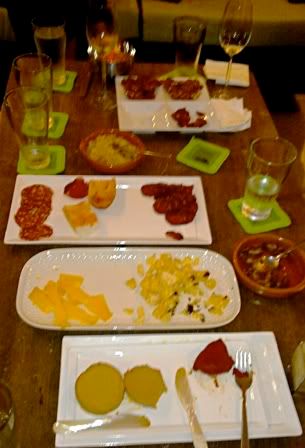 What I particularly took note of was...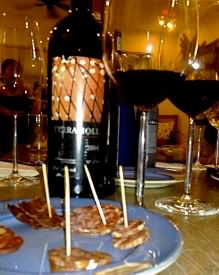 2004 Bodega Agrolaimo Terramoll (Tinto)
- From the sub-tropical wine producing area of Formentera, Baleares, Spain, made of merlot, cabernet sauvignon and monastrell (what they call mourvèdre in Spain) by family friends of Miguel, the Moll family.
Robust, masculine, rustic, warmly spicy (14% abv), with lots of big primary, mildly peppery dark fruit, black currant, cherry, cedar, bit of meatiness, nuances of leather, dried herbs and balsamico. Quite mouth-filling, but not at all heavy in the middle. The finish starts of confidently but seems to lose a bit of steam halfway, resulting in a relatively short finish.
This probably could have used some decanter time; but, over-all, it was quite an interesting wine - most likely the very first I've had from Formentera. I could imagine having this with some venison and/or wild boar.
A while later, Miguel pulled out two of his "go-to" Spanish brandies for me to try.
Bodegas Larios Brandy Solera 1866 Gran Reserva
- Very intriguing and alluring underlying milk chocolate and spicy, woody scents permeating the sweet Spanish cedar, hint of rancio, slightly carameled brandy nose. Mirrored on the palate nicely with its dry fruit base, it is purer, more complex, refined and elegant, comparatively smoother and notably lighter-footed than the following Brandy de Jerez. From La Mancha, made from
airén
grapes, I understand from Miguel that this is one of his favorites and a bit difficult to find, even in Spain.
Gran Duque d'Alba Solera Gran Reserva
- Much more common and popular a brand I understand, one I've seen many times here but never had a chance to try (to the best of my recollection, anyway). Typical Jerez - compared to the immediately above-discussed brandy, it is a bit heavier, fuller, just slightly more viscous, sweeter dried fruit, with somewhat dusty cocoa notes instead of milk chocolate. Nice enough, if not particularly interesting. I liked the Larios 1866 Gran Reserva much more.
Muchas gracias, Miguel and Ria. See you Friday lunch.