This past Sunday, 10
th
May 2009, was my brother, Tad's, birthday. As
Hisako
(Tad's better half) had mentioned previously that Tad was currently
obsessed
with grilling and smoking different kinds of food, I wasn't at all surprised when the latter informed me that he was planning to make some smoked salmon and slow-grilled pork ribs on his birthday, to be enjoyed with some beer, of course. I told him he may as well hold it at our place since my grill is easier to use than our dad's. Upon my request, my wife got my sister's old potato salad recipe for our cook to execute to go with the smoked/grilled fare.
The two showed up a little past 4pm and, while H put together her cold bean salad, T started getting to work. A few minutes later, my two older sons arrived from several days at a marine preserve camp somewhere in Negros, just in time to join T's birthday celebration.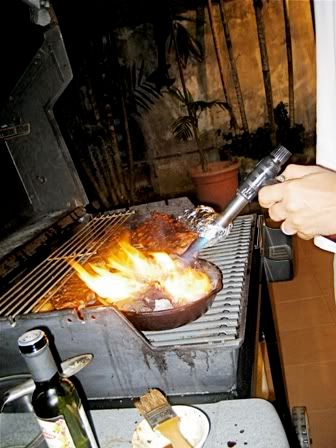 Flame on! Since I have a gas grill, T stuck some wood chips inside to provide more smoke.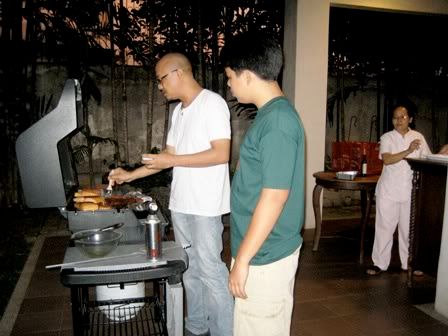 T with my 2
nd
son, as our cook looks on.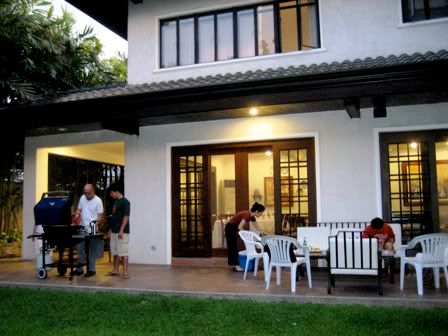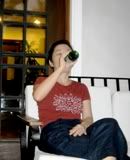 My wife had earlier consulted our old friend and
beermaster
,
Tonji
, as to what beers to buy, given that T doesn't really like the sweetish dark Belgian ales I do - so we wound up with an assortment, of which I remember only a few:
Peroni
Nastro
Azurro
(a light Italian
pilsner
made with herbal hops),
Hoegaarden
(a Belgian
witbier
) and
Warsteiner

Premium

Verum
(a German
pilsner
). My dad brought along some
Stella

Artois
and
Heineken
as well. H quickly finished making her bean salad, and then chilled out on the lanai with my eldest for some of her nachos, homemade salsa and pistachio nuts.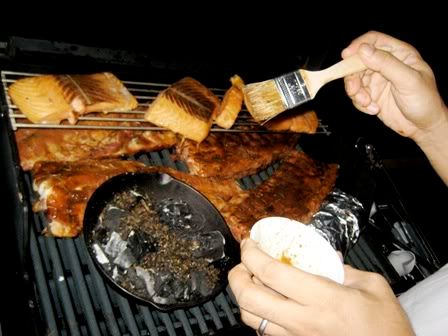 The salmon and ribs coming along nicely...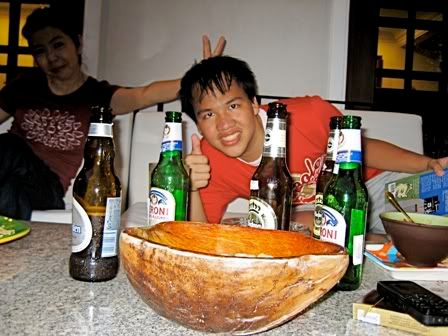 ...as the
tita
surreptitiously foils adolescent attempts at cool.
Dad and my sis also added fried shrimp and
chicharron
to the pica-
picas
...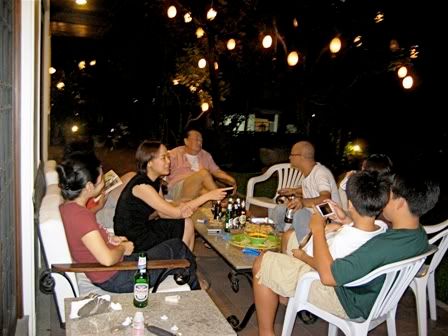 ...which we enjoyed outside in the unusually cool summer night. We eventually moved into the even cooler indoors when it started to drizzle, where we had the ribs, salmon, bean salad and potato salad with some more beer and a bottle of 2001 Bodegas
Beronia
Rioja
Gran
Reserva
, but I forgot to take pictures thereof. It was a fun evening with a lot of eating, but the hanging out at the
lanai
with my family is what I remember the most.