A little over a week ago, Bacchus International's Alex Lichaytoo invited me to a special dinner he organized in honor of
Maison Paul Jaboulet Aîné
Export Manager Cristophe Brunet, scheduled for the 5th May 2009 at Shangri-La's
RED
. Alex also mentioned that he would be pouring no less than 7 vintages of Jaboulet's top-of-the-line
Hermitage La Chapelle
, all of which are readily available at Bacchus. Remembering well the 1996 that I so enjoyed during the
IWFS Philippine Branch's 25th Anniversary Dinner
, I checked my schedule, saw I was free, and, happily confirmed my attendance. Knowing that the Doc and Stockbroker, among other friends, would also be there was added incentive as we hadn't been able to get together for quite a while.
Thus, on the appointed date, we gathered for the much anticipated dinner.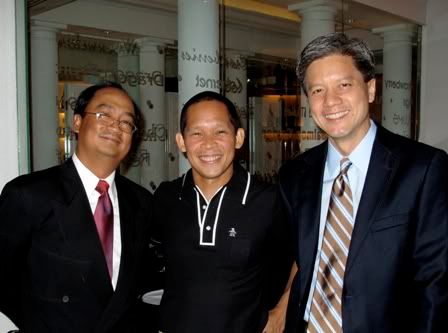 As usual, the Stockbroker was the most liesurely dressed among us three...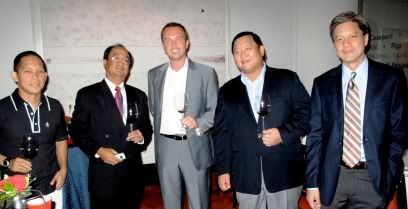 Aside from us three, Cristophe and Alex.
...but not too far away from Bernie and Clifford in casualness.
The family Jaboulet has long been one of the leading and oldest producers of France's Rhône region, having owned vineyards there since 1834. Passed down the family through generations, in 2006, the Jaboulets sold their interests in the maison to the current owner, Compagnie Financier Frey, that also owns 1855 classified 3rd Growth, Château La Lagune. Producing an impressive array of wine from different appellations: from, amongst others, the Côtes du Rhône, Côtes du Rhône Villages, Crozes-Hermitage, Gigondas, Châteauneuf du Pape and Condrieu, Jaboulet's traditional and bio-dynamic production goes all the way up to what is generally accepted as the two top red Rhône wines, namely, Hermitage and Côte Rôtie. Hermitage La Chapelle, however, is the red crown jewel of Maison Jaboulet.

The steep environs of the Hermitage appellation is located in northern Rhône, south-southeast of Côte Rôtie, Condrieu, Château Grilet and St-Joseph. Both white and red wines are produced in Hermitage, the former normally a blend of marsanne and roussanne, while the latter predominantly syrah. Hermitage's soils are mainly granite and clay/chalk. Jaboulet credits the complexity of its 100% syrah La Chapelle (named after the small early 13th century chapel of St. Cristophe over-looking the steeply terraced vineyards) to the diversity of soils of its Hermitage plots (i.e., les Bessards, les Greffieux, le Méal and les Rocoules), the fruit of which, from vines 40-60 years old, make up their top wine.

We started off with some canapés...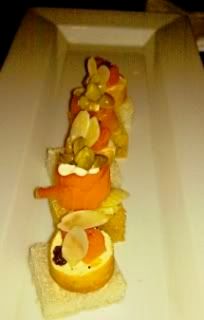 ...and glasses of La Chapelle's "little brother"...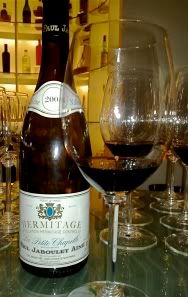 2004 Jaboulet Hermitage La Petite Chapelle
- made from fruit of the same plots as La Chapelle, and, as I understand, from the same aged vines as well, the difference is, for this wine, higher yields (15-25 hectoliters per hectar as compared to the top wine's 10-18)and, consequently, comparatively lesser depth, concentration, structure and ageing potential. The trade-off here is, likely, earlier drinking windows - better approachability at a younger age. A relatively recent line of Jaboulet, the Petite Chapelle's auspicious maiden vintage was 2001, a generally good vintage for the Rhône.
This is presently a rather good, if somewhat straightforward and simple, wine that shows off well defined and focused cherry, raspberry, blackcurrant, slight black pepper and mild cedar and oak notes. There is a touch of dried herb character (more thyme than rosemary, I think) as well. Properly austere in body and flavors; it tastes and smells very correct, if not particularly stimulating .
Quite charming, though, undeniably easy to drink now, whether alone or with, I imagine, some unaggressively sauced roast duck and shoulder of lamb. This would be a good and easily affordable introduction to Hermitage.
We, thereafter, took our seats for dinner proper, Alex re-introduced the guest of honor, and Cristophe, for the benefit of those new to Jaboulet, it's wines, Hermitage and the Rhône in general, a brief, informative talk.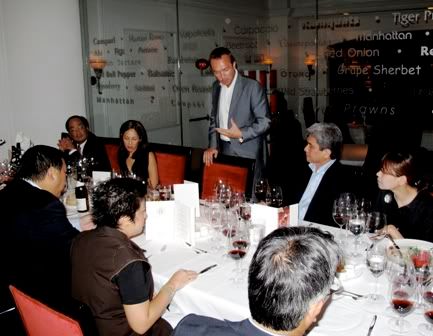 Dinner was then served.
Our first course was a delightfully cool and fresh
Terrine of Lobster and Prawns with Crispy Parma Ham & Saffron Mayonnaise
paired with...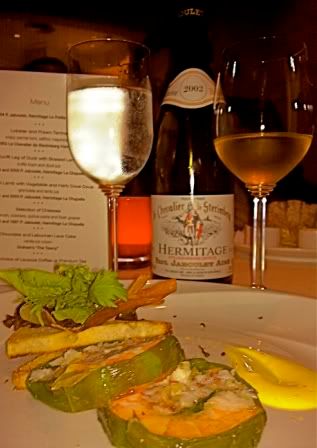 2002 Jaboulet Hermitage Chevalier de Sterimberg
- Jaboulet's Hermitage blanc, made up of marsanne with a significantly lower proportion of roussanne. This bottling is was named after Gaspard de Stérimberg, a knight who, in 1235, built the earlier mentioned chapel dedicated to St. Cristophe. 2002 was, to put it lightly, an extremely challenging vintage for the northern Rhône blancs; and a 2002 Guigal Hermitage Blanc I opened a few months ago, let's just say, was no strong argument for whatever little merit this vintage may be imagined to possess for the blancs.
The wine, however, properly chilled, exhibited typical Hermitage blanc scents and flavors of lightly wild-honeyed and spiced, honeysuckle, white stone fruit, and almond paste. There was also the typical waxy/oily mouthfeel to this barely medium bodied blanc which was most apparent after the strike and at mid-palate, but not as hefty or broad as Hermitage blancs from riper years. The roussanne seems to make its presence felt past mid mouth with a cleaner, firmer acidity and a bit of steel taking over the floral. White stone fruitiness towards and through the finish. Fair enough a white Hermitage; charming more in the nose and the front-end to just past the middle.
As a match, it was good. The vaguely nutty, front-end honeyed stone fruit played well with the lobster and prawns, and the firmer, cleaner, more linear back-end acted as a foil to the saffron mayonnaise's creaminess.
The second course of
Duck Leg Confit atop Braised Lentils with Truffle Foam and Duck Jus
was initially served with the two youngest La Chappelles of the evening.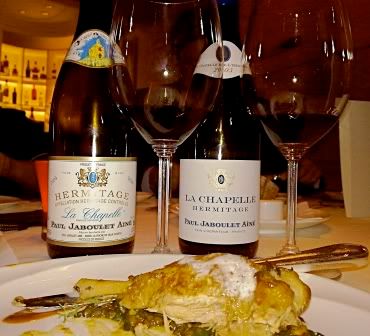 2005 and 2004 Jaboulet Hermitage La Chapelle
- The difference between the two vintages was apparent from the outset as the 2005 clearly had warmer, riper, oakier and comparatively more forward aromas than the 2004; whereas the latter's were reticent and more herbal and mineral in character than the openly fruit-froward and oaky 2005. Said difference was mirrored in the mouth, where the 2005 showed a heftier and ripely sweetish fruit middle with more cinammon/toasty/creamy oak than the restrained, tighter and less ripe 2004.
Marked vintage weather differences surely explained the contrast in the two wines' respective characters. 2005, on one hand, was generally a warmer, drier vintage for French wine-producing regions which allowed for very good ripening and concentration. On the other hand, Cristophe confirmed that their area in the northern Rhône experienced some rain (sometime in August, I believe) before harvest month. This is not to say that 2004 is not a good vintage. On the contrary, I personally prefer the cleaner, firmer, more streamlined, less oaky, more classic profile of 2004. Upon my query, Cristophe confirmed that he believes that the 2005 saw more new oak exposure than the 2004 - likely, to my mind, because the richer fruited 2005 could take more oak.
Be it as it may, Cristophe felt that the two young vintages were understandably closed at this point (La Chapelles, like most fine wine, normally need more time to truly show their true charms), and, so, called for the next two vintages of the evening to be served to overlap with the next course of
Roast Lamb with Vegetable and Herb Couscous, Gremolata and Lamb Jus
.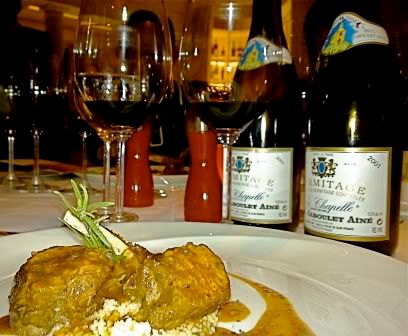 2003 and 2001 Jaboulet Hermitage La Chapelle
- Between these two wines as well was a readily apparent contrast in vintage characteristics. The 2003, more like the 2005, was riper, more forward and lusher in fruit than the 2001 but with a more savory, meatier, less creamily oaked character than the 2005. The 2001 had more acidic lift and came off a bit linear, more somber and backward, which is pretty much the same as when I tested a bottle a few years ago with the Doc and Stockbroker. The 2003, to my mind, is a wine to be enjoyed sooner and I'd wait a few more years to see if the more
vin de garde
styled 2001 will open up more.
1997 and 1995 Jaboulet Hermitage La Chapelle
- Things got a lot more interesting with these vintages; as I mentioned earlier, La Chapelles need many years to strut their stuff - and these two were in fine stride. Showing off their complex characters, both proudly displayed their mature, smoky dark cherry, raspberry, cassis, truffle, bacon fat, roast meat, leather, tobacco,
garrigue
and cedar notes gently flecked with black pepper. The 1997 seemed comparatively sweeter and softer in fruit and more approachable than the earthier, more savory, solidly structured 1995. Both were excellent, clearly showcasing, in two distinct manners, the true beauty of mature La Chapelles.
These were excellent specimens, to be sure. The Stockbroker agreed and opined that, between the two, he preferred the better structured 1995. I, personally, would enjoy the 1997 on its own and pair the 1995 with a nice dish of roast venison, wild boar or grilled, herbed rack of lamb.
With the penultimate course of
Assorted Cheese, Lavosh, Crackers, Quince Paste and Fresh Grapes
, the oldest wine of the evening was served.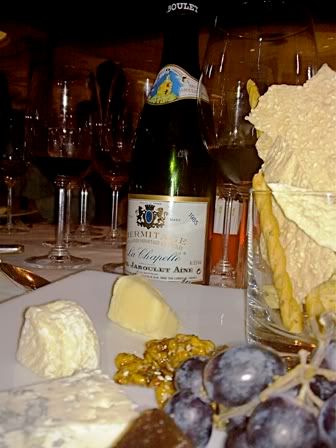 1985 Jaboulet Hermitage La Chapelle
- This wine had the most alluring bouquet of subtle game, sweet bacon fat and smoky cedar delicately lacing the seamlessly silky-smooth, pure, soft raspberry, cherry and cassis elixir. Discreet, well-worn leather, walnut, truffle and tobacco notes finely woven into the underlying cassis added even more complexity and depth. Great balance, if not as firmly structured as the 1995 at this point. Contemplative, intellectual, yet suave and confident, excellent wine.
Of the mature wines that night, I would recommend this vintage to be enjoyed now and as often as possible, together with the 1997. The 1995 will most likely improve even more in the next 5-8 years.
Dessert of
Chocolate and Lebuchen Lava Cake with Vanilla Ice Cream
was then served...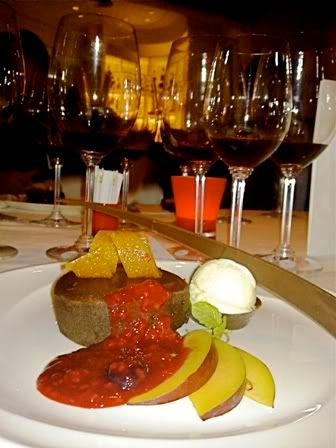 ...with glasses of Graham's "The Tawny" Port.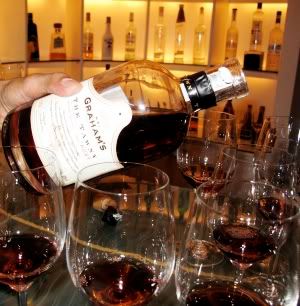 A Lavazza double espresso and a few more stories with Bernie and Oscar ended yet another memorable wine dinner. I would have loved to linger over more port and a cigar, but it was a working day the next day after all.
Many thanks, Alex, for inviting me; and
bon voyage
to Cristophe. It was a great pleasure meeting you and learning even more of Jaboulet's wines. I will surely try some of Jaboulet's Domaine de Thalabert Crozes Hermitage as you recommended.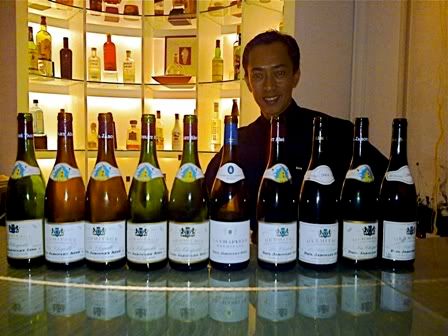 Special mention must be made to Red's excellent sommelier, Ace. As passionately emphasized by Cristophe, proper serving temperature can make or break a wine's showing at any tasting. Ace took every effort to insure that all the evening's wines were served at their best. Good show, Ace.