Dinner 0n the 25th May 2010 was at the Grand Hyatt's (Wanchai) ballroom for the
Commanderie du Bontemps Médoc et Graves, Sauternes et Barsac
's
Soirée de la Commanderie
.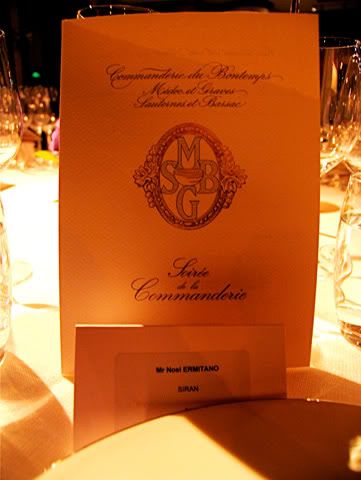 Catha and I were running late and so missed cocktails. Edouard called shortly before we pulled up at the hotel and informed us we would be at his table (#36) and would, thus, need not queue up. We went straight in to his table right in front of the stage. We were 8 in all including the spouses Vigneron, Cesar Zalamea & Catherine Fung, Romy & Janet Sia, Felicia Atienza and Catha & I.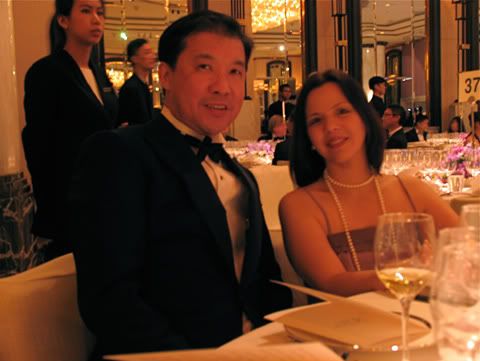 Felicia, Cesar Zalamea & Mrs. Vigneron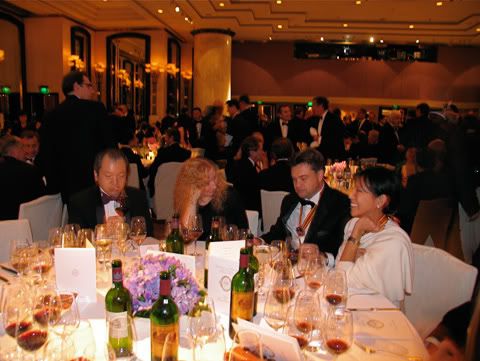 Janet, the Vigneron & Felicia
The
Commandeurs
led by
Grand Maître
Emmanuel Cruse of Château d'Issan.
The Food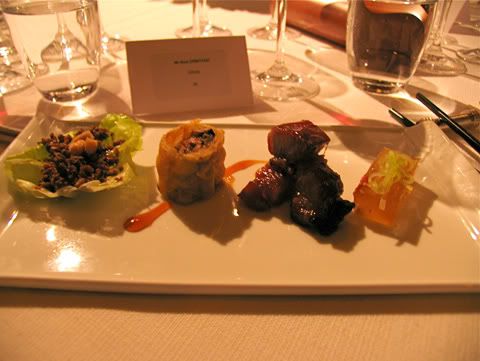 L-R:
Minced Sha-Tin Pigeon with Water Chestnut in Lettuce Hearts
,
Fried Beancurd Roll with Shiitake & Foie Gras
,
Honey Roast BBQ Pork,
Pork Cheek Jelly with Chamomile & Celtuce Julienne
.
Steamed Abalone Siu Mai in Oyster Sauce
,
Prawn Dumpling with Scallop & Crab Coral
.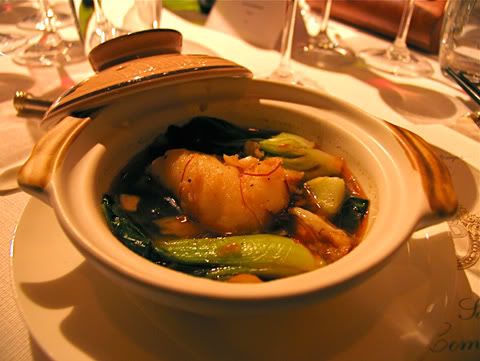 Claypot Braised Pink Garoupa with Chan Chuan Fan Noodle, Chili & Garlic
.
Pu-Er Tea Smoked Wagyu Beef with Wok-Tossed Wing Beans, Pan-Fried Glutinous Rice Cake Filled with Chestnut
.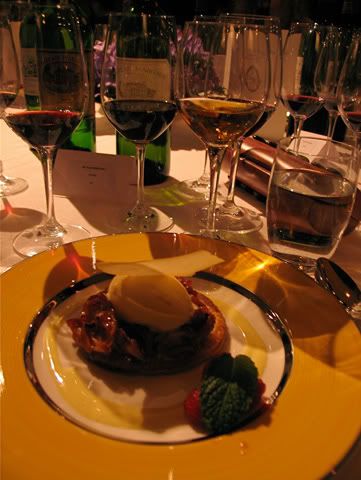 Dongguan Lychee and Almond Tarte Tatin with Candied Ginger Ice Cream
The Wines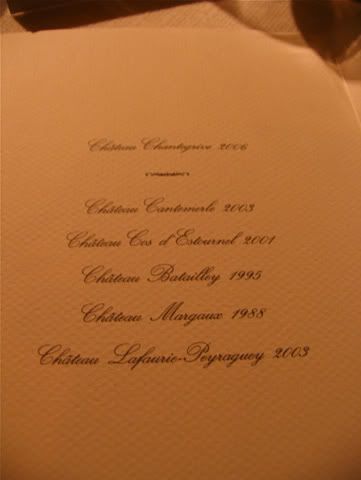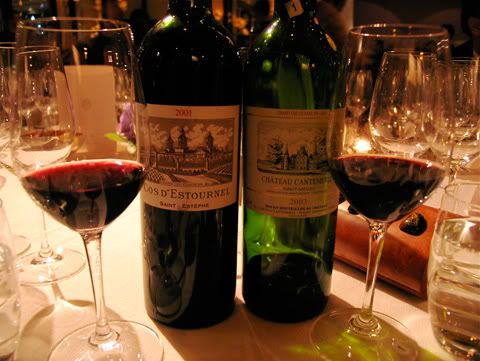 2003 Château Cantemerle
- I'm hard-pressed to recall offhand a particularly impressive 2003 classed growth - most,
though, admittedly, they are still quite young
, I've found too jammy and/or alcoholic. I've never been a big fan of Cantemerle to boot - never had a bad one, just never one that made me stand up and take notice. Thus, I had rather low expectations of their 2003 vintage.
It was actually not bad at all, all things considered. Supple, soft, nicely rounded, slightly over medium-bodied, the very ripe fruit was barely jammy (a good thing) and the alcohol well in check - there being some lead pencil, moderate dark minerality, new leather, chocolate, vanilla in the black cherry, dark plum, kirsch, crème de cassis with a slight minty topnote. Quite nice, easily approachable, very user-friendly if nothing else.
2001 Château Cos d'Estournel
- Already drinking well though it can almost surely gain more complexity in the next couple of decades. Cassis, plum, cherry, raspberry, bit of truffle, pipe tobacco, wet tea leaves, hints of licorice, espresso, chocolate, slightly creamy/toasty oak spice and a whispers of Christmas spice. Acid slightly low, but the structure is decently firm. Comes off notably modern as well (as most recent vintages of Cos have to me) with one foot in the new world.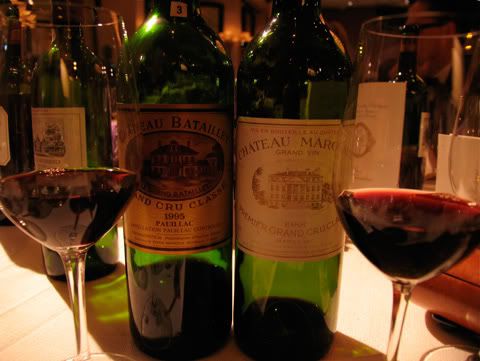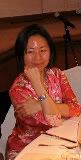 1995 Château Batailley
- One of the more open 1995 classed growth Pauillacs (I have no idea how long the bottle was left open and do not believe any bottles of this dinner were decanted) that I've had as of late. Nice depth and good freshness in its dark fruit, cedar, violets, bit of asphalt, iron, leather, slight tobacco leaf. Notable mouthfeel, push, just a shade under legitimate full-body, structure is decent, acid slightly low but good enough. Not the most complex or elegant wine of the night, but it was my favorite as well as Mrs. Vigneron's (
nb
: we vote the same way more often than not at our group's Blind Bordeaux Challenges).
1988 Château Margaux
- Halfway between medium and full in body, precise balance, elegantly framed and lighter on its feet than the other wines, this wine shows its pedigree at the outset. Violets, cedar, black currant, black cherry, bit of raspberry, cedar, topnotes of mint and hints of green bell pepper are seamlessly intertwined with slight licorice, whisper of vanilla bean, tobacco, leather and iron. Very complex. That said, I personally found the fruit with a touch of slightly disturbing greenness and a slight hardness. This is nit-picking to be sure, yet I must mention it for a wine this expensive.
Mrs. Vigneron opined that the wine was not yet fully ready to drink. I normally agree with her assessments especially when it comes to first growths, but, in this case, I doubt the greenness will go away. Only time will surely tell though. We will see.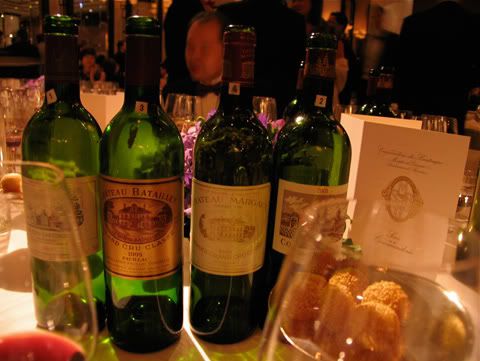 2003 Château Lafaurie-Peyraguey
- Opulently-styled, fat, super-ripe honeyed apricot, canned cling peach, minor orange marmalade, hint of sweet lemon custard, judicious touch of oak/vanilla bean. Acid was barely adequate. Pedal-to-the-metal style. Good enough and it surely lacks nothing in the indulgent department, but, to me, it lacks finesse and cut. My wife liked it much more than I.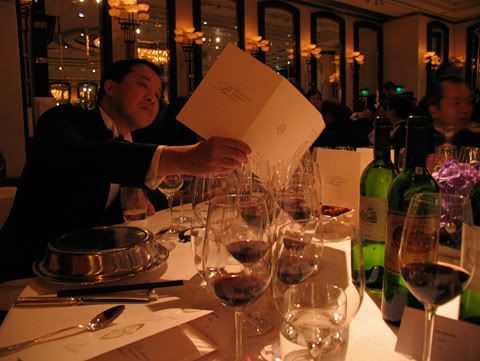 Almost certainly already very full, Romy checks out the menu to see if there were any more courses to come. There were actually platters of Chinese petits fours of excellent
Deep Fried Egg Custard Dumplings
and
Sesame & Lotus Paste Dumplings
served a little later on, but I forgot to take individual photos of them.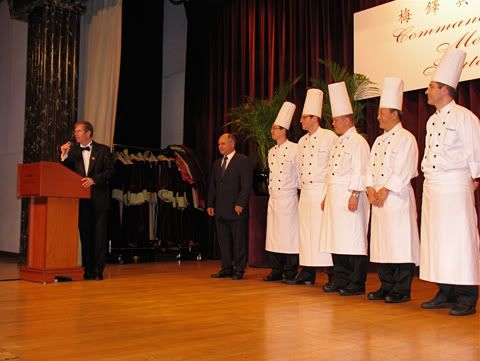 Emmanuel then called the kitchen team to stage for us to acknowledge and thank them for their efforts, and, later, the venerable
Marcel Ducasse
, greatly responsible for the prominence of Château Lagrange, who received a well-deserved standing ovation.
Most enjoyable dinner. I stepped out for a smoke thereafter and returned to see everyone already milling about the lobby area with
Anne Bernard
of Château Domaine de Chevalier who I had met and was seated beside at
the recent Commanderie du Bontemps Ban du Millésimé in Bordeaux
.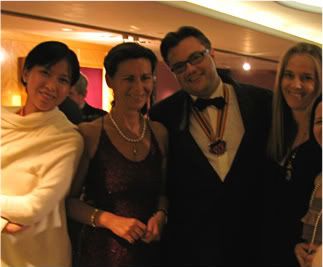 Emmanuel had invited for some champagne upstairs by the pool, but Catha and I opted to head back to the hotel already. After all, it had been a very long day. As it turned out, the spouses Vigneron and Felicia also opted to turn in. Sebastien Bardinet told me the next day they wound up drinking way past 2am. "We were not very reasonable", said he.