Dinner the 28th April 2010 was at the Vigneron's place. We were 10 in all; aside from our hosts, the French ambassador, Felicia & Kim Atienza, Romy Sia of Wine Story, Maja Olivares, Thomas Jullien (the visiting head of promotions for Asia of the
Conseil Interprofessionnel du Vin de Bordeaux
), and my wife & I attended. Unless otherwise indicated, the wines were from the Vigneron: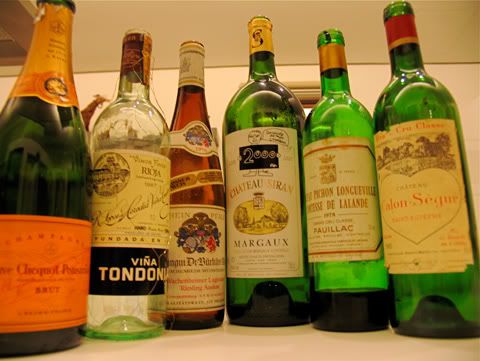 Champagne Veuve Clicquot Ponsardin Brut NV
- The standard yellow label (though it looks orange to me). Same as always. The citrus forward notes seemed a bit too aggressive that night. Most likely it was due to the bubbly being under-chilled. I told the waiter to add more ice to the bucket.
1987 López de Heredia Viña Tondonia Reserva Blanco
- My bottle. I opened one at a recent dinner at La Tienda and it was corked. This one wasn't. A bit of bottle stink for a few minutes but blew off. Was very dry and minerally at first so I left it in bottle to aerate. Served with risotto course. Opened up nicely halfway through the course showing a bit of dry, mildly creamy, soft fruit, pillowy texture, hints of dried flowers, slight caramel. Unfortunately, many had gone through their glasses by that time - it was Romy and I who first noticed how it changed so I gave Kim some from my glass. He was the one who noted the caramel hints and I agreed.
2000 Château Siran (Magnum)
- Served with the risotto course and the previous creamy soup topped with foie gras as well. I wasn't able to have some of this as I was busy attending to some other bottles and drinking my white. I've written many times about this fine vintage for Siran though and do not think I need to elaborate further.
1985 Château Calon Ségur
- (2 bottles) Excellent bottles and in perfect condition both. Alluring depth and layered complexity to the comfortably warm dark cherry and nicely ripe raspberry over cassis, worn leather, hints of truffle, loam, dark spice, violets and cedar. A generally earthy tone to the ensemble. Beautiful balance. Bravo. Much, much better than the '88 Ed brought to one of our recent Bdx Challenges.
1978 Pichon Longueville Comtesse de Lalande
- One of the better bottles of this I've had, the first one straight from the château cellar at Siran. Feminine but the underlying cassis, pencil shavings, violets and cedar led the way over plum and cherry/kirsch. Ed and I discussed that though the château was turned over to his aunt in the same year, it was rather late so the vintage was more really under the watch of Michel Delon of Léoville las Cases who was administering the property at the time.
1976 Weingut Dr Bürklin-Wolf Wachenheimer Luginsland Riesling Auslese
- My bottle. Gave of a mean whiff of petrol/diesel when I first opened it so I let it cool down in the bucket for around 30 minutes, sniffed, then re-corked for later service. Dessert was a very rich (but delicious) chocolate cake so I held off the wine until after.
A bit light for an auslese, but the fruit was all there, clean lines, brightening acidity (well, as bright as an ambering white wine virtually 34 years from vintage can probably be) - lightly honeyed peach, membrillo, bit of apricot, hints of honeysuckle. No petrol notes detected, curiously enough. Rather simple and straightforward, the enjoyment was more, I suppose, on drinking a nice enough riesling that old. The ambassador, my wife, I and Kim obviously enjoyed it. I recall Romy and Sevrine did too.
Very enjoyable dinner. We finished off with some brandy produced by a cousin of Edouard. I forgot to photograph the bottle so I no longer remember what it was. I vaguely remember it was deceivingly smooth and nicely rounded but packed quite a punch. Nice stuff.