Thursday, the 11th April 2013
, the strike at the
Musée du Louvre
was finally over, so the kids finally got to go there. I stayed at the apartment again and would meet up with them for a late lunch. A little past 1pm, Catha sent me a text message saying the kids already asked to have lunch, so I walked to the Louvre, met up with them, and we walked over to
Café Angelina
(226 rue de Rivoli 75001 Paris, France).
Café Angelina has been around forever, so most everyone knows about it, its deservedly famous hot chocolate, pastries, etc. It is not to be missed when one is in Paris, and Catha & I never do. I understand Café Angelina now has branches in the USA and elsewhere, and, one can now even order their hot chocolate mix online. Cool.
Since I had made reservations for that night's dinner at Alain Ducasse's Aux Lyonnais, I suggested that everyone stick to the lighter side of lunch.
Mauro's Black Truffle Omelette w/ Salad.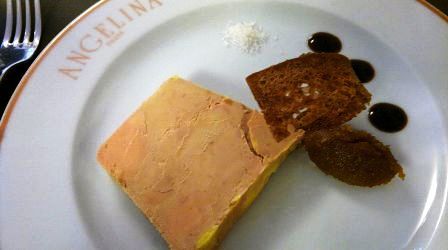 Catha & Joaqi had an order each of the Foie Gras Terrine.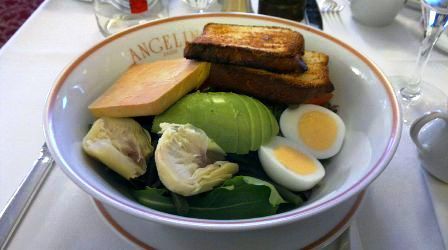 I had the Avocat Salade - "avocat" is French "avocado", but it also means "lawyer" - so, of course, I had it (para healthy). Great salad. It did have a moderately sized slab of foie gras, so I gave more than half of it to the kids.
I had a glass of basic bourgogne blanc to wash it down.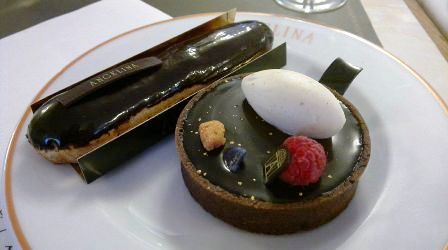 Lorenzo decided to forego the savories and went straight to dessert...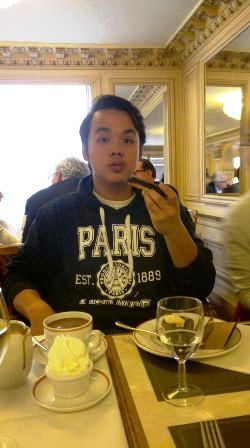 ..washing it down with the signature
Hot Chocolate.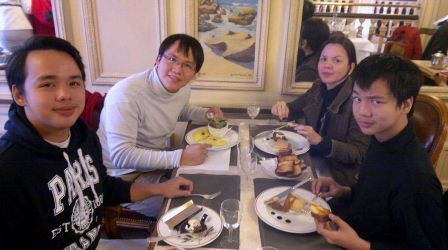 Once our light lunch was done, we moved on to dessert.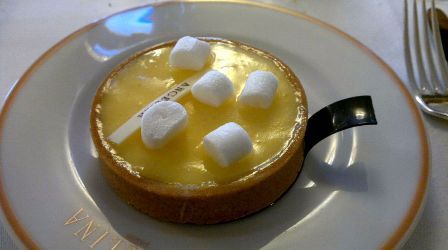 My Tarte Citron.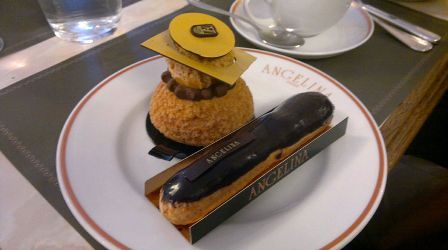 Joaqi's chosen desserts.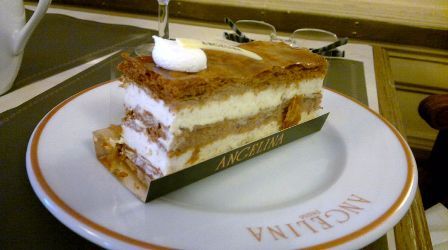 Catha's Napoleon-esque Mille-feuille.
Mauro & Lorenzo got assorted Macarons...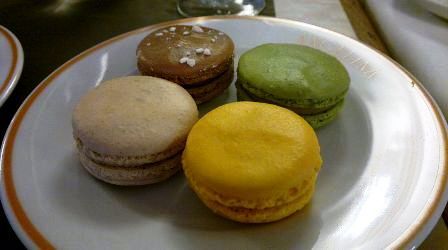 ...in their chosen flavors.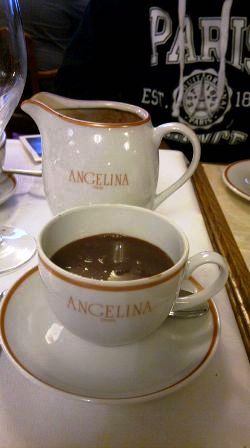 Naturally, we all had the signature Hot Chocolate.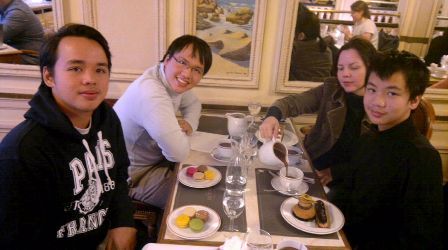 Loved the lunch.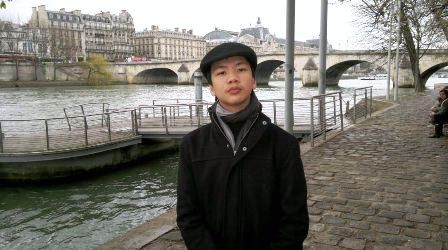 After lunch, Catha and Mauro headed back to the Louvre, and Lorenzo went off on his own shopping for clothes. Joaqi had had enough of the museum, and wanted to ride the Batobus around Paris. Of course, I took him for the ride he wanted.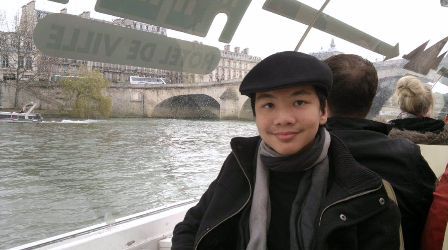 My son's smile made it more than worth the cold and effort.
~ oOo ~
At around 5:45pm, Catha messaged me that she and Mauro were finishing up in the Louvre so Joaqi and I headed back to meet them at my usual hangout in the Tuileries. I called Lorenzo, who was, by then, back in the apartment, and he said he'd just take the Metro and meet us at the restaurant by 7:45pm.
Aux Lyonnais par Alain Ducasse
(32 rue St-Marc 75002, Paris, France) is a very old bistro. Back in 1890, the structure was used to store coal, then wood, then wine. In 1914, the Fouet family (who owned it at the time) decided to open the room facing the street to present their wines to the public. Daniel Violet, known for his passion for the cuisine of Lyon, eventually took over and, by after WWII, turned it into, reputedly, the hottest spot in Paris. In 2002, Alain Ducasse, took the reins, and the rest is history.
This is another bistro that Catha & I always make a point to dine at whenever in Paris.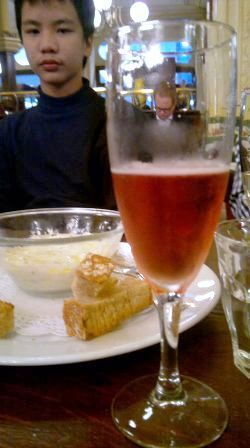 Bugey Cerdon for apéritifs.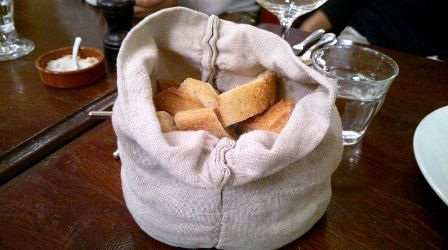 Sliced baguettes served in a little sack weighed down by beads.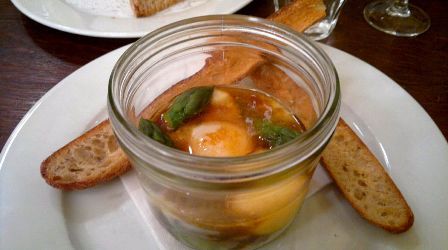 Everyone save Lorenzo started with the famous Oeufs Cocottes.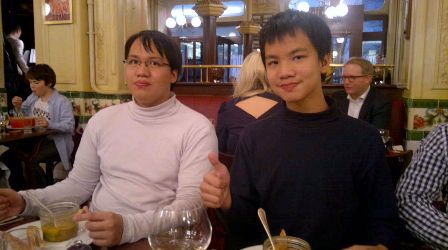 Personally, I find them better than those of Joël Robuchon.
The kids liked them too.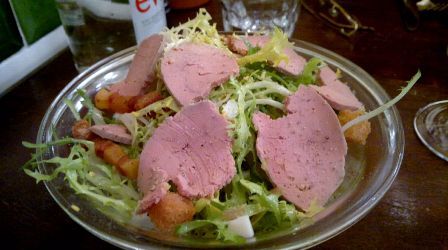 Lorenzo started with the Salad of Endives & Foie Gras...
...para healthy (kuno).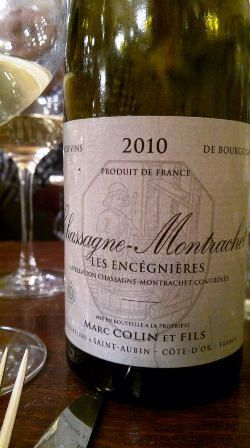 The night's white was a 2010 Marc Colin & Fils Chassagne-Montrachet 1er Cru Les Encégnières
- Like
the
2008 Domaine Fontaine-Gagnard Chassagne-Montrachet 1er Cru La Boudriotte we had at l'Atelier de Joël Robuchon (St-Germain) the night before,
this was also quite tightly wound and unyielding, though to a lesser degree despite being younger. It was marginally riper though, but, again, too tight, nervous, and steely-citrusy for what I know Chassagne-Montrachet blancs to be. It really does need more time to loosen up and gain some weight. Unfortunately, our
oeufs cocottes
didn't help the wine any, and
vice versa
.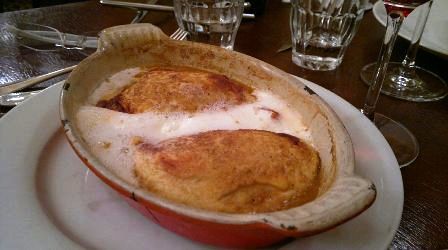 Catha's Seafood Quenelles, which she said was very nice.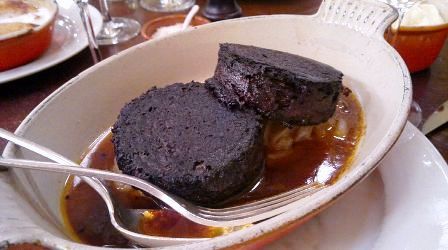 Mauro & I both had the Boudin Noir. Excellent.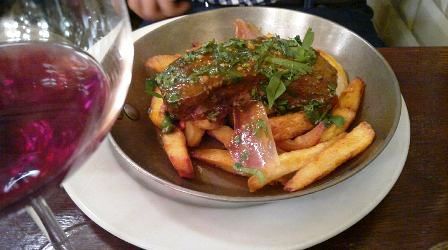 Lorenzo had another of the signature dishes: Foie de Veau.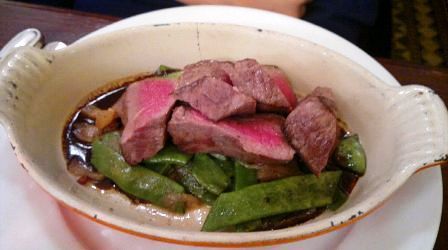 Joaqi chose the night's special Boeuf Rôti, which he said was
"very ordinary".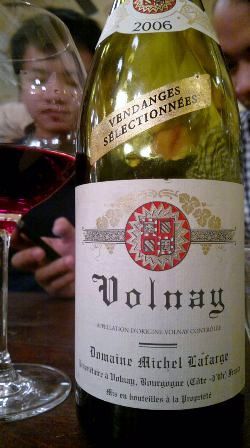 The night's red was a
2006 Domaine Michel Lafarge Volnay Vendanges Sélectionnées
- Very nice in itself, and quite impressive for a village level Volnay. Alluring, typical nose, the fruit properly well-ripened. Good heft, but light-footed, with a silken texture on the palate. Notable purity and focus, precise acidity. Very nicely balanced. Again, for what it is, I was quite impressed; and, it went well with my boudin noir and the bit of foie de veau that Lorenzo shared with me.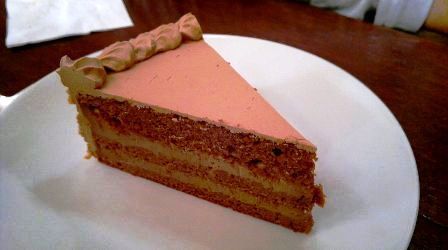 For dessert, Mauro had the Coffee Cake.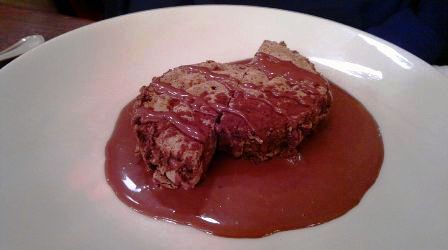 Joaqi had the "Chocolate Success".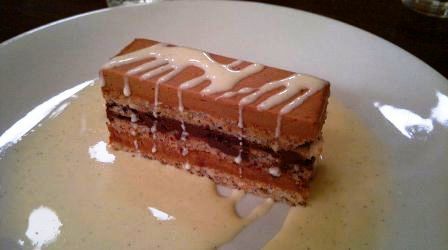 This was mine, but I forgot its name. Catha & Renzo skipped dessert.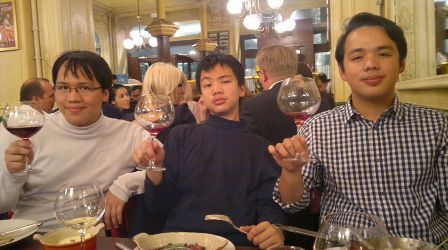 Salute!