Morning of the 28th March 20013
, was our last few hours in the Champagne region (this leg of the trip was meant to be short as there's not that much to see and I needed to kick the jet-lag enough for the over 420km. drive to Alsace. Catha and I awoke early and had breakfast ahead of the kids.
At this point, I really must mention that the
Novotel Tinqueux
(where we stayed in the Champagne region) is (obviously) part of the moderately-priced, modern Novotel business hotel chain. What it lacks in character and history, it makes up for in modern amenities, facilities, cleanliness, and brisk efficiency (Catha prefers such hotels, while I favor more old world, "homey" ones with lots of old furniture).
Moreover, it has a pretty darn good buffet breakfast (for France, anyway, as nothing beats good breakfast buffets in the USA): more than decent croissants, a wider than usual selection of good bread, cheeses, decent scrambled eggs, the option of making your own hard-boiled or soft-boiled eggs on-site, nice pork sausages, and lots of good, smokey bacon. They also have a wider than usual selection of cereals, fresh fruits, etc.; plus Belgian waffles as well (which Joaqi liked slathering with Nutella).
Anyway, the boys woke up late and made very good use of the breakfast buffet, so, it was noon by the time we were loaded up in the car and on our way to Alsace. Catha and I decided not to stop at Metz (Lorraine) for lunch this trip, since our car was broken into and our GPS stolen last time we did that. Any bathroom, coffee, or sandwich stops would be in one of the
aires
along the motorway.
~ oOo ~
We made good time, and, were at hotel in St-Hippolyte, Alsace within 4 hours (including an espresso/bathroom/snack stop and getting a bit lost in the little town due to confusing signs). It was snowing when we arrived.
Whenever I can, I opt to stay in small, old towns rather than big, busy cities (which is why I don't stay in Strasbourg when in Alsace). I had wanted to stay in Riquewihr again, but, it being high season, the hotels I wanted were fully booked. Anyway, it turned out that I loved staying in nearby St-Hippolyte (around 8-10 minutes easy driving on country roads from Riquewihr and Ribeauvillé, and just 10 kms, more or less, from Château de Haut Koenigsbourg.
We stayed at
Hostellerie Munsch Aux Ducs de Lorraine
as above depicted - my kind of place - lots of old world character and heavy on the dark wood. It is spic-and-span, efficiently run by an old, genteel family which has been in the wine-making business for 8 generations. In truth, the vineyards across the two adjacent streets of the hotel belong to the Munsch family, and their small winery in their adjoining property behind.
Quickly settled in, we hopped over to Riquewihr and had fun showing the kids around the medieval, walled town.
By then, the snow had turned into a light drizzle. Catha was trying to find the store she bought these gewürztraminer hard candies she liked the last time we were here, but couldn't really find it. Lured by free (and delicious) tastes of assorted freshly baked cookies and pastries, Catha and Lorenzo headed to their main shop and loaded up on some sweets.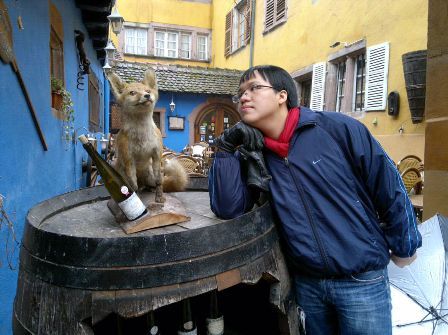 Mauro flirting with some fox in a nearby wine shop.
Chilled and slightly peckish, we settled into a small, rustic, but cozy salon de thé and had some coffee, the kids some hot chocolate and a small snack before dinner.
I can't remember its name, but it's upwards along the town's main road, rue de General Leclerc, past Hugel's corner wine shop, past Maison Zimmer and Le Tire Bouchon, on the other side of the street (on your right going upwards towards the clock tower).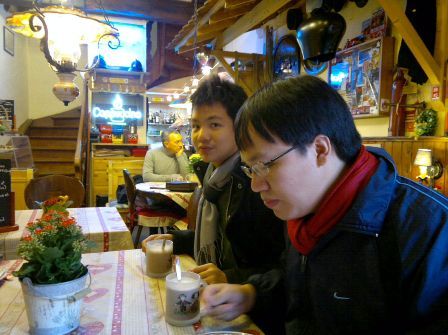 Mauro got some crêpes...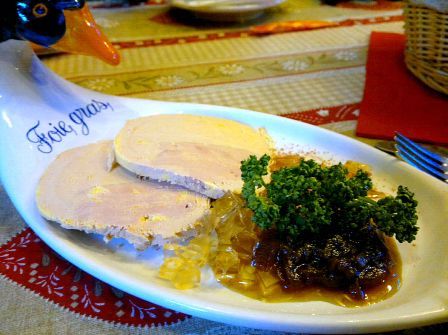 ...and Joaqi got some foie gras (as usual).
~ oOo ~
Dinner that night was at our hotel's fine dining restaurant, well-known and well-recommended for its traditional fare in a quiet, genteel setting. We washed up and changed for dinner.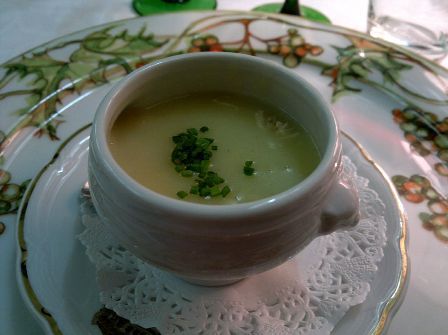 A little complimentary Hot Pea Soup for everyone to warm us up.
Catha and Joaqi started off with the
Terrine de Canard
, which, when I tasted from Catha, was absolutely excellent - definitely one of the best I've ever had.
Everyone else started with an order each of the
Foie Gras de Canard Maison
. Alsace, by the way, is one of France's biggest producers of foie gras, so this is definitely a place to indulge in it. Silky smooth, not overly rich. Very nice indeed.
For the first courses, I had ordered a wine produced by the owners of the hotel, namely, a
1997 Alsace Munsch Gewürztraminer Vendanges Tardives
- Mellow, slightly viscous and oily in texture (not a bad thing, it is normal for wines such as these, and quite pleasant indeed), the telltale gewürz lychee notes were there together with slight peach. Lightly honeyed, its slight sweetness and spiciness were demure. Very nice, good typicity, though not quite complex. Can last easily for several more years, I'd expect. More than good enough for its very reasonable price.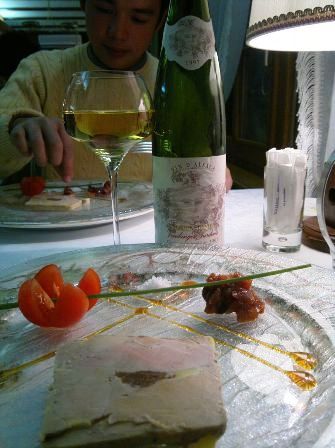 It was a no-brainer to match it with the foie gras.
Immediately above is Catha's main course,
Souris d'Agneau aux 3 Épices
(Lamb Shank in 3 Spices).
Lorenzo, Joaqi, & I went for the
Croustillant de Noisettes d'Agneau aux Herbes
(Crispy, Herbed Lamb Filets). Quite nice and eharty, very neatly and professionally executed, if unexciting.
All lamb courses were accompanied by this notably good side dish. The potatoes were particularly pleasing, and sopped up the lamb's sauce very nicely.
Mauro's main course was the
Rable de Lapin à la Moutarde
(Saddle of Rabbit in Mustard) ,which he liked well enough, but he thought the pasta was a mismatched siding.
At the outset, I had taken a chance and ordered a bottle of
1985 P. Misserey Volnay
- an aged village level Volnay from a hitherto unheard-of négociant
*
. Unfortunately, it may as well have been left unheard of, as, though not really unpleasant, neither was it pleasing. Whatever fruit, middle, or crescendo it may ever have had, save for almost shrill cerise sauvage and undertones of thin cassis, had expired a while back. All it was good for was washing the palate every few bites of lamb. Oh, well...one must try out new things, no? It's all part of the wine game. Anyway, it wasn't expensive; so no big.
*
I know, my general rule is to have wine from wherever wine region I am currently in, and the subject red is not from Alsace, but, having tried several Alsatian pinot noirs, they are best left for very casual lunches with lighter, and equally casual fare.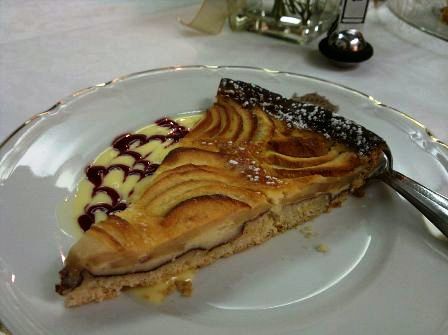 For dessert, Catha had the Apple Tart...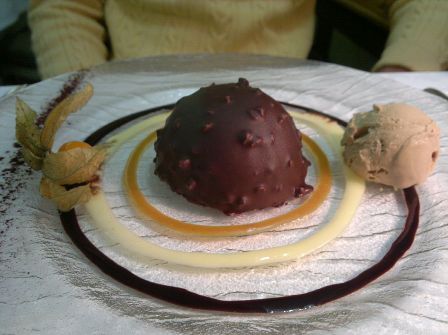 ...Mauro & Renzo had the Chocolate Bombe...
...while Joaqi and I had the
Chocolate Profiteroles
- and it was the very best by far rendition of chocolate profiteroles we have ever had. The chocolate sauce was deep, full, intense, and rich without being too sweet or anywhere near cloying or bitter; while the pastry had the exact balance of resistance and give. Absolutely superb. We gave tastes to Catha and the two older boys, and we knew right there and then we would have these again before we leave Alsace.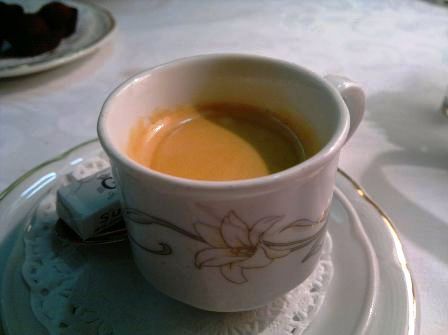 Espresso time...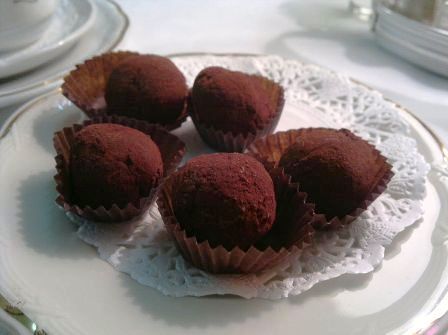 ...with some sinfully good Dark Chocolate-Raspberry Liqueur Truffles.
Despite the disappointing bottle of red, this was one of the more memorable meals of the trip.The food was generally quite good, and I loved the cozy, hushed ambiance, crisp service, exceptional dessert, and the warmth of my family. I'd like to go back there tomorrow if possible.
Our rooms beside each other on the same wing on the 1st floor, we walked up the stairs (though there is a lift) where I took this photo. Lovely, lovely evening. There was a next.