Wednesday, the 4th April 2013
, was a very long and enjoyable day. After breakfast, we got an early start out to...
At the ramparts of Château d'Amboise.
Amboise
- an irresistibly charming little town on the southern bank of the Loire, 25kms easy driving from Tours through scenic country roads. It is a touristy town, the main draw (to my mind) being
Château d'Amboise
. Catha and I had been here before (as with all the other castles we took the kids to), but it was a treat to take the kids along with us this time.
This magnificent castle used to be owned by a Frankish noble family until it was sequestered in 1434 by King Charles VII from Louis d'Amboise, a cardinal from a noble family, on the charge of and conviction for plotting against Louis XI. It became the favorite castle of several French monarchs, reputedly the party pad of François I (who grew up in said castle).
La Chapelle St-Hubert
It was Francis I who, on 1515, brought Leonardo da Vinci to live and work in the nearby Clos Lucé. Leonardo da Vinci is (reputedly) buried beneath the floor of la Chapelle St-Hubert (late 15th century) on the palace grounds.
Ole Leo's (alleged) resting place.
In the 1560s, due to the Comte de Guise's discovery of a plot against his family by the Protestant House of Bourbon, numerous executions and gibbeting (i.e., hanging the bodies in public to serve as a deterrent) took place in Amboise, the stench of which drove the royal court to leave town. The castle never returned to royal favor after that.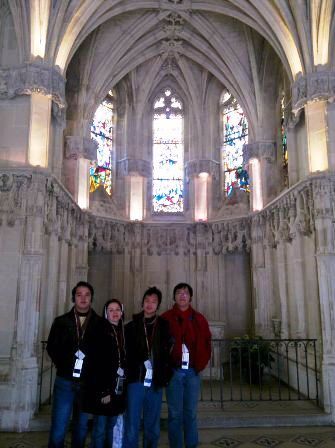 Inside la Chapelle St-Hubert
I don't really take photos of furniture, but had to take this one: the Royal Cup-Bearer's ("
Échanson
") cabinet where he keeps the king's drinks to lock and key to guard against some naughty person slipping his Highness a bit of poison.
Love the red wallpaper.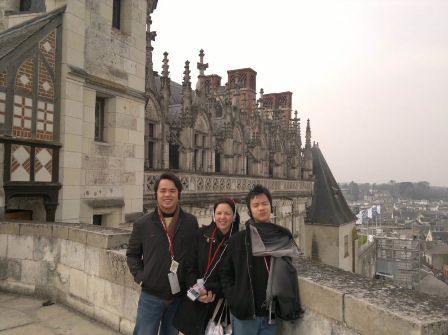 Along the parapets.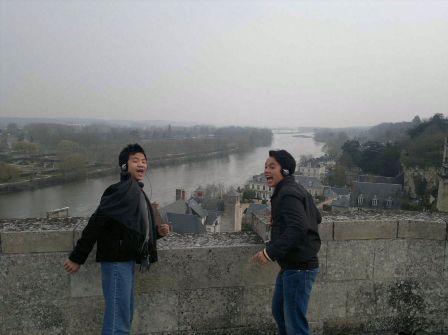 Joaqi & Renzo. Mauro was still taking his time inside...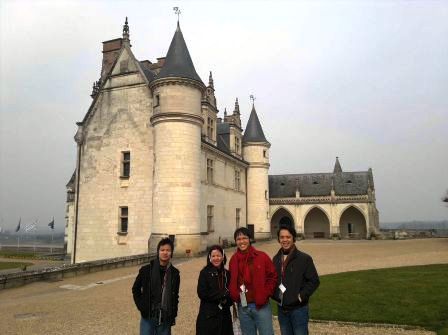 ...but caught up with us outside.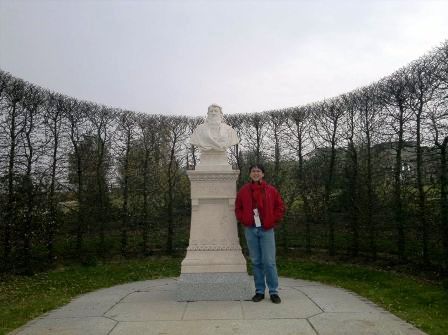 Mau beside the bust of Leonardo da Vinci.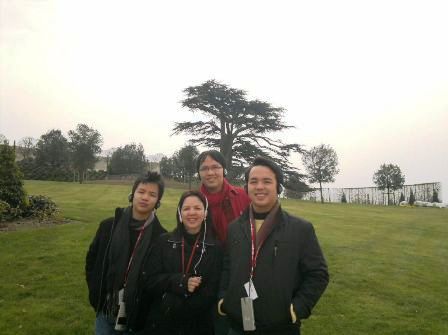 In the castle's gardens.
Joaqi monkeying around.
With the background view from the gardens.
The tour done, the children spent a little over an hour at the gift shops on the way down from the castle, buying shirts, souvenirs, stc. Joaqi had his heart set on a cool looking knife with a handle shaped like a cobra. I let him buy it on the condition that he keep it in its scabbard-stand and not ever waive it around in play.
~ oOo ~
It was around 1:30pm by the time the children were done shopping, so we went to
Chez Hippeau
(the brasserie of l'Hotel de Ville) just down the road from the castle (#3 rue de Francois I, 37400Amboise, France). The food was decent enough, well, most of the food, anyway; and we were really just looking for a quick bite since we had another castle on the day's agenda. I had no wine since I was driving immediately after lunch.
My Goat Cheese & Walnuts Salad (para healthy).
Foie Gras de Canard w/ Toast
Oeufs en Meurette
No idea what this is, but it looks like le Vomi d'un Chien.
Joaqi just wanted a Mushroom & Cheese Omelette.
Way over-cooked said he.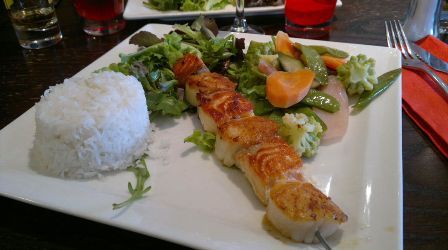 My Saumon et St-Jacques en Brochette (with rice!).
Magret de Canard
Catha's Blanquette de Veau - "Cafeteria food" was her verdict.
Molten Chocolate Cakes for the kids.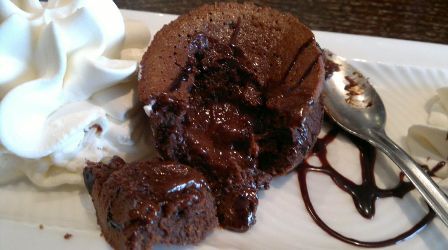 Nicely oozing center.
I had a Tarte Tatin - pretty nice.
A double espresso for me for the drive after lunch.
All fed for the drive to...

~ oOo ~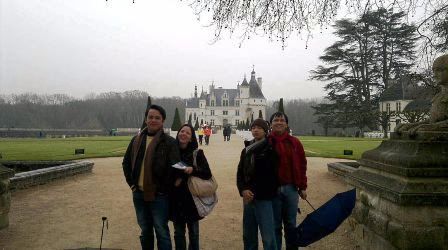 ...Château de Chenonceau.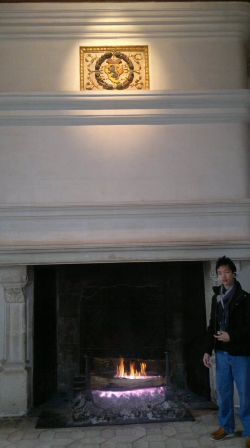 Joaqi warms up by the fireplace.
Château de Chenonceau straddles the River Cher and is my favorite castle in France. The original castle was lost through debt by the Marques family to Thomas Bohier (Chamberlain to Charles VIII at the time). In turn, Bohier lost it to Francis I for unpaid debts to the crown. It eventually passed to Diane de Poitiers in the mid 1500s by way of a gift from Henry II (Diane was his mistress). After Henry II died in 1559, Catherine de Médicis, queen regent, booted Diane out of the castle, relegating her to Château de Chaumont (not too bad a pad, actually).
Catherine de Médicis - in black & severe, as usually depicted.
The castle became Catherine de Médicis' favorite castle and she spent on it lavishly, holding the first ever fireworks display in France, on the occasion of her son's, Francis II's, ascension to France's throne.
When Catherine de Médicis died, Château de Chenonceau passed on to her daughter-in-law, Louise de Lorraine-Vaudémont, the wife of Henry III (Catherine's 4th son). Because Henry III was assassinated in 1589, Louise went nuts and spent the rest of her days wandering around the castle in traditional white mourning clothes (giving rise to her name "
La Reine Blanche de Chenonceau
", or, "The White Queen of Chenonceau"). She kept her room in the castle dark with black tapestries stitched with skulls and bones.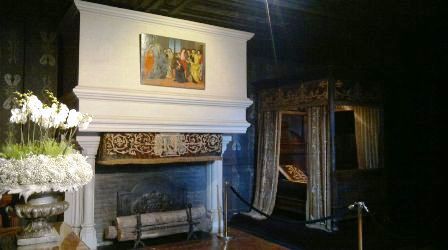 The widowed queen's boudoir.
Painting of Jesus clearing the temple of merchants, insurance salesmen, telemarketers, etc.
Mauro in the Grand Hall...
Looking out over the river Cher.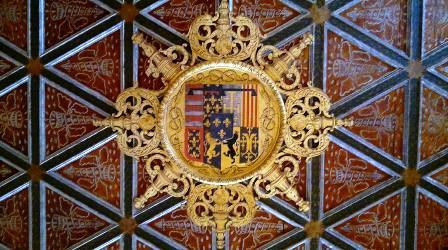 A royal emblem on the ceiling of the king's chambers.
Renzo & Joaqi before a painting of Louis XIV.
Tour done. Back to the car; and back to Tours.
~ oOo ~
Back in Tours, we rested up after the long day. Catha, tired and not wanting to gain weight, told me she'd skip dinner. Thus, I took the boys walking again to rue Lavoisier in hopes that Les Tuffeaux was already open (we had eaten here back in 2006 and it was very good). It was still boarded up. We, thus, rounded a corner onto the old rue Colbert to find a good place to eat. The nicest looking restaurant on the long, narrow road was
Le Turon
(94 rue Colbert 37000 Tours, France), so we entered.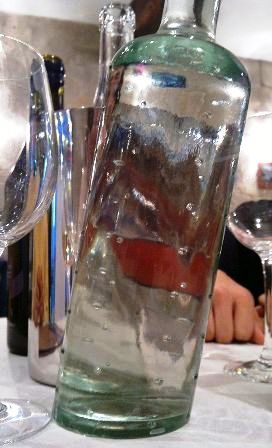 The water bottles all looked like this.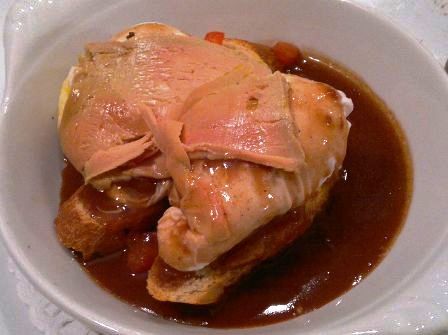 Oeufs en Meurette avec Foie Gras for Lorenzo to start.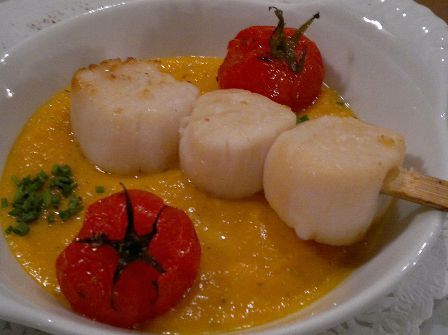 St-Jacques en Brochette for Mauro.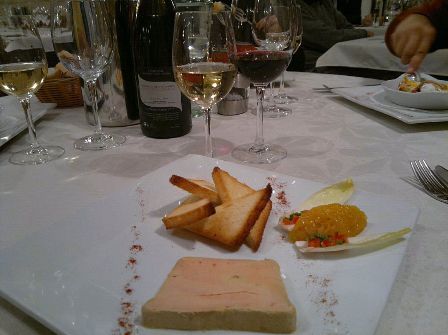 Terrine de Foie Gras Maison et Tartare de Poires au Miel
One each for Joaqi and I.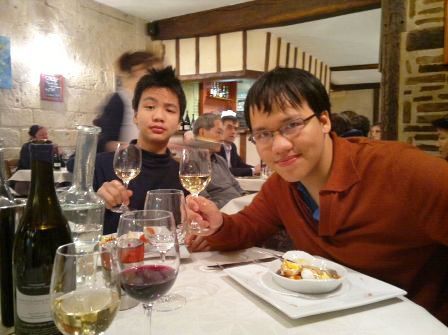 Cheers!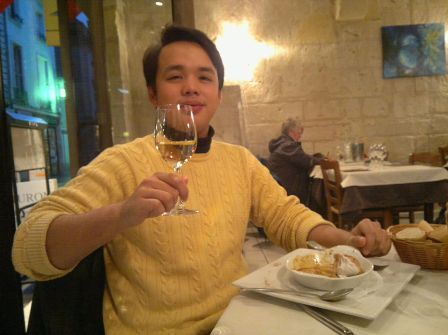 500ml carafe of house Montlouis-sur-Loire Sec which was pretty decent.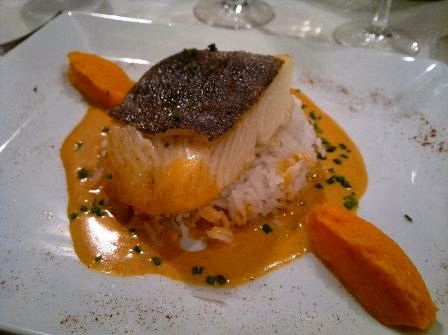 For mains: Seared Halibut for Joaqi (para healthy).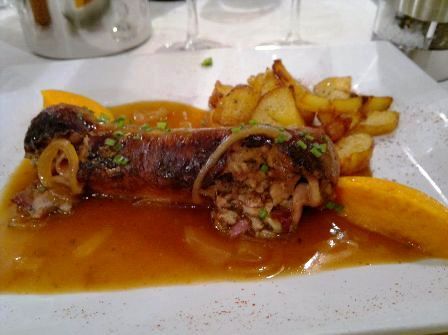 Andouillette for Lorenzo (para adventurous).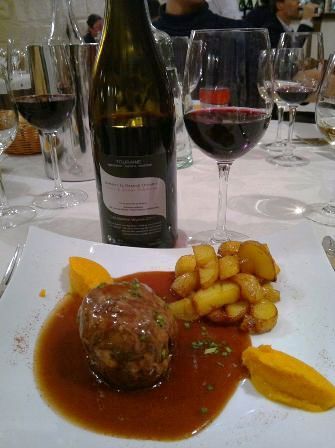 l'Agneau de Sept Heures (7-Hour Lamb) for Mau & I.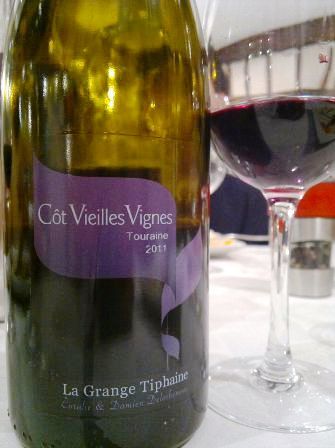 The prices for all the dishes were very inexpensive. The same went for the wines on the wine list. Not familiar with the Loire reds on the list, I just picked out the most expensive (relatively) one and crossed my fingers.
It was a
2011 La Grange Tiphaine Côt Vieilles Vignes Touraine
- I was particularly curious about this since I don't think I've ever had a 100% côt (i.e., malbec) from the Loire before (from southwest France many, but never from the Loire). Incredibly dark, super deeply-veined (must be
very
old vines), pure black fruit with notes of kirsch, raspberry and soft, moist tobacco. Hint of black pepper too. Rich, generous, lush, but not ponderous. Pretty full-bodied but not hot with alcohol. Robust wine with a good middle and finish. Pretty good and went well with the very tender, moist lamb.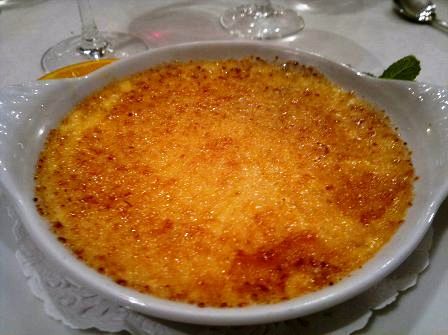 Mauro's Crème Brûlée (I recall hints of dried coconut flakes in it).
My Assorted Desserts Platter. Meh.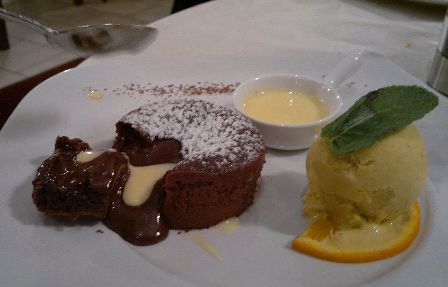 Renzo & Joaqi had the Molten Chocolate Cake w/ Ice Cream.
On the under 1 km. stroll back, it drizzled lightly. That didn't stop us from passing by the
Tours Cathedral
for a look-see and a couple of photos though. Great day; and I especially enjoyed having dinner with my boys.