Sunday, the 7th April 2013
, was our last half-day in the Loire. From there, we would spend a week in Paris. We checked out of the hotel by noon, stowed the bags, and, since Paris was a just a little over 2 hours' drive away, we decided to have a short stroll and a casual last lunch in Tours before heading off.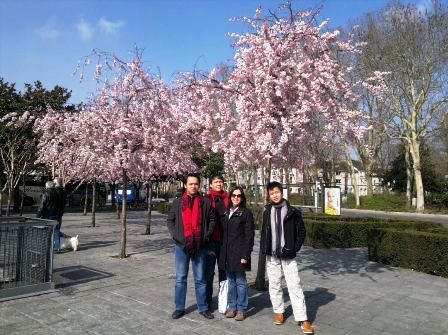 Near the train station.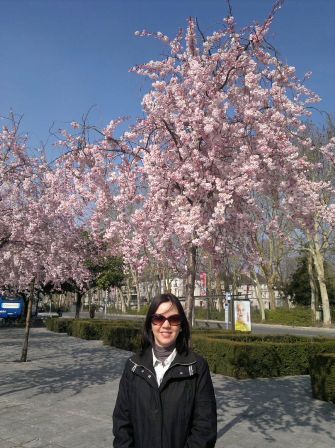 Catha with the early cherry blossoms.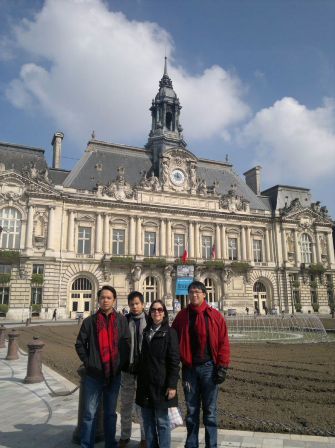 At Tours' Hôtel de Ville.
Joaqi wanted a jumping shot.
We continued walking around the main shopping district, though, it being Sunday (I always plan driving into Paris on a Sunday for less traffic), most all the shops were closed. The sun was out, finally, during our last couple of hours.
We stopped by one of the few open restaurants for a quick lunch (no wine, since I was to drive after). I can't remember the name of the place, unfortunately, but it was a big, nice looking brasserie with outside seating. We opted to eat inside, though. Lots of locals were there for Sunday brunch it seems, many obviously knew the owner and each other.
Catha's Croque Madam au Crêpe.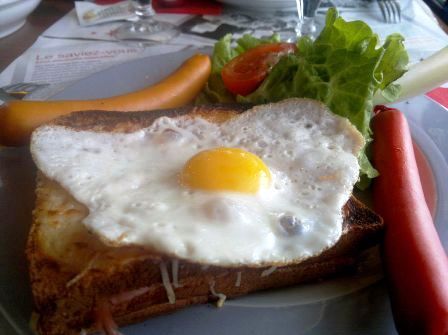 My Croque "Le Club" - essentially a Croque Madam with 2 extra
unappealing-looking hotdogs. Not good.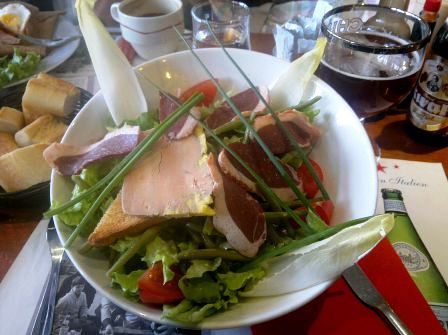 Lorenzo's Magret de Canard Salade avec Foie Gras.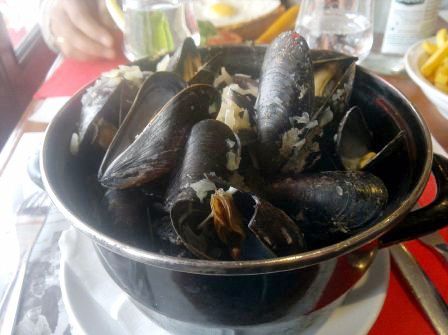 Mauro's Moules Marinières w/ Frites.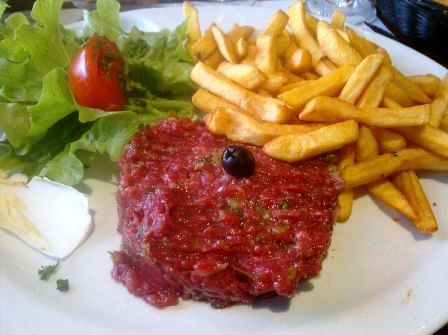 Joaqi's Tartare de Boeuf w/ Frites.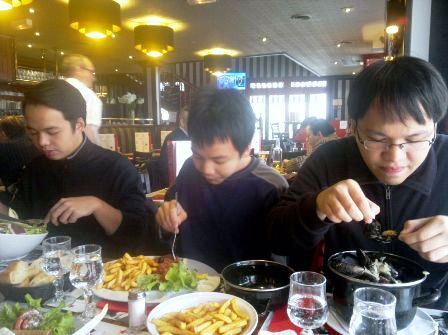 The boys hard at work.
A Chocolat Chaud later, we were on the road to Paris.
It was a leisurely, uneventful drive to Paris'
St-Germain du Prés
in the 6th arrondissement, where Catha had chosen to rent an apartment at 100 rue du Cherche-Midi - 110 square meters, 2 bedrooms, living room, complete kitchen, tiny dining area, 2 shower rooms, and 1 separate toilet
*
, around 2300€ or so for 6 nights. It had WIFI, a TV, DVD player, washing machine (which we didn't use), and dishwasher (we didn't use that either). Not bad, I guess.
*
I agreed to renting this apartment because I was made to understand there would be 2 toilets. I initially panicked because only 1 toilet for all of us, I believed, would be unbearable. It turned out that we were just ok with the one - but I ain't doing that again.
All settled in, Lorenzo and I returned our trusty rental 2013 Peugeot 5008 (7-seater) to the Hertz station in the Gare de Lyon along rue du Bercy in the 12th arrondissement. I felt a little sad leaving it behind, alone in the dark, dank, underground garage - after all, it served us well and got us around safely all around France for 2 weeks. There was no getting around it, though, as I hate driving in Paris. Let's not even begin to talk about parking.
We took a quick cab ride back to the apartment, where we all whiled away the time surfing on our respective laptops, iPads, and smart phones. Later that night, we hoofed it to dinner. I had planned to take the family to a small bistro run by a 4th generation butcher, reputedly serving the best old-school
boeuf entrecôte
in Paris. Of course, I got lost looking for it. Since the kids were already hungry, we decided to just eat at the first nice-looking restaurant we came across...
...which happened to be an Italian restaurant named
La Locanda
(8 rue du Dragon, 75006, Paris, France). La Locanda, situated in an 18th-century edifice with thick stone walls, was established in 1997 by Martino Grossi, a charming, very friendly, spry, little Italian fellow who speaks English very well. He personally welcomed us in and settled us in our table. Very nice fellow.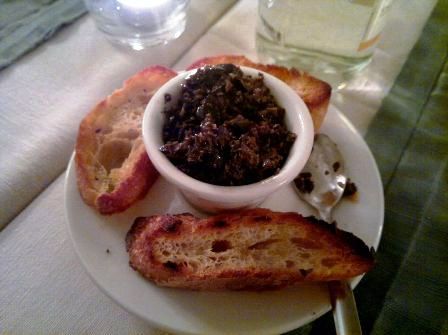 A couple of plates of Tapenade & Crostini were immediately served
as we went over the menu.
I started with some pasta - an absolutely heavenly
Linguine w/ Langoustines
(a.k.a., "scampi",
Nephrops Norvegicus)
. Beautiful. Superb. Excellent.
I loved it. Though Lorenzo had completed his order, he got an extra plate of this for himself.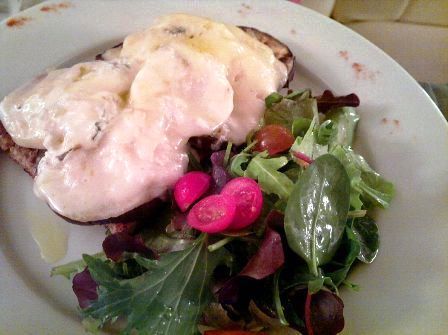 Catha & Mauro started with orders of Gorgonzola & Pear Bruschetta.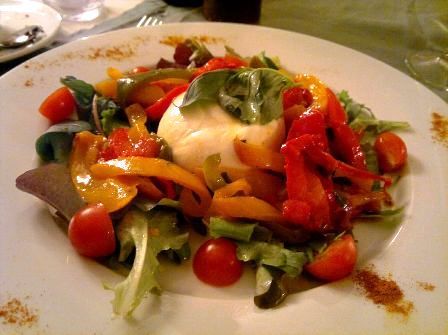 Lorenzo & Joaqi each got an order of the Burrata Salad, the burrata just
flown in fresh from Italy.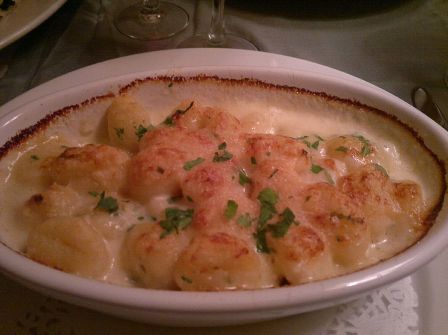 Joaqi's Gnocchi.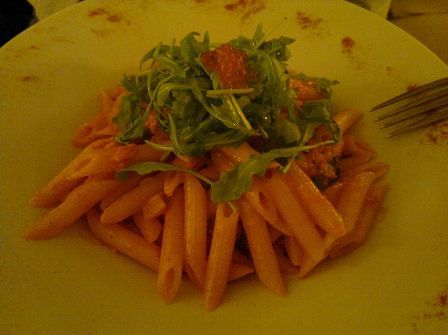 Catha also had pasta for her main course: Penne "Absolvt Vodka".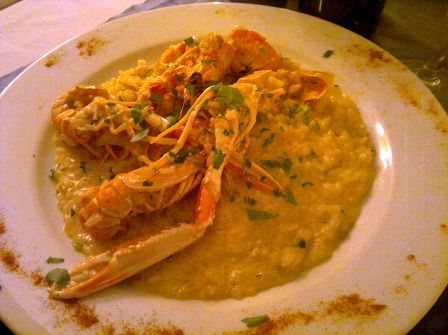 Mauro's Langoustine Risotto.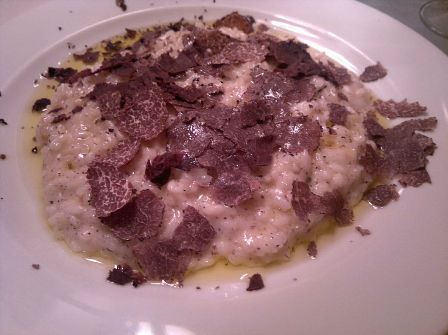 Lorenzo's Truffle Risotto (both Black & White). As earlier mentioned,
he also got a second appetizer of Langoustine Linguine like mine.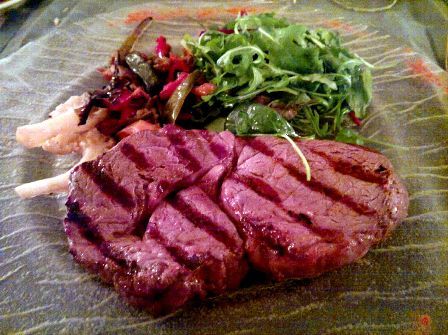 I had a nicely rare Steak w/ Arugula Salad. Very nice.
By way of wine, I got us two bottles of
2010 Parusso Langhe Nebbiolo
- Very pleasant. Youthful, slender, firm structure, healthy acidity, just a shade over medium-bodied. Typical tarry lilt to the dark fruit, as well as nuances of black olives and violets. The finish is medium at best. Could be longer with just a bit more body and middle, but, at its reasonable price, one can't fairly complain. I'd have it again with a nice Italian meal - hopefully, one as good as this.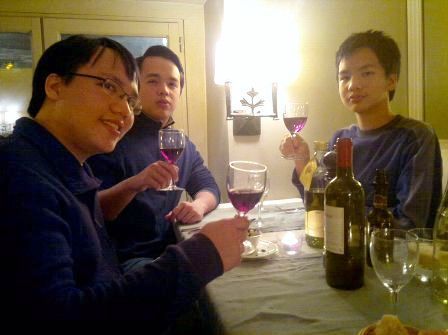 Cin cin!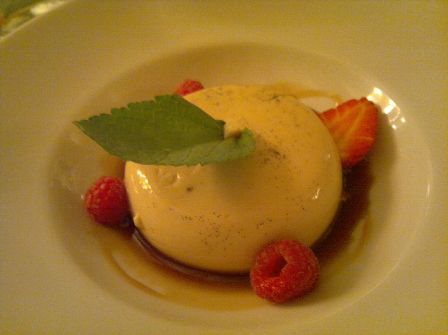 For desserts: Mauro's Panna Cotta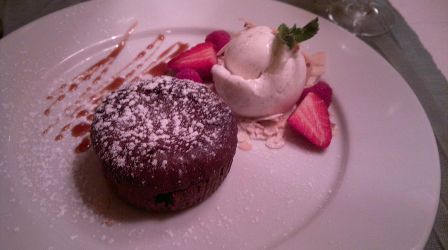 Renzo & Joaqi each went for the Molten Chocolate Cake.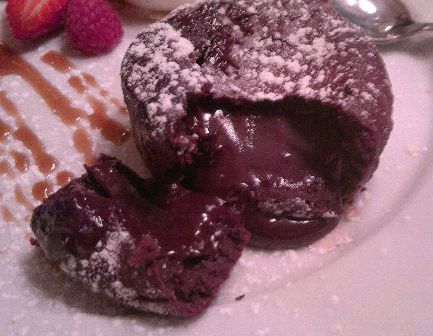 Nice center.
Catha and I were finishing up the red, so skipped dessert and had double espressos after. Happily carbo-loaded after 2 weeks of very little carbs in the French countryside, we said our goodbyes and walked back to our little "home" for the rest the trip.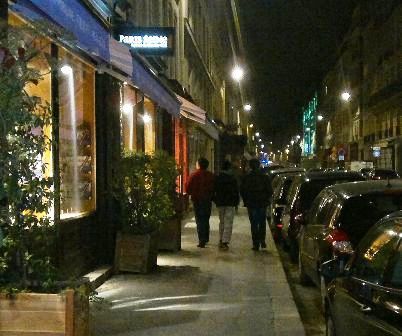 rue du Cherche-Midi by night.