Wednesday, the 3rd April 2013
, was the day we proceeded to the Loire region. Although it is a major wine-producing region and world-renown for their excellent sauvignon blancs, chinon blancs, etc., Catha particularly wanted to take the kids there to see the royal castles, which are quite stunning indeed.
We were booked in a hotel in
Tours, Center Loire
, which is, as I recall, a little over 424 kms. from Beaune. Having slept past 2am after dinner at Ma Cuisine, I anticipated two stops along the motorway for espresso pick-ups and breaks. Well, we made do with just one long-ish stop, and were in Tours in just under 4 hours, checked into the hotel, and settled in our rooms by 5:00pm. Catha decided to bring the 2 older boys with her to do the laundry, so Joaqi and I had a few hours to relax before dinner.
Tours is a beautiful, major university city wherein, I understand, the "purest French" is spoken...not that I could tell, but it is noteworthy nonetheless. Being a major city, and, our hotel being along a main boulevard, parking, even pay parking, is quite a problem in the daytime until past 6pm. The fact that I was driving a car larger than most in the area simply aggravated the problem, but, I made do.
Anyway, we had dinner reservations at one of the city's chicer restaurants,
l'Odeon
, which was a short walk from our hotel. We were immediately shown to our table, the charming young lady manager spoke excellent English. We started off with apéritifs of good Vouvray pétillant (no photo) as we perused the menu.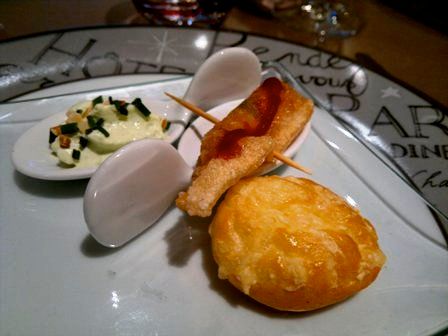 We placed our orders, and each promptly received the above depicted amuse bouche trio of
Asparagus Cream
,
Crispy Langoustine
, and a
Cheese Puff
...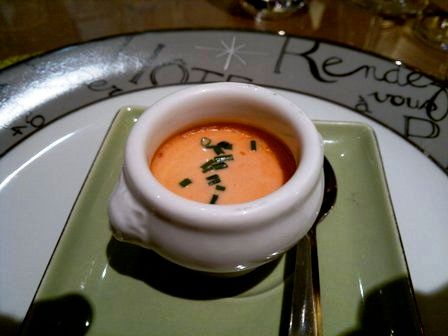 ...followed by some Langoustine Mousse.
Catha's entrée of Pan-Seared Scallops.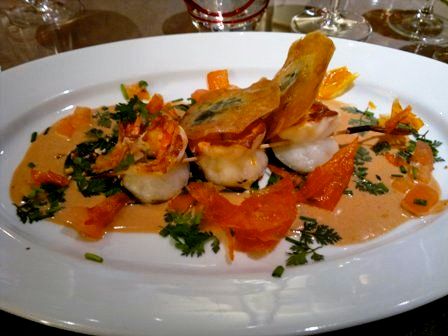 Lorenzo's Crevettes en Brochet (Skewered Shrimps)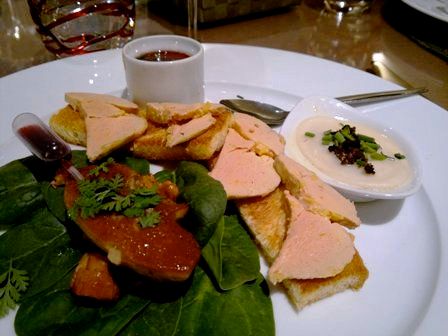 Mauro, Joaqi, & I each had
l'Assiette de Foie Gras
(the Foie Gras Plate):
Seared, Terrine, Mousse, and Ravioli stuffed with Foie Gras & Truffle Cream
.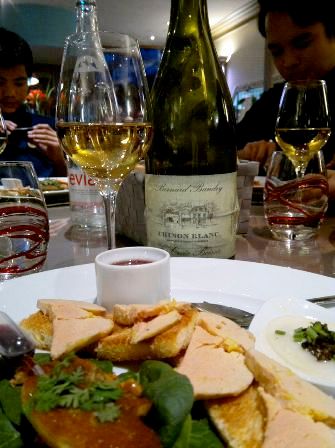 With the mostly foie gras first courses, I ordered a bottle of
2010 Bernard Baudry Chinon Blanc La Croix Boisée
- From a mere 0.8 hectares of 30 year old chenin blanc vines in the La Croix Boisée
climat
(planted mainly to cabernet franc). Pretty hard to find/source, apparently. Lovely nose of honeyed cling peach, ripe pear and pineapple, hints of quince, tangerine and lemon curd - all infused with moderate minerality and propped up by refreshing acidity (which also balances out the fruits' ripe-sweetishness). Notable focus and balance. Gets noticeably heftier, rounder, and more viscous as it warms in the glass. Good stuff. Excellent first bottle of chenin blanc in the Loire.
With the assorted renditions of foie gras, the wine was perfect. It was just a bit too ripely-sweetish for my main course of...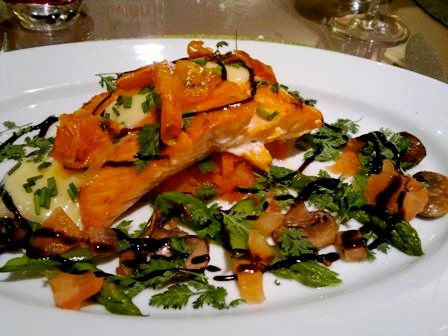 ...Truite (trout), but, puede na rin & para healthy.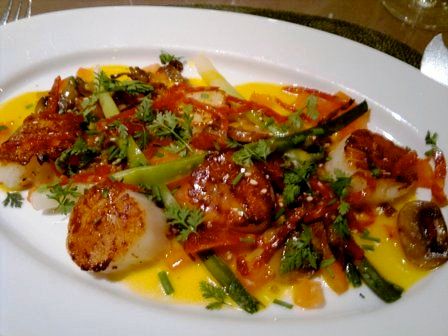 Mauro had the Seared Scallops for his main course.
The rest opted out of seafood for their main courses, and, instead, ordered...
...Duck Breast & Foie Gras w/ Bacon (!) for Catha...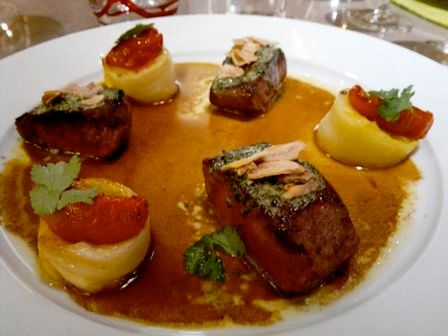 ...Noisettes of Lamb for Renzo...
...and Tournados Rossini for Joaqi.
For Catha and Lorenzo's main courses, I ordered them a glass each of a Chinon, but I failed to take note of the which the year and producer (likely because I wasn't having any). Catha said she liked it though and it went well with her robust duck dish.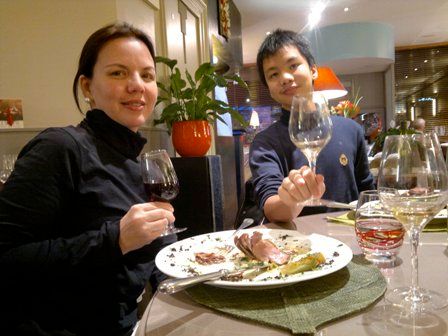 Cheers!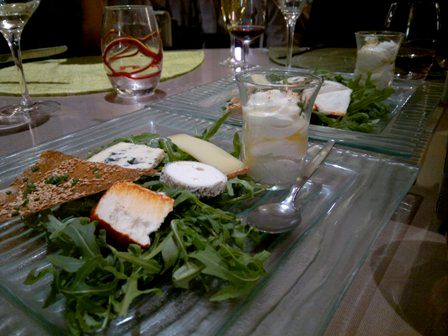 Excellent Cheese Platters before dessert.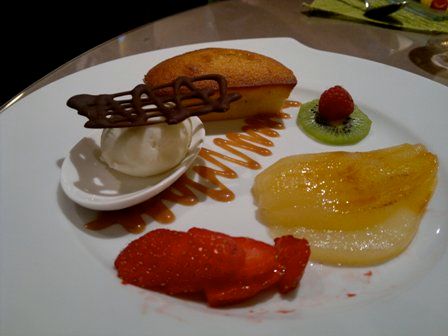 Catha's Pear Financier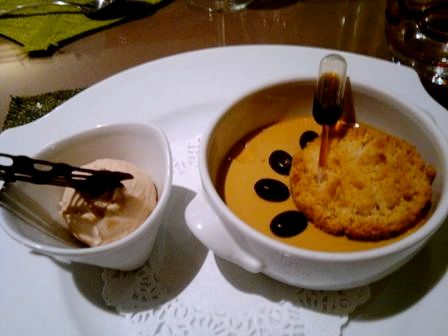 Mauro's Coffee Ensemble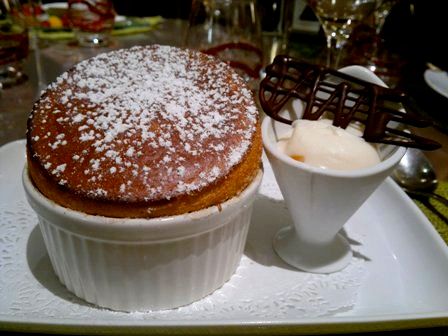 Lorenzo & I each had the Grand Marnier Soufflé.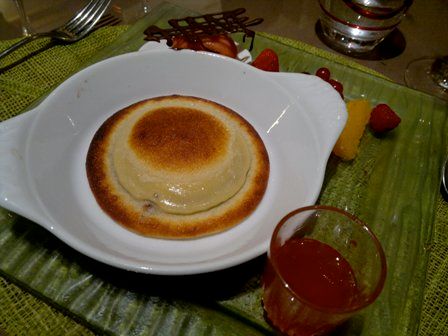 Joaqi had the Molten Chocolate Tart (before shot...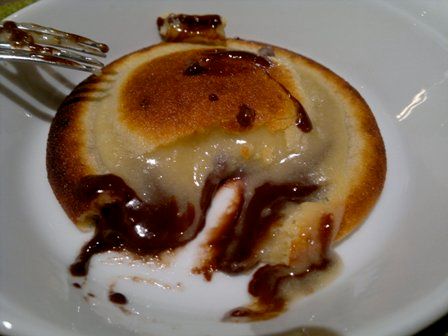 ...and after shot).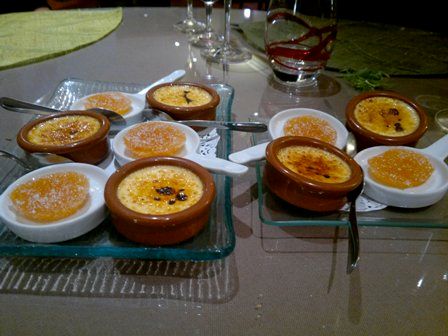 Mignardises of Candied Orange Slices & Mini Crème Brûlées.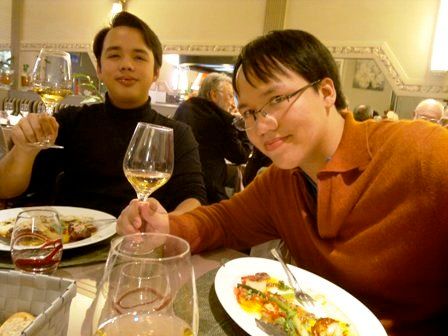 A good start to the trip's Loire leg! Salute!