Tuesday, the 9th April 2013
, after driving the family around France for two weeks, and, taking the kids around Paris and attending the gala the day before, I guess Catha took pity on me (either that or I was getting to be really surly and she didn't want to be around me) and told me I could have the day off, so she'd, on her own, take the kids to Our Lady of Notre Dame Church, the Conciergerie, lunch, etc.
Thus, I just stayed in the apartment, surfed, relaxed, had a snack at a nearby café, and, when I got bored in the afternoon, went to
Le Bon Marché
. She texted late in the afternoon that they were having merienda at
Maison Berthillon
and would be going back to the apartment after that. That evening, we headed off to the 1st arrondissement (where I prefer to stay in Paris) to have dinner at
Le Soufflé
(36 rue Mont Thabor 75001 Paris, France). We first ate there in July 2006 (it's been around for 52 years) and eat there at least once whenever in Paris.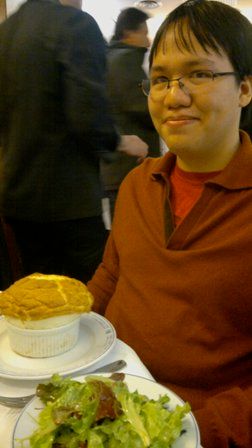 As its name indicates, the restaurant is famous for its soufflés, having all-soufflé menus available. I had that once several years ago, and, though I enjoyed it well enough, that was just too much soufflé for me. Mauro, however, went for one of the
tout soufflé
menus, and started off with the
Soufflé Fromage (Emmental et Comté)
.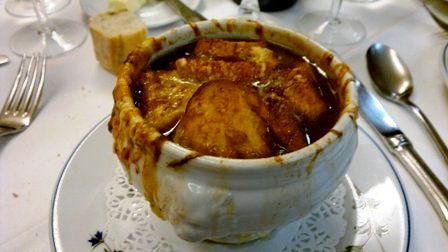 Lorenzo & I each had the
Onion Soup
- absolutely superb, and perfect for the cold, rainy night.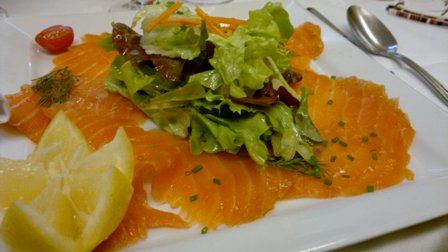 Joaqi started with the House-made Saumon Fumé.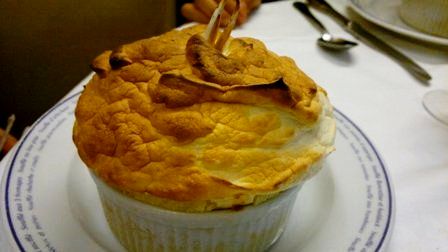 Catha started and ended with the Langoustine Soufflé.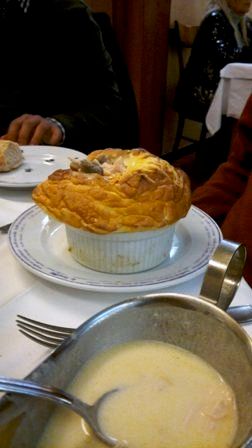 For his main course, Mauro had the Soufflé Henri IV with Chicken-Mushroom Sauce.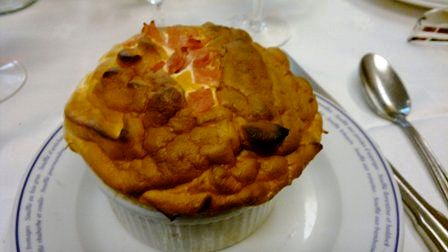 Joaqi's Soufflé Jambon et Fromage (Ham & Cheese Soufflé)
which he said was boring.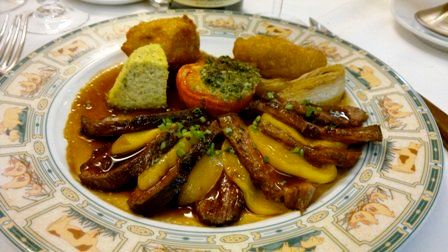 Lorenzo & I each had an order of of
Magret de Canard aux Pêches
(Duck Breast with Peaches). It was nice enough for me, still soft and a bit juicy though cooked more than I specified. Lorenzo, however, didn't really like the combination with the peaches.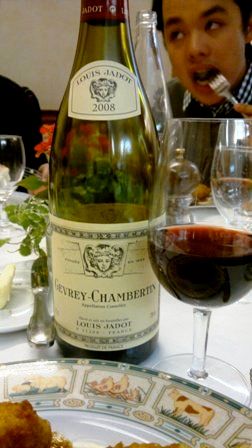 The bottle of basic, village level
2008 Jadot Gevrey-Chambertin
was actually nicer than I had expected (I wanted something better and older, but the restaurant's wine list wasn't as good as it used to be). Pretty decent concentration and depth in the dark berries, underlying round, earthy dark plum, bit of sappiness, bit of violets, slight minerality, hints of tobacco leaf, and cedar. A few notches over medium-bodied. Moderately long finish. Not bad in itself, and reasonably priced.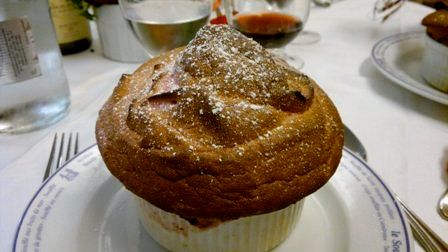 Lorenzo's Raspberry Soufflé.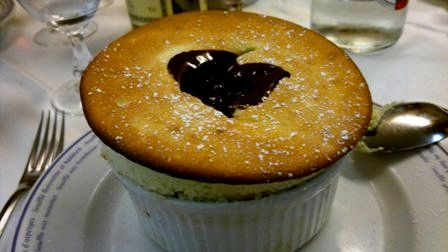 Mauro's Pistachio Soufflé w/ Chocolate Sauce.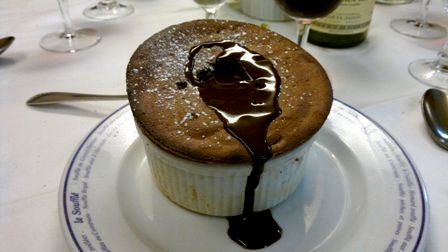 A couple of Chocolate Soufflés w/ Chocolate Sauce for Joaqi & I.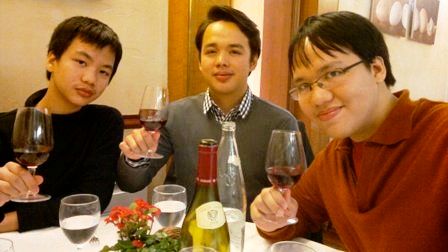 Nice, comforting family dinner. Cheers!