Saturday, the 6th April 2013
, was the day we were to visit the
Fontevraud Abbey
(
l'Abbaye de Fontevraud
). As with all of our other destinations this trip (except for Autun, in Burgundy), Catha and I had been there before - in July of 2006, actually. Back then, we had lunch at the nearby
La Licorne
(Allée Ste-Catherine 49590 Fontevraud-l'Abbaye, France; known for its traditional/regional cuisine), then a 1 Michelin star restaurant. It lost its Michelin star in 2010, as I understand, but it was just as good, maybe even better than ever.
It being the kids' first time in France, we were eager to take them to all the sights and restaurants we have enjoyed. From Tours, the Fontevraud Abbey is an easy 70 kms. away by car, most of it on the motorways. We timed it so we were there at around 1pm, just in time for lunch, and, thereafter, a visit to the ancient royal abbey.
La Licorne, just as I remembered it.
We were quickly seated in its hushed, elegant downstairs area (function rooms for large parties in the second floor), took our time over the menus, ordered, and lunch began.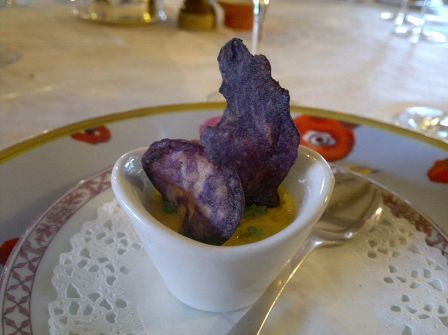 Amuse bouche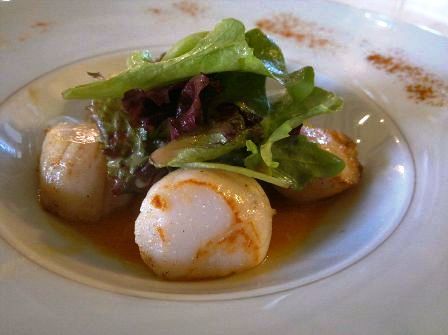 My Noix de St-Jacques (para healthy).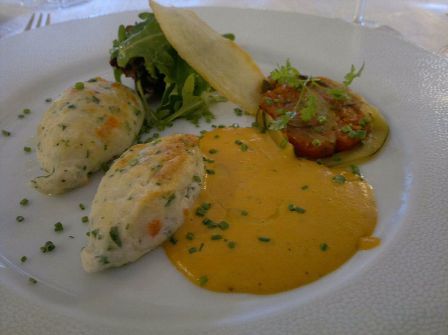 Mauro's quenelles of some fish, but I don't recall what.
Catha and Lorenzo each ordered the hit of the meal,
Raviolis de Langoustines du Guilvinec, Parfumés au Basilic, Sauce aux Morilles. Incredibly good stuff. I tasted from Catha and was so jealous.
Mauro thought of getting one for himself as a second appetizer, but figured he'd wait and see how he felt after his main course.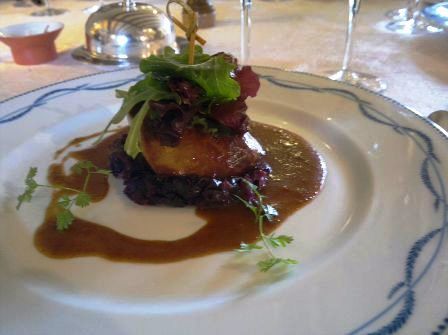 Joaqi, of course, again started with Foie Gras.
For our respective first courses, I ordered a bottle by a producer I'd never heard of:
2010 Marc Brédif Vouvray Classic
- Slightly honeyed, peachy-ripe pineapple nose, some lemon, citrus. Slight minerality there too. On the palate, very suave, with notable purity and focus. The scents are joined by yellow apricot, all with an underlying cold limestone and talcum powder character. Good brightness; superior clarity. There is a slight ripe-sweetness to this, but well-balanced by fresh acidity. Very nice indeed; and it was great with my scallops.
Lorenzo and I had identical main courses:
Pavé de Sandre du Bassin de la Loire en Bourride de Coquillages, Parfumée au Safran d'Iran
(Pavé
*
of Pikeperch from the Loire Basin in a Shellfish Bourride
**
, Scented with Iranian Saffron).
With this, I continued with the above-mentioned Vouvray, which did nicely. I would have preferred a drier, racier Vouvray, but it was fine.
*
"pavé" -

A French culinary

term

referring to a square or rectangular-shaped serving of food.
**
"bourride" - As used, refers to a thickened stew flavored usually by garlic, onions, orange peel, sometimes saffron, etc. Thickening is acheived by use of egg yolks and/or aïoli.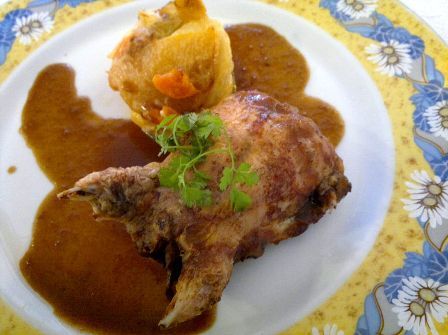 This was Roasted Quail (Caille Rôti). Mauro chose it too.
This was Joaqi's main course; but nobody remembers what it was.
For those who ordered the game fowl, I got a bottle of this 2011 La Tour Saint-Martin Menetou-Salon - an AOC near Sancerre, eastern Loire. Concentrated, very extracted and obviously oaked (coffee, vanilla, and chocolate) pinot noir on steroids. Not really my type of pinot noir, especially during my light and fresh seafood meal.
I recall this is someone else's main course Mauro is finishing.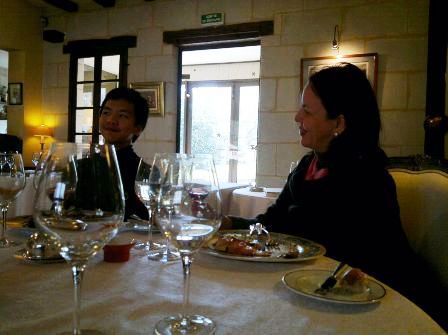 Most likely Joaqi's.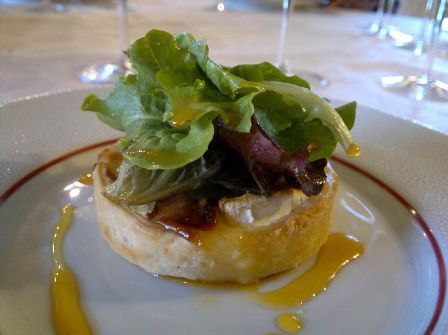 A bit of cheese before dessert.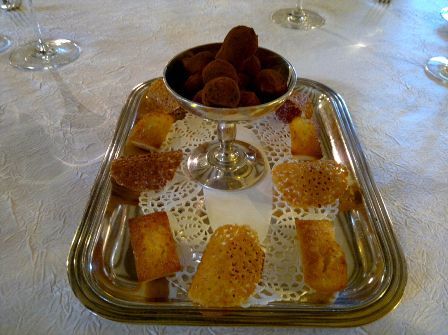 Mignardises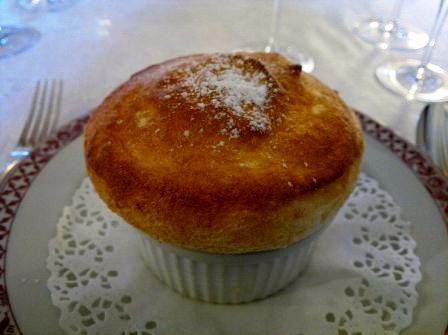 My Grand Marnier Soufflé.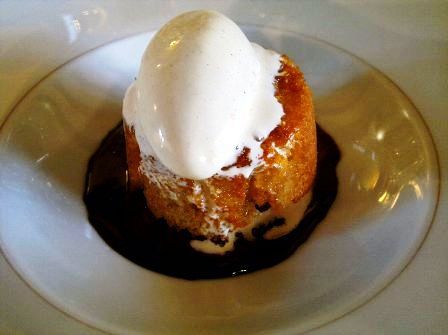 Nobody remembers what or whose this is.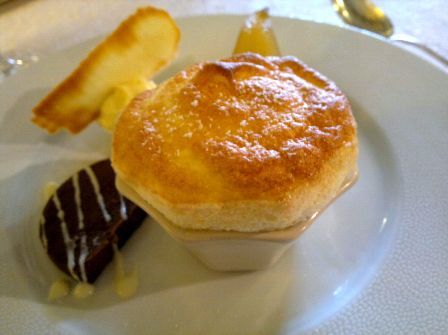 Joaqi's
Dessert Sampler
.
~ oOo ~
l'Abbaye de Fontevraud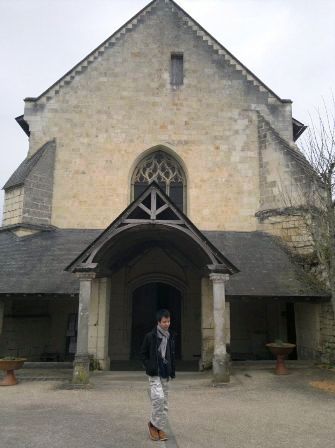 The 11th century Chapel of St. Michael.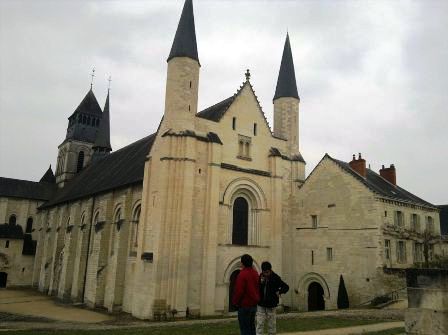 In front of the Abbey's Church...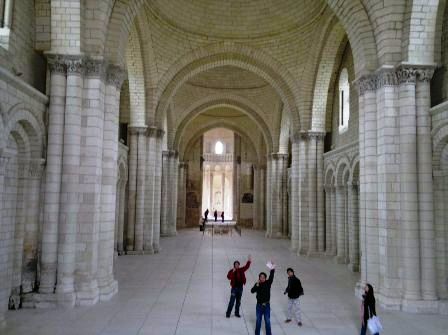 ...now inside.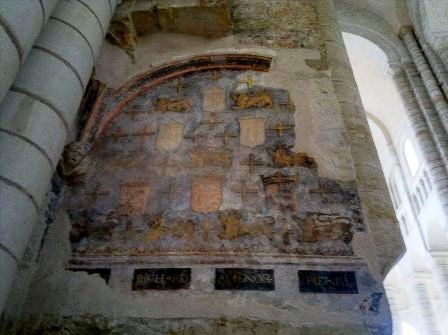 Who are entombed here?
King Henry II & Eleonor of Aquitaine...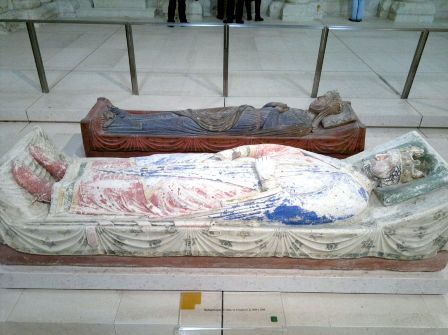 Richard Coeur de Lion (a.k.a., "Richard the Lion Heart";
a.k.a., Richard I

*

) & Isabella d'Angoulême
(wife of King John, Richard I's brother)
*
Though Richard the Lion Heart became king of England, he was French. He didn't even speak English.
Founded in 1101 by Breton priest Robert d'Abrissel as a monastery, the abbey in its present state was built in 1105-1160 by rich and powerful benefactors such as the Bishop of Poitiers and the Counts of Anjou, among them, King Henri II (Plantagenet) and his wife, Queen Eleonor of Aquitaine.
The abbey was unique in medieval times in both men and women were included in the one community (albeit housed autonomously from each other), ruled by an abbess, with d'Abrissel as the abbey's Magister. Seized during the French Revolution, the abbey was closed and declared national property in 1789; the order abolished in 1792, and the monk's priory,
St-Jean-de-l'Habit
, destroyed the year after. Napoleon I, in 1804, used the abbey structure as a prison, and it continued to be used as such until as late as 1963. That year, the prison was closed down, and, massive restoration efforts began and continued until the present l'Abbaye de Fontevraud was opened to the public in 1985.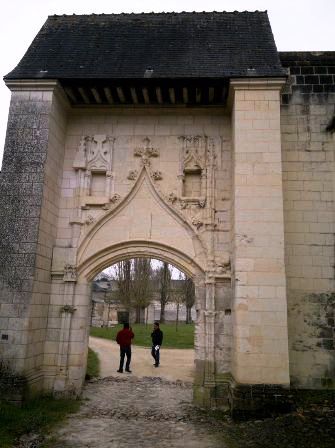 Entering La Madeleine, the lay-sisters' priory.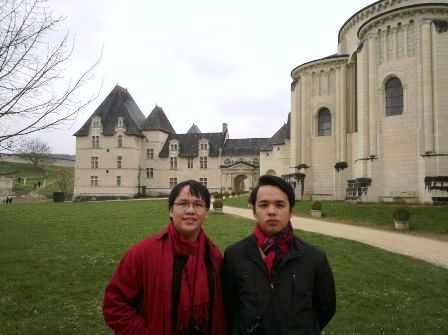 No lay-sisters there, boys; so off we go, back to Tours.
~ oOo ~
This was our last night in Tours. Catha, still very full from lunch, again skipped dinner, leaving me to feed the boys. I jumped at the chance. The boys had enough walking around by that time, so we stuck close to the hotel, having dinner back at
l'Odeon
, where
we had our first dinner in the Loire together
.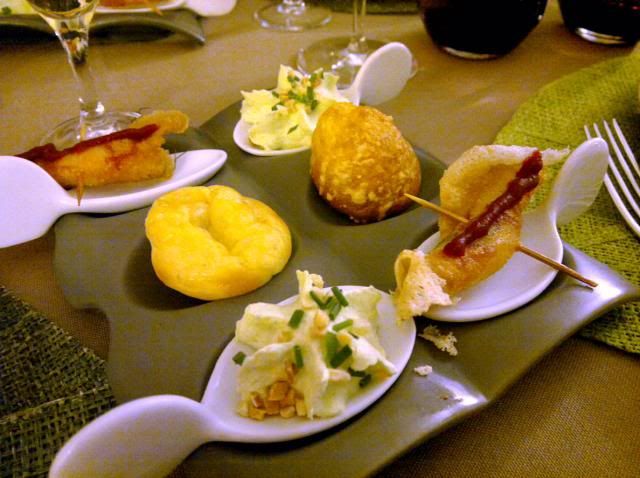 We were promptly served the same set of amuse bouches:
Asparagus Cream, Crispy Langoustine, & Cheese Puff...
...as well as the Langoustine Mousse.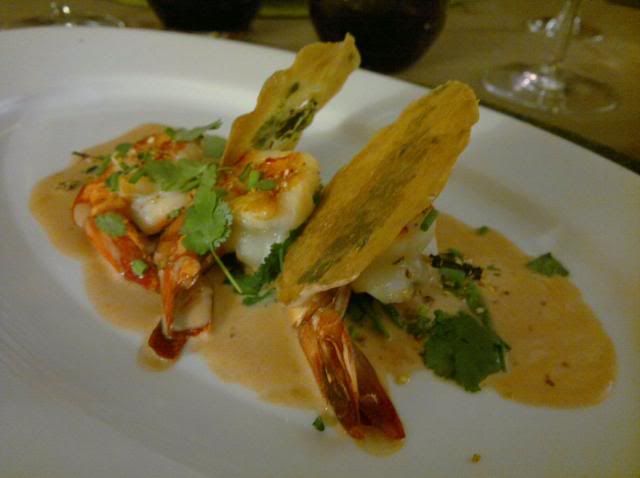 I had the Crevettes en Brochette (Skewered Shrimps) to start.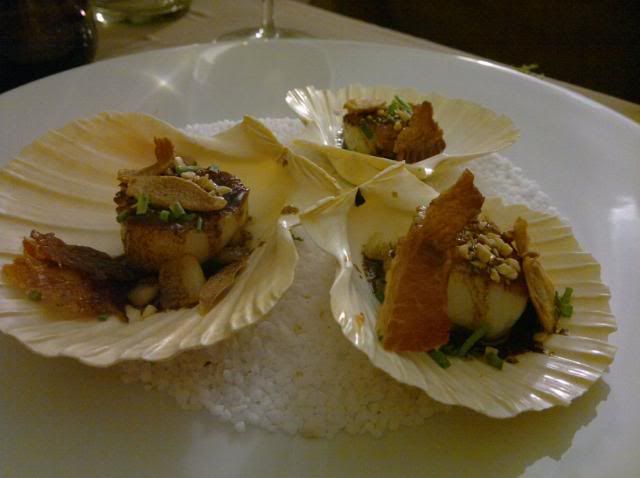 Seared Scallops with Bacon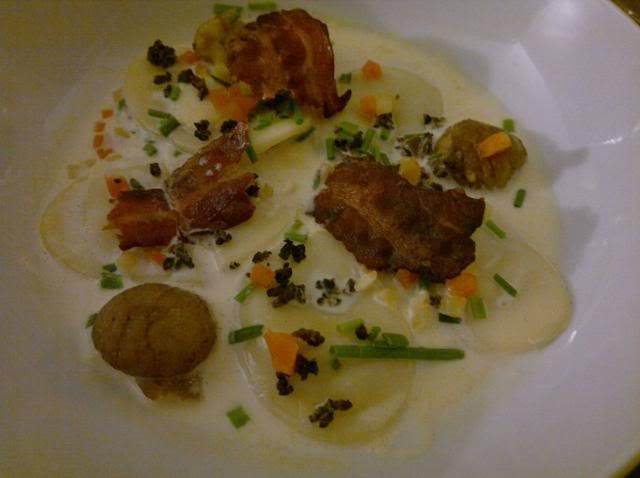 Foie Gras Ravioli
By way of white wine for the starters, I got a bottle of
2011 Domaine Couly-Dutheil Chinon Blanc Les Chanteaux
- Nicely zippy, refreshing, well-focused, racy, crisp Korean pears, touch of quince, yellow apricot, hint of pineapple. Notably clean with good purity and lovely fresh acidity. Slight honey to the fruit, as well as a deft touch of cold limestone and a bit of steel. excellent with my shrimps. Totally different in style from the 2010 Bernard Baudry Chinon Blanc La Croix Boisée I had during the previous dinner here, but equally enchanting.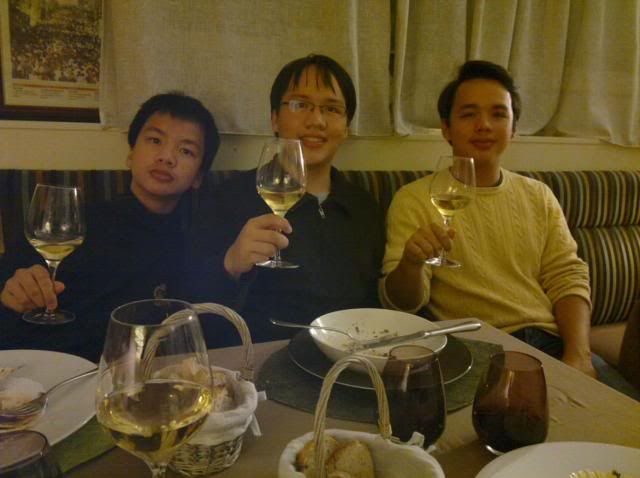 The boys liked it too.
We all ordered the
Magret de Canard with Foie Gras
, and, with that, I got a bottle of
2010 Domaine La Butte Bourgueil La Haute de la Butte
(par Jacky Blot)
- Whoa! Chewy, dense, very primary and rustic, concentrated, ripe black cherry, kirsch, juicy blackberries, roast meat, sweet pipe tobacco, the green bell pepper past mid-mouth almost an afterthought. Healthy dose of dark minerality. Acid is lowish as well. Boom. In your face. Very young and primary, very difficult to drink alone - but, with the duck, it was ok.
Say "Cheese"...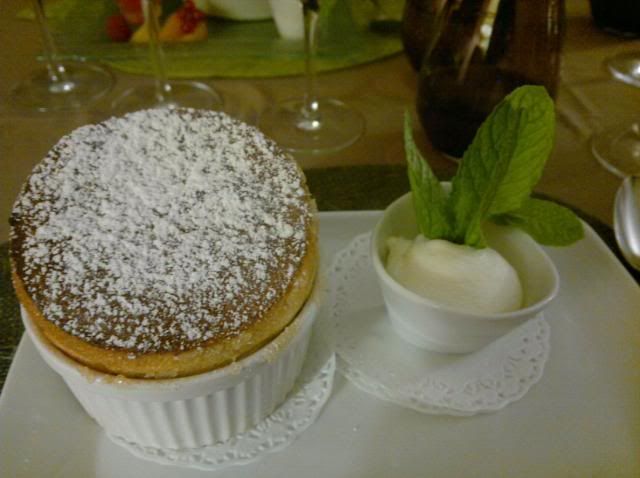 My Grand Marnier Soufflé...same dessert as lunch.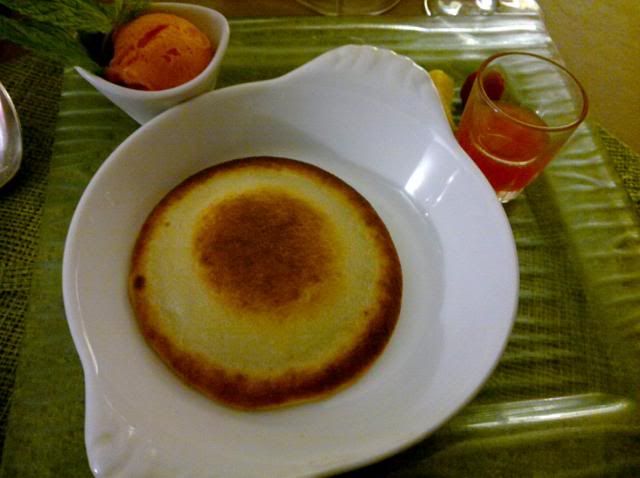 All the kids got the Molten Chocolate Tarte again.
Mignardises of Candied Oranges & Crime Brûlée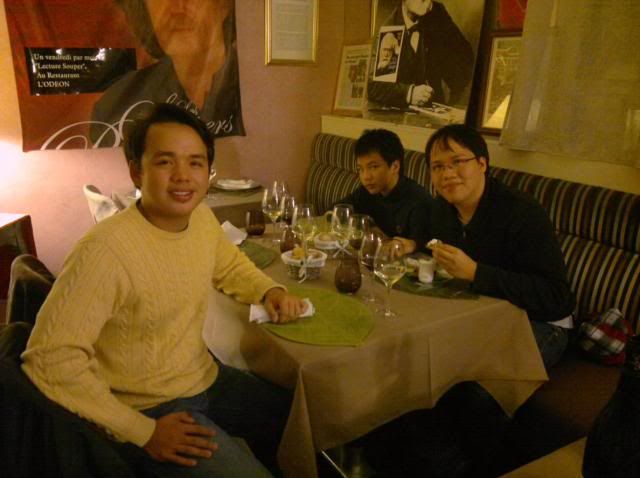 Nice last dinner with my boys for the Loire leg of the trip.
Next, on to Paris!