Easter Sunday, the 31st March 2013
, was our last half-day in Alsace; so, after breakfast, we spent the rest of the morning to mid-afternoon in Ribeauvillé. Thereafter, we headed off for Beaune, in the Burgundy region (a leisurely 2½ hours' drive southeast).
~ oOo ~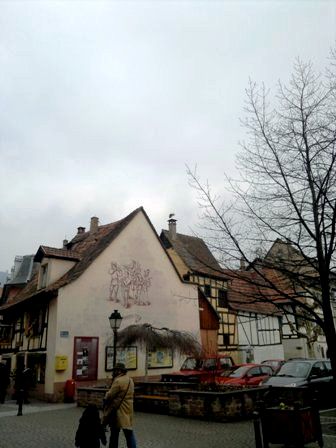 Ribeauvillé, Alsace
Alsace's chosen emblem is the stork. After parking, we walked into the old town and, as we entered, lucky us, we were greeted by a stork high atop a chimney...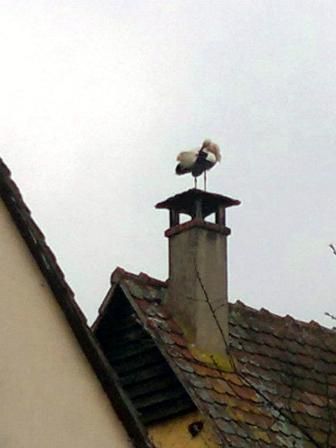 ...scratching its butt.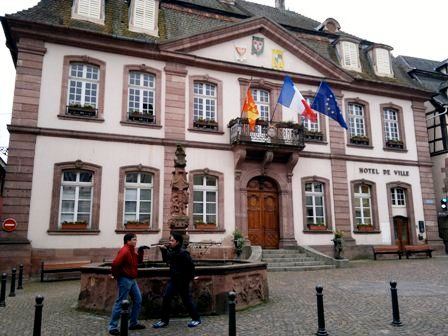 At the Hotel de Ville (city hall).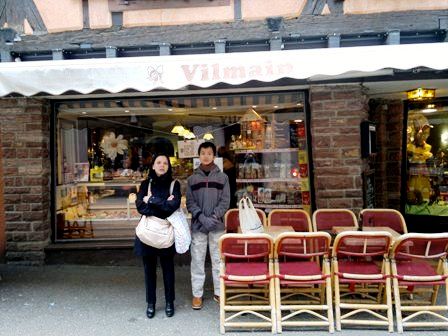 Catha & Joaqi picked up some pastries at Patisserie Vilmain.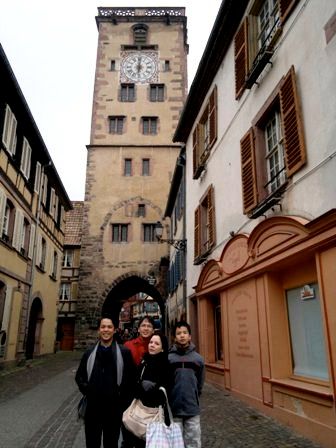 At the Clock Tower.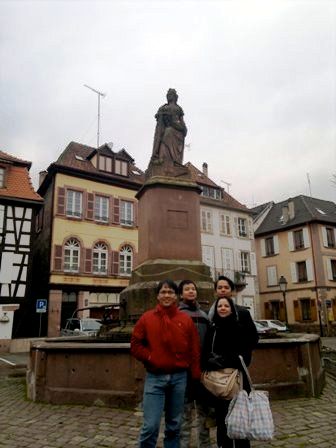 Before the Lady Ribeauvillé statue.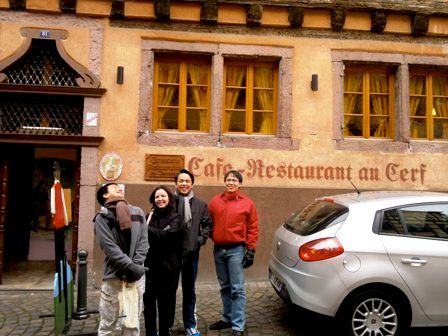 Lunch was at old-school, traditional Cafe-Restaurant Au Cerf.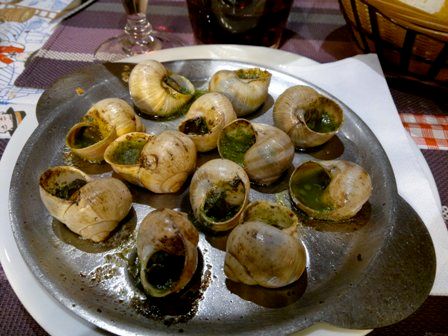 Lorenzo started w/ Escargots à l'Alsacienne...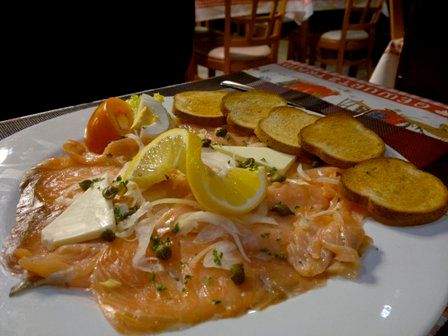 ...Joaqi with Saumon Fumé...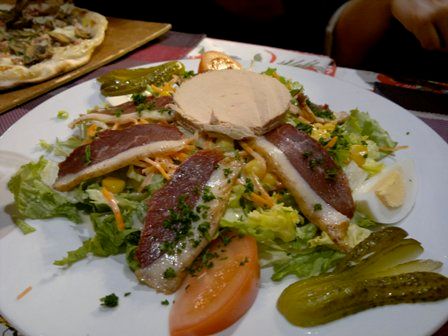 ...and Mau with the Salade Gourmande (para...healthy?).
Catha & I opted to skip the first course.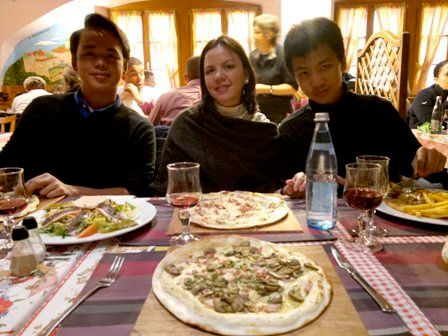 Except for Joaqi, all had Flammenkuchen (a.k.a., Tarte Flambées) for mains.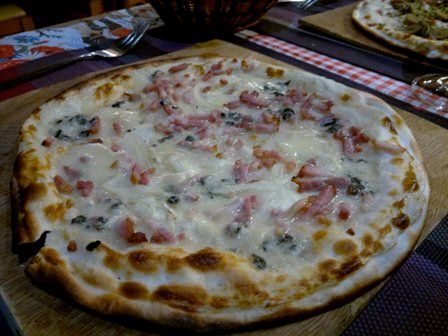 Catha's was the traditional Nature.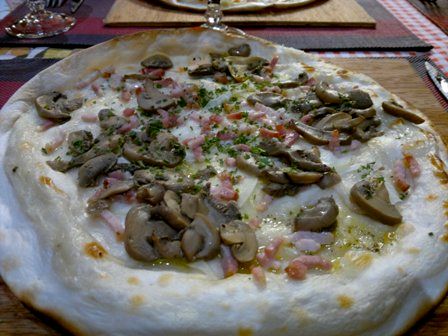 Renzo and I each had a
Chasseur
(fromage blanc, crème, oignons, lardons, et champignons), which, in essence, was like Catha's
Nature
but with mushrooms. With the meal, we had
une carafe de vin de table, pinot noir
(500ml) - a humble table pinot noir from the area. As mentioned in a recent post, I have not come across any Alsatian pinot noir worthy of serious note
*
. This was no exception, though it was pleasant enough for this casual meal. Anyway, I had to drive to Burgundy an hour or two later.
*
During my visit to Maison Léon Beyer in Eguisheim back in 2007, Marc Beyer saw me examining a vat of fermenting pinot noir in his winery. He told me not to bother with their pinot noir since it was just given away to the workers anyway. When it comes to pinot noir, he, like me and many others, looks to Burgundy.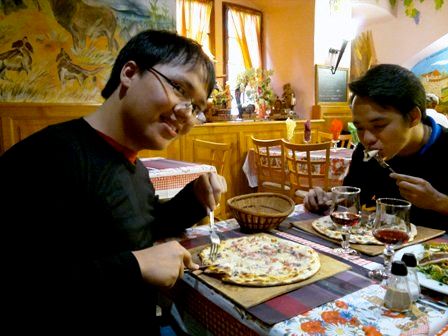 Mauro's flammenkuch was the
Roquefort
, the pungency of which his scarf kept for two days. Phew!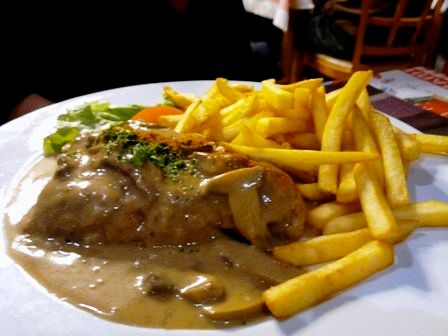 Joaqi had the Pork Le Cordon Bleu avec Frites.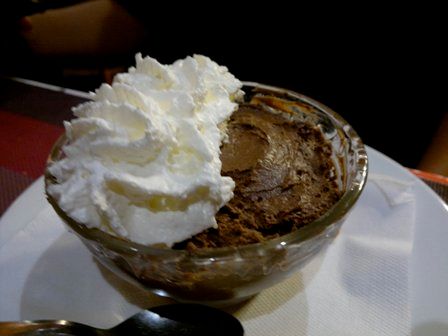 For dessert, Renzo had the Mousse Chocolat...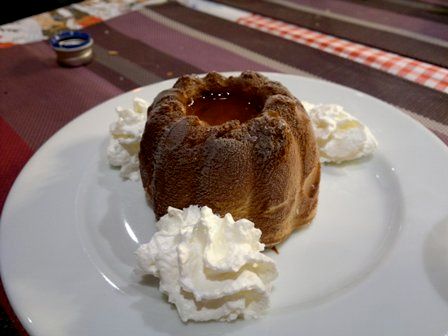 ...Mau had a Mini Kugelhopf w/ Gewürztraminer Spirit...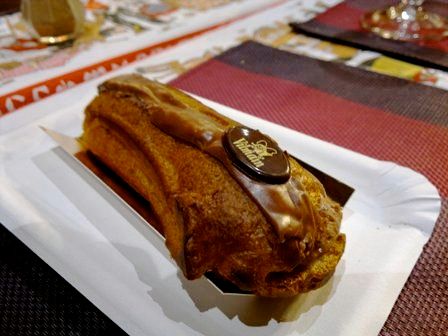 ...and, Joaqi, a Chocolate Eclair bought earlier in the day.
Catha and I skipped dessert, had some espressos, got the kids in the car, picked up the bags at the hotel, and, by around 2:45pm, headed off for...
~ oOo ~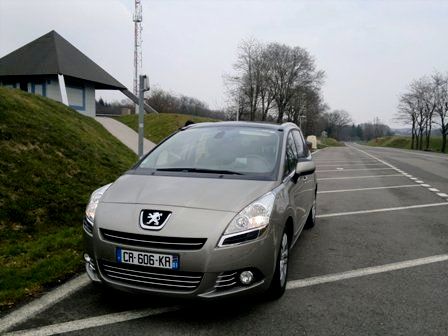 ...the Burgundy region, Beaune, in particular, where we were to spend the next few days. The photo above was taken at a brief espresso/smoke/bathroom stop at one of the motorway aires, more than halfway to Beaune. There weren't many cars on the road that day since it was Easter Sunday; so we made very good time.
We reached our hotel by a little past 5pm and checked in quickly. I had reserved a 2-room apartment with a living room, two bathrooms, and private balcony. After settling in, we walked a couple of hundred meters to the old, walled town of Beaune, checked out the schedule of the Hotel Dieu (a.k.a., the Hospices de Beaune), then had dinner at the nearby Le Gourmandin (Ma Cuisine, my favorite restaurant in Burgundy's Côte d'Or (and, quite possibly, all of France, was closed that day - which I knew beforehand).
After a round of
Kir Royale
for apéritifs, and going over the menu and wine list, we placed our orders and dinner proper began. I noted that, by this time, none of the kids would ask me to translate their menus for them, and were all ordering for themselves. For our
entrées
*
...
*
I
n the USA, people refer to a meal's main course as an "entrée"; in France, modern usage has it as a first course (or an appetizer course more substantial than the hors d'oeuvers).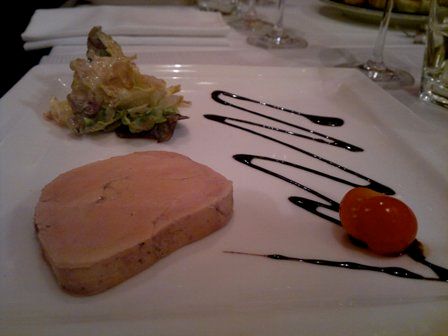 Catha & Joaqi each had the Foie Gras...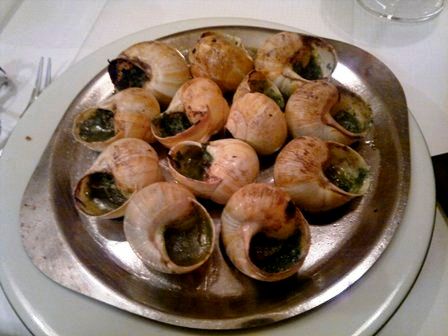 ...Mauro, his first real deal Escargots Bourguignonnes in Bourgogne...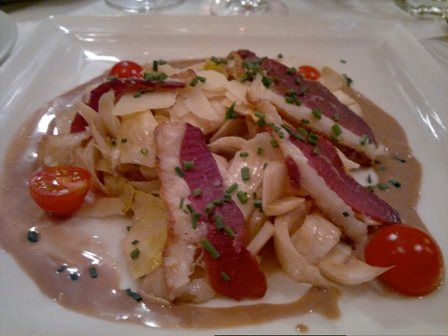 ...for Renzo & I, Salade d'Endives et Magret de Canard Fumé (para healthy).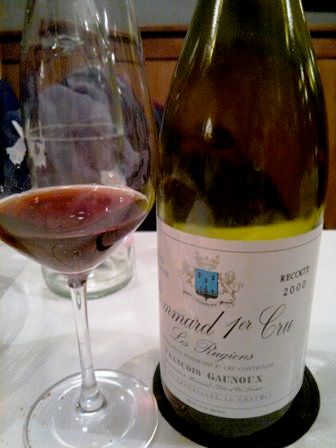 Since our first courses arrived soon after our kirs royales were handed out, there was no material time for a bottle of white. Thus, our red was poured earlier than anticipated:
2000 Domaine François Gaunoux Pommard 1er Cru Les Rugiens
:
The Pommard AOC lies within the Côte de Beaune and is widely recognized as producing some of the most masculine, many think rustic, sturdy reds of the area. The premier cru vineyards of Les Rugiens, like Epenots, are, I've read, considered by some as worthy of grand cru status. Be it as it may, I have always liked Pommards, and, with Volnay, they are my two favorite red AOCs of the Côte de Beaune - personally preferring them to the grand cru Corton reds of said area
*
.
*
Corton is the only grand cru red AOC of the Côte de Beaune (so far); all other red grand crus of Burgundy's Côte d'Or are situated in the Côte de Nuits. The Côte de Beaune is world-renown for its grand cru whites, the most rarefied of which is Montrachet.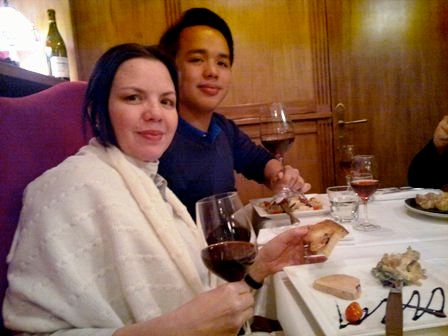 The wine opened up quickly, displaying unabashed scents of slightly truffled, concentrated, ripely sweet black cherry, kirsch, deep dark plums, violets and vanilla/oak. There also seems to be the beginnings of Burgundy decay somewhere underneath. On the palate, the nose is generally mirrored in a notably fleshy, hefty, voluptuous manner, the fruit deeply veined, with healthy extraction and readily apparent but softly rounded tannins. Acidity was a bit low for me, but it worked out. Confident wine, good middle, long finish. Decent complexity.
It struck me as a bit forward, definitely fruit-driven, cut from a modernish cloth, but, still, correct in most every aspect. Very easy to like, and, in my opinion, can last for many more years. Catha liked it a lot. Not at all a bad start for this trip's first few hours in Burgundy.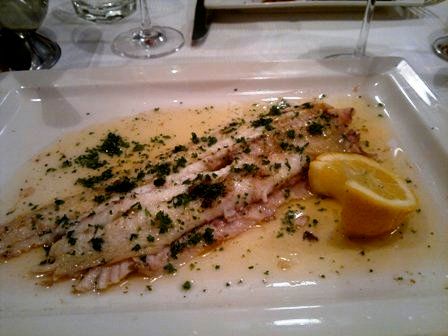 Catha's main course was the Sole Meunier.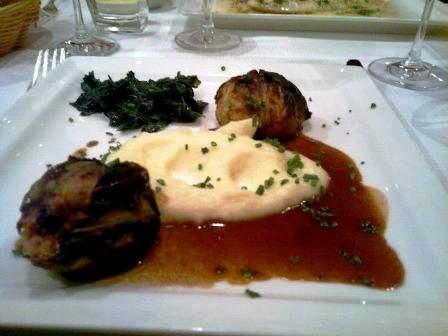 Joaqi's was the Choux Stuffed w/ Truffled Foie Gras.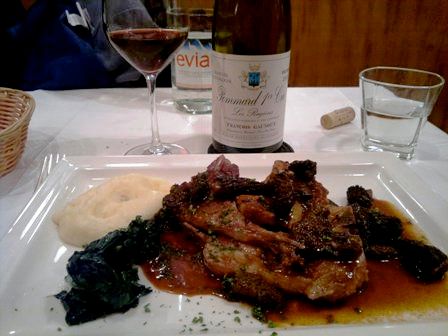 Grilled Lamb Chops w/ Morels for Mau, Renz, & I.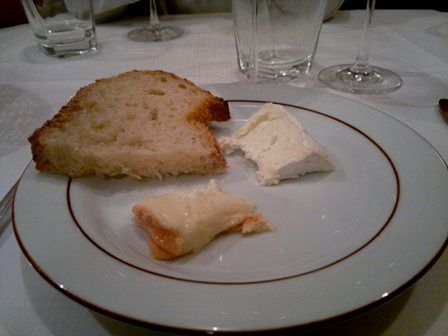 Only Joaqi had a bit of cheese before dessert. Everyone had Chocolate Profiteroles for dessert - likely a hangover from Aux Ducs de Lorraine's which we all loved. Le Gourmandin's were good, but not nearly as good; and, I, unfortunately, forgot to take photos of them.
Mignardises - good stuff.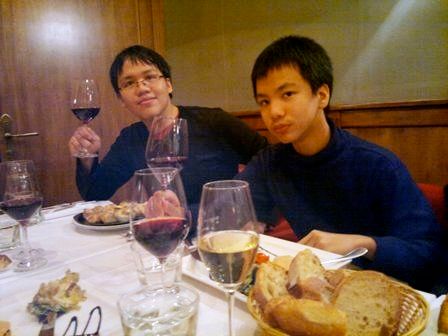 Cheers to Burgundy!