Monday, the 1st April 2013
, Catha and I had a leisurely buffet breakfast at the hotel, got the kids ready, and walked to the nearby...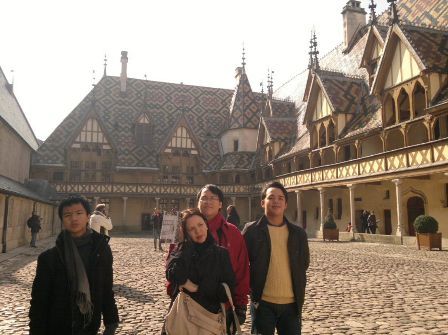 ...Hôtel-Dieu de Beaune (a.k.a., Hospices de Beaune).
Established at the tail-end of the 100-Years War (mid-15th century) by Nicolas Rollin (Chancellor of the Duke of Burgundy, Philippe III, a.k.a., Philippe le Bon) and his (second) wife, Guigone de Salins, this then hospital (mainly a charitable institution for the sick poor, though they did accept some paying patients to help support its operations) with its gothic facades and flamboyant glazed tile roofs is
the
landmark of Beaune. These days, it is a museum, and has been the site of the annual Hospices de Beaune wine auction since 1859 (the proceeds of which go to support the Hospices and other hospital institutions).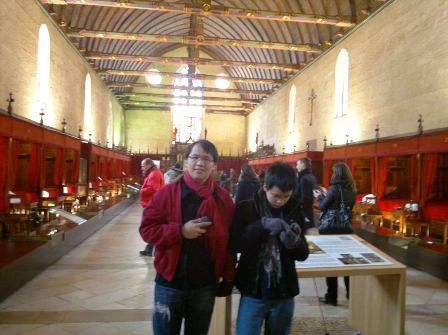 In the above photo, Mauro & Joaqi are in
la Grande Salle des Pôvres
(the Great Hall of the Poor), each side lined with beds where indigent patients stayed and were treated.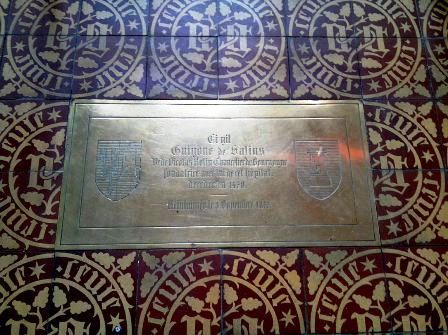 The floor tiles leading to the chapel bear the monogram of Nicolas & Guigone; the "Seule" circling the monogram means "only" (like "sole"), referring to Guigone, whom Nicolas obviously adored. The brass plaque on the floor marks where Guigone's remains are buried.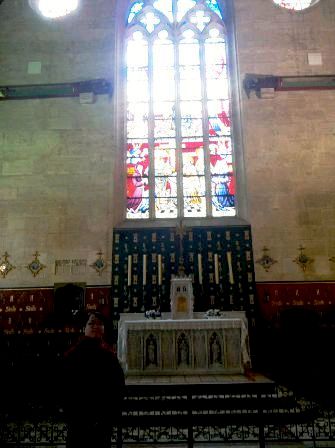 The Chapel, where the sick can hear mass from their beds.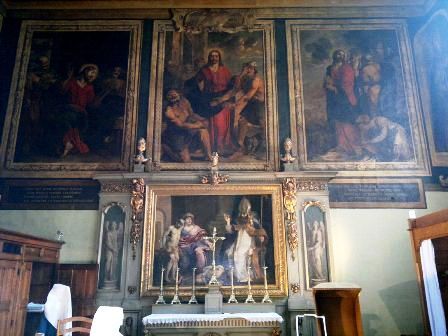 In the
Salle St-Hugues
, above are some of the 9 haunting murals by Isaac Moillon (a Parisian painter in the 17th century) depicting Christ's miracles (top center is Christ healing the blind).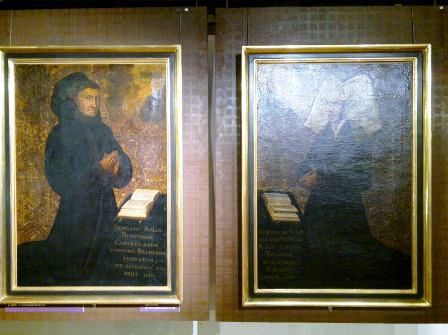 These paintings of Nicolas Rollin and Guigone de Salins are, as I vaguely recall, in the
Salle St-Nicolas
.
This polyptych (i.e., a painting divided into panels) is entitled "The Last Judgment"; created by 15th century Flemish painter Rogier van der Weyden (a.k.a., Roger de la Pasture) on commission of Nicolas Rollin. I am mesmerized by this and stand and stare at it like an idiot each time I am at the Hospices...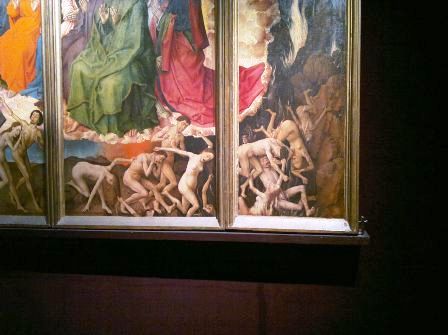 ...especially this bottom right corner section depicting the damned.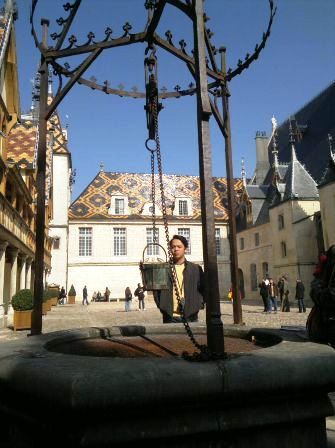 Lorenzo at the courtyard well.
I have many other shots of incredible artwork, but, this is, after all, a wine and food journal, so I just posted the ones that strike me the most. We were out of there by around 11:30am. Having been craving for my pinoy breakfasts, I was already getting hungry.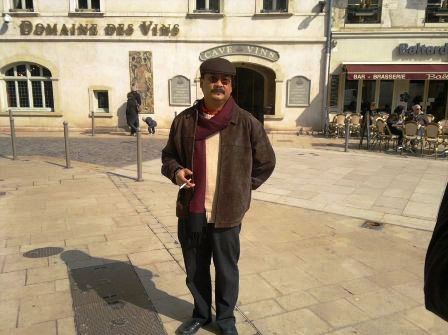 Avez-vous le riz frit, oeufs, et longganisa pour le petit déjeuner?
Still an hour away from lunch reservations at Ma Cuisine, we took the boys to the
Musée de Beaux Arts de Beaune
, which is virtually across the street from Ma Cuisine (so, yes, a few more non-food-and-wine photos).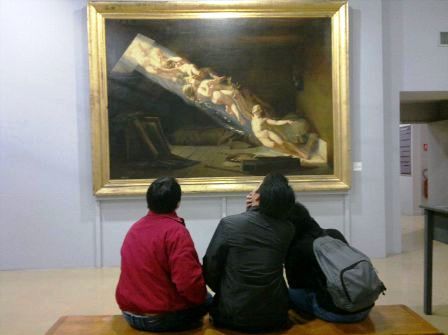 I think the boys enjoyed the bench more than the painting.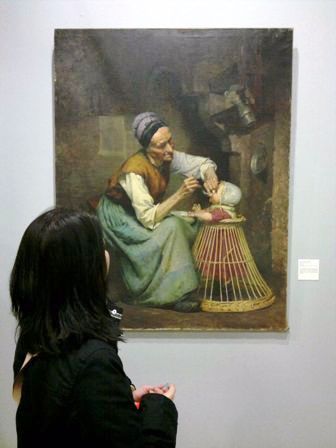 This painting, as I vaguely remember, is entitled "
Grand-mère
" (i.e., "Grandmother"). It caught my eye for some reason, though I don't remember my paternal grandmother (she died when I was an infant) and was never close to my maternal grandmother (she was very old-school strict, and passed away when I was 9 years old). I failed to take note of the painter and when it was painted.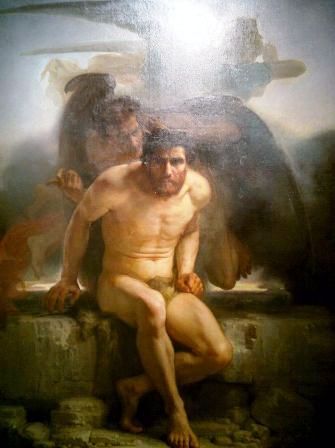 This was particularly interesting, "
Avant le Crime
" ("Before the Crime") by Jean-Baptiste Augustin Nemoz (painted circa 1864). Paintings that dwell on the dark side of people always appeal to me.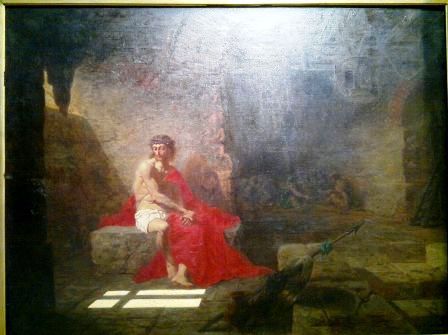 The above, however, I found the most dramatic painting of the exhibit: "
Le Dernier Soleil
" ("The Last Sun", or, maybe, better: "The Last Day"), oil on canvass by Célestin Leboeuf Nanteuil in 1870 (he was director of the Musée des Beaux Arts de Dijon at the time). I love how the sun shines on Christ's face the day he was to be crucified.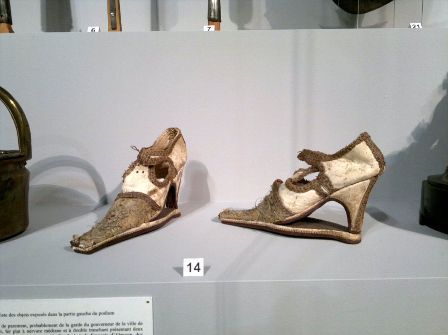 On a lighter note, this is a pair of, as I vaguely recall, 16th century French dandy shoes. They reminded me of my friends, Willy Chiongbian and George Gobio, who are into shoes (George more on the antique ones).
~ oOo ~
Lunch at Ma Cuisine
I've "done" some Michelin-starred restaurants in and around Burgundy's Côte d'Or, but the restaurant closest to my heart by far is that of Pierre & Fabienne Escoffier's Ma Cuisine (passage Ste-Hélène, Beaune 21200, France) – no frills, no distractions, just excellently executed, traditional, homey, Burgundy comfort food, and a wine list heavily laden with the very best Burgundy has to offer. If Domaine de la Romanée Conti's La Tâche or eponymous DRC are within budget, one can choose among many vintages of each, and more, as one's heart desires or wallet can afford. Less bank-breaking good bottles are, of course, also readily available.
I first heard of Ma Cuisine back in 2006 from Jerome François whose roots are Burgundian, though he is generally based in Bordeaux running his family's François Frères Tonnellerie (one of the three largest wine barrel producers of France). Jerome gave me a list of restaurant recommendations for the Côte d'Or, and, in said list, particularly pointed out Ma Cuisine, of the latter saying "All the winemakers eat there". That was all I needed. I've dined there every single opportunity I've had since then, this recent trip no exception.
After apéritifs of kir royale, our first courses consisted of two dozen Escargots Bourguignonne, warming Mushroom Soup, and a few orders of Foie Gras Terrine with Smoked Duck Breast Slices. In
Manila
, my children love the escargots à la bourguignonne at
Marc Aubry
's Champêtre, so having the real deal Burgundian snails in
Burgundy
was a real treat.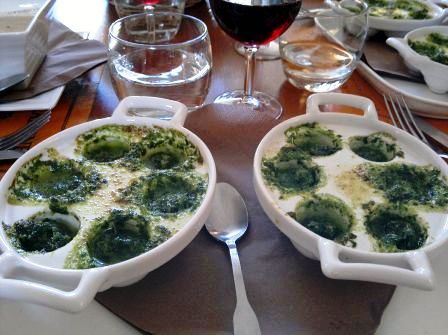 Escargots de Bourgogne Traditionnels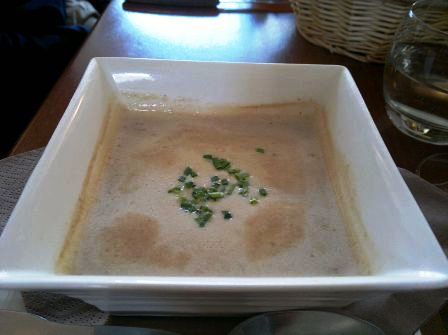 Catha's Mushroom Soup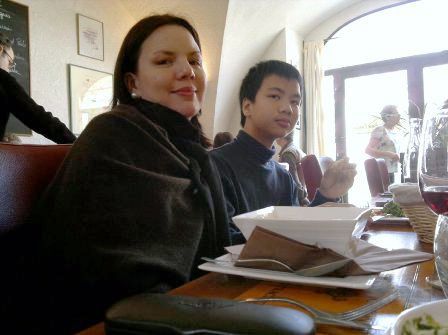 Catha & Joaqi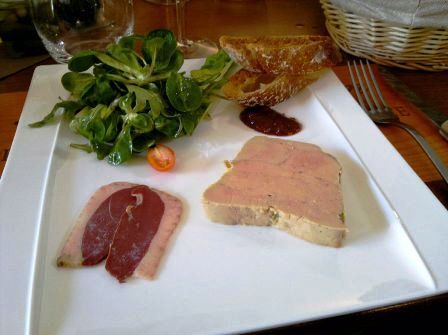 Foie Gras et Magret de Canard Fumé
For main courses, while Catha loved her Roasted Lamb and Lorenzo swooned over his Magret de Canard (saying, later on, that he preferred this rendition over La Tour d'Argent's signature Pressed Duck), Mauro, Joaquin and I had what I have always considered the best roasted pigeon in France – served neatly with a drizzled reduction of its own juices, some haricots verts and potatoes, it is a heaven of juicy, earthy, comforting simplicity.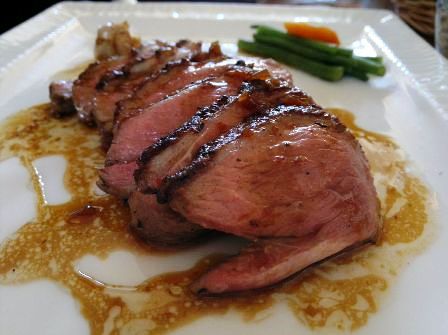 Catha's
Gigot d'Agneau Rôti (Roast Leg of Lamb)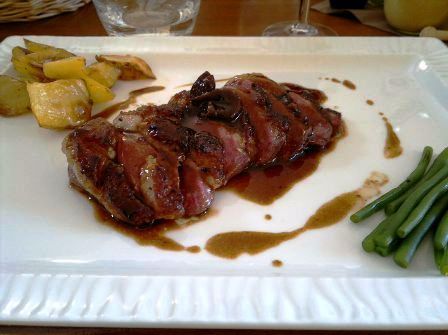 Lorenzo's Magret de Canard
For the rest, the signature Pigeon Entier Rôti (Roasted Whole Pigeon).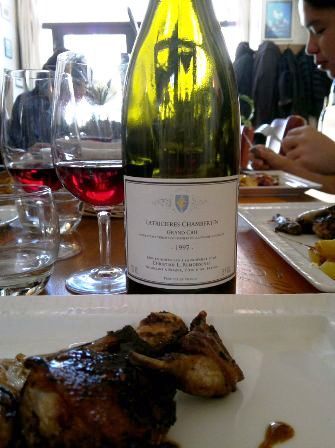 With the main courses, I had ordered a bottle of 1997 Remoissenet Latricières-Chambertin Grand Cru – a graceful, light-footed red, soft-spoken in its notes of dark red cherry, raspberry, underlying damson, slight ceps, and violets. Wild cherry trails in the finish. Medium-bodied, quietly confident wine with healthy acid balance that cut through the pigeon's gamey richness nicely. I stopped at that bottle as I was to drive the family to Vézelay later that afternoon to visit and hear mass at the
Basilique
Sainte-Marie-Madeleine
.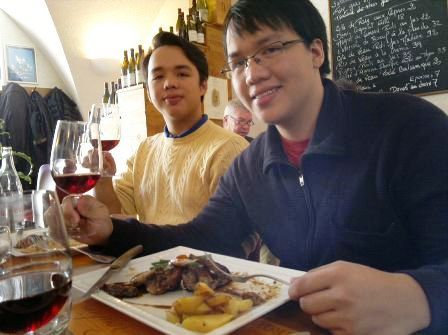 Salute!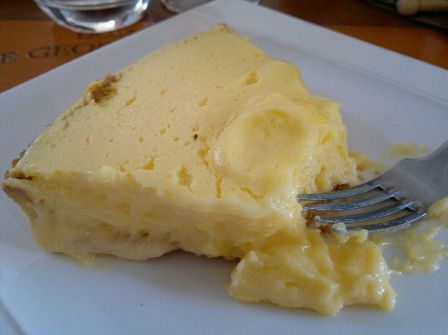 Lemon Custard (Renzo attacked before I took the photo)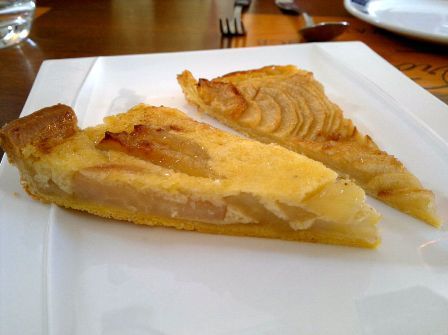 Pear Pie & Apple Tarte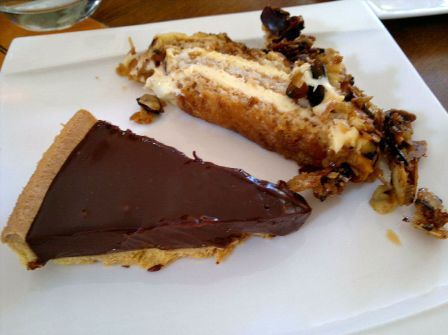 Chocolate Pie & Almond Cake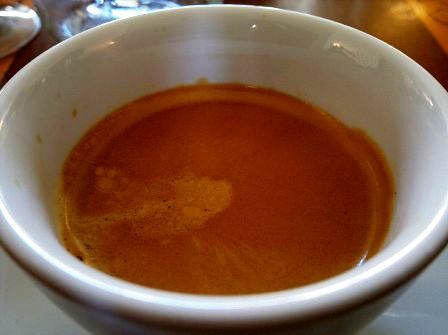 My double espresso.
Desserts at Ma Cuisine are mainly from a dessert table near the kitchen laden with Fabienne's fresh fruit pies and a cake or two. My favorite is the fig pie, but, since figs were not in season, we had an assortment of pretty much everything they had available –
Apple Tart
,
Lemon Custard
,
Pear Pie
,
Chocolate Pie
, and
Almond Cake
. Everything was delicious and everyone very happy.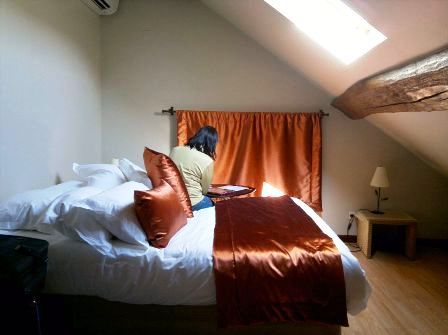 We then walked back to the hotel for a couple of hours' rest, some napping, others surfing on their laptops, iPads, or phones, before we headed off to Vézelay later in the afternoon.