Catha and I took the boys on their first trip to France from the 25th March 2013 to the 13th April 2013. Long ago, we decided that we would take them to Europe when they are, in our judgment, mature enough to not get bored, and, rather, appreciate the trip. This is the first of a series of accounts of those days.
A snack at Schipol's Café Chocolat, Amsterdam, before continuing on to Paris.
Upon arrival at Charles de Gaul Airport, we picked up the car at the Hertz parking lot (I got a 7-seater 2013 Peugeot 5008 A/T to be able to fit all of us plus our luggage), and drove approximately an hour-and-a-half to the Champagne region where we were based in Tinqueux, a hop away from Reims city proper.
Settled into the Novotel Tinqueux, we had a late lunch at the hotel. The waiter, though very friendly, barely spoke English, so I had to intercede for my children in ordering (as well as translate the menu).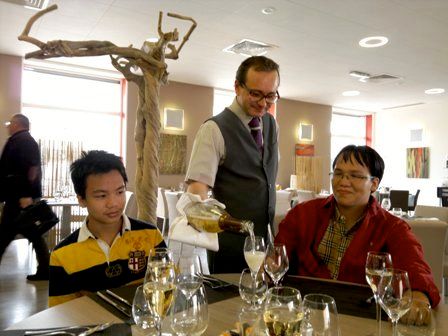 We managed well enough.
The wine list was, naturally, chock-full of champagne - the majority of which were the labels and bottlings we have in Manila and/or I regularly drink back home - so I made it a point to avoid those and, instead, choose those labels/lines I was unfamiliar with. Tired, jet-lagged, and having to drive the family around later in the afternoon, I ordered just one bottle for lunch.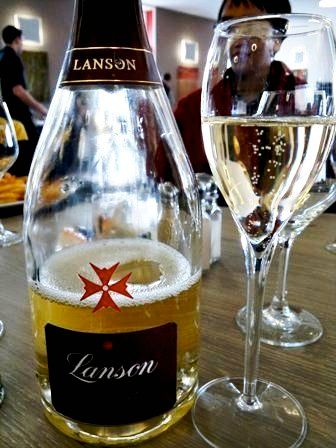 Champagne Lanson Extra Age Blanc de Blancs NV
- This is a relatively recent line from Lanson, created to commemorate the house's 250th anniversary , and presented at the Tax Free World Association World Exhibit in October 2012. Eager, toasty, freshly fruity (apple, citrus, lemon, a whispered suggestion of mango), slight minerality, and acacia flowers (which Catha said she couldn't detect). Round, lush, soft, creamy texture. Nice heft and middle. Easily accessible, dangerously drinkable, if rather straightforward at this stage. A blend of vintages 1999, 2002 and 2003, aged for a minimum of 5 years in bottle; Lanson eschews malolactic fermentation as a rule.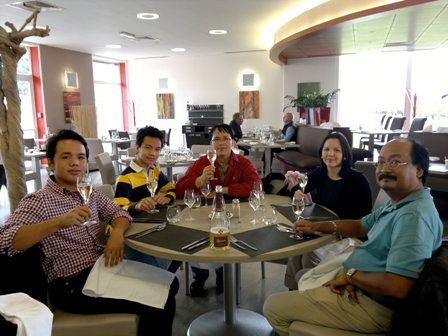 The first bottle of champagne in Champagne. Cheers!
The waiter told me the kitchen was about to close, so we had only 15 minutes to order. I advised everyone to order stuff that is simple and easily prepared, lest we incur the cook's wrath and wind up with shoes on our plates. They heeded my advice.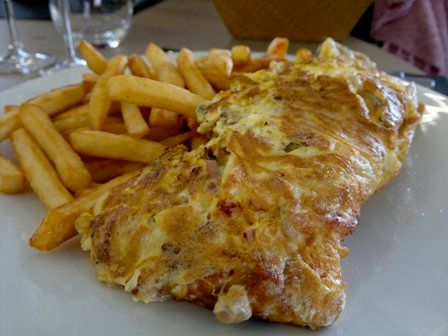 Catha had a Mushroom and Cheese Omelet with Fries.
Haché de Boeuf (a.k.a., burger steak) for Lorenzo.
Pan-Fried Veal for Joaqi.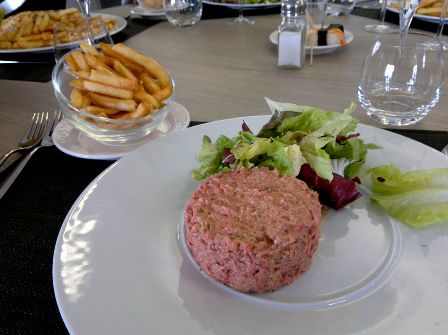 Steak Tartare for Mauro (a huge serving, very well made).

I wanted to see what a French Clubhouse Sandwich was like; and found out that it's the same as any other club sandwich anywhere in the world. Oh, well...
After a couple of hours' rest, we drove to Reims, got some pastries and walked around.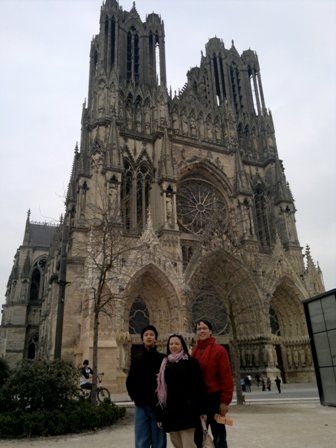 La Cathédrale Notre-Dame de Reims (a.k.a., Our Lady of Reims Cathedral, or, simply, the Reims Cathedral), in its current form, was slowly constructed, as I understood, in the early 1200s (after the older structure was damaged by fire) until 1300. This is where all the kings of France were crowned from 1027 onward, until Charles X in 1825 (with a long respite in the 1700s). During the coronation of Saint Louis (a.k.a., Louis IX), he was only all of 12 years old.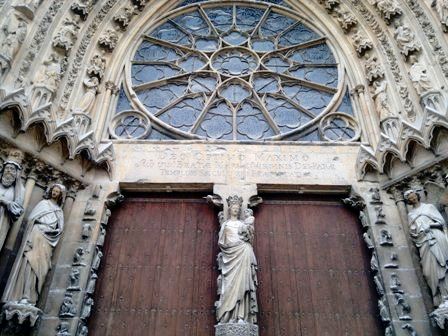 Latin text above the main doors, but my Southridge boys couldn't translate it for me. Huh.
Joaqi in the courtyard, by the statue of Jean d'Arc who liberated the cathedral from the English in 1429.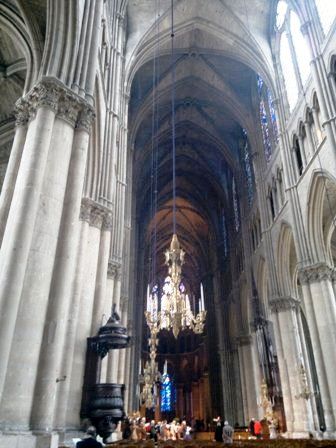 Inside the cathedral.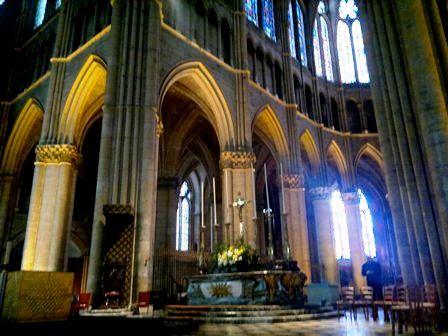 The Altar.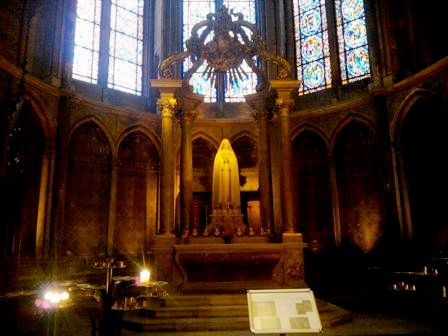 The statue of Our Lady of Reims.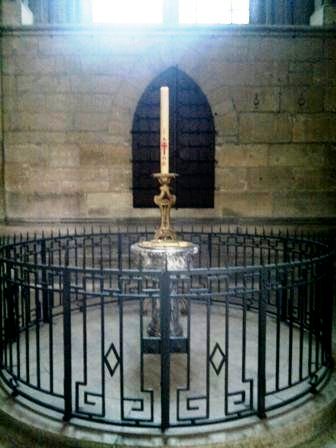 As I understood the signs, this is where the kings were anointed/consecrated with holy oil, likening them to the kings of Israel.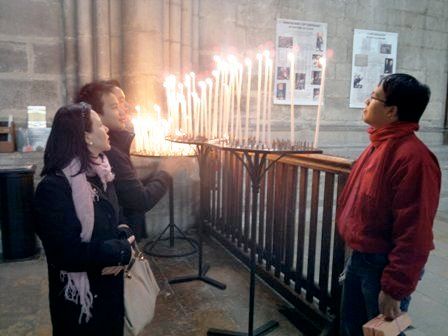 Lighting candles for our intentions.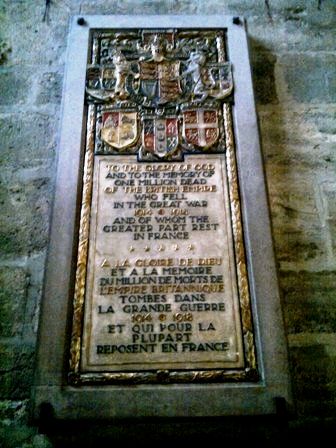 An ornate plaque that honors the million British soldiers killed in WWI, many of whom died in France.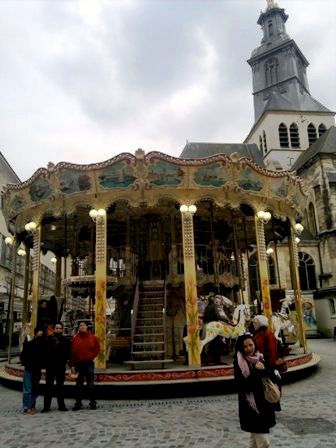 The boys by the carousel as Catha shivers off.
It was extremely cold and windy, and, the temperature steadily dropped. Not even the hot chocolate and coffees we had at some café after the cathedral could warm Catha up, so we headed back to the hotel halfway past 7pm. Everyone heavily jet-lagged, we all fell asleep early and, consequently, missed dinner. Thus ended day 1 of the trip.