Thursday, the 5th April 2013
, we started out late, so had time to visit only one royal castle:
Château de Chambord
. On the way there, Catha suggested we have lunch again in Amboise. It being such a charming little town, I readily agreed, pulled up roadside, entered the GPS coordinates, and we were there in a few minutes.
Having had breakfast not too long before, we decided to have a light lunch at
Confiserie Bigot
(Place du Château 37400 Amboise, France; at the foot of the castle's long entrance ramp) which had caught our eyes the previous day. The establishment, founded in 1913, is celebrating its 100th year in the business - so we figured they must be doing something right. We were not mistaken.
It being very cold out, Mauro & Joaqi immediately ordered hot chocolate to warm themselves (well, I'm sure the chocolate had something to do with it too). Above is Mauro's
Chocolat Traditionnelle
.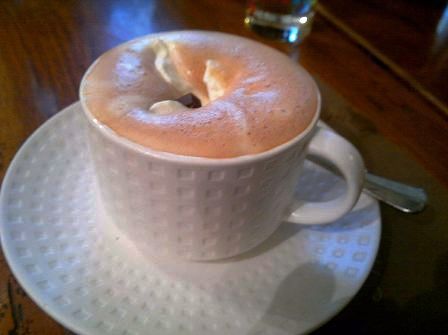 Joaqi's Chocolat Chantilly.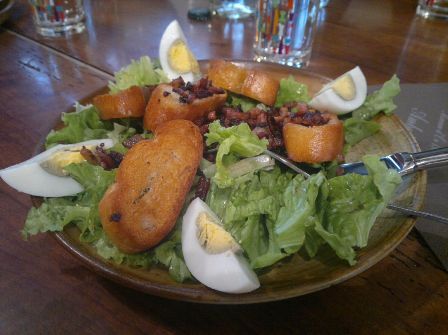 Catha & I each had the Salade Lardons, Croutons & Oeufs (para healthy).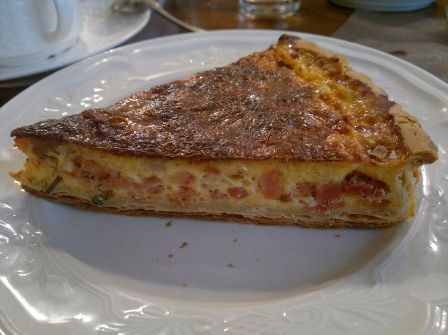 Mauro had the Quiche Lorraine.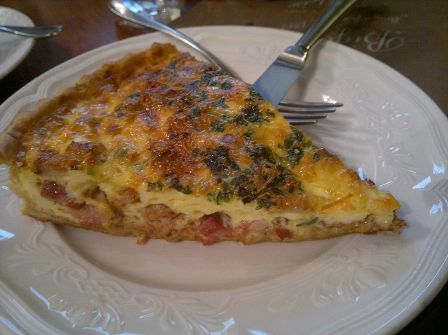 Renzo & Joaqi each had a Quiche Tourangelle.
Too much of anything isn't good - even the "para healthy". Thus, we loaded up on desserts, Catha and the kids went to the display cases and ordered a bunch - after all, the sweet stuff is what carried the family-owned-and-run
confiserie
successfully for a century and counting.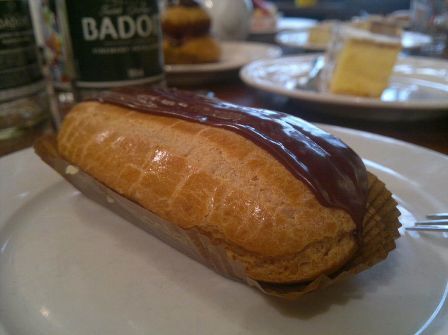 Chocolate Eclair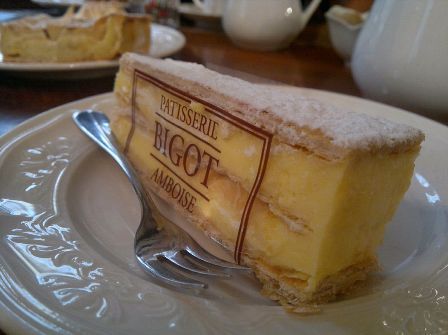 Napoleon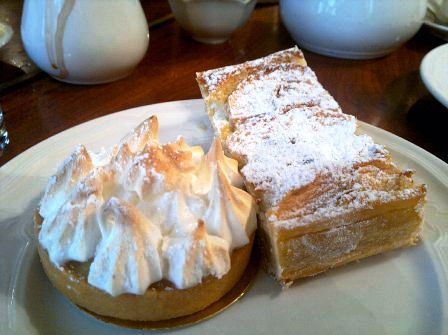 Tarte Citron & Alsatian Pear Cake.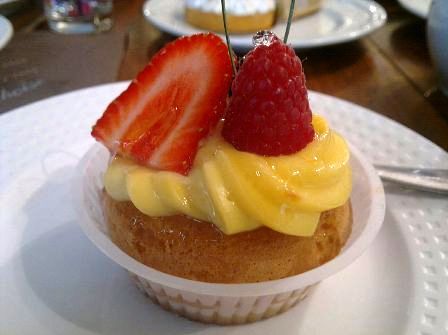 Baba au Rum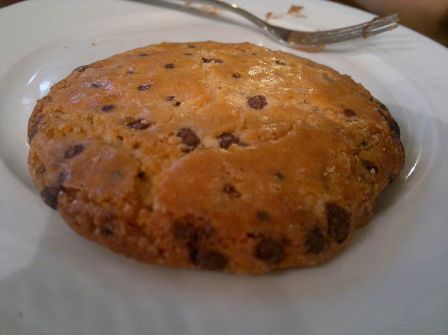 A large cookie for dipping in one's chocolat chaud.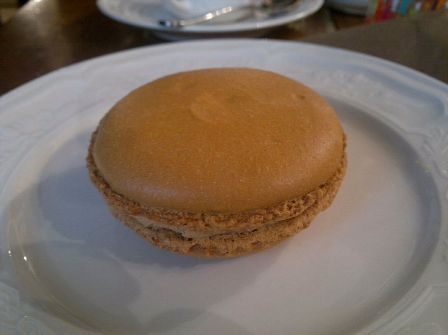 Giant Coffee Macaron (there were many other flavors).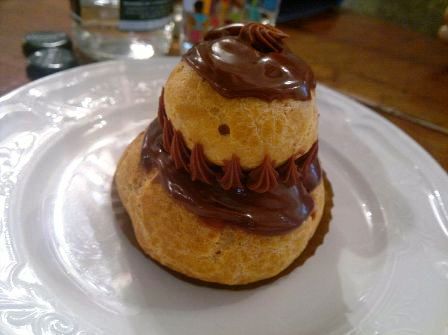 A very large Chocolate Cream Puff.
Naturally, I had some hot chocolate with the pastries as well. We loved everything. What I particularly liked is that the cream tasted like pastry cream, the chocolate tastes like chocolate - unlike many, many pastries everywhere where everything just tastes mainly like sugar.
Confiserie Bigot has been run by four generations of Bigot women. Currently, it is headed by Christiane Bigot. Hanging proudly near our table is an old photograph depicting, among others, Christiane's great-grandmother, grandmother, and mother.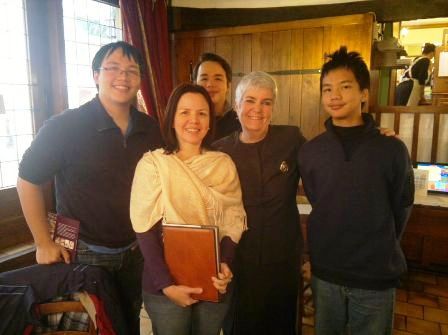 Catha & the kids with Christiane Bigot.
As we were having dessert, Christiane came over, introduced herself, asked where we were from, and the warm, lively conversation started from there (her English is excellent, by the way - certainly way better than our rudimentary French). She also asked us to sign her "Golden Book", which, of course, we happily did.
With Christiane at the helm with her sincere, warm hospitality, graciousness, and natural charm, not to mention the excellent quiches, salads, desserts, candies, and pastries, I am certain Confiserie Bigot will continue only from strength to strength for at least another 100 years.
If ever one finds oneself in Amboise, take it from us, one simply must eat here, and/or take some pastries along for later on.
~ oOo ~
Château de Chambord
is the largest castle in the Loire, taking 28 years to build (1519-1547) upon orders of François I - it was meant to be his royal hunting lodge for him to hunt in the forests of Sologne. The castle is most famous for the double-helix staircase reputedly designed by Leonardo de Vinci.
As mentioned in one of
my immediately previous post
, François I, who was raised in Château d'Amboise, was the one who, in 1515, brought Leonardo de Vinci to work and live in the Loire, in Clos Lucé on the grounds of Château d'Amboise. As I understand, although François I spent unimaginable sums in building and beautifying Château de Chambord, he actually rarely spent time there.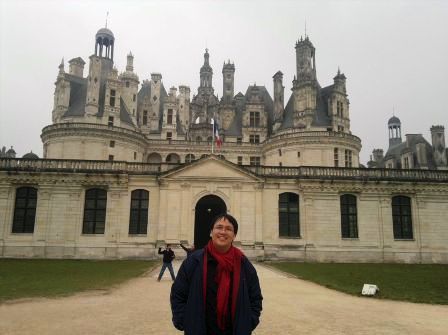 Renzo & Joaqi clown around behind Mauro.
The double helix staircase attributed to Leonardo da Vinci.
After watching the 15-minute film about the castle in the ground floor donjon, we pretty much went on our separate ways (with portable audio guides). I eventually met up and continued with Catha, Mauro went off on his own, and Lorenzo, finishing rather quickly, went to look for Joaqi.
On Lorenzo's way up the spiral staircase, he chanced upon two "young, hippy-looking American guys", one telling the other about "this little kid upstairs photo-bombing peoples' pictures" with "epic faces". Lorenzo immediately thought "Oh no, I'm sure that's Joaquin." Upon finally finding Joaqi somewhere on the floor above, Lorenzo's were suspicions proven to be well-founded.
A painting of Louis XIV, rare, as I understand, because he is in his coronation attire. Apparently, kings don't usually have themselves depicted in their coronation attire for some reason.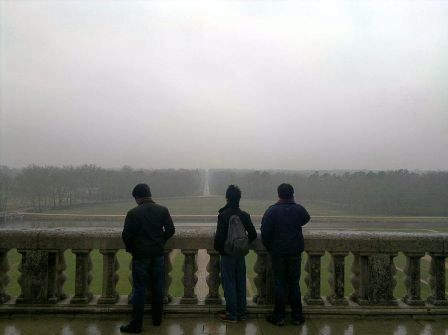 High on the parapets, the boys survey the castle grounds.
Epilogue
: As with all the royal castles, one pays an entrance fee, and extra for the portable audio guides. That's fine, of course. On the way in, however, Mauro and I stopped by at a bathroom but were only allowed to use it if we paid half-a-euro each. Now that's a bit much, especially since the bathroom was less than clean, the water to wash one's hands with was freezing cold, and there weren't any paper hand towels in the dispensers.
I told Mauro that for the extra charge (which, of course, I paid), we should divest ourselves of all solid and liquid bodily waste therein, preferably on the bathroom floor. Gaseous, as well, in all general directions, just for good measure. That'll learn 'em. I'll extract my pound of flesh, by golly.
~ oOo ~
Back in
Tours
, we rested in the hotel, and, by around 8;30 pm, headed off for dinner in town. I had hoped that Les Tuffeaux would have been open by then, but, it, unfortunately, was not. Thus, we headed down rue Colbert to take Catha to try out Le Turon, but all its tables were already full.
Passing by
L'estrade
(i.e., "The Stage"; 123 rue Colbert 37000 Tours, France), Catha suggested we try it out. It looked nice enough, and, encouraged by our luck the night before at Le Turon, I immediately agreed.
The chef-owner himself, Jean-Michel Perreau, personally welcomed us, led us to our table, took our orders, and then disappeared into the kitchen (the place was packed, by the way, but, it being past 9pm, everyone else was already on or past their main courses - the French do not eat as late as the Spanish).
The above quickly hit our table as we waited for our first courses. It tasted like
Chèvre-Laced Fromage Blanc with Chives
, but I'm not 100% sure about that. It was quite nice; the kids and Catha eventually picked it clean (the lateness of the hour and the lightness of our lunch, no doubt).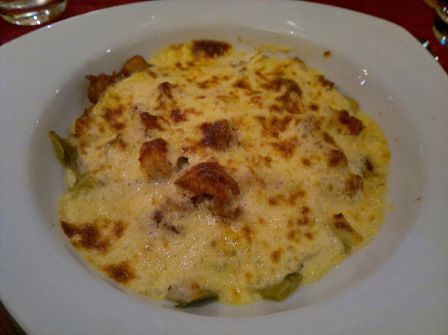 My delicious entrée of Gratin de Queues d'Écrevisses et Fondue de
Poireaux au Curry (Gratin of Crayfish Tails & Fondue of Curried Leeks).
Since I was not driving after dinner, I had both white and red for dinner. For my first course, I ordered a bottle of
2011 Cave de Montlouis Sec
*
- Bright, lively, fresh, sweetish (almost like a vendanges tardives, but not quite). Notes of fruit cocktail, pineapples in light syrup, peach, and, underneath, some yellow apricot and orange rind. Good enough acidity to keep things interesting and to cut through the gratin's cheesiness. Slightly viscous. Quite nice, actually. Very drinkable. Very inexpensive. Great value for money.
*
A bit of research shows that this is a product of La Cave des Producteurs Montlouis-sur-Loire, a cooperative of 25 Montlouis-sur-Loire AOC vignerons founded in 1961, all working with one cellarmaster and oenologist. As such, they market 1/3 of the entire volume of wine from Montlouis-sur-Loire, with almost 2,000,000 bottles in their limestone cellars.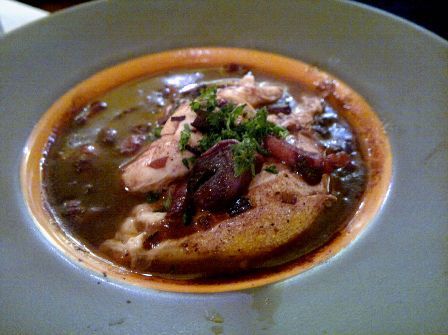 Oeufs en Meurette et ses Croutons (I think Catha's and/or Mauro's).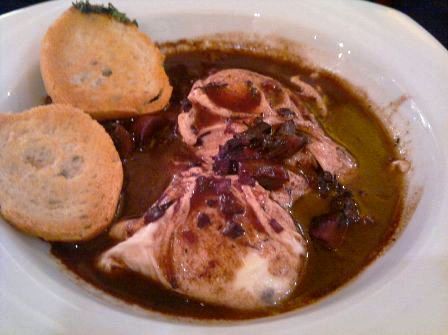 Joaqi's Oeuf en Meurette au Merlot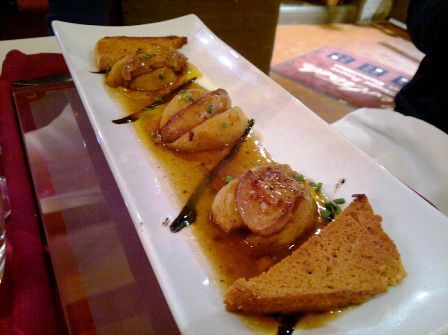 Lorenzo's Pan-Seared Foie Gras with Apples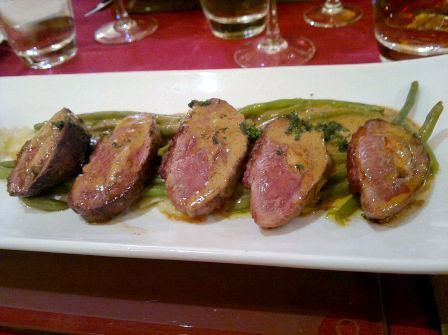 Main courses: Magret de Canard (one each for Joaqi & I)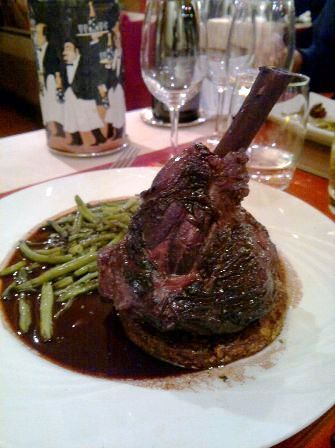 Catha's Sourís d'Agneau, Confit au Vin,
Façon Sept Heures
(Lamb Shank Cooked in Wine for 7 Hours)
Mauro & Lorenzo had an order each of
La Belle Entrecôte (300 gms.), Os à Moelle, Sauces au Choix
("The Beautiful Sirloin Steak" with Bone Marrow & Choice of Sauces). Looks like a killer.
For the night's red, I chose blind again (i.e., I just picked the most expensive bottle on the list, which was still very cheap):
2009 Domaine de Vieux Bourg Vieilles Vignes
- Full-bodied, notably concentrated, and a bit jammy, but glides nicely across the palate.
Tobacco leaf and anise laced, peppery, deeply veined dark red fruit with undertones of oak related chocolate.
Acidity is low. Long, strong, a bit rustic, an intense wine. Over-all, quite acceptable and pleasant enough.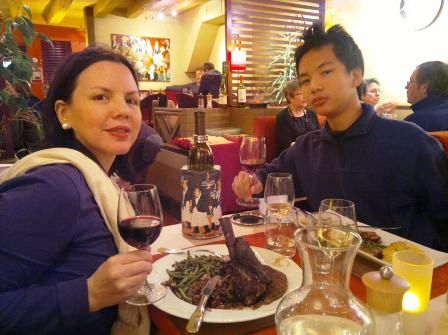 Catha liked it with her lamb shank.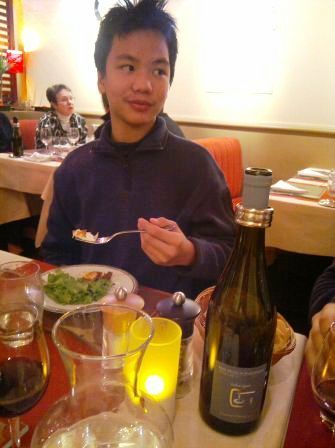 Only Joaqi opted for a cheese course before dessert.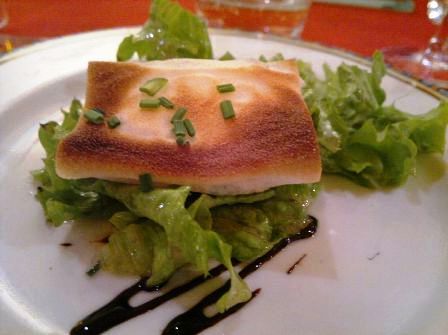 Croustillant de Chèvre Chaud sur Mélange de Salade
(Crispy-Encrusted Hot Goat Cheese on a Mixed Salad).
Catha & Mauro skipped dessert. Joaqi had chosen one of the desserts of the day (he did his own ordering and I left him to his own devices). He obviously didn't know that "
anana
" is French for "pineapple". Joaqi doesn't like pineapple, so he wasn't at all happy with this, but that's not the restaurant's fault.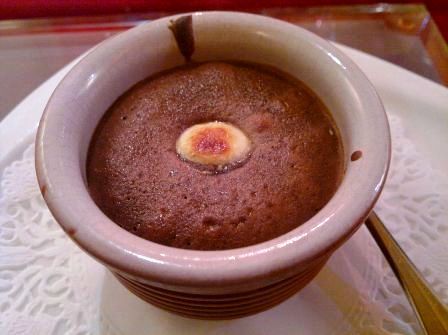 Lorenzo's Moelleux aux Chocolat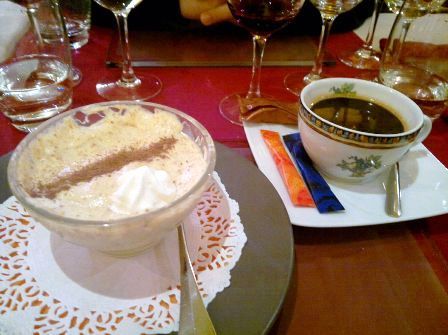 I had Tiramisu à l'Amaretto et au Spéculoos with my double espresso.
The prices at
L'estrade
are very inexpensive, i.e., all the foregoing, including both bottles of wine and several bottles of water came out to under 200€ - I remember this vividly because I attempted to pay with a 500€ bill (I wanted to break those bills as many small establishments don't have change for this denomination) and, sure enough, they didn't have change for it. So, I handed over a 200€ bill, and Catha noticed that the chef showed it to the table beside us and it elicited a little titter
*
. Anyway, the point is this is a great value-for-money place for dinner (and, I'm sure, lunch as well).
*
Apparently, the French do not use cash often. Waiting in line once at a take-away coffee shop in CDG, the lady ahead of me in line paid for her tea and 3 pieces of pain de chocolat (3€ and change in all) with a credit card. Hoo boy. If I tried to do that in Manila I'd probably get thrown out.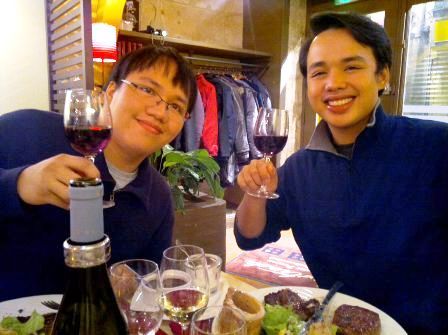 Until the next!