Been back for less than a week from a 3-week family vacation around France, hence the dearth of blogposts. While I shall eventually post on most all meals during the trip, I figured to, again, break from my chronological posting pattern to highlight the recent gala that launched the Philippines' art and artifacts exhibit in Paris. The exhibit, entitled:
Philippines: Archipel des Échanges (Philippines: An Archipelago of Exchange)
formally started on the 9th April 2013 and will run at
Le Musée du Quai Branly
until the 14th July 2013.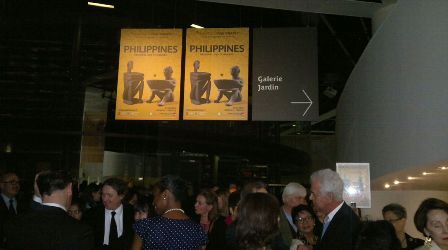 The subject gala, however, took place on the 8th April 2013. We were in Paris by that time, and, through the kind invitation of the organizer (and friend), Department of Agriculture Undersecretary Berna Romulo-Puyat, Catha and I attended. As usual, all the photos in this post (save one obvious one since I am in it) are my own, taken with my trusty mobile phone's camera. The lighting and my positioning were not great most of the time (shots taken on the fly and all), so please excuse the quality of the photos.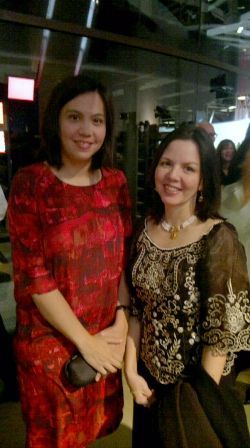 Alicia & Catha
The gala began at 6:30pm at the Musée du Quai Branly. However, though our rented apartment was a mere 3kms away, we were running late from taking the children around the Eiffel Tower, Invalides, etc., so hastily hopped in a cab and made it there half an hour late. As can be seen in the above photo, the place was packed. We quickly bumped into some friends there though, such as Town & Country's Alicia Sy, Edouard & Sevrine Miailhe, and Bernie Sim. The welcome statements and opening remarks soon began, paving the way for the respective speeches of...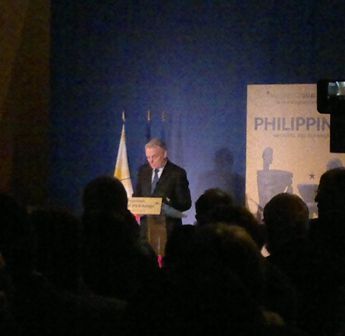 ...French Prime Minister Jean-Marc Ayrault...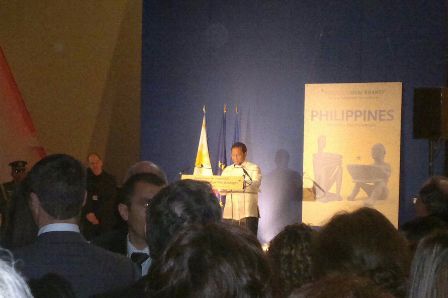 ...and Philippine Vice-President Jejomar Binay.
The speeches were followed by a performance of a traditional folkdance from the Philippines by a troupe of young Filipinas in native garb.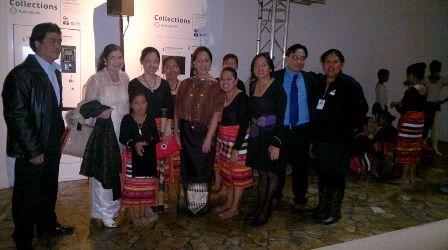 Sorry, I didn't get a good shot of them actually dancing.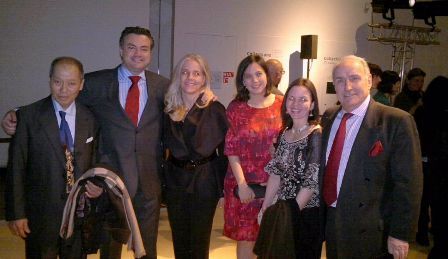 Bernie, Edouard & Sevrine, Alicia, Catha, and a friend of Ed & Sev.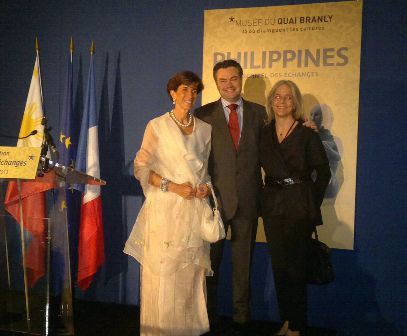 Patricia Zobel and the Miailhes.
The crowd then started going slowly through to view the exhibit's numerous Philippine art pieces and artifacts. Not wanting to have to wade in with or through the crowd, Catha and I slipped down the back staircase to where the gala reception was to take place later on as we wanted to see Berna and Gaita Forés (who, with Vicky Pacheco and their crew, were preparing the food) before things got even more hectic than it must already have been for them. As we went through some doors and rounded the corner the floor below, I could already hear Berna's voice, so I knew we were in the right place.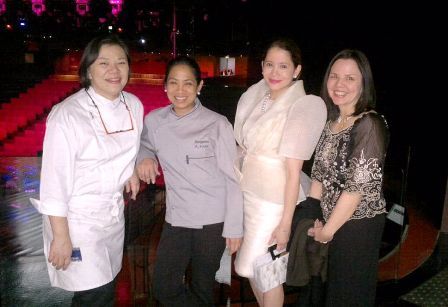 Vicky, Gaita, Berna, & Catha.
We quickly and briefly caught up, and, though they had, among others, the food, protocol, and security to deal with, Berna made sure I was able to take the food shots I was very much hoping for. Yes, I readily admit I have a one-track mind when it comes to food.
Upon learning we were staying on rue de Cherche-Midi in the 6th arrondissement, Gaita highly recommended Chez Dumonet. We actually did wind up having dinner there (I take anything Gaita says about food very seriously indeed) with the kids that same night, but more on that some other time - as what is important here are the dishes she and Vicky prepared for the gala reception - a delectable parade of Filipino cuisine with a tip of the
chapeau
to France. The following are my photos of most of the dishes (I translated the dishes' names from French as best I could).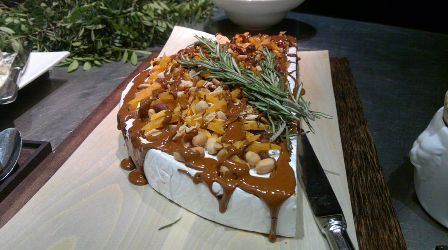 Shades of Pepato! - Brie de Meaux Caramelized with Mango and a "Riot" of Philippine Cashew & Pili Nuts.
Cashews from Antipolo, Pili from Bicol, Sugarcane Honey, Gelée of Guava, Gelée of Calamansi, and Nata de Coco, all meant to accompany the various French cheeses.
Tube Biscuits (I know them as "barquillitos") stuffed with Goat Cheese Mousse topped with Fish Roe from Capiz.
These also reminded me very much of Gaita's dearly missed Pepato where I, my family, and friends enjoyed countless meals.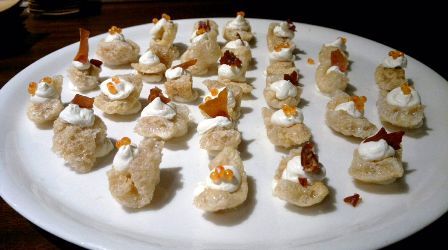 Chicharron topped with Garlic Mousse and Crunchy Paris Ham and Fish Roe.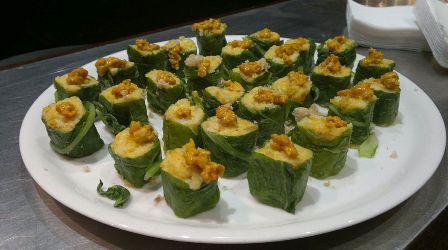 Garlic Fried Rice wrapped in Mustard Leaves with Shore Crab Roe (i.e., taba ng talangka), topped with Chicharron (thanks, Berna, for the name of the dish).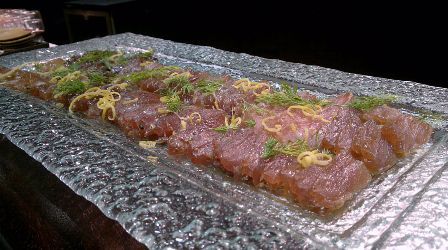 Cured Tuna in Citrus, Garlic & Citronella.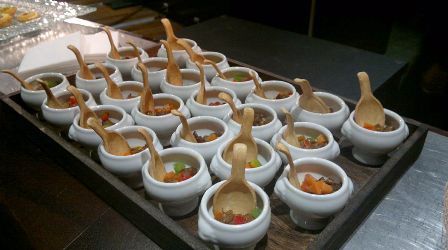 Lamb Stew - a variation of our Kalderetang Kambing.
Sliced Slow-Cooked Roast Beef with Muscovado Glaze. Sauces were Ginger Cream, Oil of Candied Olives and Ilocos Garlic.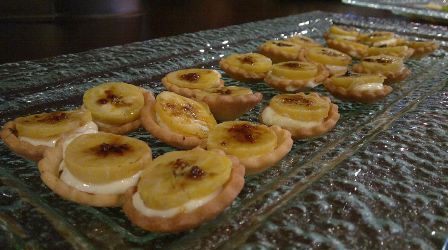 Saba Banana Tartlets.
There were countless other delights for all to enjoy; and, by all accounts, the French guests were oohing and aahing over everything. Congratulations, Berna, Gaita, Vicky and all the others who organized, sponsored and otherwise made this momentous event a resounding success. It really IS more fun in the Philippines...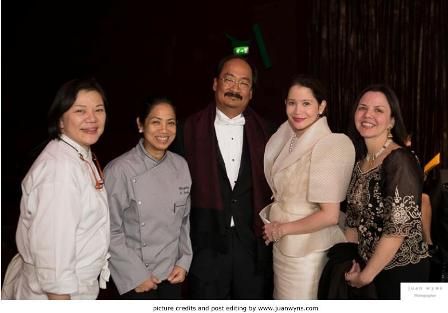 ...even in Paris. (Photo by Juan Wyns). Until the next!