Friday, 29th March 2013
, we slept well after the past dinner and had a later than usual start in the morning. Had to load up on diesel along the motorway since, it being Good Friday, St-Hippolyte's one and only gas station (well, I only ever saw one, anyway) was closed. Thereafter, we headed to nearby
Orschwiller
, up the mountain, to
Château Haut-Koenigsbourg
*
.
Catha and I visited this castle back in late September 2007, but figured the kids would enjoy it.
In a nutshell, it was the castle of the German Hohenstaufen rulers that eventually passed on to the Ducs de Lorraine in the early 1200s, and so forth.
*
The reason why Alsace's towns, cities, castles, etc. have Germanic names is because, very simplistically, Alsace was Germanic much, much longer than it has been French. Being part of the Roman Empire's Germania Superior since around 58 BC, and, after switching from various hands throughout the centuries (e.g., the Alemanni, the Kingdom of Austrasia, the Franks, the Spanish Habsburgs, etc.), it was incorporated into France "only" in 1648, after the Thirty Years War, by virtue of the Treaty of Westphalia. Even then, in WWII, Germany briefly incorporated Alsace into its Greater German Reich. That didn't last long though, as we all know.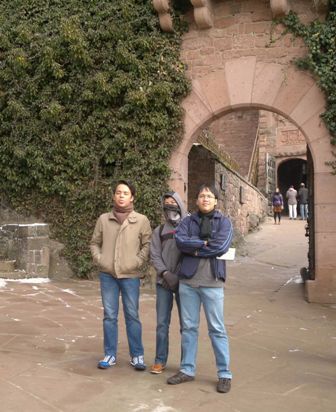 It was painfully cold that morning high in the mountain.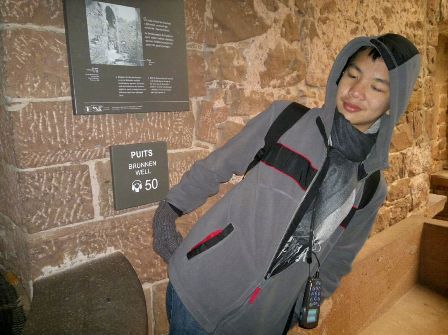 "Puits" in English means a "well"; but Joaqi had other ideas.
Despite numerous signs asking visitors not to touch the old furniture...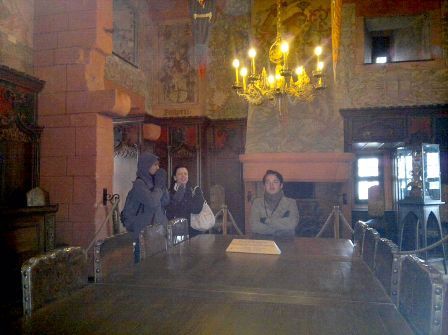 ...some, seemingly, cannot help themselves.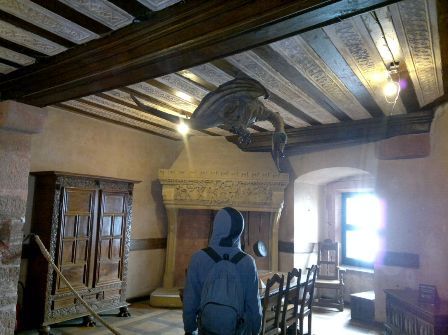 Joaqi checks out a carved wooden dragon on the ceiling.
Renzo on the phone, under a stuffed boar's head.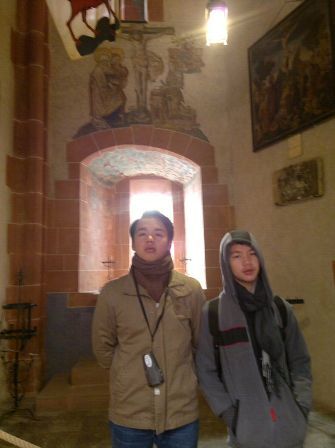 In the castle's chapel.
In the armory room, the stained glass windows depict the past monarchs of the Hohenstaufen Dynasty.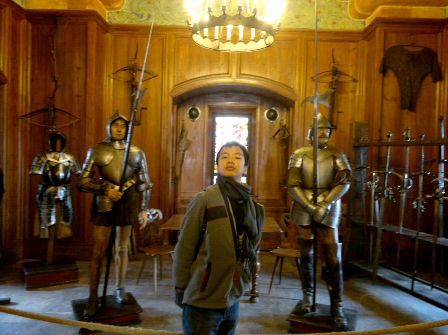 Boys always enjoy checking out old weapons...
...and suits of armor.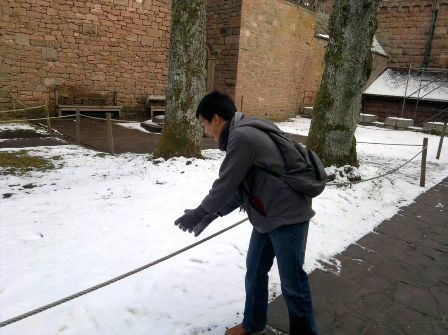 Joaqi can't help playing with snow though we warn it's wet & dirty.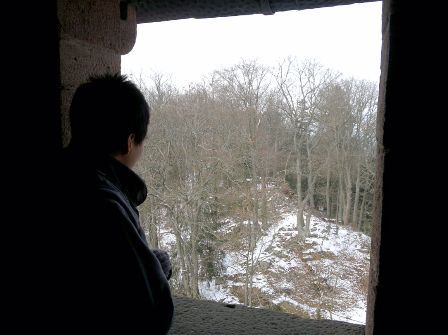 At the towers, he was unusually quiet and pensive...
...speaking only to complain how cold he was. Of course, the snow had wet his gloves.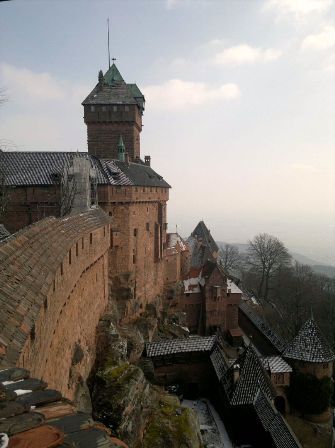 What a view.
Mauro always lags behind in castles and museums, being more interested in them than the other two. I always tell him to take his time and soak as much of it in as he wants. After all, we're not in Europe everyday.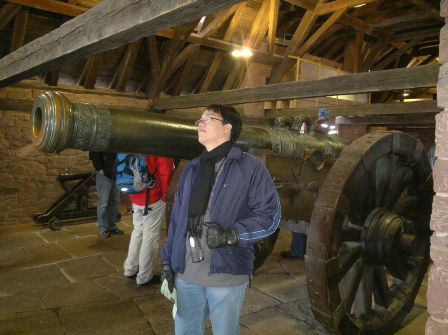 And soak it in he did.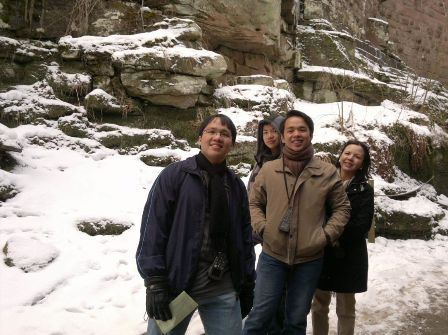 The tour over, we headed off to Baden Baden, Germany.
~ oOo ~
Baden Baden
, as I understood, is a German spa and sight-seeing destination (old castle, ancient roman baths, scenic hikes, picnics, etc.). I was also under the impression that that is where Catha's family's paternal German roots lie (i.e., that's what she told me), so I planned a side trip there (anyway, it's barely 120 kms from St-Hippolyte and most of it on the motorways). Later on, I found out their roots are really in Bremen - not Baden Baden. Since Bremen is
way
, way farther north, I said forget it...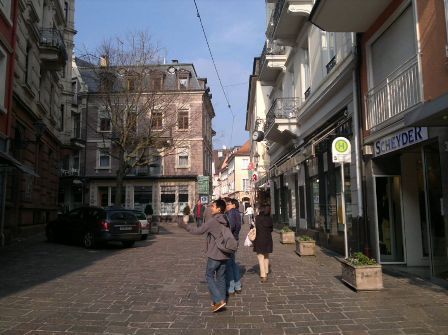 ...and pushed through with Baden Baden.
All the touristy walking, climbing, driving, walking, got us hungry, so we searched for and eventually found the
Gasthaus Löwenbräu-Keller
. Due to quick research, I knew beforehand that they had English translated menus (the other, more traditional/region-centric gasthaus had none, and my German, even in restaurants, is a big fat zero).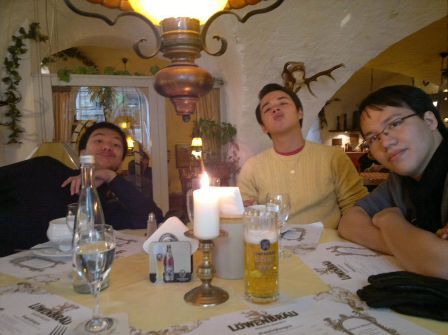 Ispraken Hayt?
O, sige, "Prost!" nalang.
With hearty Kartoffelsuppe mit Krakerle (i.e., Potato Soup with Croutons - hirap-hirap sabihin at i-spelling, e sabaw ng patatas lang pala) to warm Joaqi & Renzo up, the latter had a 500ml mug of Löwenbräu Märzen.
Knowing that German restaurant servings tend to be very large, Catha ordered an appetizer,
Grobe Krakauer w/ Mustard & Potato Salad
, as her appetizer/main course in one.
Joaqi had his Wiener Schnitzel & Fries.
Lorenzo had the Schweinsbraten aus dem Rohr mit Dunkelbiersauce, Bayrisch' Kraut & Kartoffelknodel.
Since it was so huge, Renzo gave me a bit of it, and it was really, really good. Thing is, I can't wrap my tongue around the name, and, thus, can't memorize the damn thing. I guess, I'll have to write the damn thing down beforehand if I ever want to get to eat it ever again.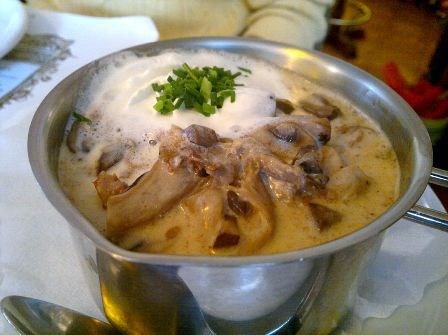 Mauro had the Rahmschwammerl (Mushrooms in Cream Sauce)...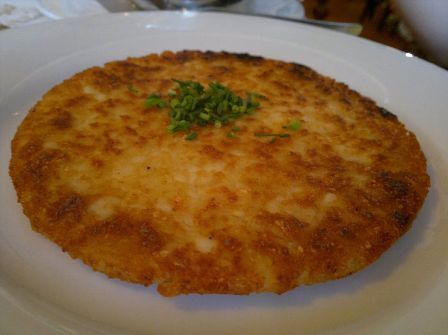 ...mit Semelknodel (w/ Bread Dumpling)...
...and this huge salad (para healthy).
I had the Riesenbratwurst mit Bratkartoffeln & Bayrisch' Kraut (Big Sausage with Roast Potatoes and Bavarian Cabbage). With it I had a glass of the Löwenbräu Original (on Tap). All I can say is the food was excellent and the beer was "Lasan tubigen".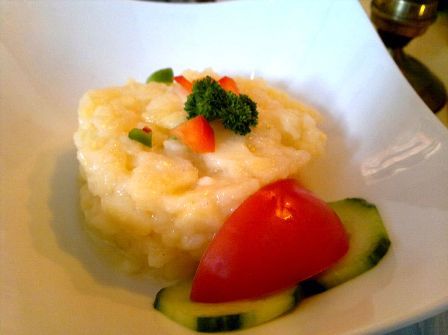 I got a side order of Potato Salad too.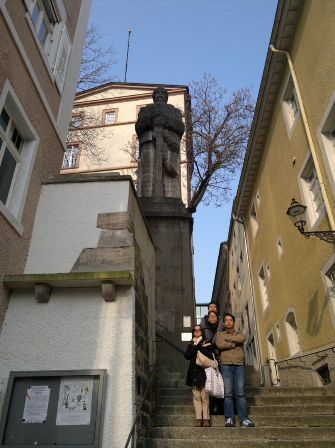 Beside Otto von Biscmarck's statue.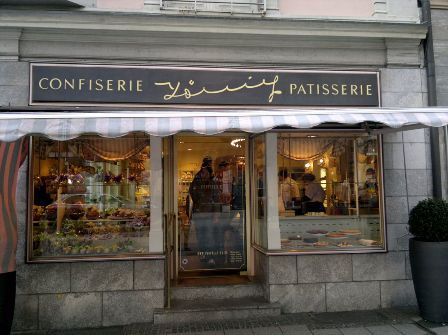 We passed by the famous Patisserie Konig to pick up a big box of assorted goodies...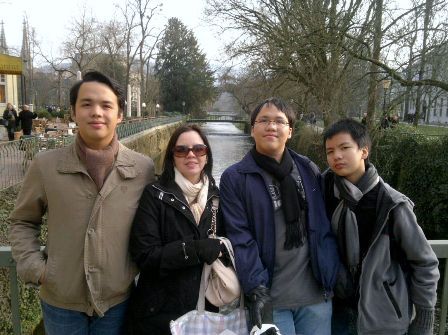 ...before heading back to Alsace. Tsch
üss!!!
I have always found German food to be very, very heavy on the belly. That, and given the huge servings and the lateness of our lunch, I just knew I'd better skip dinner that night. However, I would have to feed the growing boys. After a long nap and relaxing, however, when I asked the kids where they wanted to eat that night, they told me they ate the box of pastries and were too full to have dinner. Saved from temptation to eat again, I, thankfully, was able to return to my room and turn in.