Monday, the 8th April 2013
, Catha & I took the kids to doing touristy stuff around Paris since it was their first time in France. We had to get a bit of an early start since we were to attend
the gala of the Philippine Art & Artifacts Exhibit at the Musée du Quai Branly
that evening ("
Philippines: Archipel des Échanges
", subject of a linked earlier post).
Joaqi in our rented apartment's hallway
getting ready to go...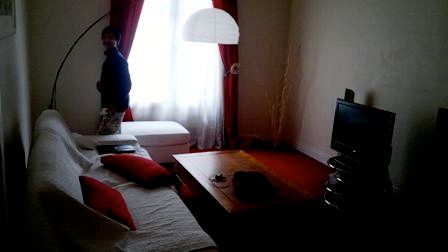 ...making sure the laptops, etc. in the sala are unplugged...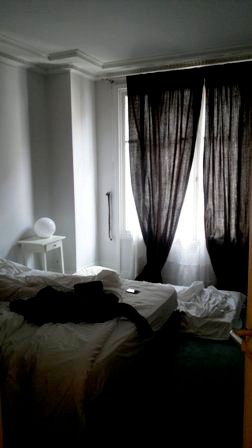 ...leaving the kids' room a mess (of course).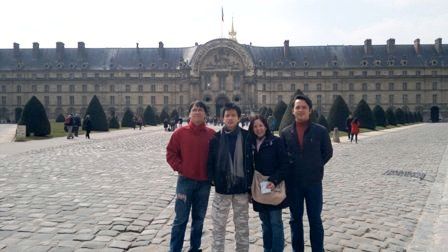 At the entrance of the Esplanade des Invalides.
We got the audio-video guides, and, since Catha knew the boys (me too, actually) would enjoy more looking at old armor and weapons, we spent the bulk of our time there at the Army Museum (
la Musée de l'Armée
).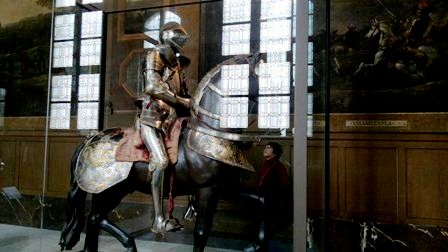 Mauro checks out the equestrian armor of François I.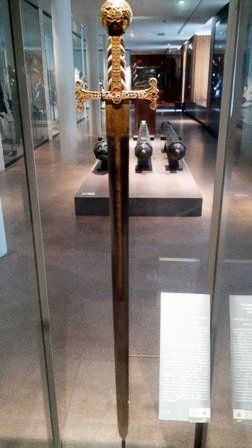 François I's sword.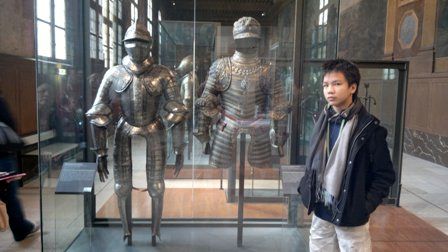 Joaqi beside ancient children's armor...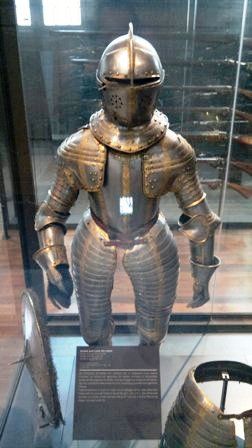 ...this one of the young Louis XIII.
I'd wear this.
Above is a suit of laminated armor (circa 1640-1650, Poland). It was made in the style reminiscent of the culture of the people of the Caspian Sea regions. The blades that make up the armor were shaped to look like scales.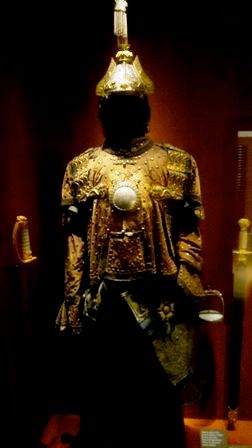 Quing dynasty (1644-1911, China) general's battle coat.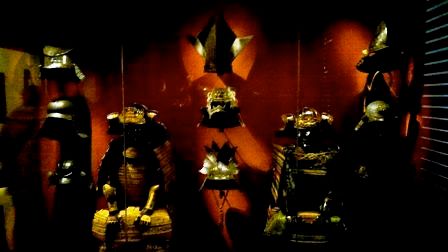 Feudal Japan suits of armor...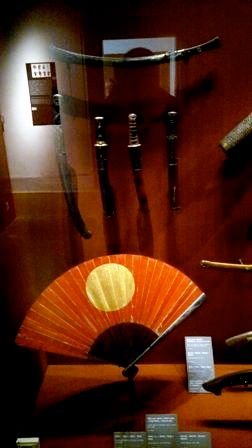 ...swords and fan.
A set of field armor and bard (i.e., horse armor) from mid-16th century Mamelouk Egypt. This style of armor (ringed network of full metal plates) was typically used by knights of the Ottoman Empire up to the 18th century.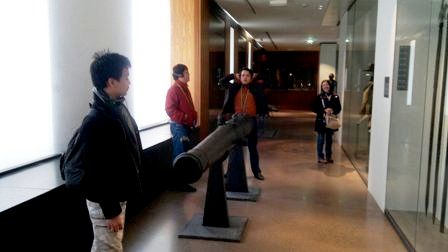 Well, dreaming is free after all...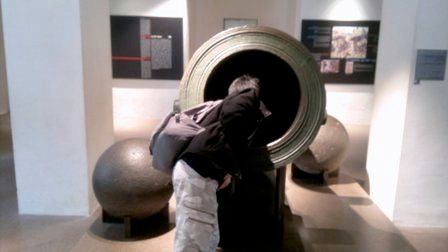 What the...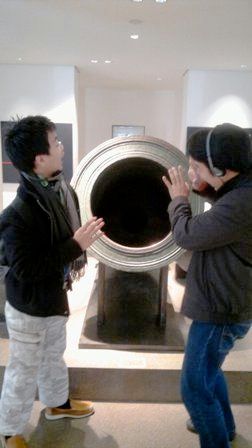 ...!?!?!?!?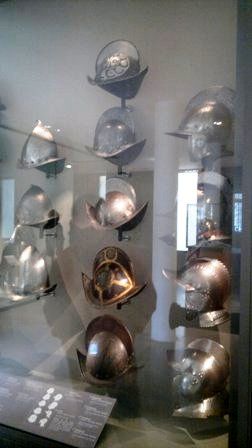 ¡Joder! Spanish helmets from the 16th century!
A mid-17th century commissioned painting by Jean Tassel of Louis II de Bourbon (Duc d'Enghien, later Prince de Condé) at Dunkirk, dressed in old style, receiving the subjects of Spain's Felipe IV. In 1559, by reason of the Treaty of Cateau-Cambrésis, France ceded Dunkirk to Spain. It was returned to France by way of sale by England's Charles II (for £320,000) on October 17, 1662, early in the reign of France's Louis XIV.
The painting, I believe, recalls the Battle of Rocroi during which the French army, under General Louis II de Bourbon, dealt the then seemingly invincible Spanish army a significant defeat (though Spain managed to take it back 10 years later).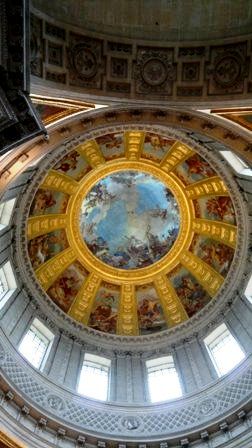 The Dome's ceiling.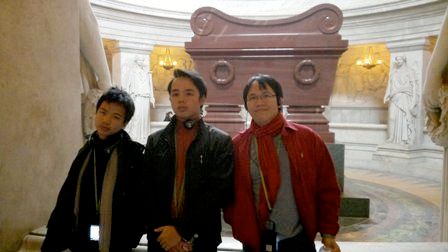 Napoleon I's Tomb.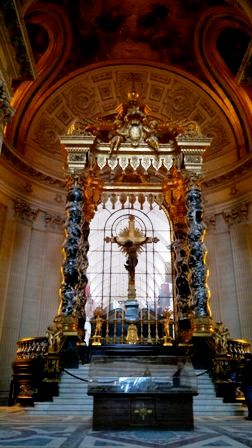 The Crucifix.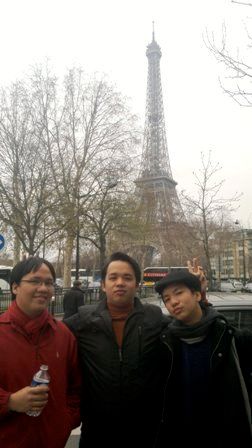 Before the Eiffel Tower.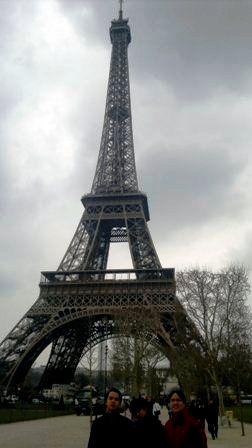 At the Eiffel Tower.
By then, we had to return to the apartment for Catha and I to get bathed and dressed for the first above-mentioned gala at the Musée du Quai Branly, of which I had posted on much earlier.
~ oOo ~
During the gala, Gaita Forés (who, with Vicky Pacheco and their crew, prepared the food for the gala's lavish reception) learned we were staying on rue du Cherche-Midi in St-Germain du Prés (arr. 6). She then highly recommended
Chez Dumonet
(117 rue du Cherche-Midi 75006 Paris, France) which was along the same street in the same arrondissement (the street is very long and crosses arrondissements).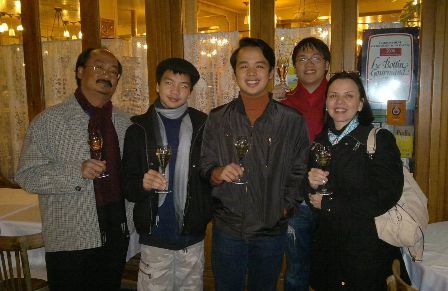 We had to wait around 25 minutes for our table, but were quickly
given complimentary champagne apéritifs while we waited.
The restaurant, also known as "Restaurant Joséphine" (established well over 100 years ago) turned out to be just two minutes' walk up the street (our apartment building was at 100 rue du Cherche-Midi). I asked Lorenzo to make reservations for us for a late dinner, which he quickly did. The restaurant is reputedly one of the very best of the few old-style bistros left in Paris.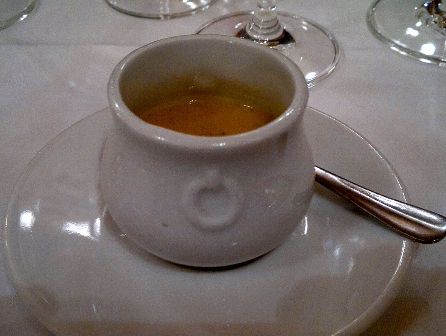 Amuse bouche of Pumpkin Soup.
Regular servings at Chez Dumonet are well-known to be very large, so most dishes are available in
demi
(half) portions. The immediately above photo is of Joaqi's starter of
Foie Gras Terrine
(full portion). Lorenzo opted for a demi portion for his entrée, which was just one thick slab of foie gras instead of two. The full portion turned out to be too much for even Joaqi (our resident foie gras and boeuf tartare freak), but Catha (who opted out of an entrée) and Mauro (who can eat a lot anyway) helped him out with the second slab.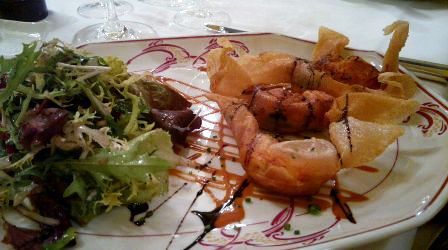 Mauro's Crispy Langoustine starter.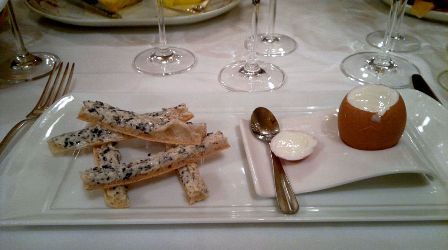 My starter of Oeufs au Truffes (demi).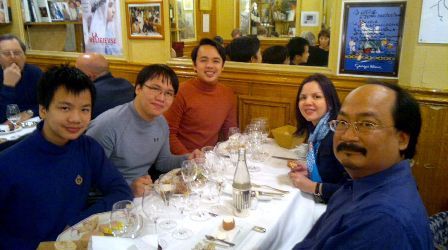 Finishing off our first courses.
For the main courses, I had actually ordered a bottle of 1999 Matrot Volnay 1er Cru, but they had run out and, instead, immediately offered a basic, village level
2008 Olivier Leflaive Volnay
- Actually quite pleasant, though rather straightforward. Fresh nose, medium-bodied, a silky-smoothness that glides across the palate, healthy acidity, moderate length. Not that much of a middle, but acceptable. Juicy cherries, bit of dark raspberry, hint of ceps, underlying dark, ripe plum, hints of wild cherry trail in the finish. The fruit has a pleasant freshness to it.
I had wanted something from a better producer, older vintage, etc., but didn't feel like re-reading a wine list which wasn't kept up-to-date anyway. Besides, at its relatively modest price by Parisian standards, it was acceptable.
Catha's Boeuf Bourguignonne (demi).
I tasted the boeuf bourguignonne (incredibly tender and moist beef), and, while it is certainly one of the best ones I've had outside of Burgundy, its sauce seemed rushed, i.e., not anywhere as deep or flavorful as
compared to that of Ma Cuisine
.
A waiter helps Joaqi open...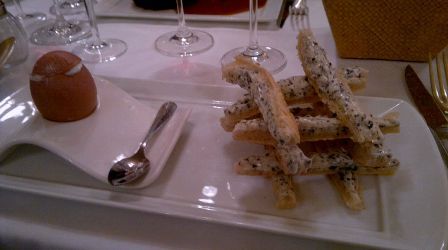 ...his full order of Oeufs au Truffes.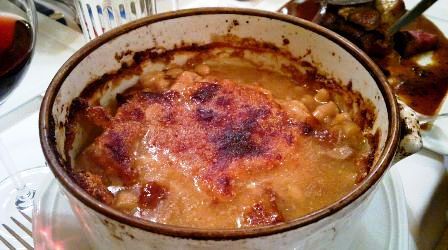 Renzo's Cassoulet (it was humongous, and very good).
My Mille-feuille de Pigeon (full portion). The pigeon itself was cooked nicely rare (very juicy, moist, and tender),
but, really, cannot hold a candle to the depth, juicy, earhthy, caramelized splendor of Ma Cuisine's roast pigeon. The potato slices
were too salty for me as well.
Mauro's
Tournados Rossini aux Truffe
(full portion)...
...served with real Truffle Mashed Potatoes.Mauro loved his main course.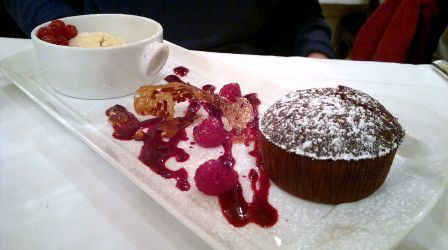 An order each of Molten Chocolate Cake...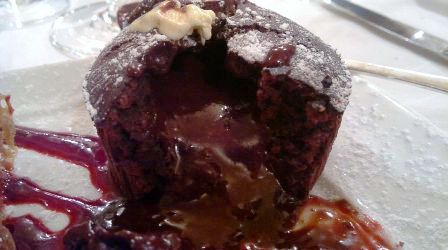 ...for Renzo & Joaqi.
Catha skipped dessert and just had coffee. Mauro and I had each ordered the
Grand Marnier Soufflé
, but it turned out our waiter had forgotten to tell the kitchen - which was just as well as we were already too stuffed. They were very apologetic and said they'd comp dessert, Catha's coffee, and my double espresso. I told them there was no need for that as we were already too full, but they did it anyway.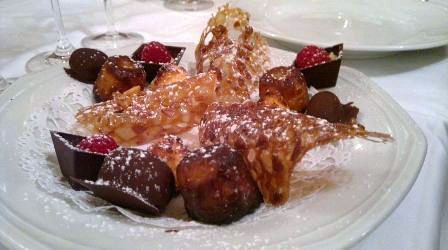 Petits-fours