Tuesday, the 2nd April 2013
.
During our few days in Burgundy (we didn't need more as Burgundy is really for wine & eating - not much to keep teenagers interested for more than 3 days), we stayed at the
Hôtel de la Paix
(3-star rating, 45 rue de Faubourg-Madeleine 21200 Beaune, France). Catha and I had stayed there back in July 2006 (but stayed in Vosne-Romanée the following year to explore the Côte de Nuits). The hotel is much, much nicer than before, and now even has its own private, secured parking lot adjacent to the hotel.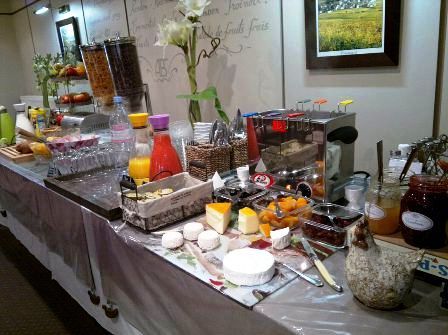 The daily breakfast buffet.
Situated a couple of hundred meters (at most) from the walls of old Beaune, for me, it is better than staying within, as outside is quieter and less hectic - away from the droves of tourists (getting happily and volubly drunk), traffic, and the noisy motorcycles of the locals.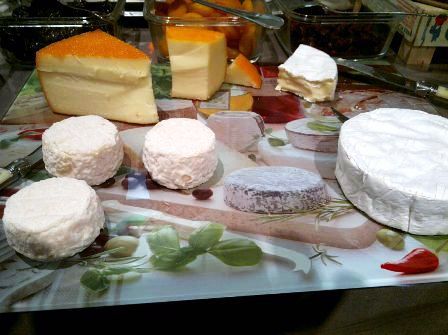 Region-centric cheese selection.
As stated in a previous post, I rented a 2-bedroom apartment in the main hotel (not in the annex) with a living room, 2 toilets and showers, and a private balcony where one can smoke and/or enjoy a bottle of wine. Prices are very reasonable - our 3 nights cost around 850€, more or less, inclusive of all taxes, daily buffet breakfasts, etc., and the private parking (a mere 8€/night). Considering what we got, it was a very good deal. Nothing luxurious or lavish, it was clean, functional, quaint, and nice enough for us. Oh, there was free WIFI too.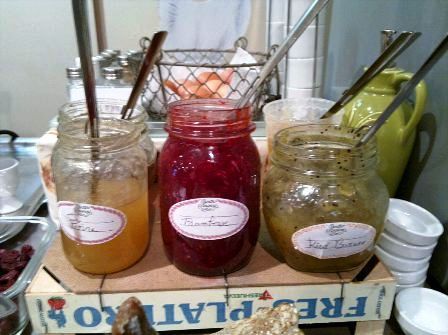 Homemade fruit preserves - very nice.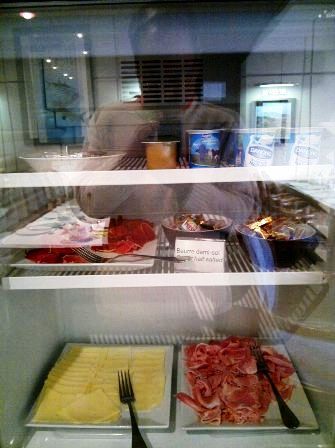 The hams could be much better though.
One comment, though: the beds were fine for us, but taller people will have their feet sticking over the beds.
~ oOo ~
As stated, if one isn't seriously into visiting wineries and tasting around, there isn't much to see around Burgundy (even Dijon isn't all that for me), and, after the eating overkill in Champagne and Alsace, even my kids have their limits. Since everyone woke up late (the kids slept until past noon and missed breakfast), and, we had dinner reservations in Ma Cuisine, we couldn't stray too far this time - and figured they'd get bored at the l'Abbeye de Fontenay anyway.
Thus, Catha suggested we visit Autun, under 50 kms away, then, I figured we'd drop by Vosne-Romanée on the way back, and, maybe, Nuits-St-Georges if we had the time.
Lycée Militaire d'Autun
Autun

was founded by Gaius Octavianus (a.k.a., Imperator Romanvs Caesar Divi filivs Avgvstvs, or, Caesar Augustus, the founder and first emperor of the Roman Empire); and has a lot of historic Roman ruins around its area.
We parked at the town plaza's large parking lot, in front of the local Tourism Office to get a map of the sights. It was also in front of the town's military academy where the above photo was taken. The kids not having eaten breakfast, and, it was 2:30pm by then, we walked around the old part of town to get them a bite to eat.
Well, all restaurants, bistros and brasseries we saw were either closed or no longer serving lunch (except this small, trendy-looking vegetarian one which the boys immediately nixed). Thus, they had to make do at the Paris-reminiscent
Brasserie Le Balthusart
for some
crêpes sucrées
(dessert crêpes).
Joaqi watched the crêpes being expertly made.
I wasn't able to photograph any of the crêpes, but do have one of Mauro with his (the last to be served). He got one that looked like a big banana-split on a crêpe.
Joaqi loves dogs and stops to look and, when he can, even try to pet the dogs he sees passing by. Even this sculpture of a dog caught his eye.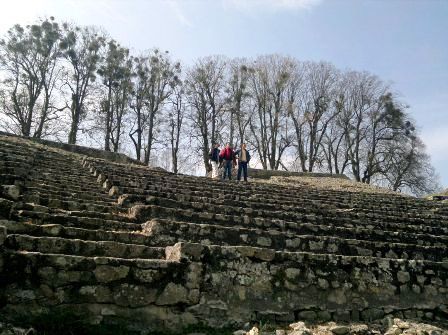 At the Ruins of the Ancient Roman Theater of Autun...
...beside the town's football field (I got a shot of it for Santi).
Catha's high-heeled boots weren't exactly meant for treading the pitch, but Renzo helped her across.
Just below the area of the Roman theater ruins (and the town's football field), was the picturesque
Lac de Chamboux
.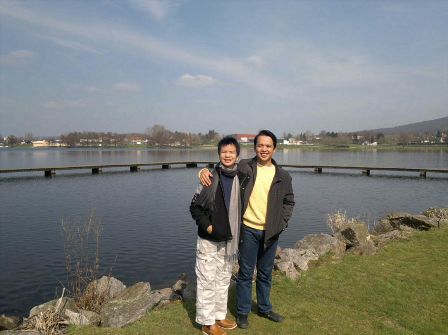 Joaqi & Renzo
This particular duck kept quacking aggressively at us for some reason...so I told it that we ate its family for lunch the other day, and, that if it came any closer, I'd eat its liver with a side of fava beans.
I did look out for some watery tart to throw a sword at me for me to wield supreme executive power, but, since that wasn't happening, I decided we'd head off to our next destination.
~ oOo ~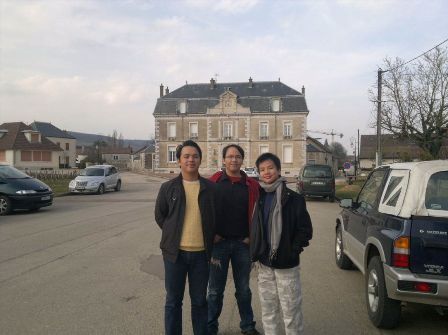 ...Vosne-Romanée (in front of the town's Place de la Mairie).
Vosne-Romanée (the "s" and "e" in "Vosne" are silent, and the "s" replaced with a soft "h") is a small, sleepy town in the Côte de Nuits, its simple, rustic looks belied by world-famous names of wineries and vineyards about it. It was here that
Catha & I spent several days in early October 2007 at Anne Gros' Maison la Colombièr
.
Walking down either fork of the rode past the Place de la Mairie in the above photo leads one to the most famous and revered pinot noir vineyards in the world: La Tâche, Malconsorts, Richebourg, Romanée St-Vivant, and, of course...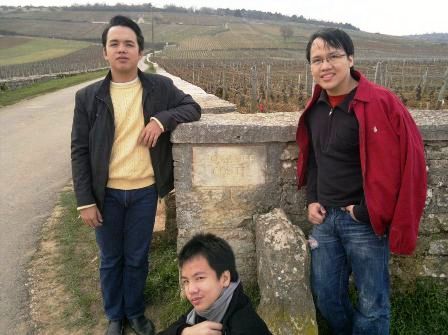 ...the eponymous Domaine de la Romanée Conti vineyard, among others.
Catha isn't in the Vosne-Romanée photos because the cold winds in the vineyards were more than she could bear, so she walked back to the car to get warm. I would've wanted to stay a bit longer and, maybe, drop by Anne Gros' place to say "hi", but, well, you know how it is...so, back to Beaune for dinner we went, stopping by a grocery on the way to buy some snacks and bottled water.
~ oOo ~
Back in
Beaune
, we parked the car, freshened up a bit, and, running late, walked briskly to
Ma Cuisine
for dinner. We got there past our 7:30pm reservation, and the place was packed to the gills - save for the center long table which we had lunch at the day before. Pierre & Fabienne greeted us with smiles, the latter waiving her hand over the table saying "You see? Like yesterday!". Loved it.
Well, "like yesterday", I started with a dozen
Escargots de Bourgogne Traditionnels
,

but, since I was not driving after, paired with a bottle of
2000 Michel Colin-Deléger Chassagne-Montrachet 1er Cru Morgeot
- Very self-possessed, quietly masculine white, with hushed butter and hazelnut notes in its slightly honey-and vanilla-touched apple, pear, and slight lemon curd. Good acidity, and an enchantingly curvy, supple, pliant texture mid-mouth. Quite nice indeed, and wonderful with my snails. Joaqi started with the same dish.
Catha's entrée was...Bugs Bunny...actually,
Compote de Lapin Parfumée à l'Estragon (Rabbit Compote Scented with Tarragon),
which she said also went wonderfully with the white.
Mauro started off with the
Salade de St-Jacques Poêlées
(Pan-Seared Scallops Salad)...para healthy.
Lorenzo, this time, had the
Foie Gras et Magret de Canard Fumé
. It turned out that the white I chose was a no-brainer pairing for each and every one of the starters ordered.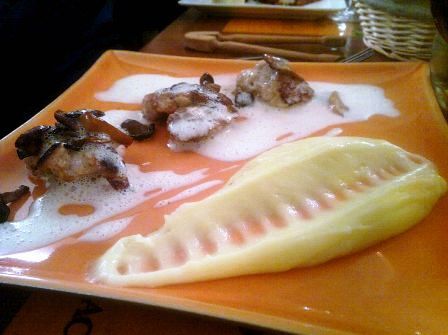 Main courses: Catha's Ris de Veau Poêlé (pan-seared veal sweetbreads)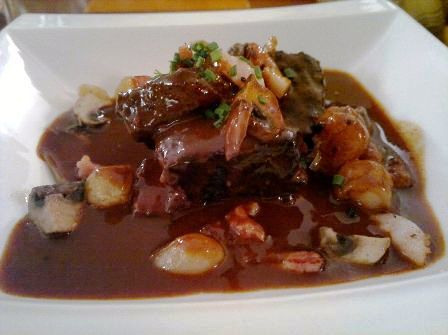 Mauro's Boeuf Bourguignonne (incredible!)
Joaqi's Magret de Canard
Again, "like yesterday", I had the signature
Pigeon Entier Rôti
(roasted whole pigeon); which Lorenzo also had.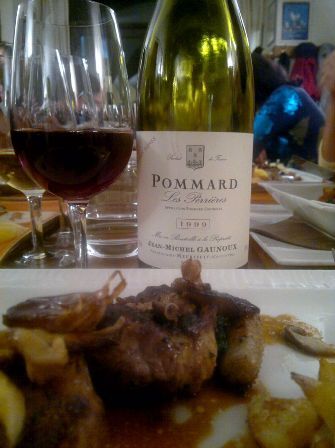 So delicious it deserves a tighter shot.
The pairing red for all the
plats principaux
was a
1999 Domaine Jean-Michel Gaunoux Pommard 1er Cru Perrières
- This domaine is owned and run by the son of François Gaunoux , who split from his father and established his own domaine in 1990 (see:
the 2000 Domaine François Gaunoux Pommard 1er Cru Les Rugiens I had at Le Gourmandin two nights before
). The Gaunoux name is an old and respected one in Burgundy, the most well-known of the family being the late winemaker Henri Gaunoux - the father of François, and, consequently, the grandfather of Jean-Michel.
As to the subject wine, it was evidently more refined and not of a modern cut as compared with the 2000 François Gaunoux Pommard Les Rugiens mentioned (the "father's wine"). It was not obviously extracted or concentrated or oak-lashed as the father's wine, rather, it was more rigid in structure/backbone and more streamlined - more of a classic cut as opposed to modern.
Both were very nice in their own ways, but this subject wine's healthier acidity and lighter touch of oak carried the day between the two, deftly cutting through the fatty, caramelized pigeon. Not as plush, polished, hefty, full-bodied or fruit-driven as the father's wine, it came off as comparatively rustic and ruggedly handsome. Good wines both; it just depends on the style one personally favors and/or what one is in the mood for.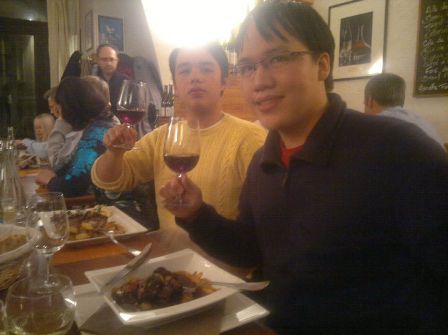 Nice wines, excellent food!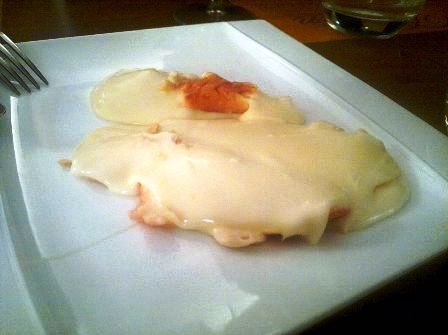 Some Epoisses before dessert.
Like lunch the day before, Fabienne kindly prepared an assortment of desserts for us - everything she had available that day -
Lemon Custard
,
Almond Cake
,
Pear Pie
- the
Chocolate Pie
and
Apple Tarte
was already sold out for the day, but, in their place, we had a
Wild Berry Pie
and
Crème Caramel
.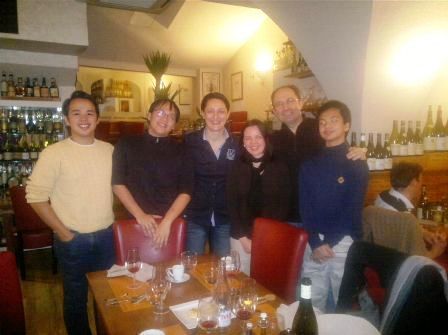 Pierre & Fabienne Escoffier with Catha and the boys.
Now, my sons know why I love Ma Cuisine so much. They've heard me talking about the food there time and again in the past, and now they know for themselves. Before we left, giving our thanks and saying our goodbyes, Catha told Pierre & Fabienne that she had always wanted to take our children to Ma Cuisine - and Fabienne said "And someday they will take their children here too!"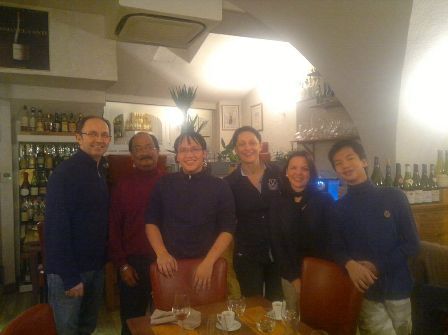 I have absolutely no doubt that they will. Until the next!