After a couple of hours' rest from an epic lunch at Ma Cuisine, I drove the family to
Vézelay
a little over an hour from Beaune. This was the third time there for Catha and I, but the first for the boys. Vézelay is yet another small, old, charming and tranquil town, the main attraction (for me, anyway) being the Vézelay Abbey, also known as the Romanesque
Basilica of St. Mary Magdalene
(
La Basilique Ste-Marie-Madeleine
, early 11th century), the beginning of the
Via Lemovicencis
route of the
Camino de Santiago de Compostela
.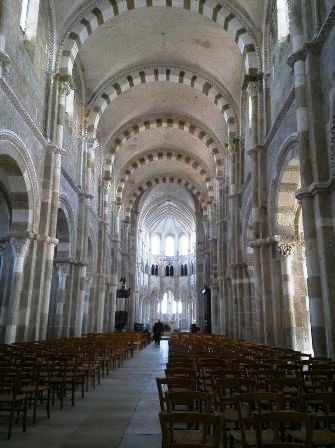 The life's journey of Mary Magdalene, the most successful of penitents it seems, from darkness to light served as inspiration for the basilica's architecture, as is readily apparent in the immediately-above photo.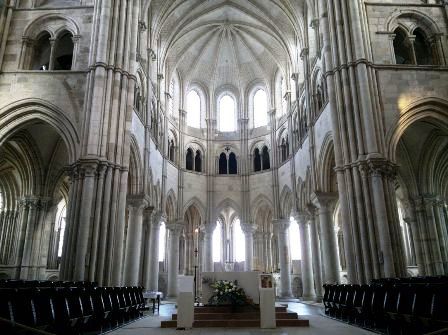 Closer shot of the altar.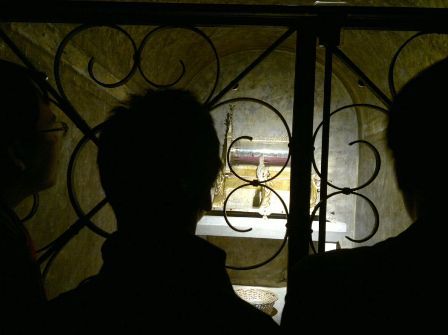 Underneath the altar area are stairs leading down into a crypt wherein relics of Mary Magdalene are kept.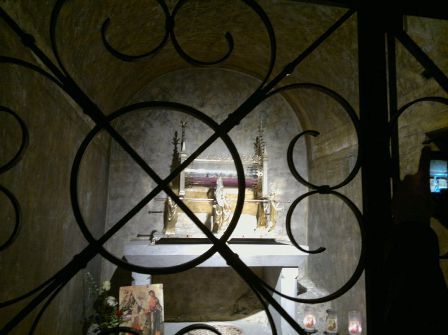 As close a shot I could get of the relic w/o sticking my hands past the bars.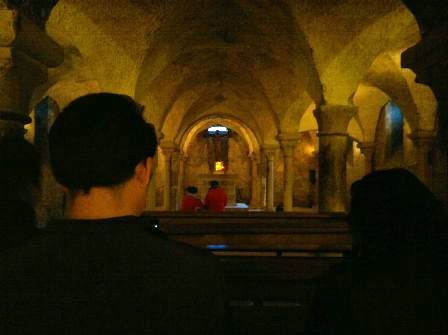 Saying prayers in the crypt.
Amusing anecdote: I asked each of my 3 sons separately if they would stay in the crypt alone for an entire night for P1M. Lorenzo & Joaquin immediately said "No", while Mauro immediately said "Yes, because God is there anyway."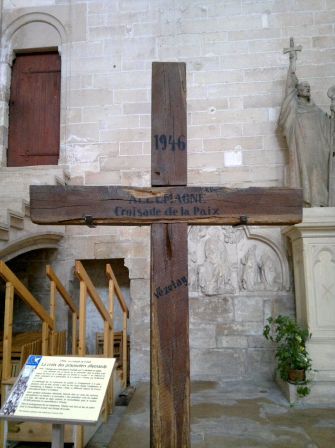 La Croix des Prisonniers Allemands
The German Prisoners' Cross: Shortly after WWII, Christian French organized an event to commemorate the 8th century of St. Bernard's preaching the Second Crusade in 1146. For the event, 14 wooden crosses were to be carried on foot from England, Belgium, Switzerland, Italy, and different parts of France, converging at the Vézelay Abbey.
Some German prisoners in a nearby camp asked to join the procession. Thus, a 15th wooden cross was hastily constructed. 30,000 people attended the event, including the German prisoners with their cross. This incident was, and remains, a powerful symbol of reconciliation for a peaceful Europe.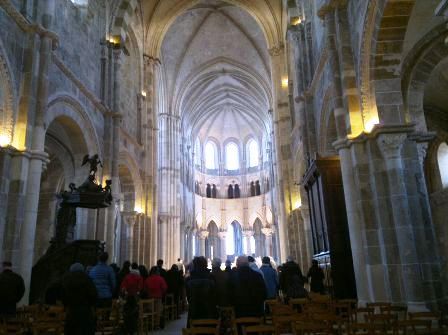 We heard 6:30pm mass at the basilica, the mass said in French, and parts in Latin, but we could follow somehow - especially the kids who, because of their Southridge Academy education, knew rudimentary Latin and would hear mass in Latin once in a while. I'm not the religious type, but the chanting and singing were captivating, inspiring - even for cynical, pragmatic lawyers such as I.
I know, I know, my photo lists to the left - but that is because I was taking a quick, hopefully surreptitious shot during mass because I just knew Catha would disapprove - and she did, as she quickly caught me and gave me a nasty look.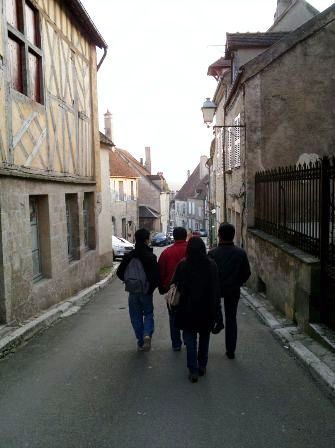 After mass, we walked down the hill, hoping to have dinner at Catha & my usual dinner venue in Vézelay, Gilles Lafontaine's Restaurant Le St-Etienne (Gilles used to be, among others, chef at Paris' famous Hôtel George V). Unfortunately, it was closed that night. Thus, we had dinner at
Restaurant-Hôtel La Cheval Blanc
at the base of the hill.
An order each of Duck Terrine for Catha & Joaqi to start.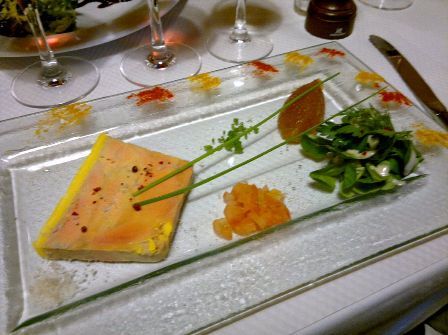 Foie Gras Terrine for Mauro's entrée.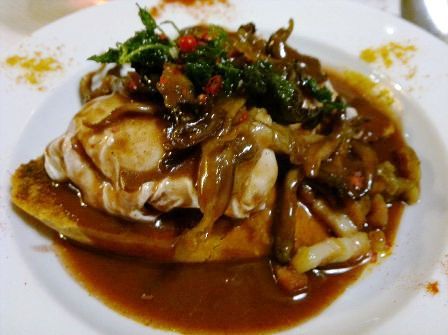 Lorenzo opted not to have an entrée, and, instead, ordered 2 main courses from the menu - above is his very curious looking rendition of
Cassoulet
. He found it weird, as did I. I've never seen a cassoulet that looks even remotely like that, and it had very few beans too.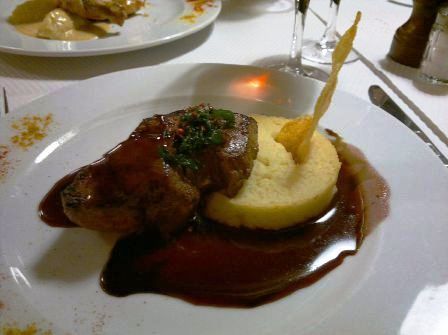 His second main course was the same as mine - the Foie de Veau (veal liver).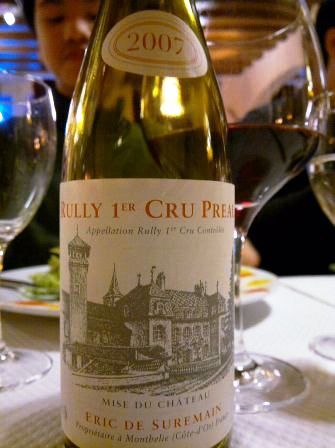 Having a long drive back to Beaune in the dark, I skipped the white wine and just ordered a half-bottle of
2007 Eric de Suremain Rully 1er Cru
- a simple wine, decent acidity which did well with the foie de veau, gentle enough for fowl dishes as well. Not much of a middle. Pleasant enough dark red berries with a topnote of pine. Not bad, but nothing worth analyzing more than that.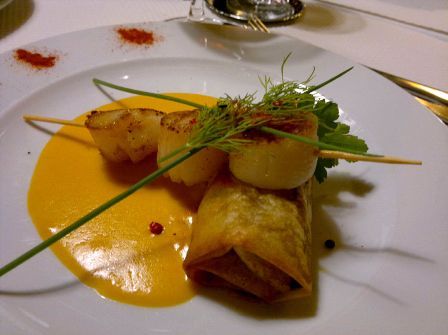 Catha's St-Jacques en Brochette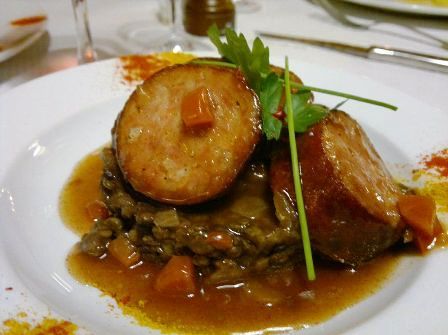 Mauro's hearty Sausage & Lentils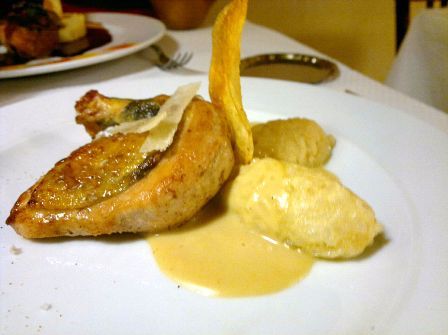 Joaqi's Pintade Rôti (roasted guinea fowl)...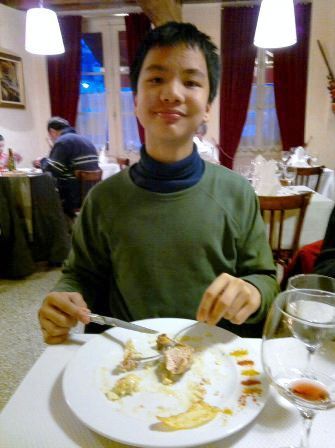 ...which he obviously enjoyed a lot.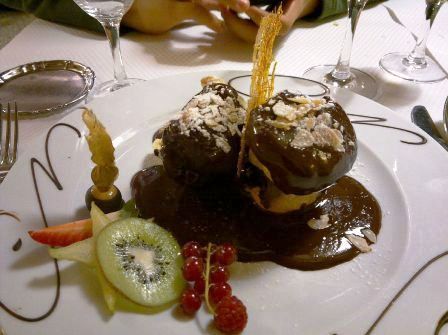 A couple of orders of shared Profiteroles for dessert.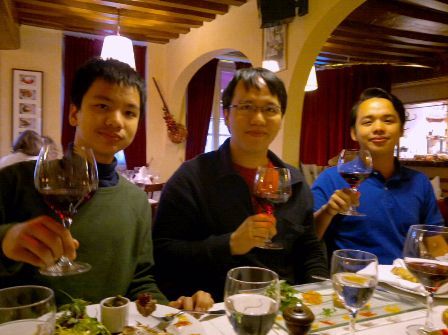 Cheers from Vézelay! Until the next!