Fortunate to have been invited to
Terry Selection's 40th Anniversary Dinner of Bodegas Marqués de Cáceres
, we were at 2ºPiso on the 20th May 2010. Aside from the de Terry family, many friends were there for the celebration. It was great to see JC and Mari again who I've not seen since we parted ways in Bordeaux before noon on the the 1st April 2010, they on their way to Toulouse, Catha and I headed for San Sebastian.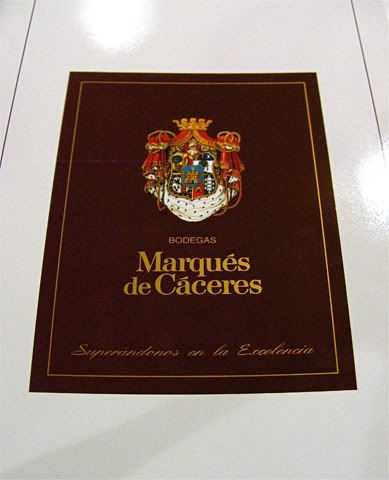 Coming from Doc's house, were a bit late and had missed cocktails; by the time we arrived, people had just taken their seats for dinner proper.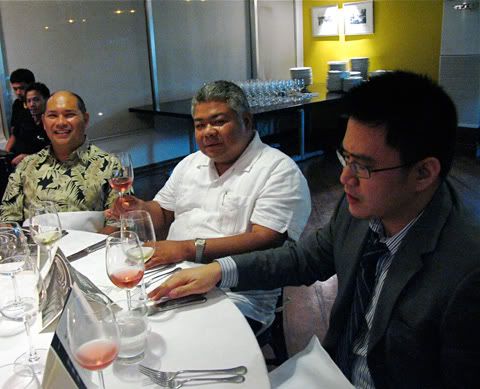 Martin Lorenzo, J-Lab & Aaron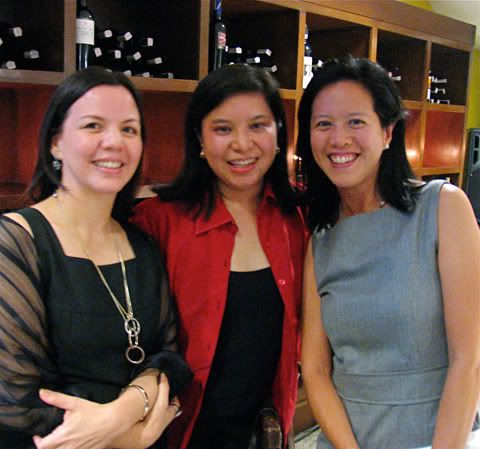 Catha, Nana Ozaeta & Yvette Fernandez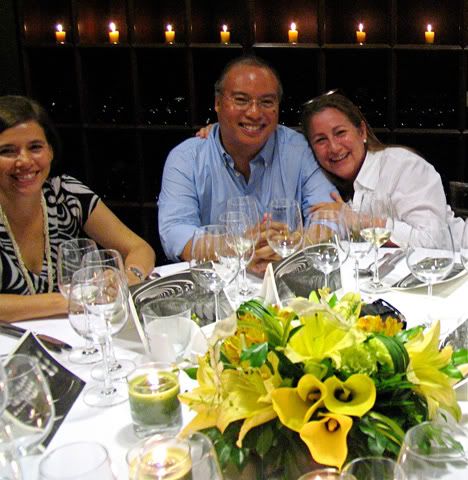 Gema with Jun and Baby-Lou Santos.
Soon after, the evening's impresario, JC, formally welcomed all the guests, said a few words...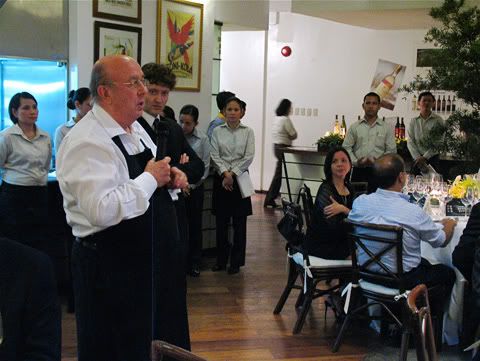 ...and then introduced Marqués de Cáceres' Export Manager,
Joël Martinez
.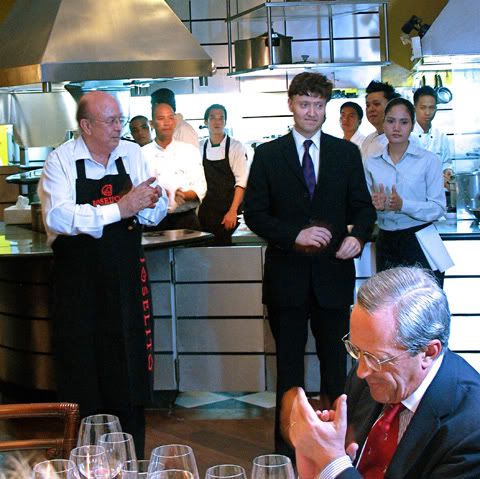 Doc and I met Joël around a year and a half ago
at a previous Marqués de Cáceres in 2ºPiso
. Joël, a Frenchman of some Spanish descent, gave a brief history of the winery. I recall having recounted this before, but, anyway, Bodegas Marqués de Cáceres was founded by Enrique Forner in 1970 at Cenicero, La Rioja Alta. The Forner family had moved from Spain to France in 1936 to escape Franco's fascist regime and engaged in the wine trade in the Rhône, the Loire and Bordeaux, eventually acquiring Châteaux Camensac and Larose Trintaudon (the latter being sold sometime in the mid-1980s).
Having moved back to Spain (la Rioja) in 1970 and establishing the subject winery, the family began producing wines with fruit from vineyards under long-term leases (of the 2,000-odd hectares of vineyards, only around 2 hectares are actually owned), employing many of the winemaking techniques from Bordeaux - among others, the old Riojan practice of long using old oak barrels was eschewed, casks were renovated on a regular basis, exposure to oak was reduced and at least 50% of all barrels being of French oak, the balance being American oak.
Per the transcript of an interview with Cristina Forner, the winery's Managing Director: "We believe in making the best possible product and offer it at reasonable prices to ensure our steady growth. We have had no problems with our sales." That statement is not at all difficult to believe as Marqués de Cáceres began exporting its wines back in 1975 and is currently the most dominant Spanish wine producer in the American market in terms of sales. To my mind, Cáceres does, indeed, deliver the goods inexpensively in every price bracket they play in. Quality-to-Price Ratios (QPR) are consistently good throughout its line of bottlings.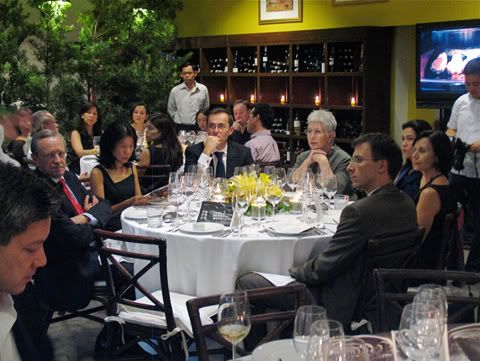 After the brief speeches, dinner proper was served.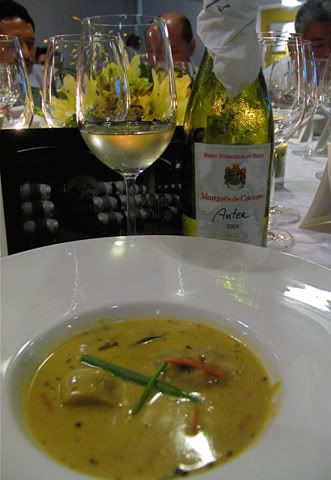 Romance de Ostra y Vino: Duo de Ostras y Alcachofas en Juliana de la Huerta Riojana
(Oyster and Artichoke Duet in Velvety Julliened Rioja Vegetables), paired with...
2008 Marqués de Cáceres Antea Rioja Blanco Fermentado en Barrica
- I recall having tried the 2004 Marqués de Cáceres Blanco Fermentado en Barrica and wonder how this Antea bottling is different, if at all. As I understand, this is 93% viura and 7% malvasia, kept on lees and barrel fermented (as its name indicates) in new French oak. A slightly over medium-bodied, somewhat creamily-textured white with good enough freshness in its ripely sweetish, soft, baked pear, apple, apricot, vanilla, almond paste and anise notes. This is available at
P605/bottle
.
My favorite part of the soup was the two, fat, juicy oysters hidden therein. I didn't even know they were there until they burst in my mouth. They were delicious. The soup had a touch of saltiness and a moderate pepper kick were soothed by the wine's lush, ripely-sweet fruit.
Between the soup and seafood courses, we were poured glasses of well-chilled...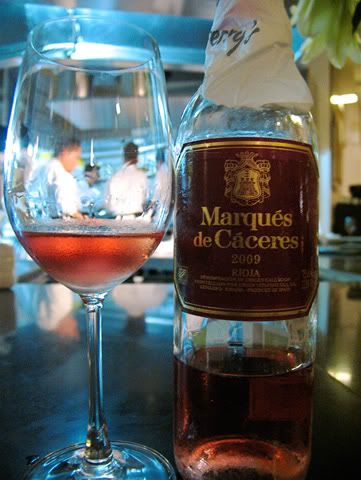 2009 Marqués de Cáceres Rioja Rosado
- 80% tempranillo and 20% garnacha per the winery's notes. This rosado is very easy to drink a lot of, especially in the summer's heat. Light, refreshing, honest, priced low and highly approachable in its straightforward strawberry-cherry flavors -
at only P470/bottle
one can back up the truck on this for the summer and year-round casual sipping in our tropical clime. I've noted several times throughout my ramblings that rosés/rosados I've found particularly suitable for our local cuisine. This rosado is no exception.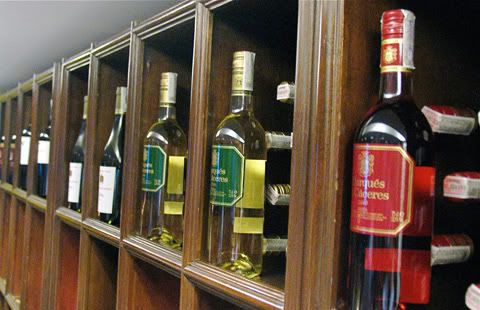 The seafood course was...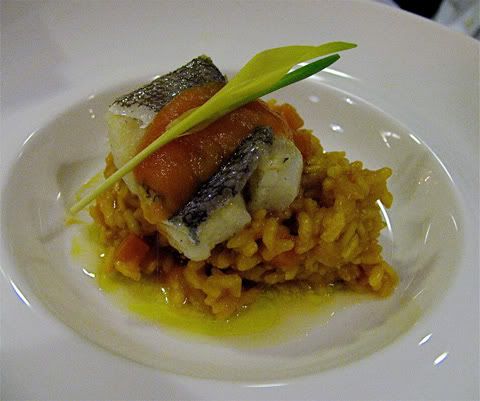 Un Canto de Castellón: Arroz Meloso de Bacalao a la Crema Balsámica de Calabasa (Delicate Codfish and Squash Risotto Castellón Style), paired with...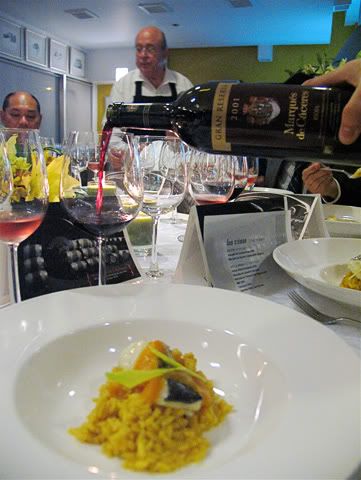 2001 Marqués de Cáceres Rioja Gran Reserva
- 85% tempranillo, with 15% graciano and garnacha from older vines. I know I've had this not too long ago but cannot find any notes on it - so I likely didn't make any. I've written before that certain Riojan gran reservas (usually the ones made in the style of Bordeaux such as this) can pair quite nicely with seafood dishes. JC demonstrated that to me during one of his dinners around 2 years ago or maybe less.
Nicely concentrated and has good depth of flavor (macerated black cherry/blackcurrant/blackberry, licorice, dark minerality, underlying worn leather, slight meatiness, some tobacco, vanilla, whispers of balsamico and cinnamon, some cedar and violets on a just-under-full body. Surprisingly light-footed for a 14%abv gran reserva, it went well with the fish and even better with the risotto. For its quality, it is
well-priced at P1585/bottle
.
I must mention that this dish was particularly favored by those at our table. Everything tied in well, the fish was precisely cooked, the risotto nice and earthy. My compliments to the chefs - who were, at that moment, busy plating up the meat course.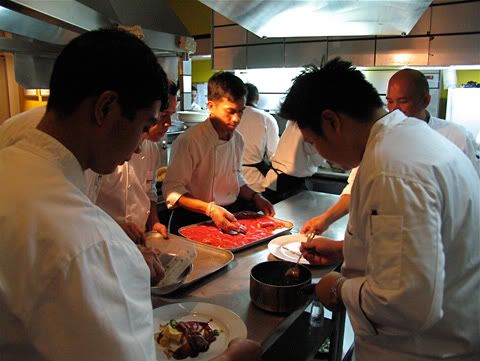 Luis and Team de Terry hard at work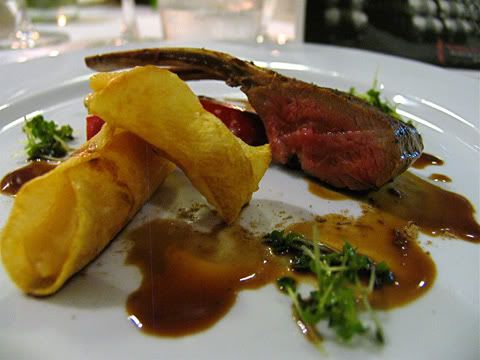 Sabores Legendarios de la Ribera del Ebro: Chuletillas y Piquillos a la Crema de Morcilla y Tempranillo
(Rioja Lamb Cutlet Symphony Bathed with Tempranillo Reduction)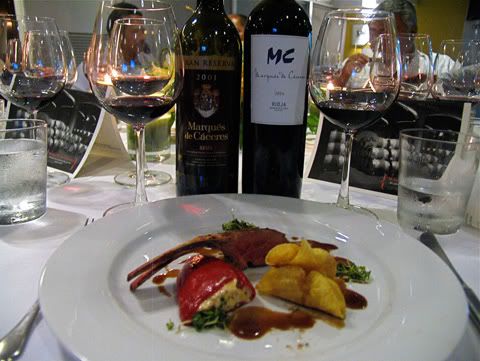 With this typical Riojan dish was paired...
2006 Marqués de Cáceres MC
- This was my first time to see and try this bottling, though J-Lab said he'd seen these before. 100% hand-harvested tempranillo from selected sites, malolactic fermentation in barrel, aged 15 months in new French oak barrels.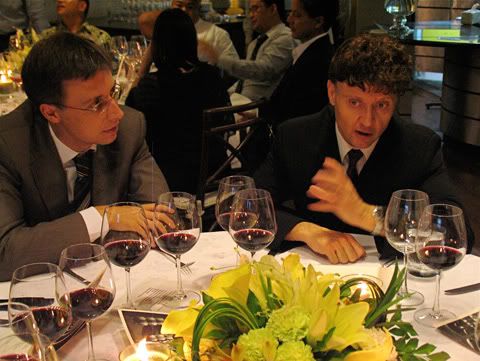 Very ripe, opulent, open and forward modern style. There is a sleekness to this full-bodied youngster, rich, forward, jammy, molten dark fruit, black cherry, kirsch, dark raspberry, toasty oak, licorice, vanilla bean, bit of cedar and mocha. Big but rounded, soft tannins, pretty smooth, acidity on the low side. Unabashedly opulent, with lots of concentration and extraction. Typicity? I couldn't really say until I taste this blind. I'd probably have a very difficult time identifying it until the oak fully integrates as this is still quite young. That said, it is very approachable and rich - likely to please those who favor the more
avant garde
style of Rioja - many of which seem to be flooding the "hip" bars and tapas scene of Barcelona (Paco Meralgo immediately comes to mind). This stylish young wine goes for
P1900/bottle
.
I also had the
chuletillas de cordero
with the preceding 2001 Gran Reserva which felt nice and comfortable, pairing just as well with the lamb ribs as with the previous fish/risotto dish.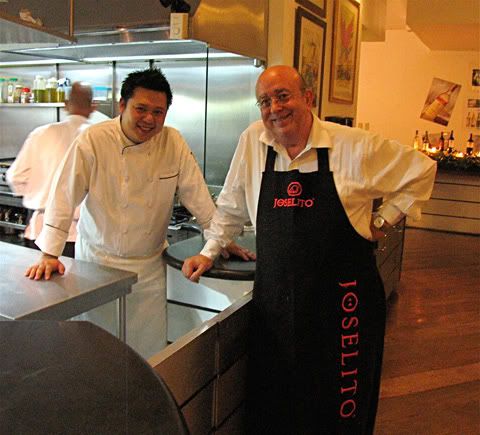 The chefs looking pleased with the results, and deservedly so.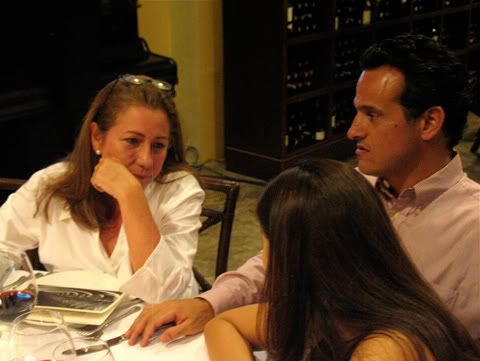 Gema with Santi & Marilen Elizalde (from whom we got our beloved, quirky and terribly spoiled dachshund).
Joël then began a more detailed presentation of the winery's history, wines, wine-making team, vinification processes, styles and characters of the different bottlings, etc. Everyone listened intently...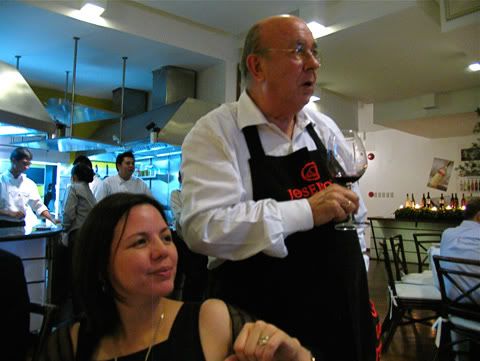 ...as the next pairing course was served.
This does not appear on the evening's menu, but it is a small soufflé that tastes of aged manchego and herb (rosemary?); it was paired with: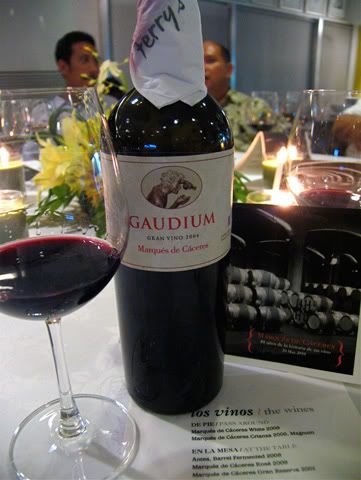 2004 Marqués de Cáceres Gaudium
- Tempranillo (appx. 95%) and graciano (appx. 5%), at least 18 months' aged in new French oak barrels, further aged in bottle for at least 2 more years before release. I've had the
2001 Gaudium
once and the
2002 Gaudium
quite a few times, but this was the first time I'd try the 2004.
The structure of this is firmer, sturdier and there is good acid balance. Good drive and power, but in a discreet and refined manner. Notably good balance. The fruit of this neat, full-bodied wine is well-ripened with black cherry, blackberry, cassis, some dark raspberry, underlying black coffee, hint of leather, light touches of balsamico, licorice, cinnamon and toasty oak/vanilla. There is very good harmony in its complex character - everything ties in seamlessly. It is comforting yet with a circumspect nature. Good wine. I would also have liked to try this with the lamb and the morcilla cream-stuffed Piquillo peppers. A nice Riojan tinto for hearty dishes of lamb or steak, this goes for
P3230/bottle
.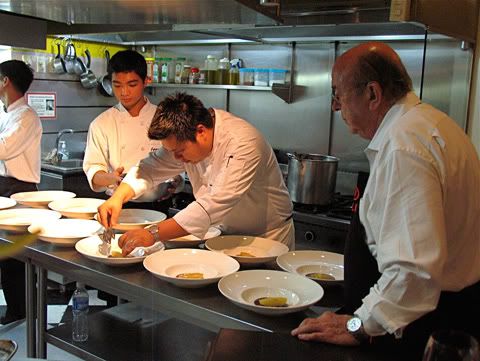 No rest for the chefs just yet; the desserts still needed plating and finishing.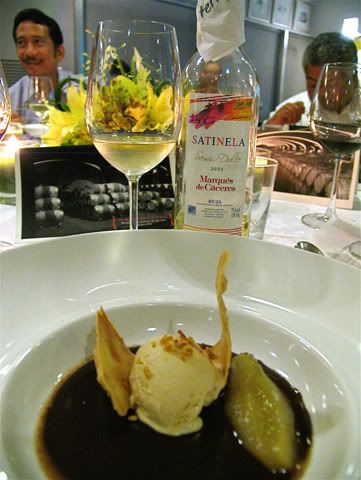 Por las Dulces Huertas de la Rioja: Compota de Peras de Alfaro en Crema de Chocolate al Jarabe de Satinela
(Rioja Pera Compote on a Bed of Ganache Drizzled with Late Harvest Satinela), with:
2009 Marqués de Cáceres Satinela Semi Dulce
- Made from late-harvested viura and malvasia. It had a white grapey flavor which made me ask J-Lab if he thought there was any moscatel in it, but he just shrugged his shoulders in puzzlement. I had forgotten I'd had the 2006 version at the previous Cáceres dinner and had written about its cepage. Age and good memory really don't mix, especially during a night of many wines.
Anyway, as I was saying, aside from the honeyed white grape base, the subject wine also had sweet pineapple, peach, apple, slight pink grapefruit, orange blossom and a bit of spice around a bright acid backbone. Good lift; very pleasant and very affordable, the 2009 Satinela Semi-Dulce is
a mere P450/bottle
.
The pears were macerated in the Satinela, per JC, for 3 days if I remember properly. Aaron mentioned that JC asked him if I had detected the hints of clove in the dessert. I must admit not being able to pay so much attention since I was too busy eating (careful not to eat too much of the chocolate sauce that seems to trigger my dizzy spells), taking photos, discussing the wine with J-lab, etc. - such is it at large parties, moreso when I happen to know most of the people there (aside from those already mentioned and in my photos, Malou Fores, Ana Rocha and Cyrille & Anna Soenen were there, but where was Antonio, though, I wondered).
As regards the dessert itself, well, let's just say J-Lab, an accomplished gourmet and a man of concise speech, was silent while eating it, looking up at me briefly only long enough to declare "Ang sarap nito!" I couldn't have agreed more, buddy. Masarap talaga. It was all I could do not to wipe my bowl clean of the deeply-flavored chocolate sauce.
Though my belly was bursting long before the end of the meal, I was very happy. Yet another of countless nights of great food, pairing wines and good friends at Terry's 2ºPiso. How can one help but enjoy?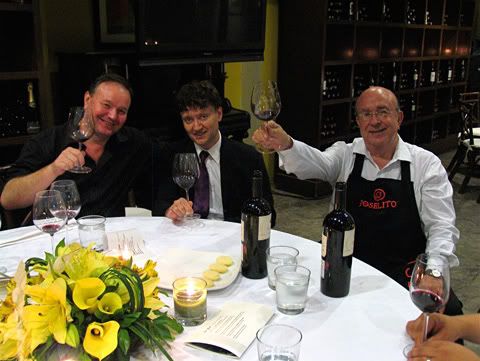 ¡
Enhorabuena a Bodegas Marqués de Cáceres y Terry Selection
! ¡
Salud y hasta la proxima
!