Our last full day in Spain of this trip was spent in Barcelona, back at Miguel's place where the trip began. It was the 6th of April, and Catha and I were to fly home early morning of the 7th. Though Tita Rose was busy with business meetings morning to mid-afternoon of the 6th, luckily, she was free to join us for dinner. It was the least we could do (inadequate as it was) for all her kindness, generosity and hospitality.
The dinner's timing was even more opportune as, huge Barcelona football fan that Tita Rose is (her whole family as well), her home team had an important game that night against Arsenal. Since her house is literally across the park from the Barcelona Stadium, the crowds' roars, not to mention the inebriated chanting of the thousands outside without tickets, would put her on edge.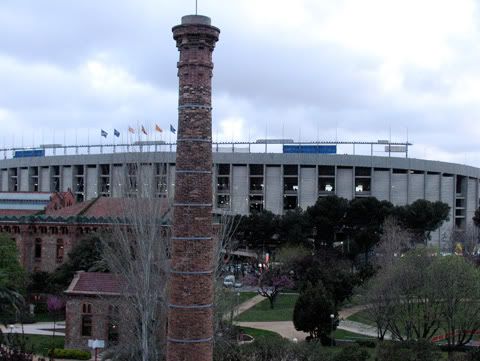 The flags were out, signalling a coming game.
Well, in any event, she graciously accepted our invitation to get away from the maddening crowds that evening. On our own earlier that day, Catha and I went to Casa Milà, more popularly known as
La Pedrera
designed by
Antoni Gaudí
.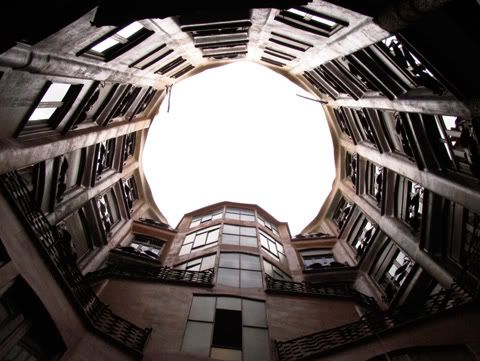 View from the bowels.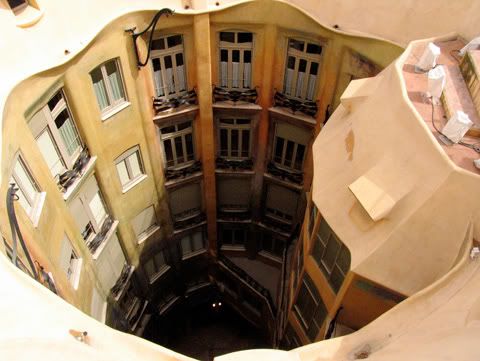 View from the top.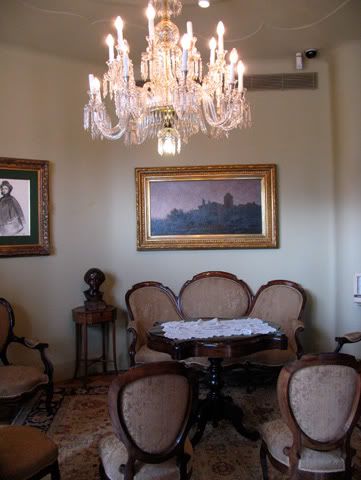 The Apartment's Living Room...
...Dining Room...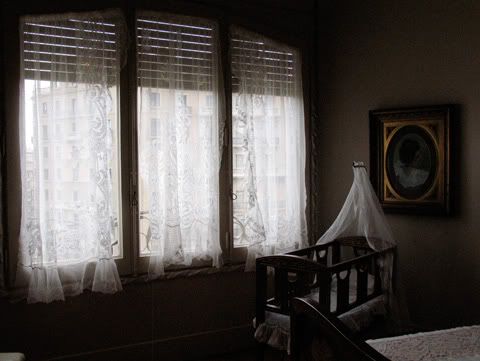 ...Nursery...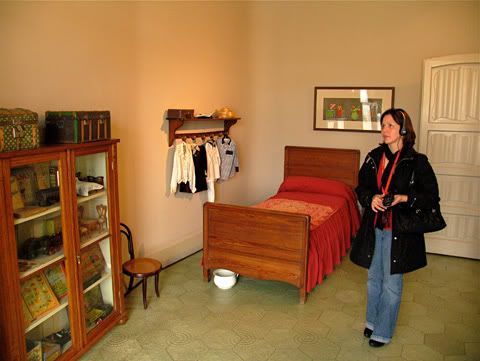 ...and Child's Room (I told Catha the bed was her size)...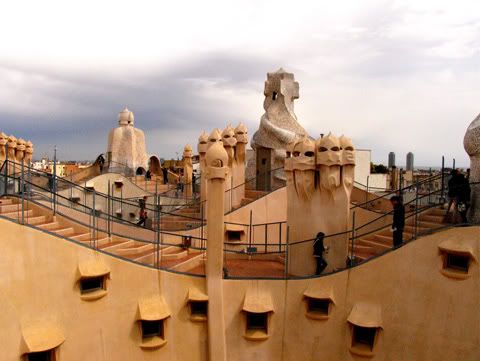 Rooftop...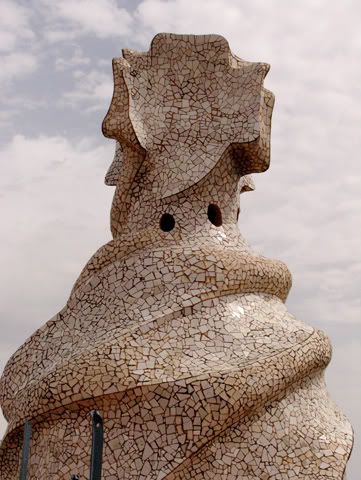 ...with elaborate turrets, chimneys...
...statues...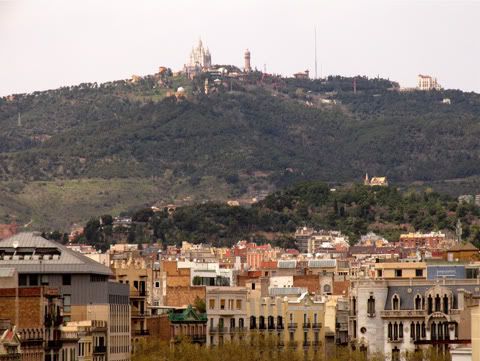 ...and a stunning view of Barcelona.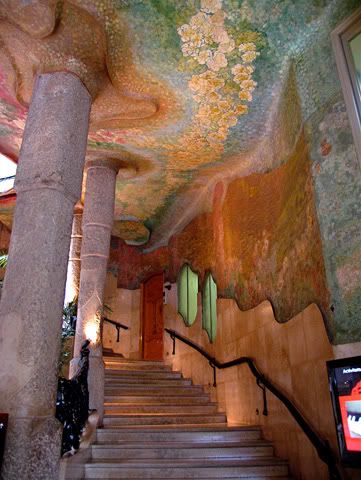 This ground level stairway just grabbed me for some reason.
I didn't think there was all that much to see inside- mostly reproductions of the furniture designed by Gaudi and models of his other architectural works - these things don't much interest me as I can neither eat nor drink them. Thus, we were done in a couple of hours, then proceeded to...
...
Casa Amatller
(on the left) to buy some chocolates to take home to the children. It was built in 1898 to 1900, designed by
Josep Puig i Cadafalch
as the home of wealthy chocolatier, Antoni Amatller. Right beside it is
Casa Batló
(locally called the
Casa dels Ossos
, or "House of Bones"), the restoration of which was executed by
Gaudí
and
Josep Maria Jujol
. We didn't enter Casa Batló since Catha had already been there earlier that trip...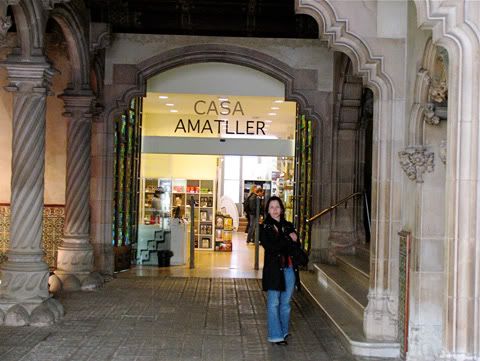 ...but she did enter Casa Amatller for the chocolates. I went in for a minute or two, but it's really just a chocolate store, nice as it was, so I just went out to take some photos.
That done, we headed back near Tita Rose's place for more of
Ribera Manero
's excellent fresh seafood. Here is where
Miguel and Tita Rose took us to our first lunch in Barcelona this trip
, and I'd been dying to go back for more since.
It happens to be in a mall: Les Corts, l'Illa, Avinguda Diagonal, 557
08029 Barcelona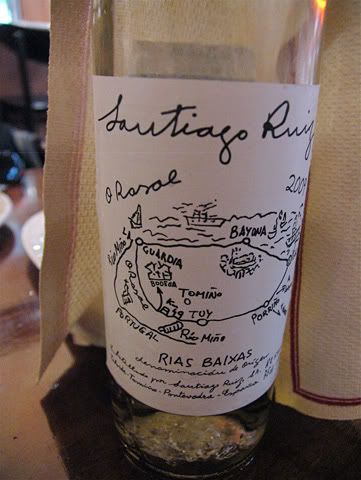 I immediately ordered a bottle of
2009 Santiago Ruiz O Rosal
(Rías Baixas), Miguel's refreshingly crisp, vibrantly fruity but dry go-to albariño off the restaurant's wine list (perfect with fresh seafood), and we were good to go. I do not question Miguel's choices regarding Rías Baixas albariños as he was the one who taught me about these particular wines. This simple, charming wine was up to the task: lightly floral, honest fruit, healthy acidity and a dry, refreshing lift - you name it for fresh seafood. It was a perfect pairing for all our dishes.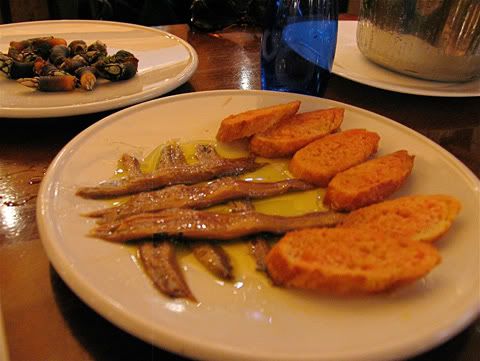 Anchoas con Pan de Tomate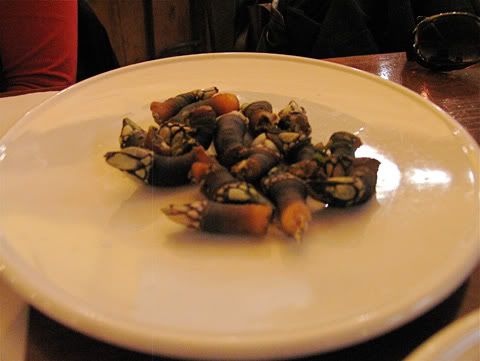 Percebes
(In-Season Barnacles from Galicia)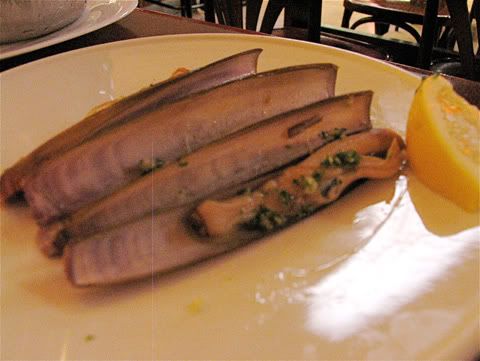 Razor Clams (I got 2 orders of this)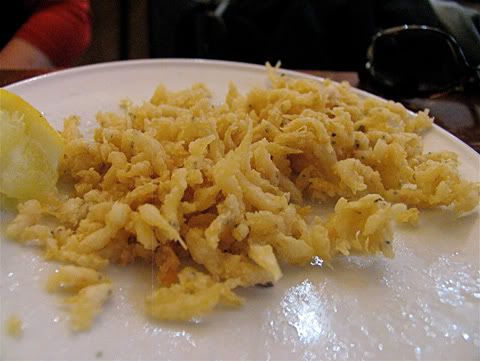 Chanquetes
(small, creamy fish somewhat reminiscent of our local
Dulong
)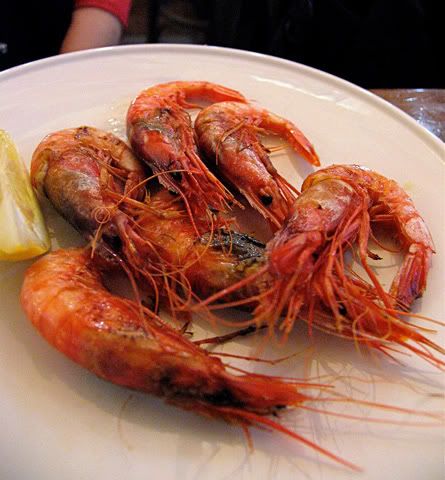 Gambas a la Plancha
, the best I've had this trip.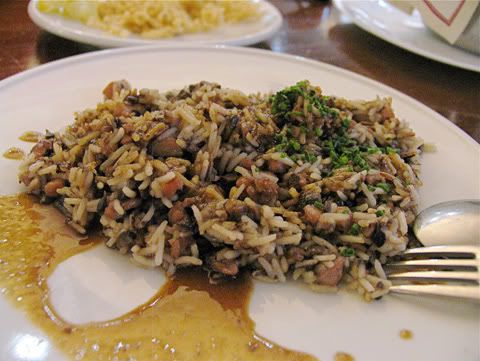 This rice dish was recommended to us by a very charming and efficient Filipina waitress who works there, and it was absolutely excellent. Not to be missed. Excellent call. I love this restaurant.
Next, this trip's last hurrah dinner in Barcelona with Tita Rose: Roast 21-Day Old Lamb and more.