After another great seafood lunch at Ribero Manera, Catha and I walked back to Tita Rose's place, stopping by
LaViña
and
El Corte Inglés
along the way so I could pick up some more bottles to bring home to Manila. As luck would have it, Bodegas López de Heredia had just newly released their vintage 1994 Viña Tondonia Gran Reserva to Corte Inglés, so I was able to pick some up.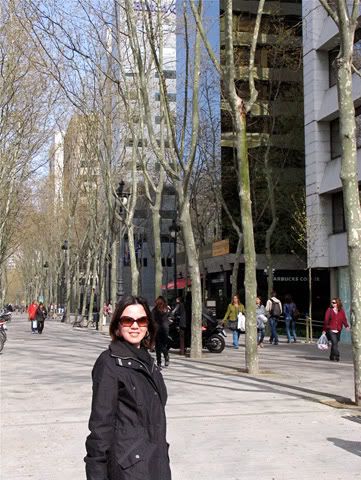 As we neared Tita Rose's, we already noted a number of large packs of rather unkempt-looking Brits - obviously Arsenal fans in town for the big game against Barcelona that night. Down the street from the Vecin home, a large, crowd was already gathering and occasionally chanting.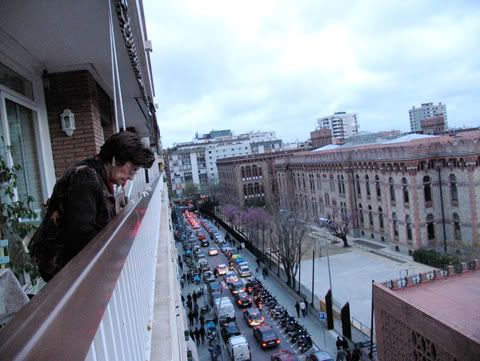 Tita Mary and Tita Amen (Miguel's
abuela
and aunt, respectively) live right next door and share a balcony with Tita Rose. In the photo above, Tita Mary checks out the traffic building up due to the crowds of fans waiting for the stadium doors to open.
Tita Mary and I walked down the street to get a close look at the crowds so I could take some shots and experience the excitement. We stayed on the Barcelona side, though, just to be safe. I'm not sure if they are visible in the photo below, but there were already a good deal of policemen in full riot attire on the right side.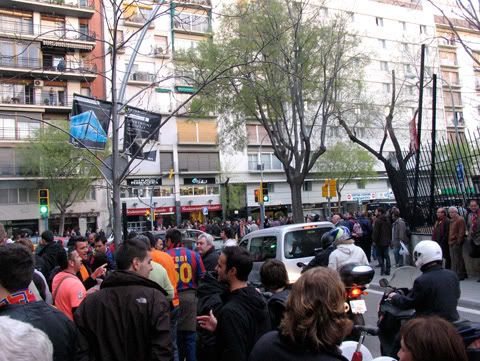 We eventually got ready for dinner, so, at around 8:30pm, Tita Rose, Catha and I took a quick cab ride to
Restaurante El Asador de Aranda
(Tibidabo Branch).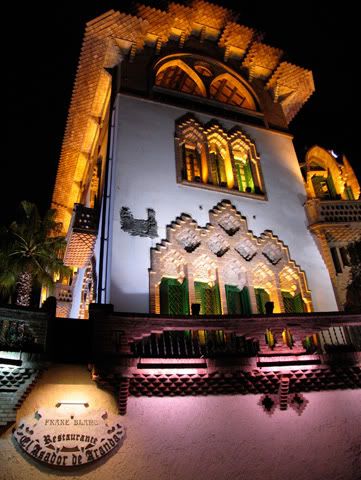 Catha and I had lunch here earlier this trip (on Miguel's recommendation) and loved it so much I vowed not to leave Spain without eating there again.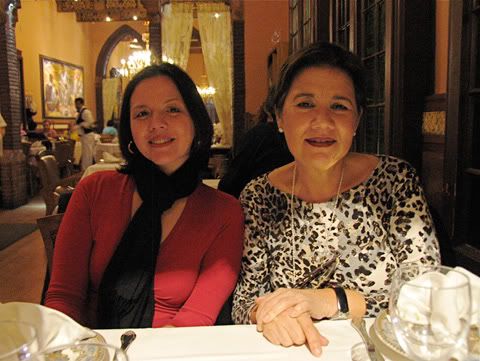 My two lovely dinner companions for the night.
Tita Rose and her family are regulars of the restaurant and the people there know her well. She asked us what we felt like eating and did all the food ordering for us. All I had to do was choose the wine - just one bottle of red that night as Tita Rose cannot drink and Catha and I had an early flight home the next morning. No serious/well-aged vintages or bottlings on the wine list, I settled for a very reliable tinto Riojano I've had a few times before. It didn't take long before the food started to arrive.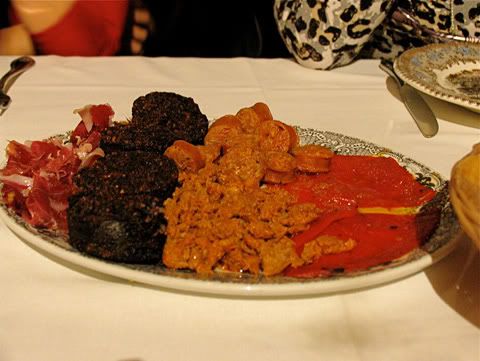 R-L:
Pimientos del Piquillo, Picadillo & Chorizo de la Olla, Morcilla de Burgos (con arroz y cebollas)
and
Jamón de Jabugo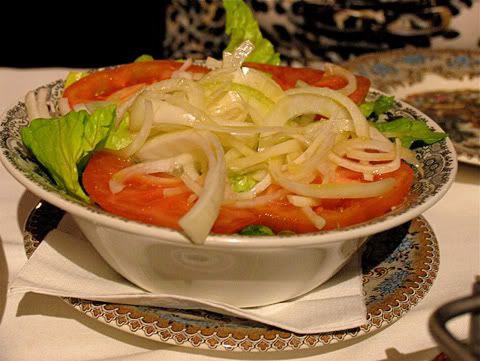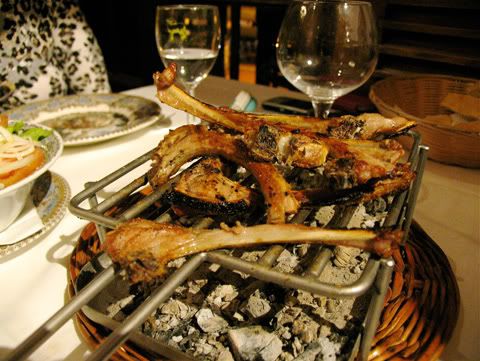 Chuletillas de Cordero a la Braza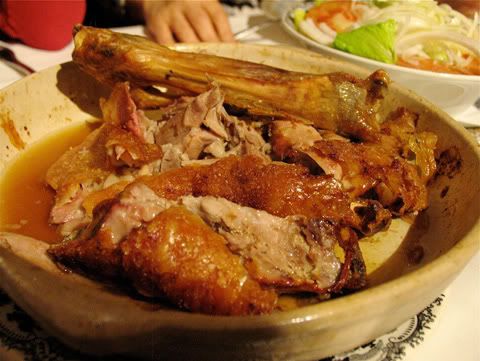 Lechazo Asado en Horno de Leña
(21-Day Old Suckling Lamb Roasted in a Wood-fired Oven)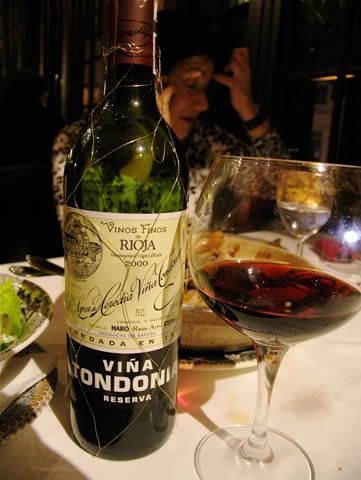 Tita Rose had constant telephone updates from her friends on the big game.
2000 Bodegas López de Heredia Viña Tondonia Reserva
- I've written about this wine twice before, the last time on occasion of
a tapas and traditional Rioja night at Miguel's place
on the 20th February 21010, where I stated:
The first red to be served was my 2000 López de Heredia Viña Tondonia Reserva - I opened a bottle of this not long ago during Team Panic's Lunch at Je Suis Gourmand. Though I had made previous notes on this wine, I wanted to revisit it at a relaxed pace. My previous notes were as follows:

"Firmly structured but approachable, its fruit somehow didn't seem as well-rounded or ripe as the '99's; a bit linear though, not much of a crescendo to speak of. Still, there was good dark fruit: deep, black cherry, strawberry, leather, bit of licorice, violets and well-integrated wood. Good with the hearty meat course."

Though this bottle was pretty consistent, the differences were (nb: this was decanted for around 45 minutes-1 hour while the previous bottle was not decanted at all): it displayed more of a middle, the fruit was more expressive and vibrant, the cherry had a slight tartness to it, the cedar notes a bit more apparent.
The bottle at the subject dinner seemed marginally deeper, better focused and fresher than the previous two bottles (which I bought in Hong Kong). With the lamb, it was a fine enough match, but nothing earth-shattering at all. It is a very good eating wine, though, there is no doubt about that.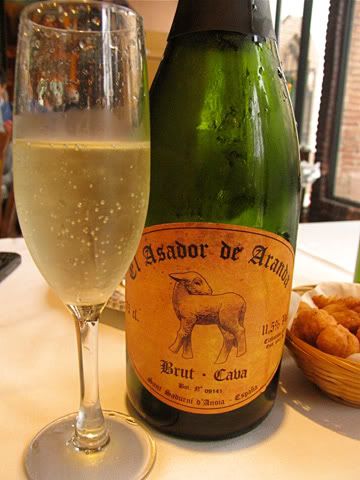 Glasses of the house's own special cava cleansed palates before shared desserts of the
Hojaldre de la Casa
and an order of
Mousse de Limon
. I forgot to photograph the desserts, unfortunately - that's a sure sign I was very relaxed and just enjoying myself that night. The fact that Barcelona won the big game handily (4-1) added a festive note, shared via text-messaging with Miguel who was watching the game back in Manila.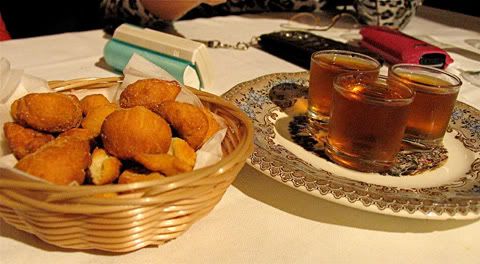 Rosquillas and Orujo Anvejecido con Herbes y Miel
A double espresso for me capped the meal nicely. It was a wonderful and relaxing dinner that brought an end to a 3-week whirlwind of daily wining-and-dining in around Spain and Bordeaux.
Many thanks, Tita Rose & Miguel, for your hospitality and taking care of Catha while I was at the Rioja, the
Ministerio de Industria, Turismo y Comercio
&
ICEX
for inviting me to Spain, to Juan Carlos de Terry (who knows very well why I thank him), Edouard Miailhe for graciously inviting me to and hosting us for the 2009 Bordeaux
en primeur
tastings, and to all the others who shared their wines, knowledge and precious company which made this vacation simply unforgettable.
Un millón de gracias a todos
!