26th March 2010, continued
.
After our tour, tasting and lunch at CVNE's Viñedos del Contino, we proceeded to the Vivanco family foundation's
Museo de la Cultura del Vino
in Briones (Rioja Alta)...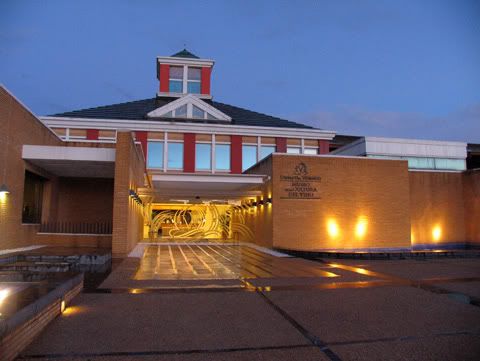 Amusing sculpture near entrance
...where we were received and toured by Rafael Vivanco Sáenz. Aside from being one of the owners and directors of this museum, Rafael is also the winemaker of their family's relatively new but well-received and successful
Bodegas Dinastía Vivanco
.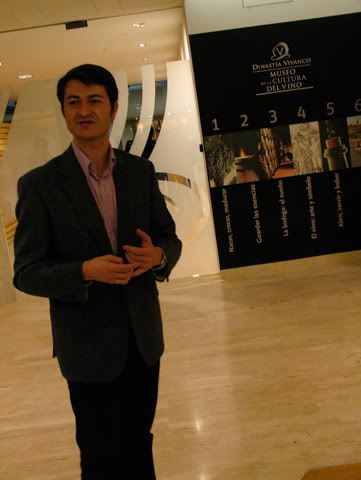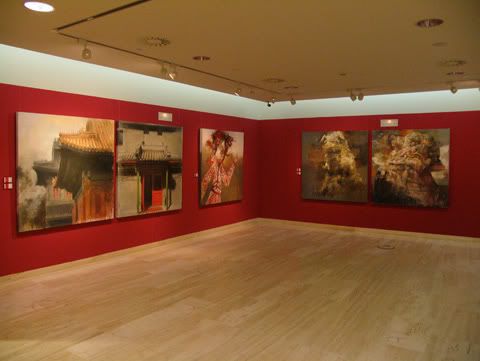 A small Asian exhibit near the entrance
Through their foundation, the Vivanco family's two main objectives are to: (1) "support research and implementation in viticultural and winemaking practices"; and, (2) "highlight the rich historical and cultural legacy that wine has created over many centuries". This is acheived through, among others, sharing with the public the wealth of their family's own collection of wine-related artifacts and antiques, encouraging and inviting the collaboration/participation of similar foundations and like-minded individuals/associations, engaging in/holding activities such as workshops, lectures and the like in coordination with the Spanish Department of Education and Cultural Activities, etc.
NB
: Taking photos inside the museum itself is prohibited unless one gets pre-arranged special permission. As members of the Asian wine press, we were issued such permissions and corresponding IDs to take photos. Bags are to be checked in, the museum provides lockers for visitors.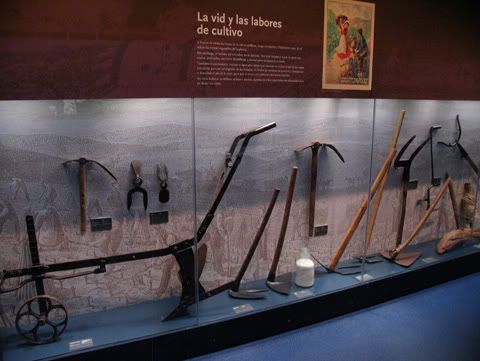 Old hoes and plows specially designed for vineyards.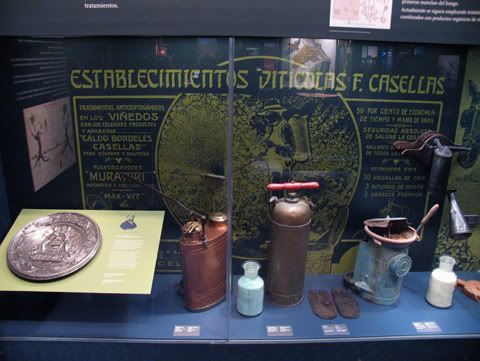 Old vineyard sprayers and pumps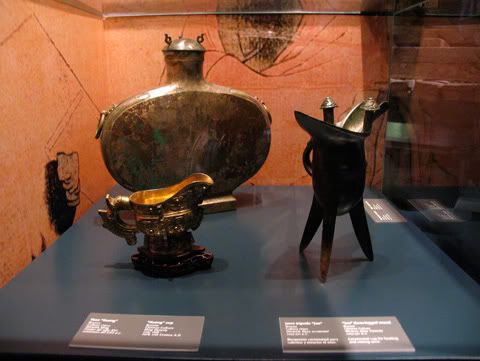 Ming Dynasty Bronze "Kuang" Vase & Cup; Western Zhou Dynasty Bronze Jug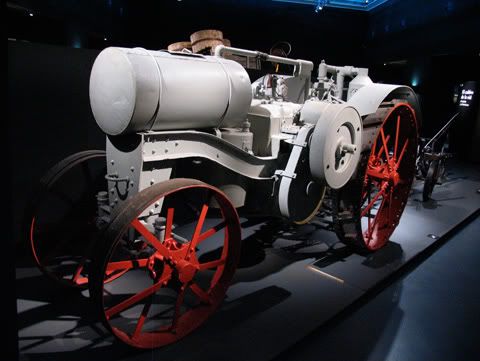 The very first tractor in Rioja (imported from the USA)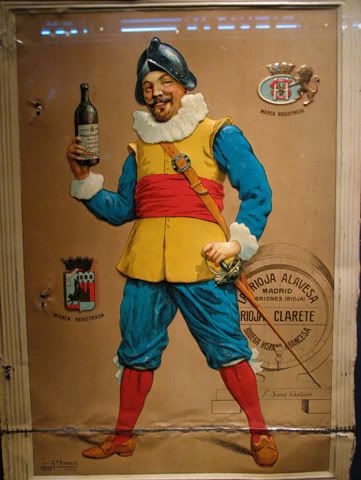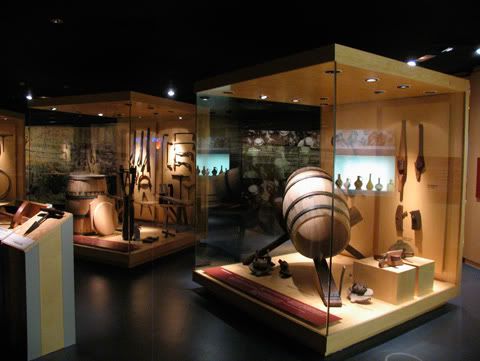 Barrel and cooperage display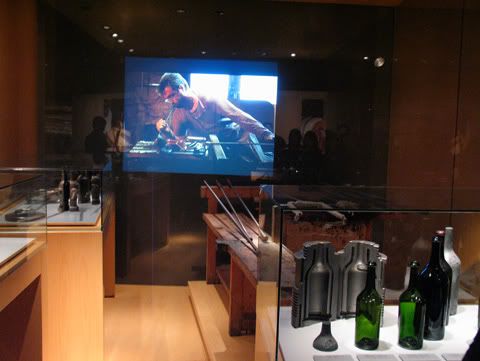 There are great videos throughout showing, among others, the stages of vines throughout the seasons, how to make barrels, etc., but the one above was my favorite - how wine bottles were blown the old fashioned way.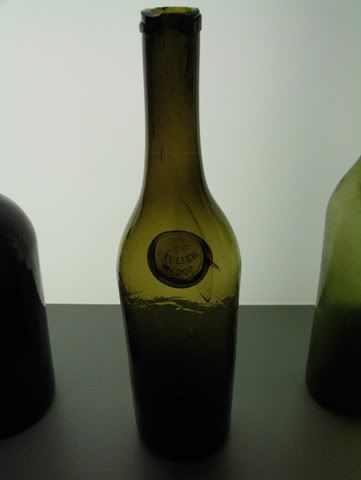 An old bottle of St-Julien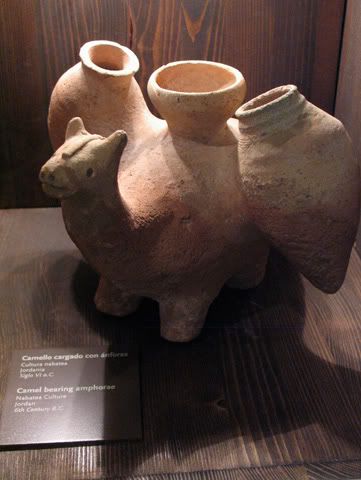 6th Century BC Jordanian figurine of a camel bearing
amphorae
(2 handled ceramic vases used for transporting various things, including wine).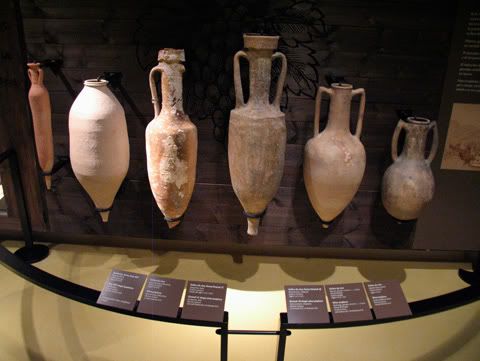 Amorphae
for wine and grapes (Greek and Roman eras) used in North Africa, Palestine, Italy, Spain, etc.
19th century wineskin with tap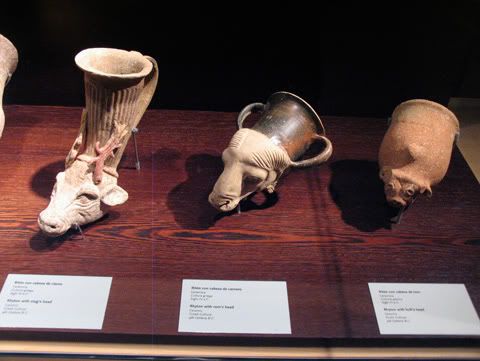 Assorted ceramic
rhyta
(or "rhytons" = pourers), the first 2 from the left are Greek (4th century BC) and the one on the right is Phoenecian (3rd century BC).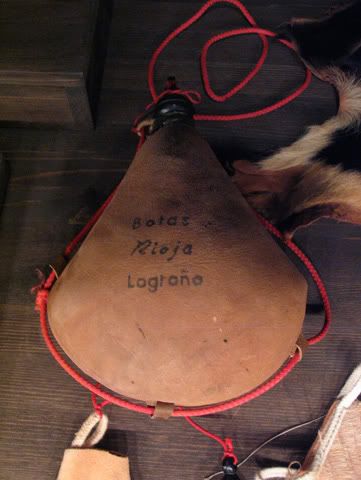 Of course, the old, rustic Riojan
bota
- a lot are sold in souvenir shops in Rioja, but I forgot to buy one to take home with me. I'm still kicking myself about that.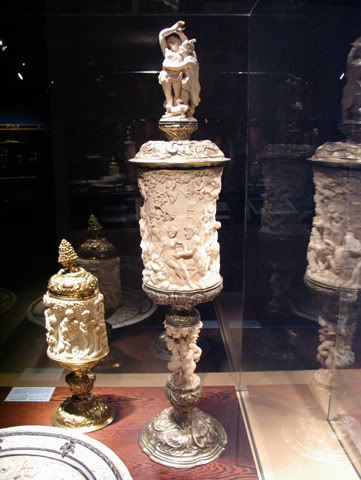 19th century German ivory and gilt bronze goblet with bacchanalian design
The wine museum has many, many interesting artifacts, not all necessarily wine-related...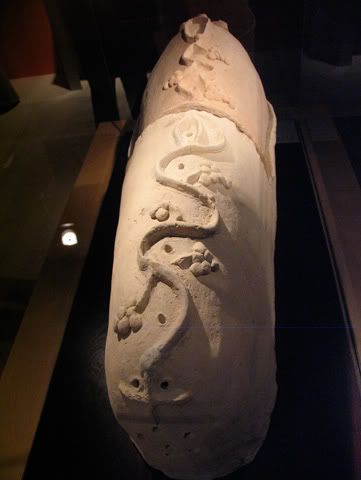 ...the Vivancos even have their very own Egyptian sarcophagus. Every family should have one.
They had many interesting paintings as well.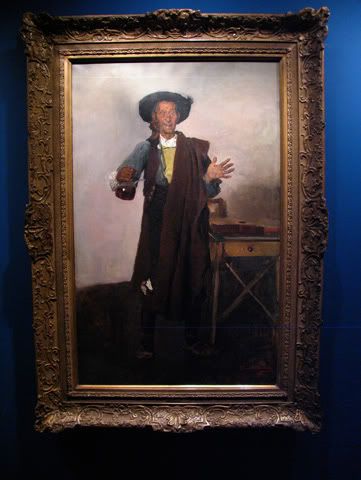 I particularly liked this 1898 oil on canvas by Joaquín Sorolla entitled "Entre dos Luces" - of an old fellow in Valencian attire holding a
porrón
at dusk (i.e. a thin-spouted wine vessel common in the Catalunyan region).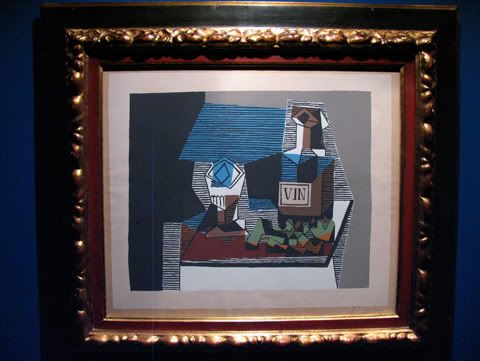 Yes, it's an original...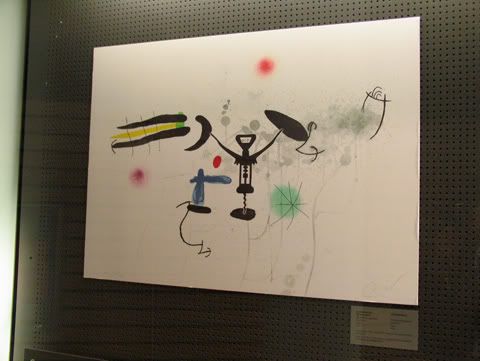 ...and so is this.
What truly amazed was that, upon my asking Rafael how long the Vivanco family had been amassing such a vast collection (6000 square meters' worth), he replied that it all really began with his father, continued by he and his brother - so that's around 40 years and 1-½ generations. Wow, that was pretty fast considering the collection we are talking about.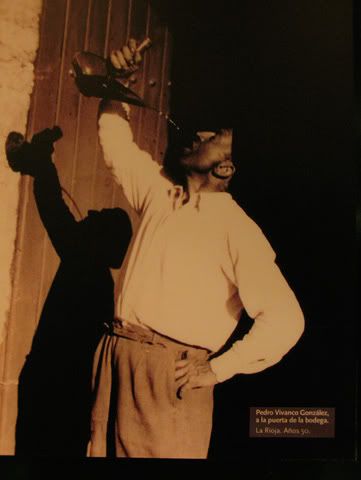 As regards wine-producing, however, Rafael's grandfather, the above-depicted Pedro Vivanco González, started it all in 1915 in the town of Alberite, La Rioja Alta (around 10kms. south of Logroño) where he already owned vineyards, whereat, in 1940 he bought a small wine cellar business. He was followed by his son, Santiago, and he, in turn, by his son, Pedro Vivanco Paracuellos (Rafael's father) who studied at the Requena School of Enology and dedicated his life to the wine trade. As earlier stated, now, Rafael is the winemaker and head of Bodegas Dinastía Vivanco, the 4th generation Vivanco in the wine business. Rafael's elder brother, Santiago, a lawyer and MBA holder, plays a key role in the management and operations of the museum.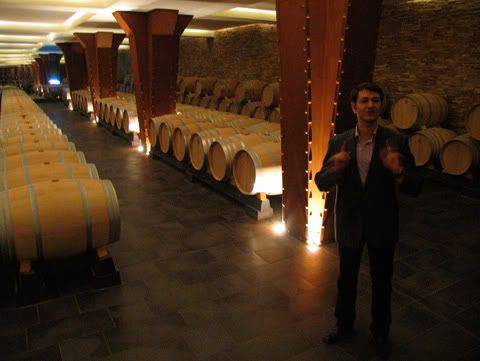 Rafael lectures in the 5250 square meter Sala Hipóstila, where their wines are aged....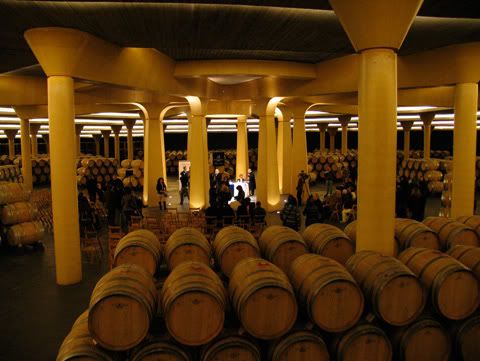 ...and where a poetry reading was underway as we tasted in another large hall nearby.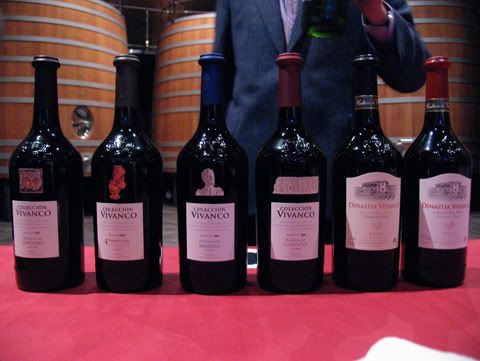 These were not all of the wines tasted; I recall having a blanco and rosado as well.
We pretty much rushed through the wines as it was already quite late and we had to proceed to Bilbao that night. Even Rafael seemed pressed for time (surely he had to attend to his other guests at the poetry reading as well). I had no opportunity to write down detailed notes on any of the wines. What I recall vividly, however, is that I liked the blanco (pure, crisp, tropical fruits), and rosado (good depth, slightly hefty rosado, enjoyed it) and that the reds, in a decidedly modern Rioja style, had a common lush, rich, very ripe, concentrated fruit-forwardness to them. Oak creaminess and barrel-related spice were quite apparent, but skilfully played, maintaining decent to good freshness throughout the bottlings tasted.
If one is in the area, the Museo de la Cultura del Vino is definitely a must-see. It is pretty amazing - and I'm not really one for museums. One could easily make a day of it as they have a very nice looking restaurant and wine bar as well - in fact, I recommend it since one really needs several hours to go through everything at a relaxed and properly appreciative pace.