Doc called for cocktails at his home
for before the Marqués de Cáceres 40th Anniversary Dinner at Terry's 2ºPiso the 20th May 2010 (separate post on that). Besides Doc, Catha and I, Aaron and J-Lab also joined us. Knowing Doc, we all knew no run-of-the-mill wines would be on deck. We were not mistaken. All the bottles and pica-picas were from him.
Catha and I were the last to arrive. By then, the guys had already made good headway into a very nice hunk of Cougar Gold white cheddar cheese from Washington State (locally available from JARIC Marketing, Inc.
*
, e-mail: sonia@jaricmarketing.com or call 8981371-74; you can also order the now locally available
Bryan Flannery Steaks
)...
...Josélito
jamón bellota de Jabugo
,
salchichon
(both from Terry's Selection, sorry, no photos) and killed the first bottle of bubbly. Doc immediately popped open another bottle of the same.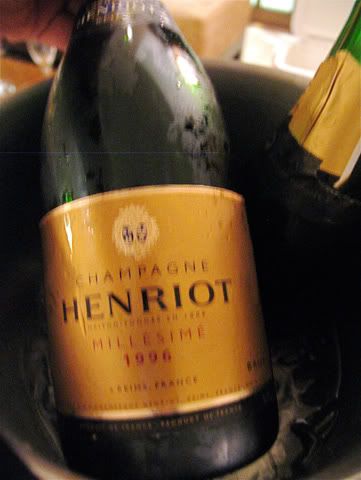 After pouring for Catha and I, Doc decanted the rest of the bottle (per recommendation of the producer)...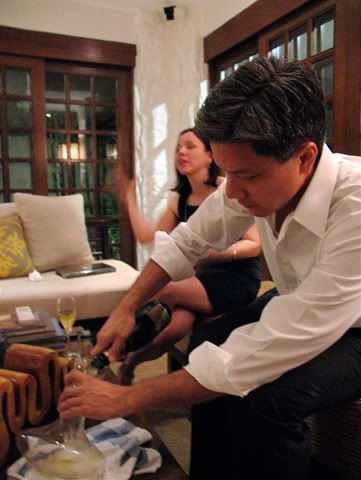 ...and kept the decanter on ice.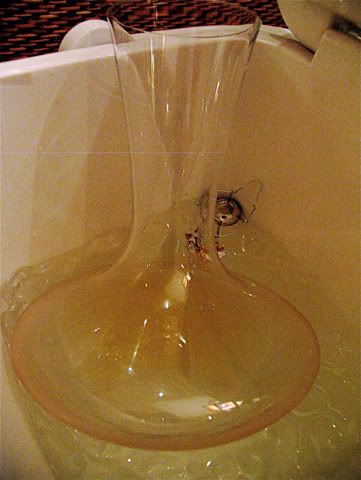 1996 Champagne Henriot Brut Millésimé
- Excellent, full, hefty, robust, yet lively, vibrant and light-footed fruit vintage Champagne from an excellent year. Founded in 1808, Champagne Henriot, to this day, is family-owned and run. Notable ripeness, complexity, indulgent layering and lovely, bracing acidity make for an impeccably balanced and impressive champagne. This bubbly calls to mind wild honey (in the nose), lightly spiced, fat pears, apple, moderately dried apricot and citrus, fresh brioche and hints of underlying milkiness and white chocolate (the latter two from the pinot noir most likely). Excellent verve in this. Love the weight and roundness. Undoubtedly one of the best champagnes I've had the past year together with
Bernie's 1988 Dom Pérignon
.
NB
: Subsequent pours from the decanter showed more pronounced citrus/lemon and fine, white mineral notes. The bubbly seemed to have sharpened its focus as well and become more streamlined.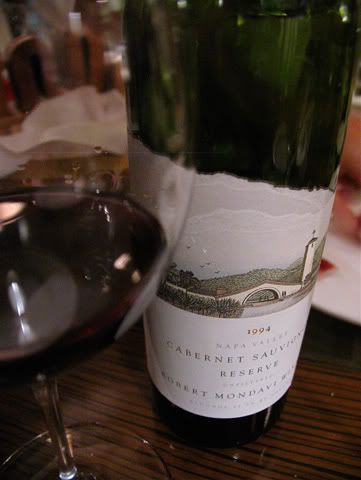 1994 Robert Mondavi Cabernet Sauvignon Reserve
- Doc served this blind from a decanter, the bottle came out later. The others started on this "mystery red" while Catha and I were enjoying the bubbly. Doc made me take a whiff from his glass in the meantime, though, and I remarked that the forward menthol-mintiness (Doc called it eucalyptus, and yes, it is that too) in the bouquet gave away its origins (I didn't mention what it was though so the others could continue guessing - I recall J-Lab got it right).
Digression: Doc, Booze, I and the wives visited and took the special "To Kalon" tasting-tour in Mondavi (we also visited and tasted at nearby Grgich) in Napa in May 2006 before having a great lunch at Thomas Keller's Bouchon (standouts were the moules, oysters and my wife's
boudin noir
- I have yet to try a boudin noir I like more though I've tried many throughout Paris, Bordeaux, Alsace and Burgundy).
When I finally got to the subject wine, I halved my full pour with the Doc since I was already getting full and anticipated a huge feast and lots of wine at the immediately following Marqués de Cáceres dinner. A light-heavyweight, plushly smooth, moderately dense texture, almost but not quite chewy, nicely reserved yet hallmark Napa ripeness, concentration heft and girth. Crème de cassis, black cherry, raspberry, kirsch, mild, dark minerality, licorice, loam, hint of saddle leather, moderate cedar. Very nice. Would love this with some steak.
I recalled and recounted the 2001 Mondavi Cabernet Sauvignon Reserve I picked up at the winery's gift shop at the end of our tasting-tour - Booze and I tested it out with some steaks at Apple & Rocky's place in Hillsborough back then. Though very young at the time, I thought it was excellent and kicked myself for not buying more. I don't drink much Napa cab, I hardly ever buy any, but I can't recall a Mondavi Reserve I didn't like (not that I've had very many - aside from Doc's '94, I can only recall
offhand
the '95, '96, '97, '98 and '01). The '94 is up there with the '01 for me.
Thanks for the drinks and pica-picas, Doc! Great way to start an evening!
*
Disclosure
: JARIC Marketing is owned by Doc's brother, James, and his wife, Rica. The products I've mentioned, though, I have tried myself and, regardless of friendships, they are, to me, easily recommendable.